Adobe InDesign is a popular desktop publishing and typesetting software used by graphic designers. This unique software is developed by Adobe Systems. If you are a graphic designer, surely Adobe InDesign is a must-have application for you. It is one of the best publishing software used by many commercial printing companies.

This software application has a close similarity with its predecessors, QuarkXPress, and Adobe PageMaker, as it offers an easy interface that allows you to the template and develops an application from scratch. Adobe InDesign is primarily used for the design of printed materials such as flyers, posters, newspapers, magazines, books, brochures, presentations, eBooks, billboards, newsletters, manuals, and more. However, Adobe InDesign is not meant for print publishing alone. The latest versions (Adobe Digital Publishing Suite) of this software is capable of publishing documents for online and tablet viewing.
The users of this software are primarily graphic designers and production artists who majorly works with the print media.
Uses of Adobe InDesign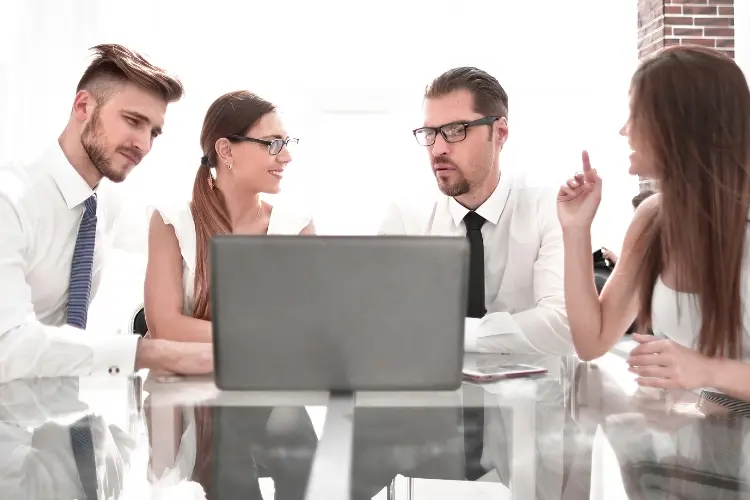 The uses of Adobe InDesign have primarily associated the publications. Here are some of the uses of Adobe InDesign. With all the designs made, you can now print them out with a good printer,
With Adobe InDesign, you can design your business cards, envelopes, invitations, letterheads, and other personalized stationery with high-quality design and layout tools.
You can create custom flyers which you can post on social media platforms, bulletin boards and more.
You can create your eye-catching and impressive posters.
Adobe InDesign is perfect for setting up magazines, newspapers, and books for print.
Adobe InDesign enables you to create eBooks, digital magazines, and others, for easy viewing on your tablets and phones.
Adobe InDesign also comes with a collaboration tool that connects you to writers and editors of publications if you intend to work with them.
Is Adobe InDesign Free for download?
Adobe InDesign is not a free software application available for downloads. However, you can enjoy a free trial which lasts for 7 days. This trial works on both Windows and macOS. The 7 days trial will automatically turn to a paid Creative Cloud membership when it's complete, except you cancel before that time. If you are a student or teacher, you are eligible to get a big discount offer for Adobe InDesign software. You can't get to download the free trial of this software on your mobile phone devices. However, Adobe offers varieties of free mobile apps for iOS and Android users.
To download Adobe InDesign, you need to be a part of the Creative Cloud membership. You will be able to select a Single App plan with Adobe InDesign only or a plan that contains more apps. There are different plans designed for individuals, businesses, photographers, students, teachers, schools and universities.
You can install Adobe InDesign on several computers and can log in only on two computers at a time. However, you will be able to use it only on one computer at a time. Updates are made occasionally to Adobe InDesign and these updates are only available to subscribers.
Adobe InDesign is a professional-level page layout software application for creating publications. From colorful flyers to glossy magazines, you can use Adobe InDesign for creating any publications you might need. As a beginner, you can't use Adobe InDesign software much effectively and creatively if you don't learn the basics of this software. Tutorials will be of great help for getting useful skills for using this software. There are unlimited designs which you can create using Adobe InDesign, you just need to get adequate skills to explore its capabilities. Also, as an experienced user, you can get your skills refined and get more creative and better.
You can watch Adobe InDesign tutorial videos through the links below.
Adobe InDesign for Beginners
Get started with 10 Beginner Tips for InDesign
Adobe InDesign for Absolute Beginners
Adobe InDesign Features
Adobe InDesign software application comes with different fascinating and impressive features that make a design so easy. To extend its paying users which is up to 1.4 million, Adobe InDesign keeps improving with new features to satisfy and accrue more users.
With these features, you tend to have an easy and interesting experience on Adobe InDesign as a new user. These features also promote efficiency and productivity in digital publishing.
Here are the features embedded in Adobe InDesign software application
Modern User Interface
Adobe InDesign user interface is referred to as a dark interface. You can customize the appearance of the interface to suit your taste. If you prefer having a lighter interface or a darker interface, you are capable of making adjustments to suit your needs. To make your desired adjustments on Windows operating system, choose Edit, then Preferences, Interface. On Mac OS, choose InDesign, then Preferences, Interface. After these steps, you can then make the desired adjustments in the Appearance section of the dialog box.
Font Search and Filter
Finding fonts is made easy on Adobe InDesign. A font search menu is available on this application which makes it very easy to find fonts that you desire. You can enter a font family name and view fonts that are related to the selected criteria. Also, you will only be able to filter Typekit fonts.
PDF Accessibility Enhancements
Adobe InDesign makes it possible for its users to access and reuse the documents they are exporting as PDF files. Just before the documents are exported to PDF format, tags can be attached to page items so that it be conveniently and easily viewed on the monitor, designer's tablet device or online with a web browser.
64-bit Support
Although, it seems difficult to physically see this feature on the application. However, it serves a great significance in your experience of using Adobe InDesign. 64-bit support increases the performance of this application. This feature makes easier and faster to work on large files and several files at a time. Exporting will be done faster and more efficiently with 64-bit support.
New Document Dialog Box
With this feature, you can activate the preview checkbox to view how your page will exactly look like before intending to create it. You can be someone that usually create a document quickly and later come to find out that an option was omitted. This will force you to eventually start the document from the beginning. The New Document Dialog Box will help you to avoid this and work efficiently.
HTML Export
HTML export is a very important feature to web developers. Adobe InDesign makes it easy to export simple and clean codes as the layout designs of websites are being implemented. This feature can delete redundant div tags in the HTML and unneedful classification of contents.
Language Support
With the help of language support, you can select from a diverse number of languages all over the world. This is achievable with the help of HunSpell dictionaries.
Object Styles
This feature enables easy to reposition and modification of objects and their sizes across documents. You can resize several objects by altering their heights, widths, or both. X and Y coordinates can be set to change the positions of objects by this feature.
Other features of Adobe InDesign include:
Text Frame Fitting
ePub Enhancements
Alternative Text
Paragraph Borders
Tag Page Items
Synchronization Settings
QR Code Generator
Support for Retina
Adobe InDesign Best Alternatives
Adobe InDesign is arguably the most popular and best desktop publishing and typesetting software. It is the first name that comes to mind if you are a graphic designer working with print media. Unfortunately, Adobe InDesign can be very expensive for purchase for some graphic designers who design for a bake sale. Lately, if you are to subscribe to Adobe InDesign, it will cost you not less than $19.99 per month. To avoid this expensive price, there are other best alternatives to Adobe InDesign software application.
The best alternatives to Adobe InDesign have similar features and can offer you most of the services you can find on this software.
Here are the best alternatives to Adobe InDesign software application you can use to work on your computer system, printers and mobile devices.
Microsoft Office Publisher - Link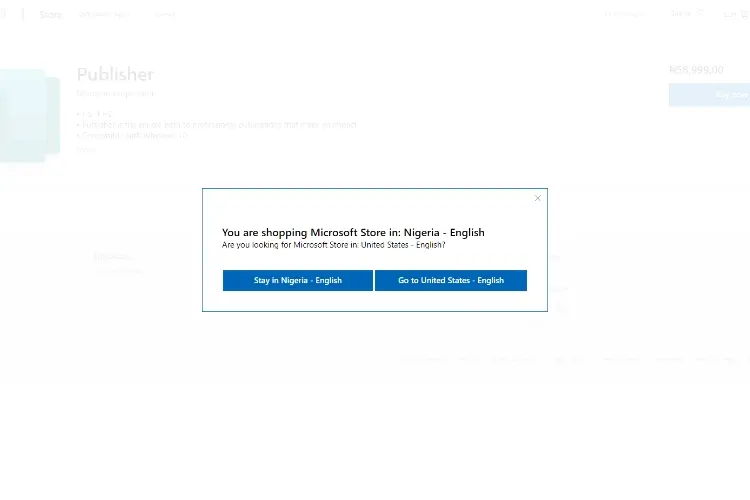 Microsoft Office Publisher is one of the best alternatives to Adobe InDesign you can trust for your graphics work. It is software published by Microsoft Corporation. It comes with virtually every new Windows operating system you get. This software is ideal for those who are just making their way into the world of desktop publishing.
This software application is very similar to Adobe InDesign as you can create designs like flyers, magazine layouts, leaflet, calendar, posters, business cards and more. Microsoft Office Publisher user interface is very simple and friendly. It enables users to publish their works directly to other websites.
Just like Adobe InDesign, Microsoft Office Publisher is not free software but not as expensive as it is. You can take advantage of this tool for free as Microsoft offers a free trial for its users. You can purchase this software in two ways namely; by making a one-time purchase or through a yearly subscription. Also, there are two versions of Microsoft Office Publisher and they are; standalone software and a bundled tool app allowing you to get in the higher versions of Microsoft Office.
Microsoft Office Publisher is compatible with Windows operating system.
Features of Microsoft Office Publisher
It only works on one PC at a time
It has a very simple interface
It enables users to publish their work directly to other websites.
It is streamlined with built-in-tools
It has all kinds of languages included
It is only compatible with Windows OS
Download Microsoft Office Publisher
Scribus - Link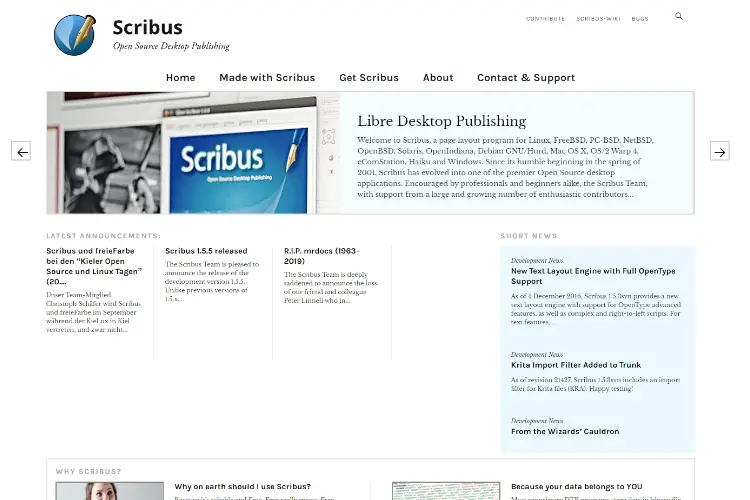 Another outstanding alternative of Adobe InDesign is Scribus. It is an open-source desktop publisher that can offer you virtually everything you are looking for in commercial software. Scribus is being applauded for its uniqueness all over the world of desktop publishing because of its compatibility with any operating system. The operating systems it can work on include; Windows, Haiku, Linux, OpenBSD, PC-BSD, FreeBSD, Mac OS X, OS/2 Warp 4, Solaris, eComStation and more.
Scribus gives you complete control of your file data. It is a software that offers its services for free, that is, it is free for download, unlike Adobe InDesign software. This software offers varieties of color and makes your documents look just the way you want them. Scribus also creates PDF files with animation and communicative presentations.
You can use this software to design newspapers, magazines, newsletters, books, flyers and more.
Features of Scribus
It is open-source software with unlimited support
It is a completely free software
It is compatible with any operating system
It is a highly interactive software
It offers amazing HCL color atlas
It contains a lot of tutorials to guide new users
It can convert images to PDF
QuarkXPress - Link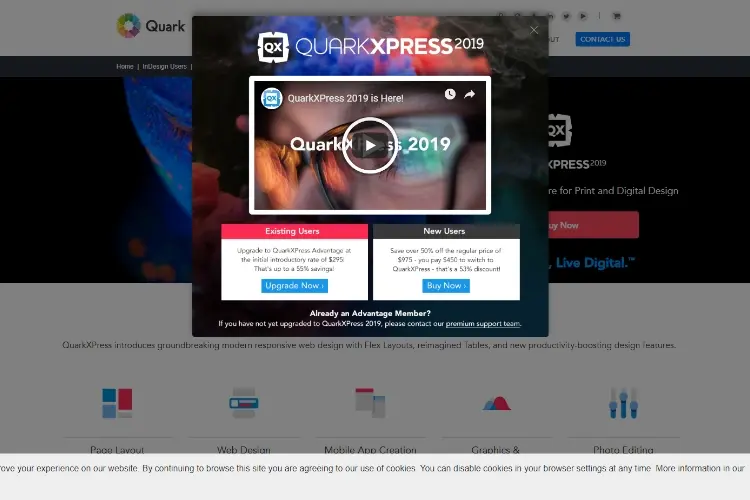 QuarkXPress is a very popular desktop publishing software in the United States. It is created and maintained by Quark Software Inc., a company based in Colorado. If you want to create documents with complex layouts, QuarkXPress is the best to do this for you. It is capable of this because it operates in a WYSIWYG environment. This software has an interactive interface which allows its users to make a design with little effort. It is compatible with Windows, macOS, and android.
This desktop publishing software is an old giant in the industry, launched in 1987. QuarkXPress allows publishing in English, both international and the U.S, and 36 different languages which include Chinese, Spanish, Russian, French, Arabic, Japanese and more. QuarkXPress does not require programming or coding and you will be able to convert documents very easily from print to digital format.
QuarkXPress is a paid software. It has a free trial, however.
Features of QuarkXPress
It allows you to design and export responsive Web pages
It has a PDF accessibility support
It provides an enhanced retina support
It offers non-destructive image effects and filters
You can use videos as backgrounds with this software
It provides an increased performance boost for Mac and Windows
Swift Publisher - Link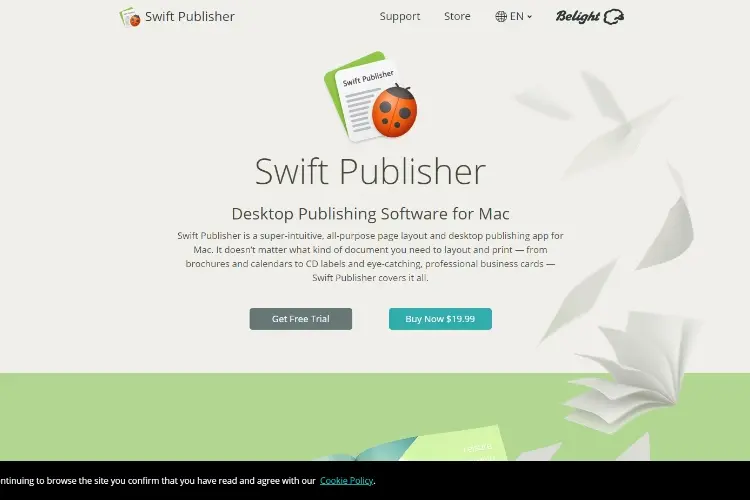 If you are using a Mac operating system, Swift Publisher is one of the best that will suit your graphic needs. This desktop publishing application will help you develop catchy and professional designs such as flyers, magazines, business cards, calendars, posters, brochures, cover letters and more. Swift publisher offers a great number of templates that are capable of bringing up inspiration for creativity for a graphic designer. This software has many editing tools which makes it possible for templates to be applied very quickly.
Swift Publisher is a super-intuitive and all-purpose page layout desktop publishing software for users of Mac OS. It comes with a free trial and you can then buy at $19.99 later on.
Features of Swift Publisher
It offers over 500 pre-designed customizable templates.
Its page imposition features make it possible to print booklets.
You can use the spread view feature to view and edit two pages side-by-side.
You can import photos and custom folder for your design projects
It offers customizable text styles for any document
It provides an extensive design toolkit
Adobe Framemaker - Link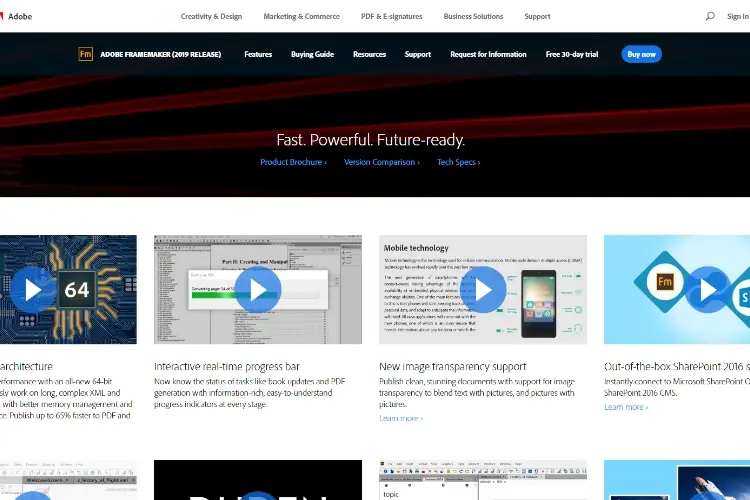 Adobe Framemaker is another best alternative to Adobe InDesign, also developed by Adobe. For your large and complex designs, Adobe Framemaker is the one you are looking for. It is considered to be more beneficial by most professional designers.
This desktop publishing software is designed in a powerful 64-bit architecture. This boosts the performance of the application as you can effortlessly work on long, complex XML and non-XML documents.
Adobe Framemaker is also a paid desktop publishing tool. You can subscribe to Adobe Framemaker with $29.99 per month.
Features of Adobe Framemaker
You get quick access to the welcome screen
Offers interactive HTML5 dialogs for plug-ins
Boats of powerful 64-bit architecture
It offers an interactive real-time progress bar
It offers image transparency support
It offers a Duden dictionary support for more accurate spelling and hyphenation
Lucidpress - Link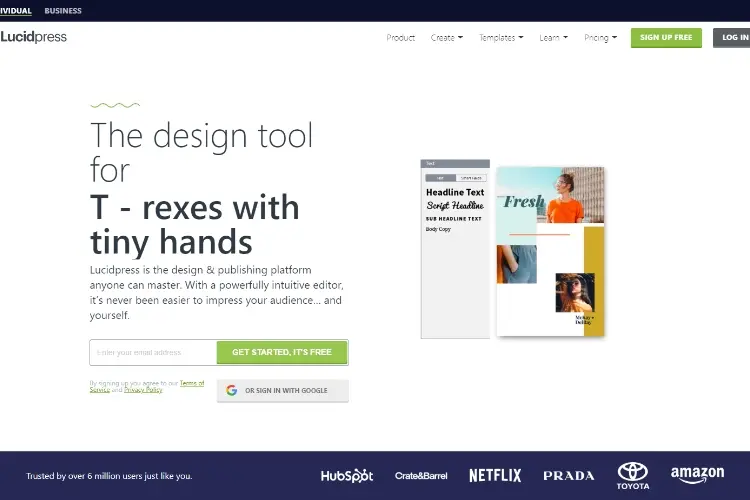 Lucidpress, a web-based desktop publishing tool serves as one of the best alternatives for Adobe InDesign. It is very easy to master tool. Lucidpress boasts of a powerful intuitive editor which you can use as a graphic designer to impress your customers. On it, you can easily design your flyers, newsletters, magazines, brochures and more.
This tool is very easy to learn. You can create your designs with easy steps which include: creating a template from scratch or importing it from InDesign, customize the templates, lockdown branded elements that should not change and then distribute to customers online or printing.
Lucidpress comes with a free version. It doesn't require download as it is a web-based tool. You can pay for more features to be unlocked if you want better quality. Free version publications are limited to three pages. Lucid is compatible with any operating systems because it is a web-based tool you can use with any browser of your choice.
Features of Lucidpress
It is a web-based desktop publishing tool
You can share completed designs online as it is a web-based publishing tool
You can export files to PDF
It is very easy to learn
It does not require download
It is compatible with any operating system
SpringPublisher - Link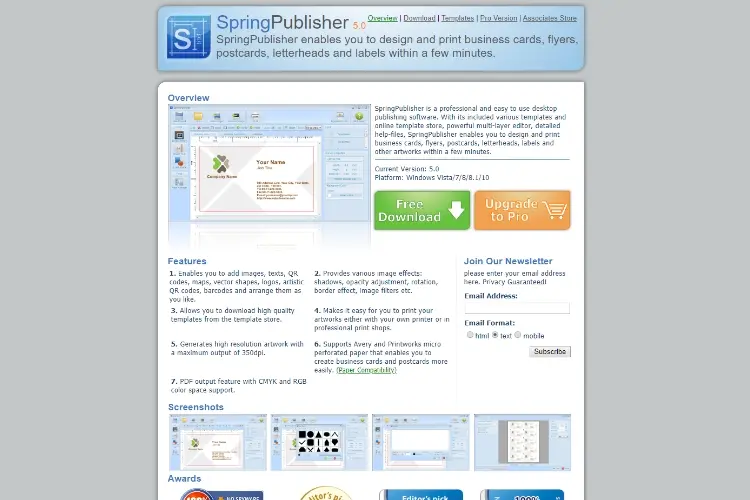 SpringPublisher is a simple desktop publishing software that can meet your graphics needs aside Adobe InDesign. It is void of complexity and very easy to use. SpringPublisher has varieties of templates as well as an online template store, detailed help-files, and powerful multiple-layer editor which aids the easy design of posters, flyers, magazines, business card, letterhead, and other impressive designs within few minutes.
This desktop publishing tool is free for download. You can as well upgrade to a Pro version (at $23.95/month) to enjoy more features it offers.
Features of SpringPublisher
It allows you to add images, texts, vector shapes, maps, logos, QR codes, artistic QR codes, barcodes and arrange them the way you like.
It enables you to download high-quality templates from the online template store.
It generates high-resolution artwork with a maximum output of 350dpi.
It offers different image effects such as shadows, rotation, opacity adjustment, image filters and many more
It makes it very easy to print your artworks
VivaDesigner - Link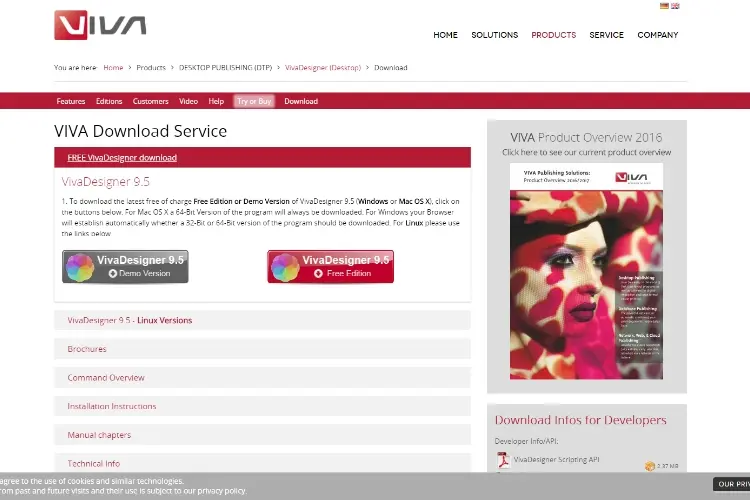 VivaDesigner is another impressive desktop publishing tool that you can to replace Adobe InDesign. This software offers free tutorials for new users. It has an intuitive interface which allows users to navigate easily.
This software comes with the in-browser app or desktop download. With VivaDesigner, you can utilize a wide range of templates, design layouts for desktop and browsers. It supports multiple image formats such as JPEG, BMP, PNG, EPS, and TIFF. You can gain free access to impressive color models such as CMYK, RGB, and HSV.
VivaDesigner offers a full version for free download. It also has a premium version which allows you to enjoy more outstanding features. It works with Windows, macOS, and Linux operating systems.
Features of VivaDesigner
A very easy desktop publishing application
It comes with an in-browser app and desktop download
It provides a wide range of templates and design layouts
It is compatible with Windows, macOS, and Linux
It offers a free full version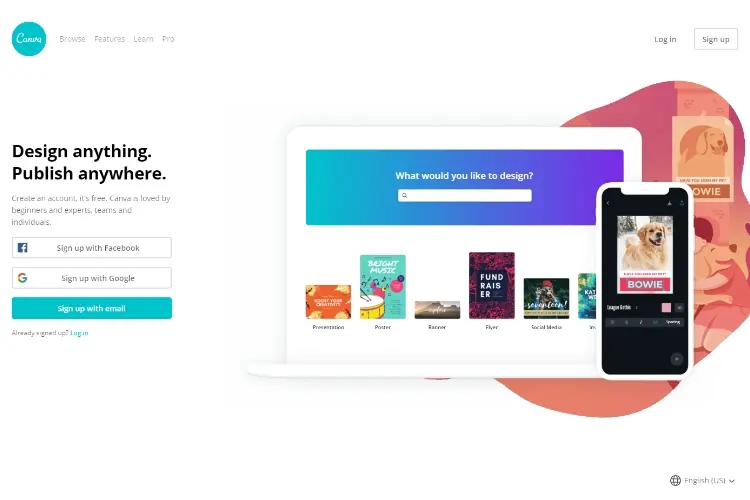 Canva is the last application on this list. It is not an advanced desktop publishing software. It is a very versatile software and can do more than just creating business cards, posters, and flyers. It has a wide range of fonts, graphics, design visuals as well as ready to use free templates which are supplied majorly by Canva users.
This tool has an easy to use and friendly user interface. It is very easy to learn and create your design very quickly. It comes with a free version and a premium version.
Features of Canva
It has an easy and user-friendly interface
It supports flowcharts, decision trees, and cycle diagrams
You can make the high-quality design very fast and quite easily
It provides free design templates, variety of icons and adders
It is very easy to use
Conclusion of Best Adobe InDesign Alternatives in 2022
Adobe InDesign is a loaded desktop publishing package that everyone craves to use. The outstanding features listed out above are prime signals of its versatility. However, if you cannot afford to purchase this software as a result of your budget or work complexity, the best alternatives are highlighted for you.
The best alternatives give you similar results as Adobe InDesign and you can trust them for the designs of your magazines, newsletters, newspapers, letterheads, business cards, posters, flyers and many more. Don't fail to browse through each alternative and pick out the one that meets your needs.
Enjoy the best designing experiences!