It is essential for any t-shirt printing business to source ink from reputable sellers of high-quality products. While you can find a few good suppliers, you need to do your research to see the best screen printing ink that matches your needs. We have taken the guesswork from your search with this list of recommended screen printing inks.
Our review presents five inks from which you may select. You cannot only compare them, but you may also check out the characteristics that make them the right choice for your business.
In seeking the right screen printing ink, you would need to ask yourself a few questions. These include:
"What do I need the ink to do?"




"Do I want ink that is easy and safe to work with (being non-toxic, non-flammable?"




"Does it provide a durable finish - that will last for a long time?"




These and other questions are bound to be asked, so, depending on the answers, you will be in a better position to make the right choice.



Inks for screen printing come in different types of formulas that consist of varying levels of viscosity. It is sometimes challenging to land an ink that perfectly matches your machine's individual needs and functions. If you are tired of designing scratchy, bleeding, and poorly detailed printouts, then it is worth your effort to research alternative options available.
The best ink for screen printing is easy-to-layer and blend, especially when intending to use multiple colors. Depending on the material you are working on, your perfect match of ink should form into soft-feeling characters and images that withstand washes and ironing. Additionally, if you regard the toxicity of ink, you may need to factor in eco-friendly elements when shopping.
In this review, we are going to show you five printing inks that work. To help further with easier choosing, we've detailed the pros and cons of each variant, so you can be rest assured to land a custom-tailored variant that matches your needs.
Editors' Picks: Top Screen Printing Inks 2021
So, are you ready?
List of 10 Best Screen Printing Ink for T-Shirts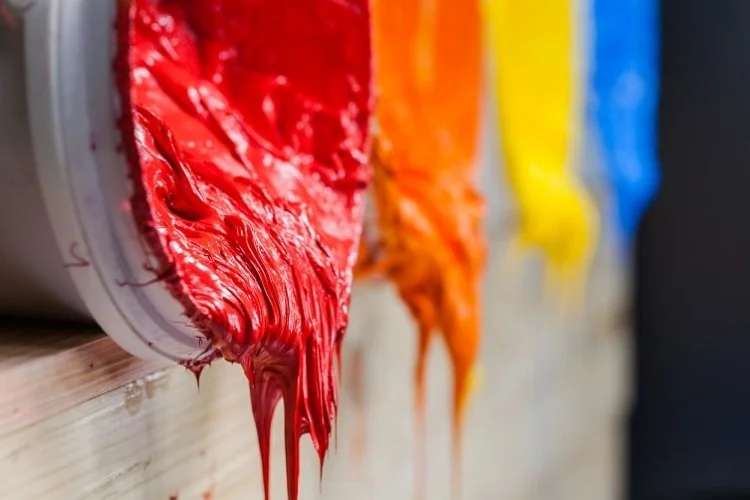 1. Speedball 8-Ounce Fabric Screen Printing Ink
Ink is water-soluble in that it dissolves in water;
Use ink for printing on fabrics and paper;
It is the best ink for t-shirts;
Cleans off easily with water and soap;
It consists of black ink in an 8-ounce jar.
Your t-shirt printing business deserves high-quality ink that can use on fabric as well as paper. The Speedball 8-Ounce Fabric Printing Ink is your solution for professional quality t-shirt transfers your family, friends, and clients will love. This ink is non-flammable which is safe to use. It is also not toxic. You can quickly clean this ink with water and soap so that your work area is not too messy.
Your ink package consists of an 8-oz jar of black ink, which should be sufficient for your t-shirt printing projects. If you need to achieve more transparency with your ink, select a colorless extender. You will undoubtedly enjoy the ink's consistency which is suitable for screen printing on 100% cotton t-shirts. Although this ink is a little oily, it is not runny. Expect this ink to be very easy to absorb on the t-shirt. You can also set the ink into your apparel using a hot iron.
2. Speedball Fabric Screenprinting Ink Starter Set
Perfect for screen printing or painting on a range of fabrics;
It is flexible enough for use on cardboard and paper;
Can be washed without losing color after the t-shirt is heat-set;
Not toxic. It is compliant with ASTM D-4237 standards;
It does not consist of solvents and does not carry an odor.
If you need ink that works very well on dark fabrics, this Speedball Fabric Printing Ink Starter Set is the one to choose. The kit also comes with six four-ounce jars of white, red, black, blue, yellow, and green screen-printing ink. They are quite luminous and are perfect for transfer on polyester, cotton blends, rayon, linen, and various synthetic fabrics. It can also be used on cardboard or paper but not on nylon.
These flexible inks can be painted on with brushes as well as applied during screen printing. It is quite easy to clean up as it washes easily in water. When transferred and heat set, your final artwork can be safely washed without fading and losing color. Not only is the Speedball Ink safe to use, but it also does not carry an offensive odor. You can rest assured that this ink is not toxic, nor is it flammable. It is compliant with ASTM D-4236 standards for screen printing inks.
3. 3M Speedball 4803 Opaque Fabric Screen Printing Inks
Ink is soluble in water;
It is an opaque ink suitable for screen printing;
Ink is also phosphorescent, which allows different light effects when seen from various angles;
Final transfers must be set with the iron, Maintains its color and consistency after numerous washes;
Cleans up easily (within the first five minutes)
Safe to use - not toxic or flammable.
Another Speedball ink you can rely on is the 3M Speedball 4803 Opaque Fabric Screen Printing Ink. This metallic ink will add luminance and brilliance to any t-shirt printing project you carry out. This metallic ink provides the kind of luminance that offers different effects when viewing it from various angles. The pearl white is your solution for the perfect metallic white elements in your artwork. When dried, the final finish has the appearance of brushed metal.
Amazingly, the ink can be dissolved in water and is neither flammable nor toxic. It is OK to use this ink on t-shirts, tablecloths, and most fabrics. You can also use it on cardboard and paper. For best results on cloth, it is necessary to heat set the artwork, even with a household iron. The ink is also easy to wash off with water and soap. To prevent the ink mess from being permanent, it is important to clean with warm soapy water within the first five minutes.
4. Jacquard Professional Screenprinting Ink - 119 Super Opaque
Ink is water-soluble, and it washes off easily from hands;
It is easy to use and store;
This paint is suitable for various materials, including fabrics, leather, vinyl, plastic, and other materials;
When cured, the screen-printed artwork remains on the t-shirt without fading or cracking.
Whether you are new to screen printing or are a seasoned professional, you will love the results produced by the Jacquard brand of screen printing ink. These inks work well with water and are specially formulated to spend more time with their screens. The ink does not dry too quickly, so it is possible to mix various colors on the screen print. You will also achieve greater resolutions in your printed artwork without getting the screens clogged. You can easily save the final artwork in any form of storage you like.
Furthermore, the screen-printed designs are permanent and will not fade or crack on most surfaces such as vinyl, paper, leather, plastic, fabric, and metal. Once your pattern is set in your t-shirt or other surfaces, you can wash and dry clean your fabrics (whether natural or synthetic). Expect consistency with your ink as it is applied opaque, dries opaque, and when cured, it remains opaque. With this ink also, your work will not become cracked or faded. It is easy to clean up your work area after using this ink as it washes away in water and soap.
5. Speedball Opaque Fabric Screen Printing Ink Starter Set
Ink set comes with six jars of colors that are suitable for dark fabrics as well as cardboard and paper;
When effectively heat set, the design on the material does not fade when washed;
This ink is not toxic and flammable. It meets ASTM D-4239 standards;
Does not contain solvents and odors.
Producing fantastic t-shirt designs is more effective with the Speedball Opaque Screen Printing Ink Starter Set. These opaque inks come in a pack of six four-ounce jars of stunning colors, namely -raspberry, silver, citrine, blue topaz, pearl white, and pearl black. These inks are best for dark fabrics like linen, polyester, rayon, cotton, and synthetic materials, it is also usable on cardboard or paper. Note, though, that this ink cannot be used on nylon.
The Speedball Opaque Fabric Screen Printing ink set produces a glossy, glittery finish that is not matte (like some other inks). You can paint with this ink using brushes as well as a screen print with it. It is easy to wash this ink off with water so that you won't leave a messy workspace. Use this ink safely around the home with kids and pets - it is not toxic; it is not flammable. Furthermore, this ink does not use solvents, and you won't have to contend with any offensive odors.
6. Premium Fabric & Textile Paints
Premium Fabric and Textile paint come in 8-premium color choices that you can blend to develop even more shades. The colors include yellow, red, orange, green, violet, white, and pink. Also, in the package, you will find a 20 ml bottle with a generous volume of ink for multiple uses.
You can dip your feet into the world of painting by purchasing these acrylic paints. It is marketed towards budding screen printing artists; this premium ink has a buttery-thick viscosity for precision detailing. Plus, it is water-washable, so you can be sure to fix any mistake in your printout before it dries.
Apart from delivering color-fast results, this paint doesn't bleed and can withstand multiple wash cycles, even vigorous ones. The prints also resist UV light and do not dry out even with numerous ironing.
However, just as the formula's name goes, this product applies only to fabrics and textiles. Whether you are working on party outfits or festival costumes, this product has you covered anytime. The soft stubbles also work perfectly on school hobby shirts and other fabrics.
Key Features:
Easy to use

It can withstand washing and ironing.

Made in Germany

Explicitly designed to use on clothes and textile.

It comes in a package of 8 paints.
Pros:
Handmade for quality results

It does not form rough patches.

Easy to use as it dries faster and precisely

Eco-friendly and water-washable
Cons:
7. Opaque Fabric Screen Printing Ink
Opaque Fabric is an iridescent ink that is purposefully made to create stunning colors in screen printouts. It works perfectly on a wide range of surfaces such as cardboard, fabrics, and papers, so you can be sure to use it anywhere. It is compatible with both black and light surfaces while still providing an equal measure of vibrancy.
The gold-colored formula comes packaged in an 8 oz bottle, making it your go-to option when looking for a size-able
a budget-friendly option. More interesting is the fact that it produces a premium soft-hand result that withstands vigorous washing and ironing. All you need is to adequately cure your printouts under the required temperature range, as it works perfectly on high heat.
If you care about safety, then here is your go-to ink. The ink carries AP seals that are perfect for office use and even studio printing. You can wipe any undesirable marks by cleaning with water and soap before it dries.
Key Features:
Suitable for adding stunning

Works great on fabric, paper, and cardboard

Used on both light and dark colored fabrics

Safe for the classroom and studio
Pros:
Forms permanent prints

Safe for use in any work environment

Guarantee quality digital prints that are wash-proof
Cons:
8. Ecotex White Plastisol Ink for Screen
If you are looking for a plastisol ink that blends into more than 30 different colors, then here it is. The Ecotex is a standalone all-white formula that comes ready to use on basically any type of print surface available. It is bold and highly opaque to produce vibrant prints on both black and light surfaces.
This print screen ink is both phthalate-free and environmentally friendly for use at home and office. Besides, it comes with an Ecotex emulsion remover that cleans up any mess that results while designing. So you can be sure to leave your work surfaces spotless any time you are done printing.
Ecotex screenprint ink cures at a temperature of about 320 degrees Fahrenheit. This may be relatively high compared to other options available, but it cures fast for long-lasting results. With it, you are sure to come with printouts that withstand agile detergents, vigorous wash cycles, UV lights, and a lot more.
This ink is a mix of non-toxic, non-inflammable, and odorless materials. It suits your needs anytime while working both indoors and outdoors.
Key Features:
Pros:
Ideal for a wide range of surfaces

Wash fast using an Ecotex Emulsion

No solvent or odors
Cons:
9. Rapid Cure Standard Plastisol Ink
If you are always in a hurry, with limited print time, then you'll probably need an ink that cures faster. Well, just as its name goes, this paint by Screen Print Direct cures rapidly at about 270 degrees Fahrenheit temperature to form permanent quality prints. It works perfectly on a variety of fabrics, such as polyesters and cotton blends.
The Rapid Cure comes as a creamy formula with an excellent viscosity that is easy to use, making it perfect for learners. When heated well to perfection, the formula cures to form a print that takes time to dry on the screen. This product develops color quickly based on its high opacity, allowing you to curate the end product depending on your preferred designs.
Also, the prints formed are fast-flash and bleed-resistance, making it your ideal option for long-lasting use. Even more, it comes with shrink prevention, scorching prevention, and dye blocking prevention features that keep the end product suitable for years of use.
Key Features:
Come in different colors.

Creamy, bold formula

Bleed resistance

Great on a variety of fabrics

Made in the USA
Pros:
Smooth workability

A thick formula that cures fast

It offers great surface coverage.

Applies on both light and dark colors
Cons:
10. Jacquard Versatex Screen Printing Ink
If you have advanced your screen printing skills, you may want to do expert-level techniques such as stenciling and silk screening. Versatex Ink Black comes as a heavily pigmented formula that works great for all those functions. Plus, you can block print, add custom colors, add images, and a lot more.
Jacquard Versatex comes in inter-mixable colors to allow you to customize the shades to your most preferred design. When fresh from the bottle, it is heavily pigmented. However, you can dilute the pigmentation with water for a thinner ink covering your print surfaces well.
Even more, Versatex will not change the general texture of any fabric you are working on. Once cured to perfection, it stays for years without bleeding or cracking. It also does not wrinkle when hand-washed or machine-washed.
This product is usually semi-transparent, making it your ideal bet when looking for an ink luminous enough for your colored fabric. Otherwise, you won't regret buying Versatex since the bottle holds enough ink that guarantees great value for money.
Key Features:
Ease to use

Ideal for stenciling, silk screening, and block printing

It does not wrinkle or bleed on paper.

The colors are intermixable

The inks are most luminous on a light.
Pros:
I

t has excellent opacity in light-colored fabrics.

Withstand both washing and ironing

It comes in inter-mixable colors
Cons:
How Screen Printing Works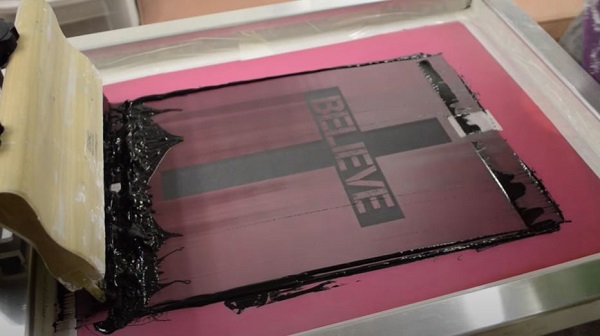 The process of screen printing entails transferring stenciled designs to flat surfaces such as wood, paper, and fabrics using a stenciled mesh. Advanced forms of screen printing also move designs to glasses, metals, and plastic surfaces.
Generally, screen printing can seem like a complicated process. But with research, you will realize that the process follows a set of no-brainer procedures.
1. Creating the design
In this process, experts design the images and texts using a computing device. They then print the designs on a transparent acetate film.
2. Preparing the screen
When new from the market, the mesh screen lacks several things that must be there to suit it for printing. In this step, experts apply masking tape both at the backside and inside of the mesh. This technique helps in stopping the flow of emulsion during the printing process.
Once the tape is fully intact, an emulsion is applied evenly on the mesh, as the manufacturer advises. This light-reactive emulsion will harden under bright light. For better results, use a squeegee to spare.
Add the liquid emulsion on both sides of your mesh screen evenly.
3. Exposing the emulsion
Here, the printed acetate is perfectly laid on the emulsion-coated screen, making sure it is flat against the screen. Then, expose the screen to bright light, preferably 2 ft away, for about 13-15 minutes. During this process, parts of emulsion not covered by the screen harden, while the covered parts retain their liquid form.
If you plan to design with multiple colors, follow the process above to create separate screens of different colors. The printer will then line the screens so that each color comes out seamlessly in the final results.
4. Creating a stencil
At this stage, the liquid part of the emulsion is washed off. This will leave behind an exact imprint of your original design on the screen. Once done, dry the screen and allow the printer to correct the prints for accuracy.
The dry screen is what is referred to as a stencil.
5. Preparing the surface you want to print
Here, the screen is laid, flat-surfaced on top of a printing press. Then, the cardboard, paper, or fabric you want to print is placed, flat-surfaced, too, on a printing board. The board should be underneath the screen.
Some printers use manual presses, while the most modern ones come with automatic printing presses. However, if you intend to print multiple items, go for a commercial printer with automatic carousel rotaries since they best suit this need. They also work correctly in layering different-colored stencils for fast-paced seamless results.
6. Pressing the ink through the screen
In this stage, experts add printing ink at the top of the screen evenly. Then, they use a squeegee to pull the ink in a way that covers all parts of the screen. This way, the ink presses through every open area of the stencil, consequently making a print of your preferred design underneath.
In multiple items, the screen will rise automatically, and a new print surface added. The printer will then repeat the processes above.
Once the prints are transferred onto the fabric or print surface, an emulsion remover is used to clear the messes off the mesh screen. Cleaning ensures the mesh is ready for another subsequent printing process.
7. Rechecking, retouching, and finishing the final product
Finally, the printed surface is retouched, and any error corrected. Then, it is placed in a dryer and rested to cure into a smooth, greatly embroidered finish.
How to Start a Screen Printing Business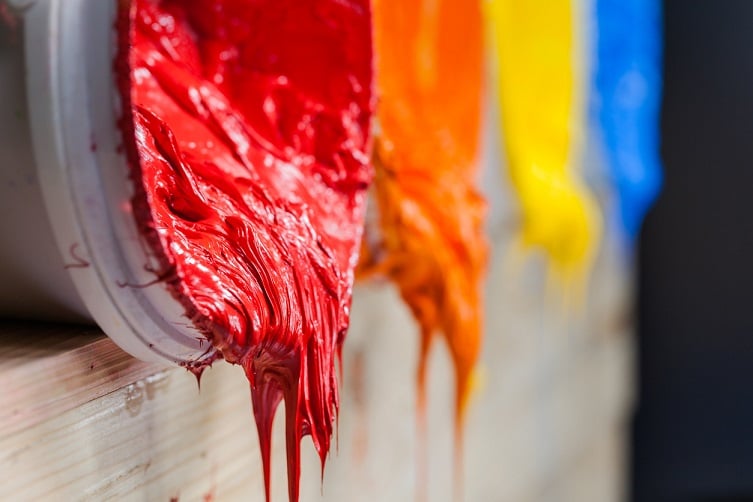 Starting a screen-printing business shouldn't be any daunting if you have the right machines. Here is a well-detailed guide to help you through the whole process.
Estimated Budget
It is best to start small and then expand the facets of your business. This way, you'll reduce the risk of incurring unimaginably high operation costs. Aim for a starting capital ranging from $6000 to $9000.
Machines
How detailed your work will significantly depend on the type of machines you chose. For quality products, go for a modern printer that supports all classic functions.
Apart from the printer, you also need a functional computer, exposure unit, flash cure, squeegee, pressing unit, and pressure washer. Once you've stocked all these, your business is halfway operational.
Purchase the consumables
Essential consumables you need include print ink, emulsion, spray adhesive, spray water, emulsion remover, scrubby pads, spray bottles, and ink scoops. Lastly, make sure that you are accessed to cold drainage water.
Licensing
Licensing should come first when seeding your business. Talk with the local authority for essential guidelines and the general process of licensing. You may be charged some fees depending on your locality and municipality.
Rent
Set your business in a place with high human traffic and population as they are ideal when looking for clients. Downtowns are an added advantage since you can easily reach out to suppliers if you run out of consumables.
Verdict on Screen Printing Business
The ink is the heart and soul of any screen printing business. With ink that matches your design needs, you will not compromise quality, consequently expanding your customer base.
We've not shown you just the best inks available; we've gone further to educate you on how the print process works. If you want to start in this business, the last part has you covered by detailing screen printing essentials and how to create your brand.
Conclusion for Screen Printing Ink Buyers
Of the many options for screen printing ink on the market, it is gratifying to know that you can access information that will lead you to choose the best screen printing ink for your t-shirt business. Not only does this review save you time and money to make your selection, but you are also able to use the information to compare the ink options recommended based on specific criteria (such as color, size of the package, number of items in package, quality). You are saved the trouble and inconvenience of buying the wrong ink that is not compatible with your needs. So, read the review and other information carefully as you seek the best ink for screen printing your t-shirts.