Are you wondering what is screen printing machine and what its is the purpose? If yes, then you are in the right place. A screen printing machine is a device that people use to transfer graphics, logos, and texts onto a substrate. Amazingly, it can be used for both personal and commercials use.
Purchasing a Best T-Shirt Screen Printing Machine tends to be difficult for beginners who don't know what to consider. However, you need to look at some features before buying one. The screen printing machines vary in durability, size, construction, color stations, versatility, and price.
Screen printing in a t-shirt is super fun with suitable machines. However, consider a personal screenprint machine for all your printing needs in the review for incredible results. The article also looks at how to do screen printing at home and make a screen printing screen.
Top Picks: 5 Best Screen Printing Machines in 2021
Why a Need for a Screen Printing Machine

What is a screen printing machine, and what are they used for?
While most printers are associated with printing, scanning, copying, or faxing, screen printing machines typically create more detailed images.
Things like T-Shirt designs, blueprints for circuit boards, and other designs that traditional printers cannot make can be made with screen printing machines.
Not only are creating these things possible with screen printing machines, but some screen printing machines can also create many copies of these designs and blueprints.
You'll need a screen printing machine if you want to make any kind of complicated design or blueprint that cannot be created with a traditional printer.
10 Best T-Shirt Screen Printing Machine for Clothing Line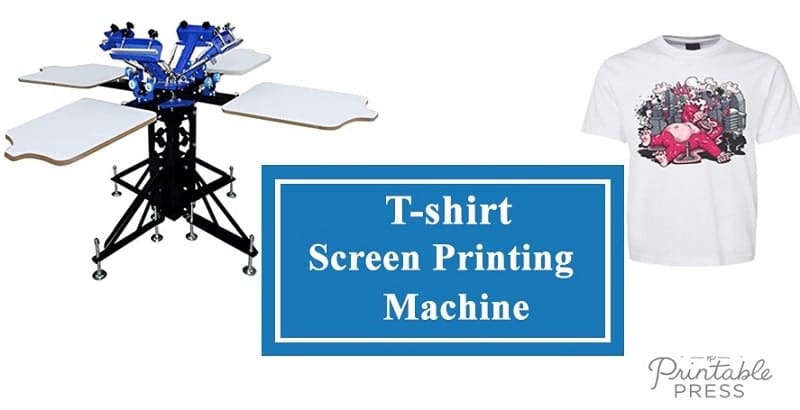 1. Four-color, Four-station silk screen printing machine by Vevor
Anyone who needs to create many designs for a lot of materials quickly will get a lot out of Vevor's screen-printer. Because it has a four-color and four-station design, it can print for different surfaces on each station. Whether you need to create four different designs or four of the same, it is made easy with Vevor's screen-printer.
All of this is made possible because of the removable pallet that it contains. This pallet is very adjustable, which makes it easy to create different designs quickly. For example, if you need to complete four of the same design, you can leave the center pallet in the middle and shift the stations over.
As many as forty T-shirt designs per hour can be made with Vevor's screen printer depending on how complicated the designs are and if more than one person is operating the screen-printer. This speaks to how quick and efficient it is in creating layouts.
Vevor's screen printer does not come pre-assembled. And because it comes with so many stations, it can be challenging to put together for anybody who is not experienced in putting screen printers together.
2. Four-color, One Station Silk Screen Printing Machine by Mophorn
Four-station printing machines have their place in the art of creating designs for surfaces. However, they can take up space and do not allow for large or complicated designs.
Possessing only one station, Mophorn's screen printer frees up precious space. In addition, it makes it possible to create complicated designs that would not be possible with the smaller canvases that comprise four-station screen printing machines. So if you need to make very complex designs for more than just clothing, you'll get a lot out of Mophorn's screen-printer.
Because it only contains one station, Mophorn's screen printer is much easier to put together than screen printers with four stations. Putting together one screen printing station instead of four will save a lot of time and is much less frustrating.
Staying on the subject of construction, you'll either need to know how to put together a screen printer yourself or look up a tutorial before you put it together. Unfortunately, Mophorn's screen printer does not come with any instructions to help you put it together.
Make sure you tighten everything when you put Mophorn's screen printer together. Some parts will come loose if you do not, and it will be tough to maneuver the pallet and the canvas when you are making designs with it.
3. All-in-one Screen Printing Kit by Merchmakr
It can be challenging to change the screens on most screen printers, if not impossible. This can make creating designs an arduous and frustrating process when it should be fun. This is especially true of screen printers with more than one station.
Merchmakr has solved this problem in a big way with its screen-printer. It contains a special clamp that will let you not only change screens but change them very fast. This is incredibly useful for anybody who wants to create different designs for different surfaces.
Another thing that makes Merchmakr's screen printer better than others is that it is much easier to put together and use than even its one-station counterparts. This makes MerchMakr's screen printer much more user-friendly than other screen printers.
Anyone new to using screen printers will get a lot out of it, as it comes with an instructional DVD that will help you put it together and begin using it to create designs.
You'll need to use extra care in putting MerchMakr's screen printer together, however. If you do not put it together correctly, the bottom pallet will become loose, and it will create a gap between the back and front that will be difficult to get around.
4. Four-color, Four-station Silk Screen Printing Machine by (SPMS)
While many four-station and four-color screen printing machines are designed to create a lot of different or similar designs very quickly.
Many of them do this, but what if there existed a four-color, four-station screen printer that could create designs even faster?
Screen Printing Machine Series (SPMS)'s screen printing machine takes all of the efficiency of any four-color and four-station screen printer and makes it that much better. It does this by making the screen layer and pallet rotate independently, making it easy to maneuver. If you are experienced in making designs with screen printers, you will save even more time with SPMS's screen printer.
The screen printer itself is also slightly elevated, making it easier to work on. Other screen printers are not elevated, so you'll need to do all you can to make sure it is set up on a platform that will allow you to work effectively. SPMS's screen printer's raised base lets you set it up on different platforms, which generally makes it easier to work with than other screen printers of its kind.
However, anybody who is even remotely inexperienced in putting together screen printing machines will need to stay away from SPMS's screen printer. While most other screen printers come with brackets for the platens, SPMS's screen printer does not. This means you will need to attach your brackets to the platens. If you do not know how to do this, putting it together will not be easy.
5. Four-color, Four-station Silk Screen Printing Machine by Screen Printing Kit
Something that a lot of four-color and four-station screen printers struggle with is overheating. If these kinds of screen printers are left on too long, they can be uncomfortably hot to the touch, and you'll need to back off from using them for a while. This can be troublesome if you want to create many designs with your screen printer quickly.
What separates Screen Printing Kit's screen printers from the other four-color and four-station screen printers is that they are equipped with aluminum plates and steel heating tubes that do an excellent job of preventing them from getting too hot even after being used for a long time. As a result, you'll enjoy Screen Printing Kit's screen printer if you know you'll be putting in very long screen printing sessions.
Another thing that makes Screen Printing Kit's screen printer better than most other screen printers of its kind is that it comes with literally everything you need to put it together. As a result, you will not need to go out and buy additional parts or materials to put Screen Printing Kit's screen printing machine together.
Unfortunately, you will need to either be experienced in putting devices similar to screen printers together or follow a tutorial to put Screen Printing Kit's screen printer together. It comes with no instructions to assist you in putting it together at all.
6. VEVOR Screen Printing Press 4 Color 4 Station Screen Printing Machine
If you need a four-color four stations single rotary screen press to install four screens, consider VEVOR Screen Printing Press 4 Color 4 Station Screen Printing Machine. However, the machine is for fabric and other materials leather, ceramic, paper, and plastic.
You need to keep durability in mind when purchasing a screen printing machine. The machine is made from stainless steel and sprayed with advanced electrostatic. Furthermore, it will help you clean easier. Some devices tend to be slow and difficult to operate, but you will no longer feel exhausted with this screen printing machine. Interestingly, you can disassemble the clamp and pallet to ensure smooth printing.
Besides, you can move the machine from one place to another conveniently. Don't be worried about the maintenance fee since the machine will keep working for many years. Although assembling the device can confuse a beginner, don't worry since it comes with a manual to help you out.
Key Features:
Durable and rust-resistant
Adjustable clamp and pallet
Ease for installation
It is equipped with two sturdy springs.
Easy to use
7. TECHTONGDA 6 Color 6 Station Double Wheel Screen Printing Machine
If you run a large screen printing business, you need a machine with six different screens to six other stations simultaneously. Then, you can consider a 6 Color 6 Station Double Wheel Screen Printing Machine to give you satisfactory results. Moreover, the printing machine will fulfill all your printing needs and preferences. Amazingly, it can print on different materials, including T-shirts, paper, and wood, among others.
Additionally, it is a commercial screen printer that makes a massive amount of products in less time. If you are an experienced operator, you can make it work even faster than usual. Are you worried about the perfect machine to start a new business? You can buy this heavy-duty printing machine to do all the work.
Thanks to the screen layer and pallet that rotate independently, making multi-printing easier. Being a user-friendly machine, it has all details required for assembling and installing it. The features also make it simple to use and handle. If you are looking for a space-saver, the table-type machine with a compact design is excellent for you.
Key Features:
Durable
Ease to clean and rust-resistant
Double rotate arbitrarily in 360°
Prints on different materials
Suitable for both small business and commercial
Easier for multi-color printing
User-friendly
8. VEVOR 4 Color 2 Station Screen-Print Press Machine
You can consider VEVOR 4 Color 2 Station Screen-Print Press Machine to get into the printing business. The printing machine is designed for small printing businesses. Is it for multi-color and huge printing? This machine will serve as a backup to large companies. It is perfect for printing onto clothing, cardboard, wood, glass, ceramic, and other plain printing substrates.
Moreover, the unit is manufactured with highly durable material to ensure it lasts longer. Besides, there is no maintenance required once assembled. Thanks to the table type and combinatorial design, which saves space and provides effortless movement.
You can choose this machine with adjustable double-spring and screen clap, which move up and down allow a screen frame within 1.2″ thickness. Plus, the printing machine is equipped with manual instructions, installing tools, and installation and operation videos. Lastly, the device comes with a 2-year warranty.
Key Features:
It comes with a sturdy frame.
Ease to use
Perfect for a variety of application
Prevents ink penetration
Durable and rust resistance
9. INTBUYING Screen Printing Press T-Shirt Screen Printing Machine
Do you want to start a T-shirt printing business or for personal use? If yes, then buy INTBUYING Screen Printing Press T-shirt Screen Printing Machine. The single-color screen printing machine is easy to use and affordable. Thanks to the adjustable pallet, which makes dismantling easy.
Plus, you can use this machine on material that needs overprinting. The materials include bags, pillowcases, and non-woven bags, among others. You can adjust the pallet depending on the substrate to meets the needs of different printing.
Furthermore, its small and compact design allows you to install and carry it easily. The frame can deal with structures within 2". For easy installation, you can use the instruction video on Youtube for assistance. If you need a machine that will assure you of excellent t-shirt printing effect and proper positioning, this one is perfect for you.
Key Features:
Great for different materials
Removable pallet
Large printing area
Compact design
10. VEVOR 4 Color 1 Station Screen Printing Machine
If you don't handle large orders, this VEVOR 4 Color 1 Station Screen Printing Machine will suit your needs and preferences. Amazingly, this four colors one station will give your fantastic results since it is more compact and effective. Plus, it is more affordable compared to other models.
Thanks to the adjustable springs, which allow you to operate within 2″ thickness. You can use it to print on various materials, including metal, paper, glass, and pillowcases. You don't need to worry about durability and maintenance because the machine is made from metal. In addition, with its space-saving design, the printer does not require much space and studio.
Besides, it has a printing area of 21.7 x 17.7 Inch making it convenient to print large area flat materials. Lastly, the installation process is not so tricky since those with some experience can handle it easily.
Key Features:
Adjustable springs
Time-saving
Removable pallet
Rotating screen frames
Screen Printing Machines: A Buying Guide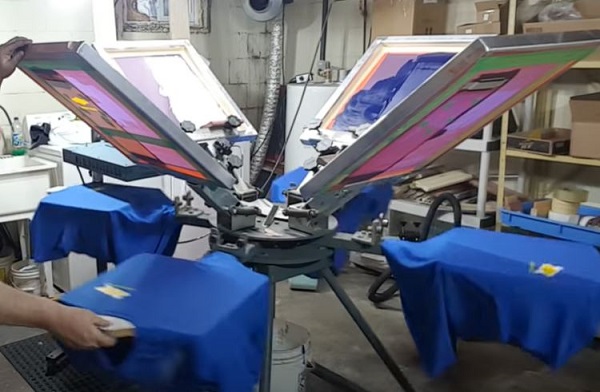 There is no way you will ever be satisfied in the long term with a screen printing machine if you just buy the most popular one sight unseen.
If you do this, you'll be giving up one screen printing machine that might make your life much easier for a screen printing machine that you could be frustrated with.
To prevent this from happening, you'll want to consider certain things when buying a screen printing machine.
Because a screen printing machine can create such a diverse amount of things, you'll need to make careful considerations when buying a screen printer to benefit from it in the long term.
What do You Need to Make With Your Screen Printing Machine?
The first thing to consider is pretty apparent. You should know what to create with your screen printing machine since different screen printing machines specialize in creating different designs.
What happens if you need your screen printer to create a design on more than one kind of surface? Fortunately, most screen printing machines can create designs for more than one thing, whether T-Shirt designs or some other type of design.
Again, even though most screen printers can create more than one kind of design, they specialize in certain ones, which you should be looking for.
Knowing what surfaces you need to make designs for will make buying a screen printing machine much easier.
Do You Need To Make a Lot of Designs With Your Screen Printer or Just One or Two At a Time?
Creating designs is something that all screen printers do, but different screen printers specialize in different forms of design creation.
Some screen printers are designed to make a lot of designs on a lot of surfaces quickly. However, the designs that these screen printers make are typically more straightforward.
If you need a screen printer to make a more complicated design, you'll probably need to look for one that doesn't create many of the same simple designs but rather one complicated design.
You need to understand that different screen printing machines specialize in other screen printing functions. If you recognize these differences, you'll be able to determine what kind of screen printer is best for you.
What Kinds of Surfaces do You Need Designs For?
Do you need to make T-shirt designs? Do you need to make engravings for more complex surfaces? Do you need to create blueprints for circuit boards?
While most screen printers can create designs for nearly every surface, some specialize in certain surfaces.
This is something you'll need to consider if you are taking the designs you are creating seriously.
The thing with screen printers that can create designs for multiple surfaces is that they typically don't specialize in creating designs for any particular surface.
Because of this, you'll need to decide whether you want a screen printing machine that is good at creating designs for one particular surface or one that can create designs for many surfaces.
This all depends on what kinds of surfaces you need to create designs on now and what types of characters you need to create designs on in the future.
Not every screen printing machine is the same, and it helps to know that.
What to Consider Before Purchasing the Best Screen Printing Machine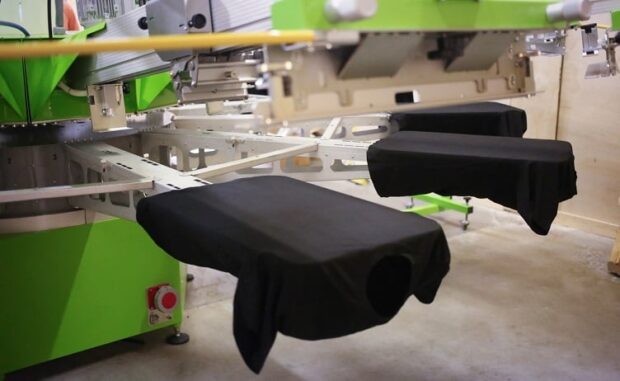 Size
The size of the printing machine is an important consideration to keep in mind. Make sure you choose the size that will meet all your printing needs. It should be able to fit in your space comfortably, leaving extra space for operation and maintenance. Your employees should be able to use the machine easily and comfortably. Additionally, the machine size should allow you to upgrade it with an air compressor in the future.
Inks and Screens
If you want to buy a screen t-shirt printing machine, you need to consider the inks and screens you want for your printing needs and preferences. Plus, you need to be careful with the variety of inks in the market since some are water-sensitive, interfering with the screens. Thus, you need to purchase the printing machine inks that you will enjoy using.
Type of Machines
Another factor to consider is the type of printing machines available. There are both manual and automatic machines. You need to select the device depending on the kind of results you want, the effort you want to put into the process to get the desired quality print.
Features
Lastly, each printing machine has different features. Therefore, you need to compare other components to ensure you go for a suitable machine. The features should ensure you get high-quality prints. You can consider basic controls to advanced controls that will help you get the t-shirts printed.
How to Do Screen Printing at Home
Are you planning to print t-shirts on a large scale? Then, screen printing is the best choice to consider. It offers an enjoyable way of printing your designs on bed linen, clothing, promotional goods, etc. Although the process is manual, it is straightforward once you get the instructions.
You can familiarize yourself with the instructions in minutes and start working on your clients' orders. You can use this guide to help you through the process.
What You Need
A screen or frame

A stencil

A squeegee

Ink and emulsion

Airing cardboard

A t-shirt
Steps to Follow to Screenprint:
Create your Image`
First, you need to develop an image as it is the vital artwork of the whole printing process. Then, you can use a Photoshop App to select the best image for your t-shirt. After picking the image, print it out on the printer onto transparency paper.
Apply Emulsion on the Screen
In this step, mix the sensitizer and emulsion according to the instructions on the bottle. Lay the screen on a garbage bag. Next, pour a little emulsion mixture on the screen and spread it out using a squeegee. The mixture should cover a larger area than the image you want to print. Leave the screen in a pitch-black room for 2 hours until it dries completely.
Expose the Image on the Screen
You can now expose the screen to the light. Lay down a black cloth in a pitch-black room. Place the screen and frame with the screen side down on top of the black surface and adjust the frame so that the side of the screen rests on the black surface.
Clean the Screen
Spray your screen with cold water. Check how the section where the image is starts to fade off. Continue spraying until you can see through the screen.
Print
Place the shirt on a flat surface and lay cardboard inside the shirt under the area you want to print. Next, lay the screen over the shirt with the image where you want to print on.
Clean Up
After you are done with printing, wash the ink off the screen so you can use it again in the future.
How to Make a Screen for Screen Printing
Do you want to make a screen but not sure where to begin? This review will guide you on how to make a screen for screen printing. For outstanding print, you need a good screen. Though the process seems simple, producing a high-quality screen can be a complex process. For the best result, ensure you follow each step.
Steps to Follow
Step 1: Degreasing
First, ensure your screen, whether fresh from the box or finished reclaiming, you need to degrease. Degreasing eliminates dust, oils, and dust from the mesh, which can cause a problem in emulsion adhesion. For instance, a pinhole will appear when you apply emulsion to a screen with dust or debris. You can notice them by holding the screen up on the light and looking for light holes. You can fix these pinholes with a piece of tape or blackout solution.
Step 2: Choosing Emulsion
With the ink in mind, choose the emulsion. It is an essential step for making a screen. You need to consider all elements and the best products for the type of print you are creating. For example, water-based inks require water-sensitive emulsion since the water in ink tends to erode the emulsion. However, plastisol inks have low water content hence do not decay the emulsion. Besides, some emulsions are more sensitive than others, and exposure time is different.
Step 3: Film
High-quality print comes from high-quality screen and film positive. A good film has high capacity, and light can't be seen through the design when held to a light source. The edges should be clean and sharp, free from softness and pixelation. Your screen will burn well if the film itself is blemish-free, free of marks, fingerprints, and excessive dust.
Step 4: Exposing Screens
Depending on your exposure unit and type of emulsion, there is variation in the length of exposure. You can use a step wedge calculator to calculate your exposure time. Ensure you expose the screen until it hits mark seven before washing out to avoid the screen being under-exposed.
Step 5: washing Screens
Your washout area is different from others, depending on space restrictions and plumbing options. Lay your screen for washing in running water with high and low-pressure options to control rinsing the burned screen.
Conclusion
The trick to choosing the best screen printing machine is detecting minor differences between each one.
On the surface, it will appear like all screen printing machines are alike. However, leaving significant differences like colors and stations aside, there are tiny differences that you will need to detect in each machine to determine if they are suitable for you.
It would help if you also determined what you want from a screen printer. All screen printers have in common because they create designs on surfaces, but to get the most out of the screen printer, you will need to make these designs; you will need to go further than that.
What kinds of designs do you need to make? How complicated are these designs? Do you need to make a lot of these designs very quickly? These are all questions you should be asking before looking for a screen-printer.
When you answer these questions and look for minor differences among the screen printers available to you, you'll be able to find a screen printer that is perfect for you.