Are you a traveling professional? Does your work need you to carry out company tasks while traveling abroad, or you need to print your daily work? Then you need a portable scanner printer to enhance your productivity. Mobile scanner printers are highly packed with valuable features compactly to make them easier to carry, unlike its professional competitors. This article will help you know more about portable scanner printers. We have reviewed ten products that cater to the needs of users with different preferences. We have highlighted the specifications of each product, including their best features and setbacks.
Top Picks : 7 Best Portable Scanner Printer
Summary of

Best Portable Scanner Printer
PRODUCT
DESCRIPTION
HP OfficeJet 250

All-in-One printer
Print speed: 7 ppm color, 10 ppm black
10-sheet ADF(Auto Document Feeder)
Dimension: 14.96 x 7.8 x 3.6

HP Tango Smart Wireless Printer

Dimension: 20.6 x 14.84 x 10.4 inches
Weight: 7 pounds
Print photos up to 8.5×14 inch
Dual-band WiFi

HP OfficeJet 200

Dimension 14.3 x 7.32 x 2.70''
Display 2″ Mono
Print Speed: 10 PPM for black, 7 ppm for color
Wireless networking: 802.11b/g/n

Canon Pixma TR150

Dimension 12.7″ x 7.3″ x 2.5″
1.44″ Mono OLED display
Paper capacity: 50 sheets
Print output: Black and Color

HP DeskJet 3755

Print speed: 8 ppm black, 5.5 ppm color
Dimension: 15.86 x 6.97 x 5.55"
Input/output capacity: 60 sheets, 25 sheets
Weight: 5.13 pounds

HP ENVY 6055

Print, copy, scan, photo
Print speed: 10 ppm black, 4 ppm color
Dimension: 17.03 x 14.21 x 5.2''
Input/output capacity: 100 sheets, 25 sheets

Brother ADS-2200

50 sheet document feeder
Two-sided scanning
Scanning speed: 35ppm (Simplex), 70ipm (Duplex)
Connectivity: USB 2.0

Doxie Go SE

Dimension: 12.25 x 2.25 x 1.75''
Weight: 1.18 pounds
Resolution: 600ppi
Sheetfed scanner

Epson WorkForce ES-50

Dimension: 1.8 x 10.7 x 1.3 inches
Resolution 1200 dpi
Item Weight 0.59 Pounds
5.5 seconds fast scan

Brother DSmobile DS-640

Max. Scan Speed(Sim/Duplex): 16 ppm
Connectivity: Micro USB 3.0
Dimension: 11.9 x 2.2 x 1.4''
Resolution: 300 dpi
10 Best Portable Scanner Printer Reviews
1. HP OfficeJet 250
HP has introduced the Officejet 250 as an all-in-one portable printer. The sleek design of this printer has made it suitable for a portable machine.
Features:
Mobile printing: Mobile printing or cloud printing is the most trending feature for a printer. It also becomes necessary for a portable one. HP OfficeJet 250 comes with their free HP ePrint app. This app offers you various smart ways to connect your digital device with your printer. If you are near your printer, you can easily print your documents with smart Bluetooth technology without the hassle. WiFi direct is another connectivity option by which you can send your document to the printer with high speed and print seamlessly.
Long-lasting battery: One of the significant features of a portable device is the long-lastingness of the battery. There are two ways how a digital device can reduce charging interruption. One is by including a large battery, and another one is by enabling fast charging. You can charge OfficeJet 250 fully within 90 minutes. It is advised to turn off the printer while printing to help it charge quickly. This allows you to carry the printer anywhere without worrying about charging.
Climate Pledge Friendly: Climate Pledge Friendly products support improvements in at least one aspect of sustainability. Officejet 250 is designed keeping in mind the environmental concern. Not only this, this printer is ENERGY STAR certified, which means it uses less electrical energy. This makes it both environment-friendly and cost-effective.
Specifications:
All-in-One printer
Print speed: 7 ppm color, 10 ppm black
10-sheet ADF(Auto Document Feeder)
Dimension: 14.96 x 7.8 x 3.6
Pros:
Fast charging battery
ENERGY STAR certified
Supports different paper sizes
Optional high-yield cartridges
Cons:
2. HP Tango Smart Wireless Printer
HP has shrunk its Tango printer's size with all of the elements of an inkjet printer that one needs daily into a briefcase or a medium-size grocery bag. That makes it a suitable portable document scanner and printer for your daily use.
Features:
Voice-activated: HP Tango has smart home features. That means it can be connected with Google Home or Amazon Alexa. This feature makes it suitable for a smart home device. You can give Commands with your smart home device, and Tango will do it right away. This feature reduces the hassle of manual printing or scanning work without interrupting your daily life.
Ink delivered to your home: One of the most common maintenance issues with a printer is keeping track of the ink. How much ink is left, when to order the ink is the most common question we worry about. Solving all these issues, HP introduces the HP Instant Ink service. Your printer will order ink for itself before it runs out. This service is optional. But if you are interested, then HP tango will provide the first 2 months for free. After the trial period ends, Tango will charge $0.99 per month, including shipping and recycling.
Professional-quality prints: High-quality printing does not require bulky, heavy printers now. With HP Tango's powerful printing technology, it ensures high-quality prints. You can print your photos up to 8.5×14″ and borderless photos up to 5×7″. All prints will have high color accuracy, and text will look as crisp as you see on your digital devices. You can print on Plain Paper, High-resolution paper, Envelopes, Glossy photo paper, Card stock, Labels, Stickers, etc., without compromising printing quality.
Specifications:
Dimension: 20.6 x 14.84 x 10.4 inches
Weight: 7 pounds
Print photos up to 8.5×14 inch
Dual-band WiFi
Pros:
HP instant ink service
Paper sensor
Smart home features
24/7 web support
Cons:
3. HP OfficeJet 200
This inkjet printer is so compact that it easily fits in your car or backpack. It is light to carry, and at the same time, the design is durable to save your printer from unfortunate damage while handling. For these features, it stands out from other compact scanners.
Features:
Mobile Printing: HP has its in-house smartphone app. The UI is user-friendly and easy to use. You can use this app over the network to print wirelessly, or if you are not connected to the internet, you can use WiFi Direct. Not only this, HP OfficeJet 200 supports a variety of print media, and each one has its input capacity. Maximum input capacity for sheets is up to 50, for photo paper is up to 20, for transparencies is up to 5, for cards is up to 20, for 4×6 photo - up to 20, for labels is up to 5. More input capacity gives youtube freedom of working on the go.
Efficient cartridges: Cartridge is the essential feature you should look for when deciding to buy a printer. The quality of printing depends on what cartridge you use. At the same time, you need an efficient cartridge to save the ink's cost and save the environment. It is suggested to use the best cartridges HP offers. Among them, HP 62 ink & HP 62XL cartridges show great results. HP ink prints efficiently up to 2x the pages as refilled cartridges.
Easy-to-use control panel: The control panel comes with hassle-free navigation options. This makes your work more straightforward if you wish to use manual printing mode or change the configuration. You can use the Quiet Mode according to your environment and need. You can also have ink information, wireless setup, WiFi direct configurations very easily. The battery indicator shows you the real-time battery status of your printer on the panel's top-right section. There are three buttons with the features that you use the most and LED indicators to show whether they turn on or off.
Specifications:
Dimension 14.3 x 7.32 x 2.70''
Display 2″ Mono
Print Speed: 10 PPM for black, 7 ppm for color
Wireless networking: 802.11b/g/n
Pros:
Supports a variety of print media
Auto Wireless Connect
Long-lasting battery
Cons:
Print from USB not available
4. Canon Pixma TR150
If you want a handheld document scanner & printer that offers the best quality performance with basic features, you can go for Canon Pixma TR150. It is a portable printer that you can carry in your backpack easily.
Features:
Wireless options: This printer offers a range of wireless options to print remotely. Some of these are Canon Print App, Mopria Print Service, and Google Cloud Print. For Apple device users, it supports Apple AirPrint. This variation makes it very handy as you can switch between different platforms.
Design: The TR150 is small in size, measures around 12.7 x 7.3 x 2.6 inches when it is closed for carrying. The lid can be folded and used as a 50-sheet input paper tray. Being 4.5 pounds, the printer is light and can be used for a portable model. There is an optional battery you can buy, which increases the weight to 5.1 pounds. Suppose we compare it with HP OfficeJet 250, which weighs 6.7 pounds with a battery. If you open the lid, it reveals the control panel on the top of the printer. There are four arrow buttons with a few dedicated ones to navigate, and there is a small monochrome OLED display. There are no memory card slots in the printer, but there is a USB port on the right panel next to the power port.
Print speed: The printing speed of Pixma is relatively fast compared to other printers. However, the printing speed depends on whether you are printing full-color or monochrome. A full-color printer takes 9 ppm usually, and for monochrome, it is 5.5 ppm. It has a dot end Ink End Sensor, and it supports various paper sizes.
Specifications:
Dimension 12.7″ x 7.3″ x 2.5″
44″ Mono OLED display
Paper capacity: 50 sheets
Print output: Black and Color
Pros:
Fast printing
Lightweight
Anti-Theft Locking Slot
Cons:
Charging time is longer than competitors
5. HP DeskJet 3755
The HP DeskJet 3755 is a solid all-in-one printer with an excellent portable printer because of its sleek design. It can also be used as a portable photo scanner that can easily fit anywhere in your workspace.
Features:
Print Quality: Despite its small size, HP's DeskJet 3755 has the ability to produce fantastic output quality. It can print text, art, and photo without noticeable flaws in print quality. Even for different sizes, such as the smallest possible font, the text is highly legible with a rich black color with no blurry effect. Besides texts, this printer prints photos with high definition. It can produce pictures with accurate and vibrant colors, which is very important to maintain its quality. It can show impressive details, though it might not be impeccable if used for photo-centric printers. Despite its relatively slow printing speed, the high-quality output won't make you disappointed.
Connectivity: Portable printers should be able to connect both wirelessly and wired for different scenarios. The HP DeskJet 3755 links to your Digital devices such as desktop or laptop via an onboard USB cable or WiFi connection. The best part is it's compatible with both Windows and Mac operating systems. Apple AirPlay and Google Cloud Print compatibility make it very useful, and you can access them remotely. HP's own ePrint app, which works with several smartphones and tablets, helps you control your printer wirelessly. It would have been helpful if it had USB ports or SD media card slots. But having the printer's compact size and cheap cost, those are the best features you can get.
Cloud Services: Like other portable printers, HP DeskJet 3755 offers several cloud printing supports, making it a worthy competitor. HP has its own smartphone app, making it easier to set up your printer, print from the cloud, scan your smartphone, order cartridges, etc. Besides all these, it offers to print from viral cloud platforms such as Google Drive, Dropbox, and iCloud. This gives you the flexibility to store your data in your preferred cloud storage.
Specifications:
Print speed: 8 ppm black, 5.5 ppm color
Dimension: 15.86 x 6.97 x 5.55"
Input/output capacity: 60 sheets, 25 sheets
Weight: 5.13 pounds
Pros:
Print, Scan, Copy
Energy efficient
High yield cartridges
Cons:
6. HP ENVY 6055
If you are the person who cares about the aesthetics of the product, then you can give HP ENVY 6055 a try. It has a design with a simple yet futuristic vibe for a handheld document scanner printer.
Features:
Build & Design Quality: This HP ENVY 6055 has a good build quality. The plastic body feels rigid, and the power cable is not permanently attached to it, making it easier if you need to replace it. You can extend the input tray with a provided slider to adjust the size for photos. HP makes it very easy to remove the cartridges, as you only need to unclip them. Accessing paper jams has also been made easier by lifting the flatbed scanner, which you have to handle properly. By placing things under the scan lid, you can start scanning your documents. Last and an important feature is the printer makes a notification-like sound when it finishes a task.
Printing Speed: Comparing to the competitor HP ENVY 6055 has a decent printing speed. Documents with only black text have a print speed of 6 ppm, while color documents have 4 ppm. This is a noticeable one for those who print a lot of color documents. Printing a good quality, the high-definition photo may take around 69 seconds. Besides, this printer has automatic duplex printing, which is not that common in portable printers. The HP ENVY 6055 has perfect color accuracy. Sometimes you may see something on your device with vibrant color, but the color does not appear to be the same after printing. It happens because of the poor color accuracy of the printer. While it may not have the perfect color accuracy for very high-end photos, it is perfect for the prints you need daily.
Photo Printing Size and Quality: The HP ENVY 6055 has excellent photo printing quality. The colors are accurate, well-defined, and it keeps a lot of details. The prints with grayscale are fine; the little bit of banding in it is not very noticeable. Another important feature is Photo printing size. The HP ENVY 6055 has one input tray, which can hold the most common paper sizes you might need daily. Here are the printing sizes that this printer supports- Letter (8.5″ x 11″), A6 (105mm x 148mm), A5 (148mm x 210mm), A4 (210mm x 297mm), Photo (4″ x 6″) and Photo (5″ x 7″). But a few sizes are not supported- Legal (8.5″ x 14″), Tabloid (11″ x 17″) and Photo (2″ x 3″)
Specifications:
Print, copy, scan, photo
Print speed: 10 ppm black, 4 ppm color
Dimension: 17.03 x 14.21 x 5.2''
Input/output capacity: 100 sheets, 25 sheets
Pros:
Self-healing dual-band WiFi
Good color accuracy
Borderless Printing
Cons:
7. Brother ADS-2200
The Brother ADS-2200 is one of the fastest portable scanneRs in the market, which has a solid OCR performance and speed.
Features:
Design: The ADS-2200 is a duplex scanner, which means you can automatically scan both sides of a document. It has a 50-sheet automatic document feeder (ADF). When closed, the two-toned scanner measures 7 x 11.8 x 8.7 inches, and as it is a portable scanner. Its weight is around 7.7 pounds. It has a swift paper pathway from the ADF into the output tray, and It can scan business cards and plastic cards without any glare effects. The ADS-2200's optical resolution is up to 600 dpi, similar to its counterparts. The ADS-2200 can easily scan to USB thumb drives placed in the scanner's USB Type-A port.
Speed and Document Management: The ADS-2200 has 35 pages per minute (ppm) for one-sided scanning and 70 images per minute (ipm) for double-sided scanning. You can save the scanned files on a USB flash memory drive, E-mail, or OCR. The media types for this scanner are regular paper documents, photos, receipts, ID cards made of plastic, etc. Output can be saved as image or PDF formats. It comes with software such as two software from Presto!, naming BizCard and PageManager 9, one from Nuance, & last but not least, Brother's very own software iPrint & Scan, which helps it to process and manage the documents properly.
Text Recognition: Text recognition is a desired feature for scanners. The ADS-2200 comes with a document management software, PaperPort, which does pretty well for OCR; it can detect Arial font writings down to 6 points and Times New Roman fonts down to 8-point type.
Specifications:
50 sheet document feeder
Two-sided scanning
Scanning speed: 35ppm (Simplex), 70ipm (Duplex)
Connectivity: USB 2.0
Pros:
Scans to USB thumb drives.
Fast scanning
Excellent OCR performance.
Cons:
8. Doxie Go SE
If you are looking for a sleek, portable, designed scanner, then Doxie Go SE is the one you should count on. Don't judge it from its simple look; it is one of the best sheetfed portable scanners packed with many useful features.
Features:
Fast, Easy Scanning: Doxie Go SE has outstanding scanning technology, making it easy to scan documents or photos on the go by simply inserting your paper. It can scan a full-color page within just 8 seconds, and the resolution of the scanned copy is up to 600 dpi. The color accuracy Doxie Go SE provides is impeccable. You can easily insert documents as thick as cardstock into the scanner.
Design: Doxie is very small in size; the size is more like a rolled-up magazine. It is very suitable for being a portable device. It has a rechargeable battery and includes expandable memory. It can scan up to 400 pages per charge, and the storage can store up to 4,000 pages before you need to synchronize. This compact scanner's size is 12.25 x 2.25 x 1.75 inches, and it is super light with a weight of 1.18 pounds.
Software and OCR: It comes with the Doxie app to manage and control the scanner. Including this app, Doxie Go SE can be integrated with several document management software, using which it can scan, send to your preferred scanning apps. It has the best OCR technology in the market; it uses the best OCR technology name, ABBYY, to detect the written or typed text from your paper and create PDFs with searchable features.
Specifications:
Dimension: 12.25 x 2.25 x 1.75''
Weight: 1.18 pounds
Resolution: 600ppi
Sheetfed scanner
Pros:
Excellent scan quality
Long-lasting rechargeable battery
PC not required to scan
Cons:
9. Epson WorkForce ES-50
Epson WorkForce ES-50 is a small, compact, and lightweight portable scanner. It is USB-powered; it can help you with scanning at home or on the go.
Features:
Portability: One of the most portable scanners in the market is undoubtedly this one. It is evident by its size and weight. It weighs just 0.59 pounds. It is a sheetfed scanner with complete business scanning capabilities in a super-compact size. The ES-50 is USB-powered, so you don't have to worry about charging or finding a charging point. It will run simply by plugging it into a USB port on your laptop or PC.
Automatic Feeding: Epson WorkForce ES-50 comes with the Automatic Feeding feature. This mode enables documents to be scanned almost continuously. Besides, this mode can scan documents one at a time without the need to arrange pages by size and be saved into a single PDF. This feature practically makes it a portable multi-page scanner.
Versatile Scanning: The WorkForceES-50 offers a variety of paper sizes to be scanned, which also includes most standard paper types, regular ID cards, business cards, thin papers from 35gsm to thick papers, or cards of 270gsm, even carved plastic cards of up to 1.2mm thickness. The documents can be sized up to 8.5 x 72 inches. Scan to the cloud features can scan files and send them directly to your cloud service accounts with the included software.
Specifications:
Dimension: 1.8 x 10.7 x 1.3 inches
Resolution 1200 dpi
Item Weight 0.59 Pounds
5 seconds fast scan
Pros:
Very small and light size.
Fast speed
Robust software.
Cons:
10. Brother DSmobile DS-640
Brother DSmobile DS-640 is an economical scanner that scans quickly and accurately, making it a cost-effective, efficient portable scanner.
Features:
Simple and Economical: The DSmobile DS-640 is dedicatedly made for connecting to a laptop on the go. It is designed only for scanning one-sided documents such as official letters or sales receipts. The best use of it is business-card scanning and archiving. The size of it is tiny. The length is less than 1 foot and weighs only about 1. 5 pounds. You can fit this device basically anywhere, in your bag, purse, or even in your jacket's pocket.
Fast scanning speed: The DSmobile DS-640 can scan color and black and white documents at breezing speed up to 16ppm. Color scanning does not take a longer time than black and white scanning. But fast scan does not mean it misses any details or compromises in its output quality. The resolution of this scanner is 300 dpi. The maximum sheet size is 3.40 x 3.40″.
Software for Business-Card Archiving: The DS-640's software bundle includes the standard TWAIN, ICA, SANE, and WIA drivers for scanning your documents. The bundle includes Nuance PaperPort SE with Optical character recognition, Power PDF, Brother's iPrint&Scan (for Windows, macOS, iOS, and Android), and Presto PageManager with OCR for Mac. Cloud services such as Dropbox, Evernote, Google Drive, and OneDrive are supported. PaperPort SE gives you a scanner UI and basic document management, and Power PDF is a PDF editing software that helps you create and edit PDFs. iPrint&Scan is a cross-platform driver, and Presto PageManager serves the purpose of PaperPort SE and macOS.
Specifications:
Scan Speed(Sim/Duplex): 16 ppm
Connectivity: Micro USB 3.0
Dimension: 11.9 x 2.2 x 1.4''
Resolution: 300 dpi
Pros:
Dedicated Card Slot
Variety of media types
Windows / Mac OS / Linux compatibility
Cons:
Buying Guide for Best Portable Scanner Printer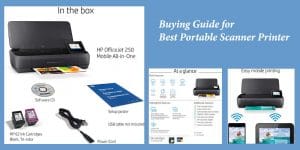 You need to do some research on your own before you buy a portable scanner printer. First, you need to have a clear idea about what features you are looking for. This is very important. Otherwise, you will be overwhelmed by the advertisements from different brands. This article will guide you through how to find a portable scanner printer that best suits your needs.
Ink Types
As you are buying a printer, the printing quality of a printer very much depends on the ink type. There are various ink cartridges available in the market: two ink cartridges, four ink cartridges, and inkwells. Two ink cartridges have only black color ink. Four ink cartridges have three more different colors- magenta, cyan, and yellow color ink alongside black. Inkwells use ink from refillable wells. Among all three, inkwell is the most economical one. You have to choose this according to your daily need.
Print/Scan Quality
A laser printer provides you with the best quality, but the printer is expensive. Inkjet printers have good quality color prints at a reasonable price. Print quality depends on two things- the printhead and the printer driver. If you need better quality printing daily, then choose one wisely. For scanners, scanning quality is measured by dots per inch(dpi). Portable scanners have a range of quality from 300dpi to 1200dpi.
Speed
If you occasionally print, then fast printing might not be necessary for you. But if you are required to print many documents almost every day, then the print speed should be your concern. The print speed is measured in pages per minute (ppm). The average print speed of portable printers is usually between 4 ppm to 40 ppm. For scanners, the range starts from16 ppm to 35 ppm.
Wireless Connectivity
The wireless connectivity feature will help you print even if you are away from your printer. Although you might think you don't need the wireless connectivity feature as they are meant to be carried with you, having a printer with this feature helps you manage and monitor your printer remotely and easily.
Paper Format
Whether you print or scan a variety of paper formats is important. Many printers do not accept legal-sized papers, and some sheetfed printers have a size limit. You should decide this by keeping in mind what sizes of documents you need to print or scan mostly.
Size and Weight
Portability depends on the size and weight of your printer/scanner. Some excellent quality printers and scanners pack almost all the needed features in a tiny space.
How to Use a Scanner?
A scanner is a machine that takes a picture of your document, makes a digital version of it, and makes it ready to read on your digital device. Operating a scanner is almost similar to using a printer, but the process is the opposite. Follow the below-mentioned steps to know the procedure of using a scanner.
Step 1: Make sure both the scanner and computer are turned on
Step 2: Place your document or photo on the paper feeder. Some regular scanners have a glass bed. Lift the top cover and place the written side of your document facing down.
Step 3: Now press the "Scan" or similarly labeled button on your scanner. Then go to your computer and search for the app that came with the scanner. For example, in this article, we will show the procedure for the Epson scanner. Epson scanners have their own app named "Epson Scan." After opening the app, select "Full Auto Mode" from the top right corner of the app, then click on the "Scan" option from the bottom right of the window. Now the "File Save Settings" window will appear, here you can choose the file location, file name, and file type of the to-be scanned document. Now click OK, and your scanner will start to operate on full auto mode. You can find the scanned file in the preselected destination.
How to Connect the Scanner to the Computer Wirelessly?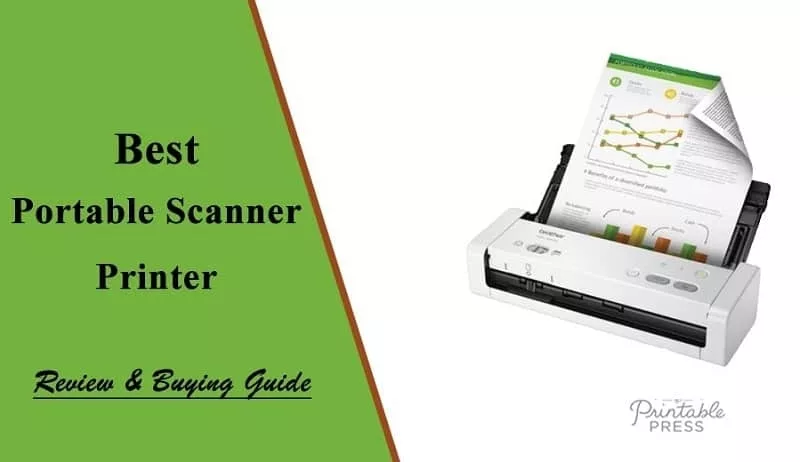 Connecting the scanner to your computer wirelessly is quite easy. Most scanners have a dedicated WiFi connect button on the scanner. This button turns on or off the WiFi feature of your scanner. We will discuss the procedure of connecting your scanner to your computer both for Windows and Mac operating systems.
Connecting to Windows Computer:
Step 1: First, plug in the scanner to a power outlet and make sure it is turned on.
Step 2: Now, as your scanner is turned on, go to your computer. Navigate the "Settings" icon by clicking the start logo. Inside the "Settings" search for "Devices." All the devices connected to your computer will be visible here. Now go to the "Printers & Scanners" from the vertical menu, then click "Add printers or scanners." Now your scanner's name should appear on your computer screen. Click on the "Add device" option to add the scanner to your computer. Now, as you have added the scanner, you are good to go.
Please keep in mind that you should connect both your computer and scanner to the same WiFi network. Otherwise, your scanner won't be detected by your computer. Some scanners use Bluetooth instead of WiFi. In that case, you need to pair both the devices for the first time. You can do this by navigating through the "Bluetooth & other devices settings" option.
Connecting to Mac:
Step 1: Turn on the power source of both your scanner and computer. Turn on the WiFi button if it's not already on
Step 2: Click the Apple logo, then select "System preferences" from the horizontal menu bar. A new window will appear; find the "Printers & Scanners." You should see your printer name on the screen; if not, click the "+" option to find your scanner.
If you have any issues connecting, please make sure your Mac is up to date.
FAQ
How does a portable scanner work?
There is not much difference between an average and a portable scanner. It basically takes a high-definition photo of your document and makes a digital copy of it to be read on your digital devices.
How do I scan from a wireless printer?
The easiest way to scan from a wireless printer is to use the dedicated software for the printer. You have to place your document in the correct position or the feeder; then, you can quickly scan the document using the software.
How much does a portable printer cost?
Depending on the features and brand, a portable printer can cost around 90-400 USD.
Are our portable photo printers worth it?
A portable photo printer won't give the same quality output as a professional photo printer. Most of the mobile photo printers have decent color accuracy hence the outcome. The price is also low compared to its professional counterparts. So in a word, it is worth the price.
Which printer scanner has the cheapest ink?
Every brand has a cheaper variant of the cartridge. The price starts from $14 to $70. Among them, Epson offers the most affordable ink cartridges.
Final Words
In conclusion, We always suggest you do your research before buying any product. This article will help you to know about the basic specifications of a portable scanner printer. All the 10 products reviewed in this article are the best ones in their niche. The products are selected based on their performance and price. Each product has some unique features than others, which gives you several best options to choose from. We believe our suggestion will help you find the one that best suits your needs.