Creating architectural designs, maps, etc. are some of the important things architects and even engineers do. There is so much planning and detailing that goes into making such architectural and engineering designs that a lot of people don't even know about.
More often than not, engineers and architects are always saddled with the task of creating quality and sophisticate drawings, most of which take too long to complete. Thanks to software advances, this is no longer the case. Now, architects and engineers can simply open software and get the drawings or designs they need, done within minutes. 3D drawings and modeling can also be done without as much hassle as they would have been a few years back.
Top Plotter Printers in 2022 by Editors
There are different software architects use when creating designs or maps. They are commonly referred to as plotters since it is easier to pronounce or remember compared to trying to memorize the actual names of such software.
Although plotters make mapping, drawing, and detailing so much easier, any design or drawing produced is in a digital copy. Architects and engineers still need a way to convert that digital copy to hard copy. As a result, there is a need for a way to print the designs or maps out. Hence, the need for plotter printers.
While many regular printing tasks can be achieved by utilizing the everyday basic printer, sophisticated imaging and drawings require only the finest of printers. And that is exactly what Plotter printers are - designed to print even the tiniest dots and lines with ease. Banners, posters, engineering 3D models, you name it and the plotter printer would print it out in high definition quality. This makes them irreplaceably valuable to any architect, engineer, or company that deals with such fine details.
That said, it is only right to get a plotter printer not just because of the many advantages it offers. It is very important to buy one if you are an engineer or architect. But the problem is, how do you get your plotter printer without overspending?
In this post, we highlight all the important things you need to know so you can find suitable plotter printers that will certainly fit your budget plan as well as assist you in your day-to-day designing and drawing tasks alongside your different software.
This guide would be in three sections. To help you efficiently read through, we would create hyperlink shortcuts below so you can skip to any section you want without having to scroll too much. However, we do recommend that you read through the whole post!
Top 6 Best Plotter Printer Reviews 2022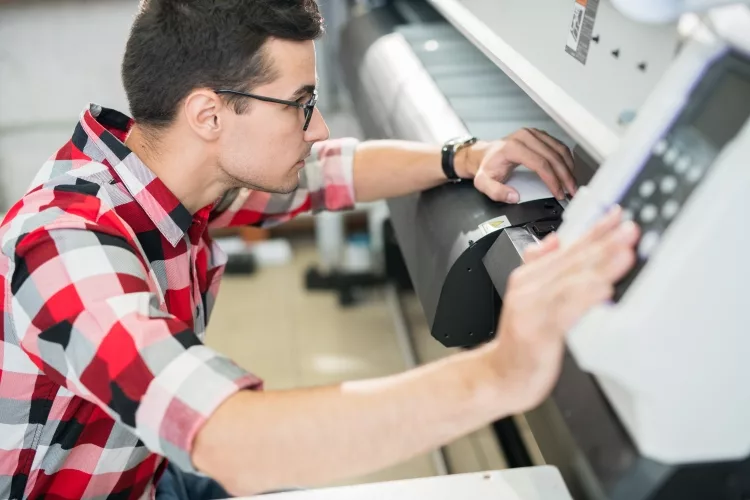 Here is a review of some of the best plotters on the market. We have also included direct links to them so you can easily order anyone that fits your requirements.
1. Canon Pixma iX6820 Wireless Business Printer - Link
Canon is one of the biggest brands when it comes to office equipment so it is not a surprise that one of the best plotter printers is produced by this incredible brand.
The Canon Pixma iX6820 is a compact printer that comes with several printing options. It is quite portable which makes it very easy to use as well as store, unlike larger printers. It also doesn't weigh much at just about 17.90 lbs. This means you can even carry it around your office if the need arises.
Another impressive thing about this Canon printer is that it supports printing on a variety of media or paper sizes. This is very useful if you are trying to print large drawings as large as 19 inches.
The print resolution is also very good coming in at around 9600 x 2400 dpi. It has a printing speed of 14.5 papers every minute which is fast compared to other printers in its price range. It supports printing in both colors as well as monochrome (Black and White).
It comes with five ink tanks (four for color and one for black and white printing) and you can always replace them when they run out.
NOTE: They do not use specific ink tanks so you don't have to worry about buying the wrong ink.
The printer is fully compatible with Mac and Windows PC and comes with software that gives you access to a bunch of editable poster templates. The software even gives you some photo editing features so you can use it as a photo printer as well as a plotter.
Considering how many features this printer offers, it is safe to say it offers impressive value for money.
Best Features
One of the best printers for photo printing
Capable of doing plotter printing at high resolution
Supports cloud printing
Compact size
Comes with a wireless connectivity option
Cons

2. HP DesignJet T130 - Link
Designed to be an economic yet powerful printer, the HP DesignJet T130 makes printing cheap without any compromise in print quality.
It comes with an impressive print speed of about 35 seconds per page. It can print on a variety of paper sizes including A1/D papers. For large paper sizes, it can print up to 70 sheets per hour. So whether you want your drawings or image on an A1, A3, or A4 paper, the HP DesignJet T130 would get it done without any hassle. It prints in bold colors irrespective of the size of the paper it is printing on. All thanks to its excellent printing resolution of 1200 x 1200 dpi.
If you are also looking to get some large format printing done, you will be happy to know that the HP DesignJet T130 can also handle such printing easily. The printer supports a wide range of connectivity options and comes with a paper tray, as well as auto feeder features all of which make printing easy and fast.
Overall, the HP DesignJet T130 offers mouthwatering value for money.
Best Features
Comes with an incredibly large range of media handling capability which includes an automatic sheet feeder, paper tray, automated straight paper cutter, etc.
Can print on any size of paper
Comes with a built-in A3/A4 tray.
Cons
The user's manual can be complicated to follow.
It requires you to download certain drivers without which the printer simply won't work. Installing the drivers is quite easy but still a hassle nonetheless.
You can only manually input A1 paper for printing. The paper tray only supports A3 and A4 paper.

3. Epson Expression Photo HD XP-15000 Wireless Printer - Link
The Epson Expression Photo HD XP-15000 Wireless printer is designed to produce high definition images of up to 2400 x 1200 dpi, in as little time as possible.
It does borderless printing which is perfect if you want to print professional HD CAD drawings or graphics.
One big drawback with using the Epson Expression Photo HD XP-15000 wireless printer is that it only uses Epson cartridges. In fact, this is an underlying issue with using Epson printers. They do not support the use of third-party ink or cartridges but Epson Cartridges and ink are pricey. The use of third-party ink or cartridges more often than not leads to damage to the printer.
That aside, the Epson Expression Photo HD XP-15000 wireless printer is quite fun to use. It supports hands-free printing thanks to its support of Alexa. All you have to do to enable the feature is connect the printer to any Alexa device via its wifi connectivity option.
Another brilliant feature we love about this printer is its Ink Dash Replenishment feature. Once activated, this feature ensures your printer never runs out of ink. And immediately your printer's ink level starts running low, it sends you a prompt to order more.
This printer also supports duplex printing - the ability to automatically print on both sides of an A4 paper. It also comes with a paper tray although it can only carry 200 sheets at a time.
Like many Epson printers, this one also comes with a PrecisionCore MicroTFP printhead and Precision Droplet Control that helps optimize printing.
Best Features
Perfect for printing professional HD quality photos
Supports borderless printing
Supports Alexa voice control once it is connected to any device with Amazon Alexa capabilities
Comes with a Wi-Fi connectivity option that makes printing faster and less stressful.
Impressive printing speed
Supports Duplex printing on plotter paper
Cons
Users frequently experience paper jams. This is also very tough to fix and there is no guaranteed solution from the manufacturers on how to eliminate such issues from occurring while using the printer.
Maintenance cost is quite high. For instance, this printer follows right in the footsteps of traditional Epson printers that only use Epson ink or toner for them to work. This printer uses on Epson plotter paper which is quite expensive.
NOTE: You can always use other types of plotter paper but there is no guarantee the finished work would be as quality as it would have been if Epson plotter paper was used.

4. Canon image PROGRAF TA-30 InkJet Printer - Link
One of the best plotters for large format printing is the Canon image PROGRAF TA-30.
It is an inkjet printer active perfect for engineers and architects alike. It is one of the fastest printers on this list. It has incredible printing speed and would print on a D-sized paper within 27 seconds. It is also capable of printing out 113 images every hour so you don't have to worry about it being slowed down by bulk work.
The Canon Image PROGRAF TA-30 is an entry-level plotter which is why it is pretty cheap. It is ideal for architectural and graphical designs that are not so complex. This makes it a perfect fit for schools and certain creative design companies that are not concerned with complex drawings.
Like most of the plotters on this list, you can print on a variety of media using this printer. From plain plotter paper to glossy photo paper and even fabric materials, the Canon Image PROGRAF TA-30 gets the job done.
Another feature worth mentioning about this printer is that it comes with software that allows you to create custom posters using its library of preset posters. To cap it all up, the printer uses pigment-based ink. The implication of this is that prints made by the Canon Image PROGRAF T-30 are long-lasting as well as incredibly weather resistant.
Best Features
The maximum print width it can produce is about 36 inches.
Can print on a variety of media irrespective of the thickness (0.1 to 0.8 mm)
Has very fast printing speed.
Supports borderless printing which makes it perfect for printing posters among other things.
It supports wireless connections. This means you can connect it to wifi and not have to worry about having a computer on hand every time you need to print something with this printer.
Cons
The Canon inks used by the printer are pretty expensive.

5. HP OfficeJet 250 - Link
The HP OfficeJet 250 is a user-friendly printer that comes with multifunctional features. Not only do you get a plotter that can produce high-quality work, but you also get a scanner, a fax device, and a copier in the same machine.
It comes with multiple connectivity options. You can connect the printer to a Wi-Fi network, Ethernet network, as well as AirPrint for e-Printing. This means you don't have to connect the printer to a computer every time you want to get some printing done. You can practically access any file virtually thanks to its mobile printing support. Whether you use an Android or iOS device, a laptop, or an iPad, this printer would print from it.
Another impressive feature we very much love about the printer is that it supports hands-free printing. This is because it works with Alexa so you can use voice commands to get the printer to start printing. Alexa also lets you You can promptly access your data from any of your cloud storage all with voice control.
It also comes with a small color touchscreen which you can also use to input commands to the printer.
Asides from working on direct AC power, the HP OfficeJet 250 also comes with a long-lasting battery backup source. This makes it possible to use the printer at pretty much any place or time you want without having to worry about finding a power source or not.
One big drawback with this printer is that it has a high maintenance cost. It uses specific HP ink and cartridges without which it would not print.
Best Features
Intuitive 2.56″ color touchscreen alongside voice control support (Alexa support).
Supports several connectivity options such as Ethernet, Wi-Fi, and even Bluetooth.
Comes with a year of limited hardware warranty by HP Customer care. This also entitles you to a year of technical phone support for free.
Can print on a variety of paper types and sizes
Cons
High maintenance cost
Although it comes with a sheet tray that comes with Auto feeder capabilities, the Auto feeder does not always work. Should you encounter such issues, simply call HP customer care support, provided your printer still has a valid warranty.

6. HP DesignJet T530 Wireless Plotter Printer - Link
Ideally, this type of printer should not be on a list such as this since it is essentially a large format printer. However, it is so versatile that a lot of engineers and architects now actually use it for professional work all of which the device handled with ease!
Asides from being yet another entry for HP, the HP DesignJet T530 is one of the most satisfying to use plotters on this list. It is compact, lightweight, and does not take a lot of space in your office.
On top of being capable of printing in very high resolution, the HP DesignJet T530 is one of the fastest plotters in its price range. With an impressive printing speed of 30 seconds per page of A1/D paper, while printing at a resolution of about 2400 x 1200 dpi, there is so much to love about this printer.
It is about 24-inch in size and supports printing on a wide variety of paper including plain paper, film paper, glossy and semi-gloss photo paper, self-adhesive paper, etc.
The DesignJet T530 is the perfect choice for you if you are running on a budget but don't want any compromise in terms of print quality. Of course, it isn't without its drawbacks. However, for some of the features you get to enjoy on this printer, it is safe to say you would love it!
Best Features
An impressive printing speed of 30 secs per page (Paper type: A1/D).
Can print on quite a variety of paper.
Comes with an automatic sheet feed, paper tray, and an automatic sheet cutter.
Multiple connectivity choices such as Ethernet (Supports the fast 100Base-T), Wi-Fi, and AirPrint. This implies that you can easily carry out mobile printing on the HP DesignJet T530 without any hassle.
Can print directly from your iOS or Android device via the HP Smart App.
Comes with software that provides you access to a library of premium photos that you can edit to create unique posters or graphic designs.
Cons
Users often complain of printouts having poor line replication
There are tons of settings on the printer that just makes it incredibly hard to determine the best settings at a go.
Buying Guide for the Best Plotter Printer
In this section, you will read about key features to look out for when shopping for a plotter printer. NOTE: We have taken the time to compile a comparison chart of the plotter printers we reviewed in the section above. You will find the comparison chart just below the buying guide. That way, you would be able to compare the features of each printer having learned how each feature impacts the printouts each printer produces.
Premium plotter printers are a lot more expensive than they should be although they typically don't come with any underlying issues that you would find in cheaper models. However, getting your hands on one can prove to be difficult since you might be running on a budget. The good thing is there are budget plotter printers that offer immense value for money. Finding one that is perfect for you is another issue entirely since there are tons of budget plotter printers on the market.
In this guide, we will discuss the features that every good plotter printer should have. With this, you can easily filter out the best ones that offer value for money.
Without further ado, let's get to it.
1. Type of Plotter Printers
Quite surprisingly there are only three different types of plotter printers. They are Flatbed plotter printers, inkjet plotter printers, and Cutting Jet plotter printers.
Every plotter on the market falls under one of these three groups.
However, depending on how the printer works, that is what type of media it uses or prints on, the three types of plotters can be further grouped into two. They are:
Technical Plotters
Graphic Plotters
This can seem a little confusing so we would summarize it all for you. Essentially, all you have to worry about here is how you want your printer to function.
Do you want a printer that can print CAD drawings easily or one that is capable of printing graphics-intensive designs? Do you want a plotter that uses inkjet technology knowing fully well that inkjet printers have high maintenance costs? Will you be the only one using the printer or you have to share with other architects or engineers such as yourself?
These are very important questions that would help you understand what type of plotter is perfect for you.
2. Size of the Plotter printer
This is the first thing you need to consider and it is important for a number of reasons.
For one, you need to know the size of a printer that can handle the type of vector graphics and designs you want to print out. You also need to worry about the size of the printer because you need to store it when it's not in use. Getting a printer you can't properly store while it is not in use can be very uncomfortable, to say the least.
Plotters come in different sizes. They come as little as 17-inch to as large as 60-inch. The bigger plotters are, more often than not, the premium printers since they are created for industrial printing only.
While we didn't review any plotter printer as large as 60-inch, we did review the Canon imagePROGRAF TA-30. It is the largest on this guide, boasting an impressive 36 inch.
NOTE: The size of a plotter usually determines how many features you will find on a plotter printer. But this isn't always the case.
3. Ink Usage
Plotter printers use two kinds of ink for printing - Pigment ink and dye inks. Pigment ink works well if there are a lot of graphical or technical drawings. There are even some printers that come with separate cartridges for using both pigment and dye inks in one printer.
When buying a plotter, consider how readily available the replacement ink cartridge is. Also, consider the cost of buying the ink for the long term. This would help you understand how much budget you would need to keep the printer running.
This is basically how thick the plotter paper or any other material you wish to print on is. Each plotter comes with its unique maximum media thickness. If the thickness of the material or paper is higher than what the printer can work on, it could potentially damage the printer.
Also, you have to consider the size of printing you want to do. This would determine the size of paper you will need. With plotters, the size of the printer mostly influences the size of printing it can carry out.
5. Connectivity
This refers to the different ways you can connect your plotter to your computer or smartphone. While it is not a function everyone quickly thinks about when trying to buy a printer in general, it can be very useful.
Wireless connectivity essentially means you do not need to connect your plotter to a computer every time you want to print a design or image out. Some even allow you to connect to computers remotely provided your printer is connected to the same Ethernet network.
6. Print speed
This defines how fast a printer can print on paper or any other suitable material. On average, most plotters prints at a speed of 20 seconds per paper. High-end plotters have the fastest print speed.
7. Multifunctionality
This is not that much of a deal-breaker unless you are running on a very tight budget. Plotter printers often come with features that allow them to do more than just print designs and drawings in high resolution. Some of them come with other features such as a copier, faxing, and scanning. Some plotters support voice control so you can carry out hands-free printing.
If this is something you are particularly keen on, then check to ensure that the plotter you plan to buy has one.
Benefits of Using a Plotter Printer
If you're looking for a better way to produce large-format prints, you should consider using a plotter printer. Plotter printers offer many benefits over traditional printers, including:

1. Increased print speed
A plotter can print at speeds up to ten times faster than a standard printer.

2. Increased resolution
A plotter can print at resolutions up to 1200 dpi, compared to 300 dpi for a standard printer. This means that your prints will be sharper and more detailed.

3. Increased accuracy
A plotter's printing head moves in a straight line, which results in much greater accuracy than a standard printer's dot matrix printing head. This means that your prints will be more accurate and less likely to be distorted.

4. Increased versatility
A plotter can print on a variety of different media types, including paper, cloth, and even metal. This means that you can use your plotter to create prints for a wide range of applications.

5. Lower cost of ownership
A plotter typically costs less to own and operate than a standard printer. This can result in significant savings over the life of the printer.

If you're looking for a better way to produce large-format prints, a plotter printer is definitely worth considering.

FAQs about Plotter Printers
Here are some frequently asked questions about Plotter printers that would hopefully answer any question this guide might not have answered.
What is a plotter printer?
A plotter printer is a printing gadget just like your everyday printer. The only difference is that a plotter printer is primarily used for producing vector graphics or vector pictures/images. Vector graphics or Vector Pictures/images are essentially images comprised of lines or paths with well-defined starting and ending points.
Plotter printers use stationary writing tools to make lines that have well-defined continuity. This is another important feature that makes it different from traditional office printers. Traditional printers make use of toner in creating a cluster of tiny dots that blend to create lines, images, or words.
This is why plotter printers are unique. They can create remarkable images with superior quality to anything produced on a traditional toner printer.
What is plotter paper?
Plotter printers only print on a particular type of paper. This is what is referred to as plotter paper. They are made using different materials. Plotter printers are also versatile and would print on a number of other surfaces or materials asides from plotter paper. They include cardboard, vinyl, etc.
For the best results, plotter paper is mostly used. Plotter paper is made using different materials. The use of any type of plotter paper depends mostly on what type of image, or graphics is being made.
NOTE: The type of plotter paper you need depends on the type of printing you are trying to get done. For instance, printing a map on a plotter requires a unique plotter paper compared to printing a CAD drawing of a kitchen layout.
What type of documents can I print on a plotter printer?
Plotters are multifunctional gadgets that are capable of printing on a pretty large scale. Nevertheless, they are generally utilized in technical areas where high-resolution imaging is of high essence. These technical areas include building and construction, mapping, engineering, etc.
Because of the importance of comprehensive and detailed images, plotters are more preferred over the other traditional office printers. That way, CAD drawings, architectural drawings, as well as other related drawings would be printed with precision and great attention to detail.
Plotter Printers vs Wide Format Printers?
There is not so much difference between plotter printers and large format printers. For instance, they both can print images with very high resolution.
The only difference that sets the two apart is the process in which the image replication is done. For plotter printers, creating vector images or graphics involves the use of continuous lines. However, on large format printers, the high-resolution images produced are made up of pixels.
Another difference, albeit not quite a significant difference, between the two is that images are saved as raster files on a large format printer. However, they are saved as vector files on plotters.
What software will I use for my Plotter Printer?
This is a fantastic question to ask and it is a bit technical to answer. The short answer is that you do not necessarily need a software on your computer before you can print with it. This is because a plotter printer is just like any other printer, it is used for printing. The only difference is that plotters have very specific type of documents they print. This is not to say they cannot print other types of documents.
However, like any other traditional printer on the market, there is need to install drivers on your computer so your computer can identify the device as a printer. This is where it gets technical.
Just like traditional printers, some plotters come with their drivers preinstalled. The drivers would automatically load in on your computer immediately you connect them for the first time. Next, you can allow the driver to download and install them on your computer. But this isn't always the case.
Not all plotter printers comes with drivers preinstalled on them. You have to search for drivers that would make the printer work. Sadly, there is no way to know which plotter printer has drivers pre-installed or not. The best you can do is completely research a printer so you already know every underlying issue it is known to have before even buying it.
The only alternative, if you do not carry out proper reaearch, would be to contact the customer service of your printer's brand for directives on how to download drivers that are compatible with your Printer and PC.
Expert Tips to Maintain Your Plotter Printer
Plotter printers are a great investment for businesses and schools that need to produce large prints or posters. However, like all other printers, they require regular maintenance in order to keep them running smoothly. Here are some expert tips on how to maintain your plotter printer:

1. Keep the print head clean.
The print head is responsible for printing the image onto the paper, so it's important to keep it clean. Occasionally use a soft cloth to wipe away any excess ink or dust.

2. Check the ink levels regularly.
Make sure you have enough ink to complete your prints, and refill the tanks when necessary.

3. Use the right kind of paper.
Not all types of paper are compatible with plotter printers. Make sure you're using the right kind of paper for your printer.

4. calibrate the printer regularly.
This will ensure that the prints are accurate and consistent.

5. keep the printer in a cool, dry place.
Excessive heat or humidity can damage the printer and cause it to malfunction.

Buy them at eBay, Walmart, Etsy (subject to availability)
HP DesignJet T130 24-in Large Format Printer - Walmart, Etsy, Ebay
HP DesignJet T100 Large Format Compact Wireless Plotter Printer - 24 inch, with Mobile - Walmart, Etsy, eBay
Canon Pixma iX6520 Inkjet Printer (4895B002) - Walmart, Etsy, Ebay
Epson SureColor T3170 24" Wireless Desktop Printer - Walmart, Etsy, eBay
HP DESIGNJET T120 24-in 2018 ED. Printer - Walmart, Etsy, eBay
Canon image PROGRAF TA-30 With Stand (3661C002) 36" Large Format Inkjet Printer - Walmart, Etsy, Ebay
2PX9507 - HP Designjet T120 Inkjet Large Format Printer - 24Quot; - Color - Walmart, Etsy, eBay
HP DesignJet T530 Large Format Wireless Plotter Printer - 24", with Mobile Printing - Walmart, Etsy, eBay
Epson Expression Photo HD XP-15000 Wireless Color Wide-Format Printer, Amazon Dash - Walmart, Etsy, eBay
Canon Pixma iX6820 Wireless Business Printer with AirPrint and Cloud Compatible, Black, - Walmart, Etsy, Ebay
HP DesignJet Z9⁺ Dual roll 44-in Postscript Printer - Walmart, Etsy, Ebay
MH Series USCutter 34-inch Vinyl Cutter Plotter with Stand and VinylMaster Cut Software - Walmart, Etsy, eBay
Conclusion for Plotter Printer Buyers
There you have it. We've discussed everything you need to know about the very best plotter printers. We have also recommended some printers that offer the best value for your money - Plotters that does exactly what every architect or designer needs. Some are designed for professional use while others are specifically for casual use.
As you might have noticed, most of these plotters come from HP, Canon, and Epson; three big and well-respected brands when it comes to office equipment.
Each of the plotters reviewed above offers unique features, unique layout printing, as well as each one reason that makes them stand apart from the others.
With all that has been said, all you have to do is identify what you want in a plotter. Some of the questions you might wish to consider includes whether or not you want a portable printer. Another important thing to consider is whether or not the plotter can print in the resolution you require. Does the plotter support other types of connectivity options? How fast does the plotter print and can it handle large printing work?
Irrespective of the plotter you decide to pick from our recommended top picks, you can be assured that they would provide the very best quality printouts for you.