Today, silkscreen print is gaining widespread relevance in the fashion world. It has become a major source of income for crafters and artists. They learn new techniques to carry out their silk screen printing task in a profitable way. Most of the admirers of silkscreen printed garments are also making tremendous efforts to carry out the task without the guidance of experts and professionals through the DIY process. That said, silk screen printing is an excellent technique to screen print for pop artists, famous personalities, and other categories of people. You can create silkscreen print on luxury fabrics, group attire, and many more. Despite the widespread popularity of the silk screen printing technique, many people still lack a vivid understanding of what silk screen printing is, how to carry it out, and other basic information about the screen printing method. Hence, it is important to craft content that will sensitize and give proper education on all you need to know about silkscreen print. With that said, today, I will be telling you all the necessary information you should know about silkscreen print.

What Silk Screen Printing Means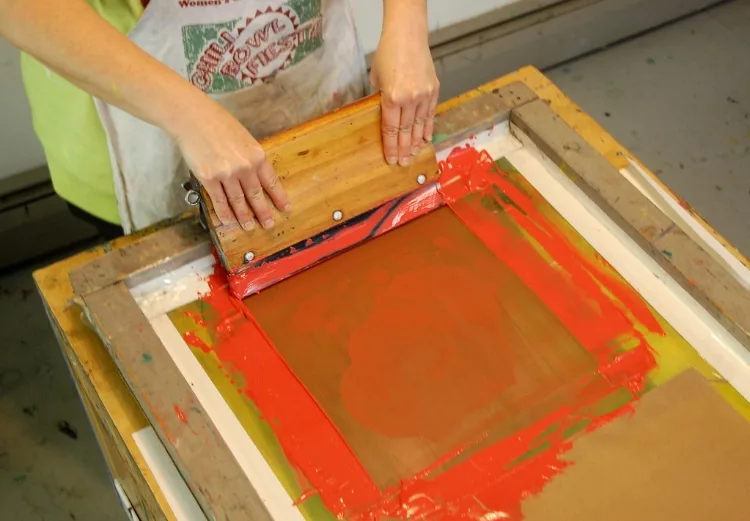 Silkscreen printing is the method of creating stencils in which an artist can produce multiple copies of the design of different kinds of artworks. Silkscreen printing is used for large-scale projects and can also be an art form. Silkscreen printing is majorly practiced by industrial printing outfits, individual artists, and other professional artists. The method of printing started in 9,000 B.C. when silk screen printing style was used to design Greek Murals and Egyptian tombs. Also, the Chinese are known to practice silk screen printing in different forms.
Though the materials used in the ancient days have changed over time, the procedure and productivity remain the same. Fashion designers or textile artists practice silk screen printing to beautify their newly made garments. Commercial artists and DIY artists also practice screen printing. For instance, Andy Warhol and other famous pop stars are involved in creating excellent pop art painting by using the screen printing method.
Steps to Perform Silk Screen Printing
Silkscreen printing is a method that uses a quality extra-fine mesh that is stretched over a frame. The mesh and frame are called the screen. It is placed over any of your canvas when performing screen printing. At the inception of printmaking in the western world, silk was used as the mesh. Hence, it derived its name called silkscreen. Just as other forms of screen printing, paper, fabric, and other materials are used.
The mesh used for silk screen printing is a stencil that contains the final image to be printed or a part of the image. The choice of the kind of image depends on the color to use. When doing silk screening, the ink must be applied evenly. If you are using a two-color tree, you will need two screens. One of the screens will be a brown trunk and green leaves for the other screen. Silkscreen printing allows artists to use different kinds of colors. Your choice of color depends on the material and the design you want to print.
After choosing the ink to be used, you need to proceed to silkscreen printing where the ink will be applied. To apply the ink, the artist will drag the squeegee across the screen. Then the ink is forced to go through the mesh and to the canvas. The process is repeated for any color that is to be applied on the screen. Silkscreen printing comes with a long process and is susceptible to error.
When to Use Silk Screen Printing
Many artists that don't use the silk screen printing technique do not know its prevalence over other techniques. Independent and small-scale artists use the silk screen printing process to produce original work. However, large-scale manufacturers use screen printing to customize huge varieties of products. As an artist, you can use silk screen printing for large-scale and small-scale production. Hence, you can use the screen printing technique regardless of the class of artist you belong to.
1. Art Prints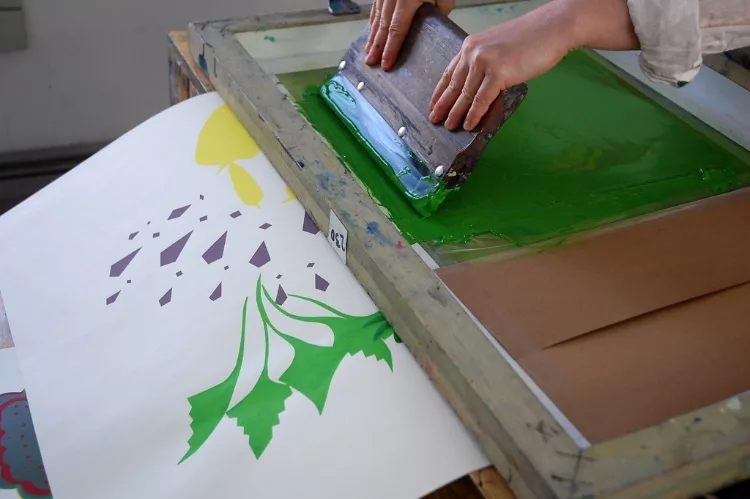 One of the major tasks of artists is printing. They can print for commercial or personal purposes. Though screen printing may not be easy for non-professionals, artists have found it much easier in that they can make multiple copies of artworks from the scratch. Hence, they can sell a huge number of their artwork to their target customers and meet their demand at any given time.
Many a time, some artist uses screen printing to produce unique artwork. For this purpose, they create a stencil and apply unique color to it using a brush or squeegee. The practice of silk screen printing has become another better option of transferring art design on different canvas without any hassle.
2. Choice of Textile
The most common kind of textile used for silk screen printing purposes is the T-shirt and other apparel used for special events. Many a time, people order materials directly from companies forsilk screen printing for charity, events, and other purposes. They also order flags, tote bags, and other basic human utilities for logo printing and other customization purposes.
Additionally, you can do silk screen printing on patterned fabrics whereby you can create your desired patterned fabric both on a small scale or industrial scale. Individual artists are known to create pattern fabric on a small scale while artists create patterned fabrics on a large scale.
Comparison between Silk Screen and Digital Printing
In the printing industry, there are many silk screen fans. However, the advancements in technology have brought about a new method of printing which is fast reducing the popularity and practice of silk screen printing. Many a time, the choice of printing method depends on different factors.
Nowadays, digital printing is gaining widespread popularity among professional and DIY artists. All that is needed is an image editing software and a printer. Through digital printing, you will have unlimited access to print small customization orders because the process is easier to set up when compared to screen printing.
Considering actual printed images, the digital printing technology allows you to get sharper and better details. You can print small lettering or details such that they will be clear to see. In silkscreen printing, you can use different color shades and they will appear vibrantly. Screen printed apparel reveals your extent of professionalism. It can last longer on customized shirts than digitally printed shirts. Additionally, digital printing works perfectly for materials that are 100 percent cotton while screen printing can be done on nylon, plastic, and silk materials.
The major difference between screen and digital printing is the price. The amount you spend depends on the location where you are carrying out the printing task. That said, digital printing is cheaper because it is easy to set up. You don't need to hire a professional to perform the task. You can perform digital printing in any location. Silk printing is affordable to experienced artists because they can use one stencil on many materials. High-quality digital printing is expensive and the printers are not cheap.
Different Scale of Printing Task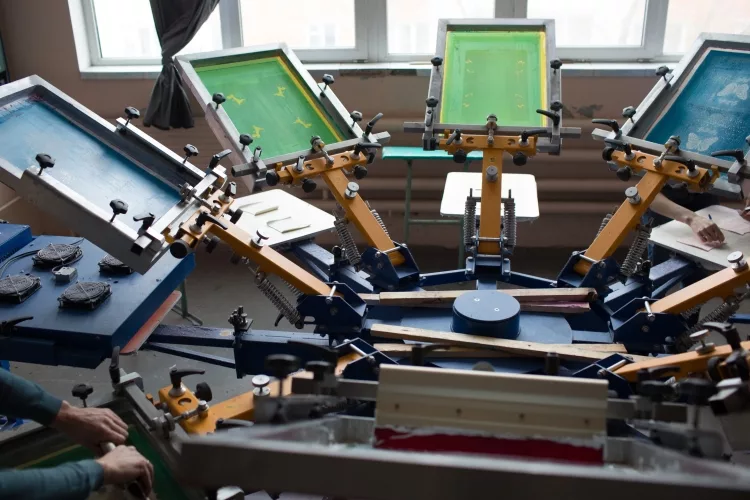 If you desire to start your printing task, you should understand the kind of printing you can do at a given time and location. In this section, I will tell you the kind of printing you can do.
1. Home Printing
If you desire to practice your printing skills at home, you can set up your printing apparatus easily. To do this, you need to set up the necessary materials like silkscreen, ink, squeegee, and frame. You also need a dark room, 250-watt bulb, photo emulsion, and glove to make your stencil. You can approach a local store to purchase these items.
2. Small-Scale Printing
Artists and upcoming printers practice small-scale printing for income generation or to execute personal projects. For this purpose, you can practice silk screen printing or digital printing. However, you need to consider the volume of work you need to do before choosing the method to use. Small-scale printers can handle projects like t-shirt, banners, key chains, and other bulk printing tasks. You can also customize your own apparel for special events and programs.
3. Mass Market Printing
Mass market printing is majorly practiced by professional artists. As an expert in printing, you can screen print on tote bags, t-shirts, and posters. These materials are sold in large quantities in order to earn extra income. Most artists make mass printing as their financial source because they handle large scale company orders. For this purpose, you can consider silk screen printing or digital printing, depending on the kind of material to handle.
Summary of Silk ScreenPrinting
The table below summarizes the types of printing and points to note.
| | |
| --- | --- |
| Types of Printing | Points to Note |
| Home printing | It is meant for personal printing tasks. |
| Small scale printing | It is meant for handling small printing tasks. |
| Mass Market printing | It is meant for handling huge printing tasks for companies and advertising companies. |
Conclusion on the Printing Technique
Silkscreen printing has been in practice since ancient times. Today, I have discussed all you should know about the silk printing technique. Happy reading!