When it comes to choosing paints, many artists prefer using acrylic paints over other options such as watercolors and oil paints.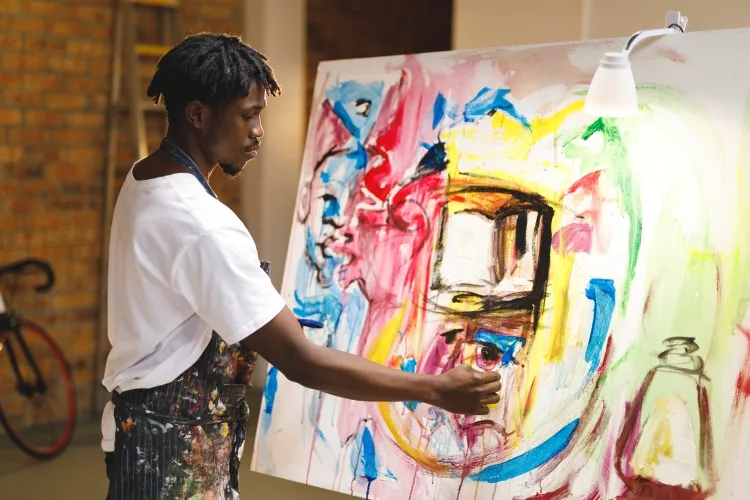 WHY USE ACRYLIC PAINTS?

Why? One may wonder. For starters, they are cheap and affordable. Apart from that, acrylic paints have an easy application and are water-resistant once dry. These qualities make them ideal for anyone from a mid-schooler to a professional artist.
All reasons put aside, acrylic paints are also known for their quick-drying property. We all know the struggle that is waiting. Waiting for the paint to dry to pull off the duct tape or waiting for it to dry so you can get it ready for transportation. I think we can all agree on this that waiting indeed, is torture.
While it is true that patience is a virtue, there are a lot of things you can do to speed up this process. There are tried and tested methods to dry acrylic paint fast. Let's look at some of the best steps you can follow to make your acrylic painting dry quickly.
HOW TO DRY ACRYLIC PAINTS:
If you want your painting to come out perfect, there are a lot of dos and don'ts you need to keep in mind. One simple thing could either transform it or completely ruin it.
Here are some things you must consider doing for your paint to dry quicker.
DOs:
Keep the paint consistency thin. Not too runny though. Just mix it with enough water that the paintbrush glides smoothly over the canvas.
Spread the paint evenly throughout the canvas. Otherwise, some parts of your painting will take longer to dry than the other ones.
Apply in layers if multiple coating is required. Make sure the first layer is completely dry before adding on the other one.
DON'Ts:
Don't apply paint to the same area multiple times. Overcoating will only lead to unwanted layers of paint which will take an eternity to dry.
Don't use more paint. Acrylics provide a good texture in less quantity. Using more quantities of paint will slow down the drying process.
Don't rush. Hurrying won't lead it to dry quicker. Instead, it may leave you with unfilled spaces which will cause you to overcoat later on.
Now that we know what to do and what to avoid, let's move on to some steps that will reduce the drying time for acrylic paints. Painting is indeed a lot of fun but it can soon turn to disaster if even one small thing is neglected.
Steps to dry acrylic paints faster:

Since there are tricks to everything, there are also some hacks for ensuring you don't mess up after you have spent the last couple of hours creating the perfect painting. No need to fear cracked and smudged paint, just follow these simple steps to dry acrylic paints faster:
1. Work in a Less Humid Room
Does your hair air-dry quicker in winters or the rainy season? Winters for sure! It's simple science. Lower levels of humidity will cause your paint to dry faster.
Acrylic paints dry through evaporation. This is why if you work in a room with less humidity, you will notice the paint is drying quicker than usual.
The way to do that is to either turn on your air conditioner or invest in a dehumidifier if you don't already have one!
2. Don't Neglect the Importance of Ventilation
Aired spaces work best for speeding up the drying process. You don't leave up a towel in your bathroom if you want it to dry quicker, do you? Instead, you spread it in an airy room. Turn on the fans and open the windows, it will save you a lot of time!
3. Avoid Thick Coats of Paint
Acrylic paints have a naturally thick consistency. As appealing as it looks, using it without diluting it first will have you waiting for hours before it finally dries.
It's suggested to use thinner or water to dilute the consistency of acrylic paints and then apply them over the canvas. It will provide you with a better application and will dry faster as well.
4. Turn Up the Heat
The heat helps in drying up the paint faster. In winter, you can turn on the heater. But that's not a possibility in summers, as long as you are not looking to melt yourself! So, a better alternative would be a hairdryer.
Use your hair dryer to dry up the acrylic paint quicker. However, you need to be very careful during the process. Adjust the heat to medium-low and make sure you are not warming up the paint too much. More heat will cause bubble formation or lead to cracks, and you want to steer clear from both!
5. Place the Painting under Light
Placing your painting directly under sunlight or under a lamp will speed up its drying process. As mentioned above, acrylic paints dry through evaporation. Again, simple science! Light increases the speed of the evaporation process so your painting will dry up much faster if it is placed in the light rather than dark.
6. Avoid Touching it Again and Again
Now this one is not exactly a hack to dry up paint quicker. It is rather a tip if you want to prevent ruining your painting. Checking it multiple times to see if it has dried or not will leave marks on the painting if it is still wet.
To conceal those marks you will have to coat it up again. Repeating this process will only lead to a huge deposit of paint which will not only look disastrous but also it will take forever to dry.
Instead, just apply light coats and leave them to dry. Don't touch it unless you are certain that the paint has completely dried. A little patience will save you a lot of time!
7. Do Everything in an Order
If you want your painting to dry quickly, this is one of the biggest mistakes that you can make. Don't wait for one part to dry before moving on to the other. It will consume your whole day. Instead, keep painting areas one after the other. Most of the paint will already be dried up by the time you finish with the entire painting.
While these 7 hacks will help you out in drying your acrylic paintings quickly, there are a few things that you should always remember when you are working with paints.
Continue reading to find out what they are.
THINGS TO REMEMBER:
First of all, these hacks will help you speed up the process. It won't magically reduce the drying time to zero. Therefore, if it's not working as quickly as you expected it to, don't be disappointed. Once it has dried, you will notice that the time went by quicker using these hacks!
Secondly, don't get too extra. Try one or a maximum of two of these hacks at a time. Don't overwhelm yourself by doing everything simultaneously. Chances are you might end up doing nothing right and will be left behind with a massive mess to clean up later!
Patience is the ultimate key to everything. You will have to wait with these hacks as well. So don't expect immediate results.
All it takes is one mistake to ruin hours of your hard work. Therefore, handle your paintings with care. Don't unnecessarily touch them as I have said above. When drying, make sure to put them in a safe place where they cannot be reached by someone else, especially children.
To check if the paint has completely dried or not, tap lightly with a brush. This will not leave any marks and you will get your answer.
Although diluting acrylic paints is a good way of achieving lighter coats. Don't overdo it. If the consistency is too runny, your paint will drip around and mix up with other shades. We don't want that type of mess. Make sure you have achieved the right consistency before applying it on the canvas!
Lastly and most importantly, do a small patch test before going all-in with the hack. What might be working for others may not work for you. Doing a patch test beforehand will help you determine if you should go forward with it or not!
Painting is not as fun and easy as they make it seem. It is a rare skill and those who possess it can draw wonders. The amount of hard work and effort that an artist puts into finishing a single painting is unimaginable. With these hacks, you can dry up your acrylic paintings much faster and be able to flaunt the final results quickly. Let's see what works for you the best!