A label maker is a life savior essential for organized people to categorize various objects into their respective groups. Though it might sound unnecessary to invest in a label maker, this one-time investment will provide you lifetime benefit. Whether in-home or office, you will find your daily life much sorted out and arranged when you label mark everything. There is no going back from the satisfaction of starting to organize your essentials with label makers.
Thinking about our readers' preferences, I will review the ten best label makers out of the myriads in the market. From there, you can pick up one of your choices and start enjoying labeling your stuff!
Our Favorite Lebel Maker
Review of 10 Best Label Maker for Home Use:
1. DYMO Embossing Label Maker with 3 DYMO Label Tapes
The ergonomically designed DYMO label maker is a perfect and quick fix for your DIY labeling projects. You don't need anything to start with because it requires no batteries and a 12-feet embossing tape already loaded. With the DYMO label maker, you will never get bored with organizing because customization is made fun of with 49 different fonts, numbers, and symbols.
Features:
Ergonomic design: This modern-looking label maker has an easy-to-use ergonomic design. The handle is finger-shaped for easy grip, and the label maker's flat bottom makes it easy to stand on desks.
Convenience: DYMO has included everything in its label maker to the extra convenience of labeling. With 49 unique and exquisite numbers, symbols and letters, your creativity won't see limitations. Additionally, you can also choose the embossing tape color according to your preference amongst the three.
Comfort: This simple label maker is designed to use by turn-and-click for user comfort and does not require any battery. Plus, the pre-loaded 12 feet embossed tape provides more comfort as you can use this label maker right after unboxing.
Pros:
Lightweight and travel-friendly
Has ergonomic handheld design
It comes with 49 different labeling numbers and symbols
Embossing tape is pre-loaded
It does not require a battery
Cons:
It is prone to breakage due to sudden falling.
2. Brother P-Touch, PTD210, Easy-to-Use Label Maker
At a minimalist price, Brother P-Touch battery-run label maker has some extraordinary features to offer you. With this, not only can you label fonts and numbers, but you also can label different designs to furnish your creative skills even more. There is a preview display where you pre-design your desired label and view it overall before the outcome.
Features:
Battery-run: Brother P-Touch is fully battery-run, where you require six AAA batteries. You store additional batteries for emergency purposes inside the hard case to always have them near you in need.
Convenience labeling: Create your custom labeling and pre-designed it with 600+ symbols, 14 types of fonts, and 97 frames on your own. You can review your pre-designed template on the non-colored preview display. Moreover, the memory card can store up to 30 labels for later uses. This label maker's convenience level is relatively high.
Uses: With its wide array of uses, you can buy this Brother P-Touch label maker to organize everything from home to office. Plus, you can engage in some DIY scrapbooking, crafting, and much more with unlimited design access.
Pros:
You can draw patterns and prints
Display allows previewing
Has endless uses
The labels come out of the water and scratch-resistant
It comes with a protective case for portability
Cons:
AAA batteries are hard to find.
3. DYMO Label Maker with 3 Bonus Labeling Tapes
Our list's third label maker is another lightweight and portable one from DYMO with 3 bonus labeling tapes. With the pre-viewing 13-character LCD, you can evaluate your label making before the final label making. It is a battery-run label maker that requires four AAA batteries.
Features:
Fonts and styles: This DYMO label maker has a limited range of 5 font sizes, 2 line printing, 8 box-style, and seven print styles. More the keyboard has ABC stamps and 195 additional symbols for wide choices of design. Plus, you can always preview your labels on the 13-character LCD before you end up labeling the final product.
Internal memory: Another amazing feature of the label maker is that you can pre-design your desired template or save your favorite template in the memory, that too up to 9 of them. Therefore, you can use them later, too, without having to redesign them.
Auto-off technology: As this is a battery-run label maker, the auto shut-off technology provides an advantage of battery power saving. If you forget to shut off the label maker after using it, this feature will help save battery.
Pros:
It saves Up to 9 labels for later use
Lightweight and portable
The LCD allows viewing the outcome
It comes with an instruction manual
Has auto shut-off to save battery power
Cons:
Fonts and styles do not have many variations.
4. DYMO Label Maker with 2 D1 DYMO Label Tapes
For those looking for a professional label maker yet don't want to go extravagant, this DYMO 160 label maker is perfect for you. It is portable yet has a partially heavy body to withstand a few sudden falls. Moreover, the unique QWERTY-style keyboard with more than 200 symbols allows for much faster and creative typing.
Features:
Battery power: The AAA battery-powered label maker works effectively, and you require six of them. Plus, the battery power has auto-saving technology with its self-shut-off feature. One set of the battery will run the longest with this amazing feature.
Keys and symbols: The keyboard of DYMO 160 is a regular QWERTY style that allows faster typing, and it also has over 200 symbols that you can use to customize your label as your preference. Moreover, there are six font sizes, four boxes, and eight texting styles to choose from. Furthermore, you can personalize your label texts with bold, italic, and underline.
Uses: You can use this label maker to personalize your pantry, documents, crafting, scrapbooking, and much more. It is such a highly convenient label maker with an LCD to preview and review your labels.
Pros:
Portable and durable
Quick text entering with QWERTY keyboard
It has over 200 symbols and enables clip-art images
Has LCD-screen for pre-viewing the labels
Auto shut-offs for power saving
Cons:
Batteries are hard to find.
5. Brother P-Touch, PTH110, Easy Portable Label Maker
For quick, on-the-go labeling, Brother P-Touch portable label maker will prove the most helpful with its lightweight and portable build. You can carry it anywhere you want and start labeling with its most simple font and QWERTY keyboard formatting. The best part is that the final labels come out scratch and water-proof, making them suitable for outdoor labeling.
Features:
Fonts and Symbols: Brother P-Touch comes with an elementary and limited number of 3 fonts, 14 frames, 5 patterns, and 250 symbols. It means you won't have to waste your time too much on finding the right fonts and pattern for the label. Plus, it comes with ten pre-designed label templates in the menu section too.
Keyboard: The keyboard has one-touch keys and an easy-to-use QWERTY system for quicker typing. With the user-friendly split-back design, you can effortlessly use the keyboard to design your label.
Durability: The TZe tape comes laminated. Hence, it is 100% scratch, fade, and water-resistant. Plus, the strong adhesive of the tape makes them stick firmly on the surface. Therefore, you can use P-touch labels on any indoor and outdoor object without any doubt.
Pros:
It comes with ten pre-designed labels on the menu
Very easy to operate with a QWERTY keyboard
Easy to carry and durable
Labels are scratch and smudge-proof
Memory can save 15 labels
Cons:
6. Brady BMP21-PLUS Handheld Label Printer
If you are looking for a premium label printer for arrays of purposes, try out this Brady handheld label printer with 70+ label parts. Unlike the previous ones, the Brady label maker is heavy-duty and has rubber bumpers for external protection. You can use it on various surfaces, including cables, datacom, industrialized products, and much more.
Features:
Rubber bumpers: In addition to their durability, the Brady label printer is designed with rubber bumpers to absorb shock from sudden falling. Moreover, the printer is drop-tested for ultimate customer satisfaction.
Keyboard: The keyboard has all the English letters, numbers, and more than 100 built-in symbols to make your label accordingly. Apart from that, there are 10+ labeling parts on the printer.
Uses: For usage, the Brady label maker's tape has 10 years guarantee on outdoor objects. Plus, the lamination allows the tape to be chemical, water, fade, and scratch-resistant too. You can also use it to label harsh and rough surfaces due to its aggressive adhesive technology.
Pros:
Highly durable and portable
Has been drop tested
Has 10 years of outdoor durability
The tape has rigorous adhesive
Chemical and scratch-resistant
Cons:
7. DYMO Label Printer
I cannot emphasize how amazing DYMO label makers are, and this is the last one on the list with equally impressive features like the previous ones. This label printer does more than just labeling, including mailing, filing, barcodes, and many more. However, unlike the previous DYMO label makers, this model works with thermal printing tech that reduces ink and toner use.
Features:
Thermal power: This model from DYMO stands out from the rest due to its unique thermal printing technology. It means you can save on buying costly toners and inks. Furthermore, you don't have to carry out anything manually; instead, the label printer will directly do its job from MS Office, Google contacts, Mac address book, and anything you connect to.
Uses: Not only can you print labels, but you can also print out barcodes and graphics of the highest quality with this label printer. It is compatible with Windows 7 and Mac that allows printing out customized labels too.
Reliability: It is a highly reliable automated label printer that can produce up to 51 labels in a minute, which is manually never possible. From printing name tags to high-definition graphics, this label printer has got your back. Without compromising on the quality, you will get some great labels as an output.
Pros:
Can print barcodes and graphics as well
Reduces the cost of ink and toner
Can print directly from Microsoft Office and Mac address book
Can create up to 51 labels every minute
Has value for money
Sleek and compact body
Cons:
Not compatible with DYMO stamps
8. Brother P-Touch Cube Plus PT-P710BT Versatile Label Maker
The Brother P-touch versatile label maker is the most updated for someone looking for modern technology in their label maker. You don't have to manually type everything and preview on display like traditional ones, but connect it with your device Bluetooth and print your labels away. The label maker comes with a pre-installed LI-ion battery for instant use out of the box.
Features:
Software compatibility: You can customize your labels on a 24 mm template from any device you like, both apple and windows/ android. There are three different brother software from which you can choose one, create your design and print them out immediately. It allows you to view the label on your preferred size screen for closer inspection.
Fonts and Patterns: Although this label printer already has a few assorted pre-designed patterns for you to start quickly, you can also access your device's fonts and patterns to customize your labels. Moreover, the P-touch software has hundreds of fonts and patterns for your use. You will also get glittered tapes for customizing some amazing gifts and wraps.
Pros:
Is software compatible
Battery comes built-in
It comes with predesigned templates
Portable and lightweight
Cons:
9. Epson LabelWorks LW-300 Label Maker
The ninth label maker is from Epson and a brilliant companion for all on a budget. Its 14 varieties of fonts and 300+ symbols make the label maker a perfect choice for daily labeling work. One of the best features that make it stand out from the crowd is that this label maker supports seven different languages!
Features:
Fonts & Symbols: EPSON has a world-class variety of 14 different fonts, 75 frames, 10 styles, 7 languages, and over 300 symbols to create your label. With the display, you can preview the final result. The display glow in the dark for visibility, and the tapes also come reflective for decorative purposes.
Ease of use: This a highly user-friendly label maker as the easy QWERTY-style keyboard allows faster typing for anyone, and the layback design makes it effortless to type. Also, you can print labels without disturbing anyone near you, as this one has whisper-quiet printing technology. You can also save up to 30 of your favorite labels in the memory for later use.
Pros:
Has vast memory to save 30 files at once
QWERTY style keyboard makes it easy to use
It supports seven different languages
Prevents paper waste as tapes require lesser margin
Cons:
So many varieties of styles create confusion for beginners
10. Brother P-touch Label Maker, PC-Connectable Labeler
The last one on our list is yet another model of Brother P-Touch, and all the black-lovers are surely going to love it. With its thermal printing technology, you can easily go on and save costs from buying expensive inks and connect it with your device to create your own design. Furthermore, you won't be disappointed with the labeler's HD prints and graphics for your labels.
Features:
Fonts, Frames, and Symbols: This little piece of labelers has unlimited styles to allow users to create their own desired labels. You will get access to 14 fonts, 99 frames, 11 font styles, and 600+ symbols and design the label virtually on a 24 mm template and simply print them out. Additionally, you can save up to one hundred of your favorite labels on the labeler's memory to use them whenever you need them.
Display: The amazing colored display has a generous size and creates the exact graphic and color you want on your label. Moreover, the display has backlit and glows in low light condition for better visibility.
Thermal printing technology: Thermal printing technology allows the labeler to connect with any of your preferred devices, both Mac and windows. Hence, you can create the labels using your device's fonts and styles too.
Pros:
It has a backlit display
Can connect with devices
Provides HD colored and graphic labels
Enables high-resolution PC printing
QWERTY-style keyboard for easy typing
Cons:
Beginners may find difficulty using it
Buying Guide: Best label makers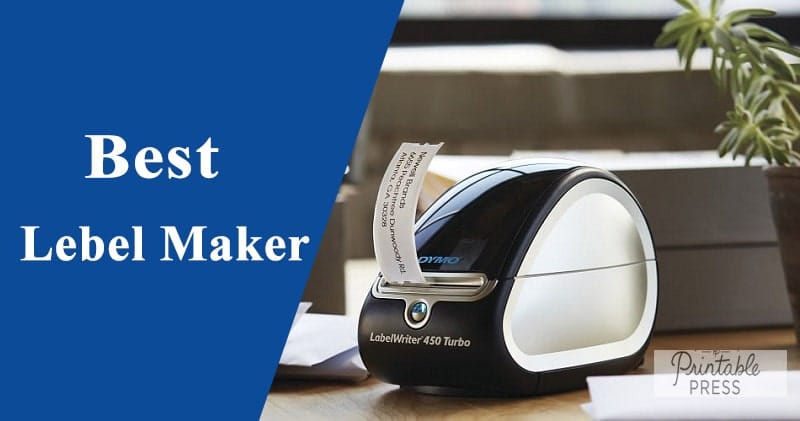 You might think buying a label maker is not a big deal, but little do you know that a few things need to be considered before buying one. Starting from the font size, keyboard to tape quality, you nearly have to determine its aspects. Therefore, I am here to help you with the buying guide to find the best label maker.
Fonts & Symbols: The types and numbers of fonts, font styles, symbols, and numbers you want in your labeler depend on your requirements. Different label makers have different types and amounts of fonts and others. If you don't want to go too creative and want basic labels, choose the ones with simple font styles and vice-versa.
Portability: A portable label maker makes it easier for you to move it between your workspace and home, and you won't have to buy separate ones. Make sure you take a case, too, so that carrying the labeler becomes easier.
Tape Quality: If the label tape quality is not good enough, it won't last long. Therefore, buy the embossed tape that comes laminated to remain scratch and waterproof to last a bit longer. If you want to label any rough and uneven surface, then the tape must have a strong adhesive, or else it will come off soon.
Uses: Label makers are not only limited to label making. The modern labelers also have some extra quality, such as barcode making and graphic creation. So, if you have your own business, then you might benefit from this feature.
Display: Label makers come both with display and non-display. The non-display ones work with Bluetooth connections via other devices. However, if you are a beginner and don't want hassles, buy a displayed one as they are easy to use. Also, you can preview your labels on the display.
FAQ
What to Look for in a Label Maker?
The things to look for in a label maker varies from buyer to buyer because of their requirement. Some people might need a simple and easy-to-go label maker just for organizing their home/ office. At the same time, some need a label maker for professional purposes. However, do look out for the font styles, designing the label maker's attributes to explore your creativity.
How do I make my labels?
To make your labels at home, you need to get a label maker first, then design and print out the label on the pre-loaded embossed tape of your label maker. You can customize your labels according to your likings from the vast choices of fonts, symbols, and designs.
Is a label maker worth it?
Yes, investing in a label maker is worth it if you think you want to make your home or workspace look organized. Labeling out items according to their groups makes it easier for you to find them when you need them, hence, saving some of your precious time.
Wrapping it up
Who does not want an organized and arranged household or office? I bet everyone does; that is why these 10 best label makers are for you. None of them will be a waste of money if you buy according to the buying guide. Label makers are those unsung heroes that I don't talk about much, but once you have one, it can change your organization's outlook. With so many fonts, templates, and symbols, you won't get bored of labeling anything around you for a quick grab! Therefore, pick your favorite one right now from the listed 10 above.
Recommendation: