In short, remanufactured ink cartridges are branded toners that have been cleaned carefully, refilled, and guaranteed to deliver the same print quality as the original cartridge. Choose the best remanufactured ink cartridges from big brands; colors are right on, the ink is fresh, and the price is oh-so-nice.
In this article, we're going to talk about this special breed of ink cartridges. We've assembled a list of the 10 best products in this particular category, so you have plenty of options to choose from if you're interested in buying one of these.
Also, we've come up with a special buyer's guide to help you figure out what's what in case you've never bought a remanufactured ink cartridge before. Last but not least, we've prepared a brief section where we've answered some of the most frequently asked questions in this category.
Right then, let's get into it.
Top Picks: Best Remanufactured Ink Cartridges
Best Remanufactured Ink Cartridges - A List of Products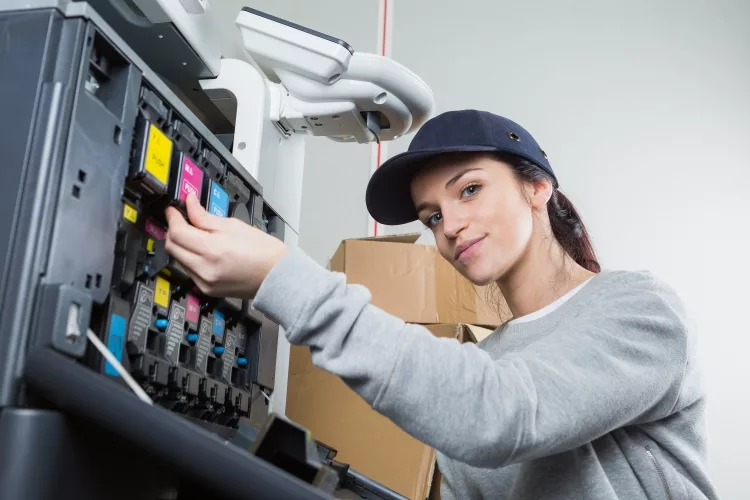 If you like to use your printer to print documents, images, or pieces of artwork, you already know that the most important part of a printer is its cartridges.
Whether they're black and white or multicolored, it's the cartridges that make all the difference in how well the images and other stuff you're planning on printing will turn out in the end. Thus, choosing the proper ink cartridge for your printer is of great importance for anyone who likes to be able to print out high-quality images easily and without worrying about annoying leaks and smudges.
Now, the thing about ink cartridges is this - they can be repurposed.
And when they are remade, so to speak, they can work just as well as the new ones. This is why many people opt to buy the best remanufactured ink cartridges over the new ones - they cost less, and they work just as well.
1. RETCH - Re-Manufactured Ink Cartridge
Compatible with HP Envy models as well as some Officejet models
The package contains one black cartridge and two tricolor ones
480 pages per cartridge ( black )
330 pages per cartridge ( tricolor )
Works on HP Deskjet, Officejet, and Envy models
This cartridge is compatible with HP Envy models 4500, 5530, 3054, and many others, among other printer models. Also, Deskjet and Officejet model 2620, 2621, 2622, 4630, and a couple more support, too. So, if you have either of these two printer types and models ( or both ), getting one of these cartridges could be a great idea for you.
The package included in this deal features two separate pieces - one black ink cartridge and another tri-color type cartridge. So, these two combined will give you all the necessary colors you may want to print in, from pitch black to elaborate color schemes.
As far as the yield on these two cartridges is concerned, you get some 480 pages with the black one, while with the tricolor one, you get 330 pages. These cartridges also come with a smart chip, each easily recognized by the computer connected to the printer.
2. RETCH - Remanufactured Ink Cartridge Replacement
Precisely cut cartridge shapes
Works with HP Officejet, Deskjet, and ENVY models
High-quality ink
Each of the cartridges has to meet strict quality control
If you're looking for the best remanufactured ink cartridge for an HP printer, getting this RETCH model can be a great solution. Thanks to its universal build, this thing will be compatible with a wide variety of cartridges out there, including Officejet models such as 5200, 5255, 5258, as well as many Deskjet and ENVY models.
Similar to the entry above, this RETCH printer features two different cartridges - an all-black one and a tricolor one. When employed together, these two give your printer the ability to produce all sorts of different shades of colors, giving your printed images a great appearance that will truly reflect their visual qualities, so to speak.
As far as the yield with these two is concerned, you can rest assured that you will be able to 'milk' some 330 pages out of the tricolor cartridge, while the black-only cartridge will be able to give you about 480 pages. ( Of course, these values depend on the images themselves and how saturated the colors are. )
3. Office World - Remanufactured Ink Cartridge Replacement for Epson Printers
The package includes 2 black cartridges, as well as 3 colored ones ( magenta, cyan, and yellow )
High-quality images
No fading, smudging, or bleeding
Excellent page yield ( 1,100 pages for the black ink, 950 pages for the colored cartridges )
Advanced chip built-in for easy installation and recognition by the computer
This bulky ink cartridge package contains 5 different cartridges, so all possible colors are covered when you put these 5 into your printer. The cartridges include two black ones, one yellow model, one cyan, and one magenta cartridge.
When it comes to the compatibility of these cartridges, they are designed to fit in a couple of Epson printer models. To be precise, these will work for Epson Workforce Pro WF-3720, WF-3730, and WF-3733 all-in-one printers, so if you happen to own one or more of these three, getting this ink cartridge package from Office World can be a great idea.
Page yield-wise, so to speak, you'll get about 1,100 pages with the black cartridge, while the colored ones won't lag too much behind with about 950 pages each. What's more, you can rest assured that none of the pages you print out using this cartridge will show symptoms of fading, smudging, bleeding, and other annoying occurrences connected to low-quality printer cartridges.
4. AISEN - Remanufactured Ink Cartridges
Compatible with many Canon Pixma models
Easy installation
Two cartridges present - black and tricolor
The 480-page yield on the black cartridge
The 330-page yield on the tricolor cartridge
For Canon users, this package of cartridges can be exactly what you've been looking for. Other than the excellent quality of the ink inside these packages, what makes this package an attractive one would certainly be the compatibility, which means you will be able to pair this thing with a wide array of Canon printers.
Some of the models cited by the manufacturers include Canon Pixma TR4520, Pixma iP2820, Pixma MG2420, and many others. The ink cartridges involved include one black cartridge and one tricolor cartridge, which combined work for various printing tasks. The results will always be even and smooth ( sans smudges ).
When the yield is in question with these cartridges, you will get 480 pages with the black ink, while the multi-color one will give you only about 330 pages worth of printed paper. As far as the quality is concerned, you can rest assured that AISEN cartridges will give you the best possible color palette and even and bleed-free layers of color on the paper.
5. Valuetoner - 952XL Remanufactured Ink Cartridges
4 cartridges included in the package - black, magenta, cyan, and yellow
2,000-page yield for the black cartridge
1,600-page yield for the other three colors
Excellent quality
Easy installation
Featuring a futuristic design that will only fit in a limited number of printers, these cartridges from Valuetoner represent a great solution for HP Officejet printer models. You will be able to pair up these cartridges with such models as Officejet Pro 8710, 8720, 7720, and many others.
The colors you get in this package include one large black cartridge and three multicolor cartridges - cyan, yellow, and magenta. When used together, these four cartridges will create a versatile color palette so that you will able to print out any sheet or piece of artwork you so desire and expect the result to be a high-quality image with no fading or smudges.
Now, as far as the yield is concerned with these cartridges, you'll get something like 2,000 pages from the black cartridge, while the other three colored ones will give you about 1,600 pages each at 5% coverage.
6. Limeink - 5 Remanufactured Ink Cartridges
Easy installation
Each cartridge is ISO 9002 certified
5 cartridges included in the package ( 3 black ones and 2 multicolor ones )
High-quality ink
Accurate color representation
At spot number 6, we've got yet another package of remanufactured cartridges for
HP printers
. What you will get here is a pack of three black-only cartridges and then two packages of tricolor cartridges. Combined, these colored and black-only cartridges will produce enough colors to help you print out any artwork you so desire.
Some of the models this thing will work on include HP DeskJet 1110, 1111, 1112, and many HP Envy and OfficeJet models. So, if you happen to have one or more of the three models, getting these Limeink cartridges could be a good idea.
On the other hand, in the department of page yield, you can rest assured you will get around 480 pages per cartridge - black and colored ones. Moreover, each cartridge was subjected to rigorous quality control measures and possessed an ISO 9002 certification.
7. INKNI - Remanufactured Ink Cartridges Replacement for HP Models
600 pages yield for the black ink cartridge
450 pages yield for the tricolor ink cartridge
Easy installation
High-quality images
All the cartridges have been thoroughly tested
Featuring a simple design and easy to install, these INKNI remanufactured ink cartridges will easily slide into several of HP's most popular models. For example, the HP Envy series, including models 4500, 4501, 4502, and so on, as well as DeskJet models including 1000, 1055, 1010, would represent some of the printers that these cartridges would work well on.
The other best remanufactured ink cartridges earlier on this list also feature two separate cartridges for black only. The other one contains three colors in one. Then these are mixed accordingly to produce all the other colors according to the requirements of the printing task at hand.
Now, when it comes to yield questions, you'll get about 600 pages of black ink, while the other cartridge will be able to give you about 450 pages of high-quality ink. That said, it all depends on how saturated your images are.
8. YATUNINK - Remanufactured Ink Cartridges Replacement for HP models
Compatible with many HP models ( OfficeJet, Color Copier, FAX, DeskJet )
830-page yield per cartridge
Eco-friendly
Smooth color distribution
Excellent ink quality
For those looking for black cartridges only, this package from YATUNINK could be an excellent choice. Thanks to its excellent compatibility properties, you can pair this thing up with all sorts of different HP printers and make it work fairly easily. For example, some of the models supported include HP OfficeJet 5110, 5110v, OfficeJet 5110 xi, V40, Color Copier 310, FAX 1230, 1230xi, as well as many DeskJet models.
Although the cartridges look quite small, these will give you about 860 pages of printed material each. So, combined, you can expect a yield of about 1,720 pages. Of course, it all depends on the type of images or text you're printing out, but the figure above would be the average digit.
Other than the obvious advantage in prices, the great thing about buying remanufactured cartridges if you want to be environmentally friendly is that you're reusing plastic goods that are refilled with ink, so you're preventing plastic accumulation the environment in a small way.
9. Lemero - Remanufactured Ink Cartridge Replacement for Epson 410XL
5-pack remanufactured ink cartridges
There are two black cartridges ( one is high-yield while the other one is for photos only )
Excellent-quality images
Works well against fading and bleeding
Smudge-free texts and images
If you need a package of cartridges to replace your old ones with, this bundle from the Lemero company can be just the thing for you. These cartridges are made to fit Epson printers, so don't attempt to use them with any other manufacturer.
What you get in this bundle comes down to 5 different cartridges - two black, and then a cyan, magenta, and a yellow cartridge, for good measure. There are two cartridges just for the black ink because one is used for high-yield situations, while the other, a smaller one, is used especially for printing high-quality photos.
As far as the yield is concerned, you can rest assured that these cartridges will give you about 500 pages when it comes to the black cartridge and 650 pages per colored cartridges. ( The coverage for this to be the case has to be around 5%, of course. )
10. Office World - Remanufactured Ink Cartridge Replacement for Epson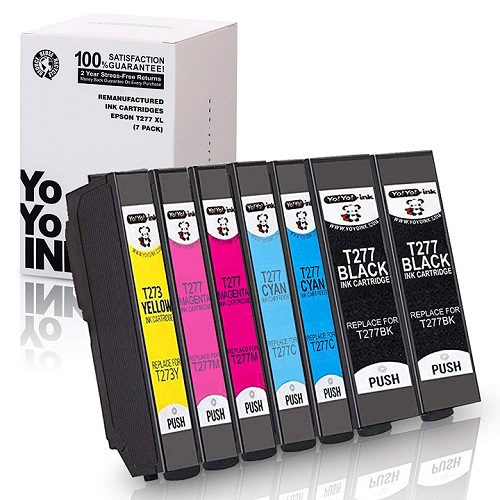 Last but not least, we've got another set of cartridges you can use for Epson printers. This bundle of cartridges will work on the Epson WorkForce WF2860 and Expression Home XP5100 small printer. You'll find five cartridges within this bundle - 2 black ones, one cyan, a magenta one, and one yellow cartridge. When used together, these cartridges will be able to produce excellent results, regardless of whether you're printing black and white images or colored ones.
As far as the page yield is in question, you can expect to get something like 550 pages for the black ink, while the colored ink cartridges will be able to give you something like 470 pages. That said, the total number of pages you can expect to get this way ultimately depends on how saturated the images or texts are that you're printing out.
The installation on these cartridges is simple enough, so you won't need to worry that much about setting these up once you get them. Also, you can rest assured that the ink inside these cartridges has passed demanding ISO9001 and 14001 quality tests, and they all have a RoHS certification for good measure.
A Brief Buyer's Guide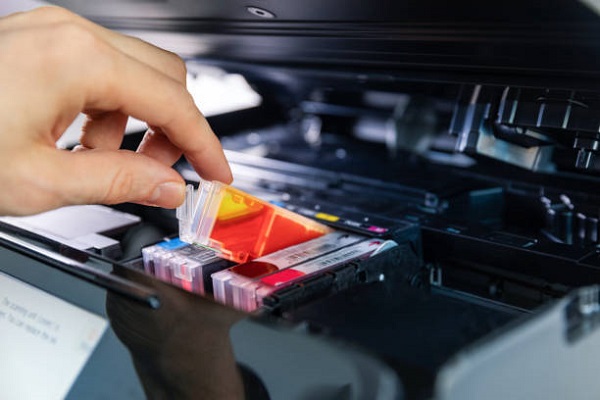 Compatibility
Printer cartridges are typically only compatible with one printer brand. Whether it's Epson, HP, or some other printing contraption that you're trying to get new filters for, you can rest assured that the remanufactured models will be only made available for one brand at a time more often than not.
The thing is this - when compatibility is in question, the situation usually is the following:
The cartridge only works for one brand, and
It works on many different models within that brand.
So, for example, if you have an HP printer and you buy some remanufactured cartridges for it, you can expect to see it work on HP OfficeJet models, DeskJet models, as well as many others.
Page Yield
In case you're not sure how many pages your printer will be able to produce, what you can look at is your printer cartridge's page yield.
The important thing here would be the ink. There's a small amount of ink in each cartridge, so most printers are designed to use this ink sparingly. You can expect remanufactured cartridges to have a page yield of about 300 to 400 pages going all the way up to 900 or even over 1,000 pages per cartridge.
Quality
As far as the quality of best remanufactured ink cartridges is concerned, some special sort of quality control test is often guaranteed that the brand that makes these cartridges subjects their stuff to, so to speak.
For example, tests such as ISO 9001 or 9002 are a common way of determining the quality of the ink inside the cartridges. Also, testimonials from users who have already had experiences with using this ink can indicate if it's any good or not.
Chip
While the chip on an ink cartridge, whether it's an original model or a remanufactured, isn't necessarily the most important part of it, it still can mean the difference between using the cartridge and not being able to install it at all.
This is why the manufacturers of these 'second-hand' ink cartridges, so to speak, go out of their way to refurbish the chips so that the printer you place it in will be able to recognize it quickly and easily.
Colors
The deal is fairly straightforward when it comes to the types of color used in remanufactured ink cartridges.
The colors typically bundled together are black on one end in one cartridge, and then there's another cartridge with cyan, magenta, and yellow. All the other colors are then made by mixing these 4.
On the other hand, some printer models out there sport up to 5 colors per set - 2 black colors and then a single cartridge for each of the aforementioned colors. By the way, if you're wondering why there would be two black cartridges, the answer is fairly simple - one is used for high-yield images and texts, and the other specifically for photos, where greater precision and quality is needed.
FAQs for Remanufactured Ink Cartridge Buyers
1. Are recommended ink cartridges any good?
As long as the remanufactured cartridge you've bought is made out of high-quality plastic, has a decent chip and ink, you can rest assured that this cartridge will perform just as well as the original one.
Of course, the details of the performance of an ink cartridge mostly depend on the remanufacturing brand, but overall such cartridges seem to perform well enough.
2. What is the difference between compatible and remanufactured ink cartridges?
Well, since the so-called 'compatible' ink cartridges are those produced from scratch by the same manufacturer that made the printer itself, the compatible ones are the official versions of the cartridge for the printer you want to use.
The remanufactured ones aren't brand new but have been cleaned and refilled, so they often work and the new ones. The difference between the two is mostly in price, as the brand new compatible cartridges are typically considerably more expensive than their remanufactured counterparts.
3. Can you use remanufactured ink cartridges in Epson printers?
Yes, you can.
Several companies specialize in remanufacturing printer cartridges for many different printers, and the Epson brand is one of them. They usually make them in the arrangement of 5 cartridges, where two are black ink, and the other three are magenta, cyan, and yellow.
Of course, not all of these cartridges will be compatible with every Epson printer, so you need to check the exact model of your printer and whether or not it's supported by the remanufactured ink cartridges; you're looking into.
4. Is it OK to use non-branded ink cartridges?
Yes, it is.
While the best thing to do when you run out of ink in your original cartridges is to buy new ones that are the same as the old ones, it also makes sense to get remanufactured models a try because that way, you can save some money. Many of them are as good as their original counterparts.
5. Why are ink cartridges so expensive?
It's because of the ink.
The thing is, the plastic part that houses the ink and the chip that comes on top of it that helps connect the thing to the printer aren't that important, but it's the ink inside that often ends up costing an arm and a leg.
All things considered, if you are using printers regularly and you cannot afford to run out of ink for extended periods, getting a couple of packages of spare remanufactured ink cartridges can be an excellent solution for you. You get excellent color quality, and they're easy to set up, + they don't cost as much as the original cartridges. We hope this article helped you learn more about the best remanufactured ink cartridges, and we wish you a merry and hassle-free purchase.
Buy on Walmart
LemeroUtrust Remanufactured Ink Cartridge Replacement for HP 63XL 63 XL use with HP - Walmart Link
Valuetoner Remanufactured Ink Cartridge Replacement for Upgraded HP 61XL 61 XL High Yield - Walmart Link
Valuetoner Remanufactured Ink Cartridges Replacement for HP 61XL 61 XL to use with Envy - Walmart Link
Ankink Higher Yield 63XL Ink Cartridges Black Color Combo Pack HP Ink 63 XL | Officejet - Walmart Link
Valuetoner Remanufactured Ink Cartridge Replacement for HP 64 XL 64XL for Envy Photo 7858 - Walmart Link
ejet Remanufactured Ink Cartridge Replacement for HP 63 Ink 63XL Compatible with - Walmart Link
EVINKI 65XL Black Ink Cartridge Remanufactured for HP 65 Ink 65XL Black Ink Cartridge/ - Walmart Link
RETCH Remanufactured Ink Cartridge Replacement for HP 61XL 61 XL for Envy 4500 5530 5534 5535 Deskjet 1000 1010 1510 1512 2540 3050 3510 3050A Officejet 2620 4630 (1 Black 1 Tri-Color) - Walmart Link
RETCH Remanufactured Ink Cartridge Replacement for HP 63XL 63 XL for Envy 4520 4516 Officejet 5255 5258 3830 4650 3831 3833 4655 DeskJet 1112 3630 3632 2130 2132 (1 Black 1 Tri-Color) - Walmart Link
OfficeWorld Remanufactured Ink Cartridge Replacement for Epson 288 XL 288XL High Yield, Used for Epson XP-440 XP-330 XP-340 XP-430 XP-446 XP-434 Printer, 5-Pack (2 Black, 1 Cyan, 1 Magenta, 1 Yellow) - Walmart Link
SOKO Remanufactured Ink Cartridge 63 Replacement for HP 63XL 63 XL Used in Officejet 3830 5255 5258 4650 5230 Envy 4520 4512 4513 DeskJet 1112 1110 3630 3632 2130 2132 (1 Black 1 Tri-Color) - Walmart Link
Valuetoner Remanufactured Ink Cartridges - Walmart Link
Limeink 5 Remanufactured Ink Cartridge 63XL 63 XL High Yield for HP Envy 4512 4520 Deskjet 3632 2130 2132 1110 3636 3637 1112 3630 3634 OfficeJet 3830 3833 4650 4652 4655 5255 5258 Printer Black Color - Walmart Link
INKNI Remanufactured Ink Cartridge Replacement for HP 60XL 60 XL CC641WN CC644WN for PhotoSmart C4780 C4795 C4680 Envy 100 110 114 120 Deskjet F4480 F4280 F4580 D2680 D1660 (Black, Tri-Color, 2-Pack) - Walmart Link
YATUNINK Remanufactured Ink Cartridge Replacement for HP 15 C6615D (2 Black, 2 Pack ) - Walmart Link
Lemero Remanufactured Ink Cartridge Replacement for Epson 410XL ( Black,Cyan,Magenta,Yellow, 5-Pack ) - Walmart Link
Buy on eBay
LemeroUtrust Remanufactured Ink Cartridge Replacement for HP 63XL 63 XL use with HP - eBay Link
Valuetoner Remanufactured Ink Cartridge Replacement for Upgraded HP 61XL 61 XL High Yield - eBay Link
Valuetoner Remanufactured Ink Cartridges Replacement for HP 61XL 61 XL to use with Envy - eBay Link
Ankink Higher Yield 63XL Ink Cartridges Black Color Combo Pack HP Ink 63 XL | Officejet - eBay Link
Valuetoner Remanufactured Ink Cartridge Replacement for HP 64 XL 64XL for Envy Photo 7858 - eBay Link
ejet Remanufactured Ink Cartridge Replacement for HP 63 Ink 63XL Compatible with - eBay Link
EVINKI 65XL Black Ink Cartridge Remanufactured for HP 65 Ink 65XL Black Ink Cartridge/ - eBay Link
RETCH Remanufactured Ink Cartridge Replacement for HP 61XL 61 XL for Envy 4500 5530 5534 5535 Deskjet 1000 1010 1510 1512 2540 3050 3510 3050A Officejet 2620 4630 (1 Black 1 Tri-Color) - eBay Link
RETCH Remanufactured Ink Cartridge Replacement for HP 63XL 63 XL for Envy 4520 4516 Officejet 5255 5258 3830 4650 3831 3833 4655 DeskJet 1112 3630 3632 2130 2132 (1 Black 1 Tri-Color) - eBay Link
OfficeWorld Remanufactured Ink Cartridge Replacement for Epson 288 XL 288XL High Yield, Used for Epson XP-440 XP-330 XP-340 XP-430 XP-446 XP-434 Printer, 5-Pack (2 Black, 1 Cyan, 1 Magenta, 1 Yellow) - eBay Link
SOKO Remanufactured Ink Cartridge 63 Replacement for HP 63XL 63 XL Used in Officejet 3830 5255 5258 4650 5230 Envy 4520 4512 4513 DeskJet 1112 1110 3630 3632 2130 2132 (1 Black 1 Tri-Color) - eBay Link
Valuetoner Remanufactured Ink Cartridges - eBay Link
Limeink 5 Remanufactured Ink Cartridge 63XL 63 XL High Yield for HP Envy 4512 4520 Deskjet 3632 2130 2132 1110 3636 3637 1112 3630 3634 OfficeJet 3830 3833 4650 4652 4655 5255 5258 Printer Black Color - eBay Link
INKNI Remanufactured Ink Cartridge Replacement for HP 60XL 60 XL CC641WN CC644WN for PhotoSmart C4780 C4795 C4680 Envy 100 110 114 120 Deskjet F4480 F4280 F4580 D2680 D1660 (Black, Tri-Color, 2-Pack) - eBay Link
YATUNINK Remanufactured Ink Cartridge Replacement for HP 15 C6615D (2 Black, 2 Pack ) - eBay Link
Lemero Remanufactured Ink Cartridge Replacement for Epson 410XL ( Black,Cyan,Magenta,Yellow, 5-Pack ) - eBay Link