One of the most frustrating things about owning anything made of leather is that the color of the leather fades. When this color fades, you are tasked to do one of two things: Either replace the leather item or find a way to restore the color. Using the best leather paint is the only natural way to restore the color of your leather items, and for you to do this, you'll need to be familiar with leather pants that can get the job done effectively.
Not all leather paints are the same, and it helps to explore different kinds of leather paints that are right for you.
Our Favorite Leather Paint
Top 9 Best Leather Paints
1. 12 Color Leather Paint Set by Angelus
The most common issue surrounding most leather paint sets is that they do not come in enough colors. Dealing with this is very frustrating, especially if you own leather items of a different color. Fortunately, you will not need to deal with this when using Angelus' set of leather paint. It contains 12 standard colors that you will use on almost any leather item you own.
You might need to choose a different paint set if you need to paint large leather items, such as purses or jackets. This is because each jar in the set has a capacity of only 1 ounce apiece. While this kind of capacity is acceptable for footwear or other small leather items, it will struggle with leather items that are a little bigger.
2. 4-Ounce Black Leather Paint by Angelus
It can take a lot of paint to bring the color back to a black leather item. Even a black pair of leather boots will take a lot of paint to restore. Fortunately, Angelus' black leather paint comes in a 4-ounce jar, which gives you all the color you need to make your black leather items look new.
Of course, because Angelus' black leather paint comes in just one solitary jar, this severely limits its versatility. You will need to look for another color of paint or a set of assorted colors of leather paint if you need to restore leather items that are not black.
3. Leather Paint Basics Kit by Angelus
Applying leather paint is a very intimidating task if you are not experienced and do not have the right tools for the job. You will get a lot out of Angelus' leather basics kit if you are working with leather paint for the first time. The kit comes in 6 different colors and five different brushes. This gives you all the tools you need to start restoring leather items.
Because it only contains six prevalent colors of paint that only have a capacity of 1 ounce apiece. You will need to look for a different leather paint set if you face a more complicated restoration project that entails leather items that aren't common.
4. 12 Neon Leather Paint Set by Angelus
Sometimes you might want to get creative with the leather items that you possess. Unfortunately, most leather paint sets come in dull colors that do nothing more than restoring your leather items' original colors. You'll enjoy Angelus' neon leather paint set if you want to take a creative approach with your leather items.
However, none of the jars in Angelus' neon paint set contain standard colors, so you will need a completely different set if you want to restore your leather items. Also, you may not be able to completely change the color of your leather items, as the limited capacity of the jars doesn't allow for large-scale designs.
5. Acrylic Leather Paint Starter Kit by Angelus
Anyone new to leather paint can be very intimidated by how to use it. You never know if you are using too much, too little, or how to apply it correctly. You will not be intimidated by Angelus' starter kit of leather paints. With the paint itself being acrylic, you will be able to wash it away very easily if you happen to make mistakes.
Each jar in Angelus' starter kit only yields 1 ounce of paint. While this is standard for most leather paints, this holds the paint in Angelus' starter kit back because it takes a little more paint than usual to finish a design compared to other leather paints.
6. Acrylic Leather Paint Starter Kit with Alternate Colors by Angelus
As helpful as starter leather paint kits are, most of them contain standard colors that can be boring. This can force you to choose leather paint kits that are a little more difficult to use even though they contain the colors you need. Angelus has solved this with its starter kit. It contains different colors than most other leather paint starter kits, allowing you to use different colors but still use a starter kit.
Angelus' leather paint starter kit suffers from the same drawbacks as any other starter kit does in that it takes a lot of paint to finish a proper design. This means that you'll either need to stock up on it or switch to paint that is not as easy to use as the paint in this particular starter kit.
7. 18 Color, 2 Ounce Acrylic Paint Set by Artecho
Most leather paint sets are not designed for long-term projects. If the set is not diverse enough in its colors, the bottles or jars in the set do not contain enough paint. All of this changes with Artecho's leather paint set. It includes 18 colors, with each bottle containing 2 ounces of paint. There is no project that is too big for Artecho's set.
The paint in Artecho's set is not easy to use. You need to have a decent amount of experience to use it properly. They do not wash easily, meaning you will not get away with making too many mistakes. Even though the paint is acrylic, it is a little thicker than most acrylic leather paint.
8. 4 Ounce High Gloss Leather Paint Finisher by Angelus
Leather paint is designed to create a lasting design on any surface that resembles or is related to leather. While these designs last, most of this paint can look very rough, resulting in a design that may not be as impressive as you may want it to be.
You will want Angelus' high gloss leather paint finisher if you are looking for leather paint to create this lasting impression that you want. It creates a smooth and shiny finish to what you have already applied leather paint on.
Something that you do need to be aware of is that Angelus' leather paint finisher is not leather paint itself. It simply compliments leather paint. You will have already required to apply leather paint on a surface to use it properly.
9. Acrylic Leather Paint Matte Finisher by Angelus
One of the most significant issues that any leather paint faces is that the finished design is too shiny and too rough. You will want Angelus' leather paint matte finisher if you create any given leather paint. It will considerably lower the amount of gloss that often accompanies most leather paint finishes.
Don't forget that Angelus' matte finisher isn't leather paint in and of itself. It is something that you apply to something that you have already painted. You also will need a little more of it than you might want to use to remove the shine from some leather paints altogether.
Conclusion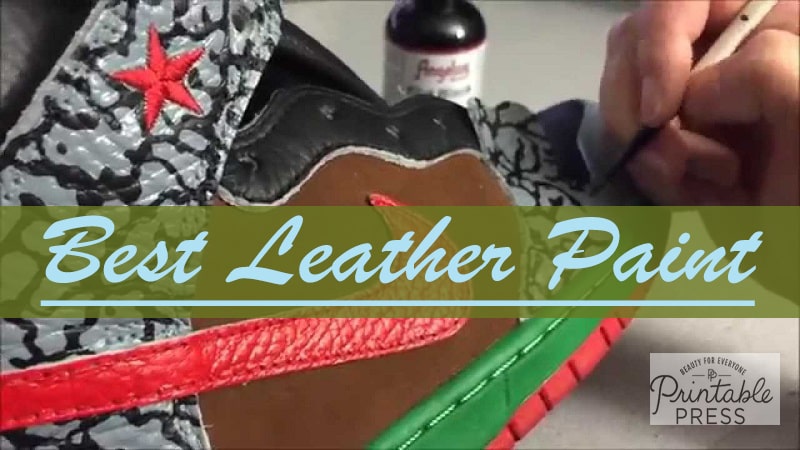 Don't think of leather paints as just paint that you can use on leather. You can use leather paint for almost any kind of surface, not just leather. Leather paint gives you dozens of design options as well as restoration options.
Leather paint can get the job done whether you need to restore furniture or clothing to its original color or create a sign or any other kind of design on any given rigid surface.
Take some time to see what you can use leather paint for. You'll be surprised at what kinds of uses it has.
Recommendation: