Are you doing a t-shirt business and want to customize the shirts according to customers' needs? Or, want to amp up your boring objects into eye-catching, beautiful artwork? Then you can work on that with heat transfer vinyl sheets. You can also print the favorite scene that you have seen on your computer to your garment or any other object with these sheets.
I have brought this review to help you find the best heat transfer vinyl sheet in the market. Even though finding vinyl sheets isn't rocket science, but you at least need to have primary knowledge about them. For your assistance, read my review on the 12 best heat transfer vinyl below.
Editors' Picks for Top Heat Transfer Vinyl for Shirts and Buying 2021
Comparison Table
Product
Description
CAREGY Heat Transfer Vinyl for T-Shirts
● Environment-friendly
● 36 sheets
● Waterproof

JANDJPACKAGING Heat Transfer Vinyl HTV

● 25 assorted colored sheets
● Waterproof
● Non-fading and non-peeling

Heat Transfer Vinyl White HTV Rolls
● Machine washable
● Leaves no bubbles
● 20 feet single color roll

ARHIKY 38 Sheets Heat Transfer Vinyl
● Non-toxic and chemical-free
● Made of polyurethane
● 38 colored sheets

Siser EasyWeed Iron-on Heat Transfer Vinyl
● CPSIA approved
● Laser-friendly
● 3 feet single-colored

HTV Heat Transfer Vinyl Bundle
● SGS certified
● Non-peeling
● 27 matte color sheets

HTV Heat Transfer Vinyl Bundle
● 30 colored sheets
● Eco-friendly
● Waterproof

HTVRONT HTV Vinyl Rolls Heat Transfer Vinyl
● Eco-friendly
● 8 feet single-colored sheet
● Machine-wash friendly

HTV Heat Transfer Vinyl Bundle
● 33 colored sheets
● Machine-wash friendly
● Stretchable

Arteza Heat Transfer Vinyl
● 22 color sheets
● Machine wash approved
● Eco-friendly

Heat Transfer Vinyl, Ohuhu Sheets Iron on Vinyl,
● 36 colored sheets
● It contains 5 glittery sheets inclusive
● SGS approved

YRYM Heat Transfer Vinyl Bundle
● 33 colored sheets
● Has high heat transfer
● Easy to weed

Top 12 Best Heat Transfer Vinyl For Shirts
1. CAREGY Heat Transfer Vinyl for T-Shirts
If you are just on the rope of using heat transfer vinyl sheets, then CAREGY has the most easy-to-use ones for you. The 36 rich and vivid sheets are usable in any object like t-shirts, bags, coats, etc. One can start off heating them using household garment iron or hot press and washing in the machine.
Features
Durability: When you will hold the sheets, their quality will speak for their durability. The material is thin yet non-tearing and stretchable. You can make one or two layers with it too. Moreover, the prints it leaves are completely washing-machine friendly that will stay for a long time.
Safety: CAREGY sheets are made thinking of the safety concerns of the user. These are made from non-toxic polyurethane and chemical-free. So, you can undoubtedly use them to create prints on children's belongings.
Weeding and cutting: As the sheets are thin and sensitive to pressure, cutting them is very easy. There comes a protective film on top of the engraving film that can effortlessly be weed off.
Colors: You can customize your objects with 36 beautiful color combinations to choose from. Select your preferred color and print your design or pattern on it.
Specifications
12X10 inches sheets
The package weighs 1.63 pounds
36 sheets
Pros
Easy to press
Environment-friendly and safe to use
Vibrant and solid colors
Waterproof
Easy to weed and cut
Cons
Requires effort for transferring prints
2. JANDJPACKAGING Heat Transfer Vinyl HTV
If you are looking for a mix of affordability and quality in your heat transfer vinyl sheets, then JANDJPACKAGING has these 25 assorted colored sheets for you. It has a wide array of uses that won't limit your creativity. Even after multiple machine washes, you won't see any color fading or peeling.
Features
Durability: The transferred colors of these sheets are 100% non-fading, peeling, and cracking even after several washes. You won't have to separately wash them by hand, as they are machine-friendly and waterproof. Moreover, the adhesive has a durable stick on the fabrics.
Uses: With just five simple steps, you can achieve prominent designs on any type of garment, starting from polyester, cotton, silk, or even cotton blend. Just print, weed, heat, peel, and you are good to go.
Eco-friendly: You can give these sheets to your creative kids, too, as they are free from toxic chemicals. No object will be harm by these sheets.
Specifications
10"x12" inches
The bundle weighs 1.45 pounds
25 assorted colors
Pros
Stretchable and elastic
Waterproof
Non-fading and non-peeling
Machine-wash friendly
Very cost-effective
Cons
Sheets' dimension is small
3. Heat Transfer Vinyl White HTV Rolls
For someone looking for a specific color in bulk quantity, they can buy a 20-feet vinyl sheet roll of this sort. They come in 16 different colors individually for people working with one color of heat transfer vinyl. With their strong adhesive, easy weeding, and machine-friendly wash, these HTV becomes one of the most demanded market demands.
Features
Uses : You can use this vinyl sheet to print on your shirts, bags, caps, backpack, pillow, and any other type of object. It is suitable for any type of fabric, including mesh, polyester, cotton, spandex, etc. You can use them on children's objects, too, as these vinyl sheets are made from non-toxic and SGS certified materials.
Adhesive : It sits strongly on the fabric and can stretch too without cracking. Even after 30/ 40 machine washes, the color won't fade. The sheet is very sensitive to pressure and heat so transferring the design becomes effortless. Also, the thin sheets are straightforward to cut and customize the shape.
Color and Size : They come as single-colored 20 feet sheet rolls. The color varies in 16 different vibrant shades. Each sheet has a dimension of 12/12 inches.
Specifications
12×12 inches sheets
20 feet rolls
Weighs 1.61 pounds
Pros
Sticks strongly
Easy to transfer
Effortless to weed and cut
Machine washable
Leaves no bubbles
Cons
Color variation is limited
4. ARHIKY 38 Sheets Heat Transfer Vinyl
The fourth in our list of heat transfer vinyl sheets is this 38 pieces HTV from ARHIKY. Yet another easy-to-use vinyl sheet that just needs a household heat press to do the job. Getting some extra benefits alongside environment-friendly, durable, and waterproof are bonuses that every creative person deserves.
Features
Uses : The artistic 38 different colors of vinyl sheets can make any object around the house. Starting from your garment, shoes, bags, caps to doormats, you can provide your personal touch. Plus, the super-stretchable feature makes them non-cracking and non-shedding.
Eco-friendly : The durable, chemical-free, and non-toxic polyurethane makes the vinyl sheets safe and eco-friendly. Kids can use them, too, without causing any harm.
Cutting and Weeding : The thin and soft build of the sheets makes them easy to cut. Moreover, these are pressure and heat-sensitive, making it easy to transfer heat and weed off easily.
Specifications
Material: Polyurethane
Weighs 1.79 pounds
12×10 inches sheets
Pros
Easy to press and transfer heat
Non-toxic and chemical-free
Made durably of polyurethane
It can be used on multiple textiles
Easy to weed and cut
Cons
A bit costly compared to the number of colored the bundle has
5. Siser EasyWeed Iron-on Heat Transfer Vinyl
Another SISER HTV for those who are looking for quality within a budget. Moreover, these iron-on vinyl sheets are super easy to start with beginners with basic knowledge. You can make detailed designs on any fabric with the sheets' sensitivity to pressure and heat.
Features
Durability: The outcome from this sheet is quite potent against multiple washes. The strong adhesive will survive even a couple of machine washes without fading or peeling off the design.
Safety: SISER EasyWeed is CPSIA certified, which means they are free from every chemical and toxic component that can harm humans and the environment. You can provide your kids with the sheets to explore their creativity or use them to print on their belongings.
Uses: The SISER EasyWeed 3feet HTV comes in multiple single-color ranges, which you can use on any time type of textile. These have 100% adhesive towards cotton, cotton mix, polyester, leather, etc.
Specifications
Size: 3 feet
Dimension: 11.8 inches
Weighs: 2.6 ounces
Pros
CPSIA approved for being non-toxic
Laser-friendly
Can be layered
Heat and pressure sensitive for detailed prints
Easy to cut thin sheet
Cons
Pricey for the amount user gets.
6. HTV Heat Transfer Vinyl Bundle
The HTV heat transfer vinyl bundle s for those looking for everything required for object printing in a package. The 27 assorted colors of 12×10 inches sheets provide marvelous prints that will take over anyone's heart. The sheets are super stretchy, which makes them less susceptible to cracking and shedding.
Features
Colors and Size : The vinyl sheets come in 27 mesmerizing colors to boost the beauty of any object they touch. Each of them sizes 12×10 inches and comes with a weeding tweezer to keep the adhesive intact. You can combine these colors and make the perfect customized gift for your loved ones.
Uses: These easy-to-use heat transfer vinyl sheets can be used on any object near you. Whether you want to provide a personalized touch to your pillow, clothing, mats, bags, or shoes, they will easily heat transfer every detailed design.
Eco-friendly: The sheets are SGS certified as they are made from chemical-free, non-toxic vinyl that is environment-friendly. You can use them to print on your child's objects too.
Specifications
Material: vinyl
Dimension 12×10 inches
27 matter color sheets
Pros
Provides super-smooth matter finish
Very stretchable
Non-fading and peeling
Has strong adhesive for sticking
Easy to weed and layer
SGS certified for environment-friendliness
Cons
Color variation is limited.
7. HTV Heat Transfer Vinyl Bundle
ARHIKY HTV sheet bundle is a complete starter of 30 high-quality and easy-to-transfer sheets. Not only this, they are made user and eco-friendly from all aspects to provide design intricacy without harming anything. The durable adhesive along gives off complete machine wash proof ability to last long.
Features
Durability: The strength of the adhesive of these sheets is incomparable to any other. No amount of wash can peel off or fade the design. Even you can stretch your fabric as the vinyl is highly stretchable and does not crack.
Safety: For user safety purposes, this heat transfer vinyl bundle is made from eco-friendly material, which is approved by SGS. One can use these to decorate and design kids' garments too.
Weed and Cut : The thin and soft vinyl sheets are straightforward to cut into any shape. With attention, you can weed it off without any problem. Moreover, the heat and pressure sensitivity of the sheets makes the design more easily transferable to any cloth and accessory.
Specifications
Dimension: 12×10 inches
30 assorted colors
The entire packaging weighs 1.96 pounds
Pros
Easy to weed and peel
Can be stretched
Waterproof
Strong adhesive
Eco-friendly and safe to use
Cons
Too many colors can be confusing to use
8. HTVRONT HTV Vinyl Rolls Heat Transfer Vinyl
If you are looking for vinyl sheets that can design each of the objects in your house according to your preference, then HTVRONT vinyl rolls can rescue you. They come as single-colored 8 feet sheets to meet your massive needs. There are other colors too, but it allows you to choose single-colored accordingly in bulk quantity, and you don't have to waste money on unneeded colors unnecessarily.
Features
Uses: The sheet can be used in various objects starting from shoes, bags, totes, pillows, hats, mugs, etc. Their lightweight and thin feel provide easy cutting for shape customization. You can apply them to different fabric materials such as cotton, polyester, leather, etc. Moreover, the eco-friendly vinyl roll is completely safe to be used in kids' accessories too.
Adhesive: The adhesive is super strong and can survive multiple machine washes. It won't crack, peel or shed in the longest run. The vinyl is waterproof, so water does not sit on it.
Colors and Heat transfer: These rolls come single-colored for people who are looking for such. There are 20 other colors too to choose from. The high heat sensitivity provides faster heat transfer, and the design sits immaculately on the surface within seconds.
Specifications
Material: Vinyl
Single colored 8 feet sheet
Width: 12 inches
Pros
Durable and stretchy
Eco-friendly
Transfers heat fast and easy
Machine-friendly wash
Provides seamless fit
Cons
Not suitable for beginners
9. HTV Heat Transfer Vinyl Bundle
Another gem in the world of HTVs is this assorted bundle of 33 premium-quality by HTVRONT. The fabric integration these sheets have is commendable. One can never go wrong with their super-stretchiness and multiple wash surviving qualities, along with other extra benefits.
Features
Colors and Size: There are 33 assorted vinyl sheets of trendy and vivid colors, and each has a dimension of standard 12×10 inches. You can play with these colors independently and design all your favorite bags, shoes, shirts, pillow, can koozie and give them your personal touch.
Adhesive: The strong adhesive of the sheets has even stronger integration with fabrics of any kind, such as cotton, polyester, cotton blend, etc. They can survive repeated washes without peeling and color fading like other cheap quality vinyl.
Customization: The soft and thin sheets are effortless to cut and customize the design and size. The vinyl PU is highly heat and pressure-sensitive, making the smallest aspect of design sit on the surface well via heat.
Specifications
Dimension: 12×10 inches
Mode: iron-on
Material: vinyl
Pros
Soft and stretchy
Provides matte finish
Thinner, which makes it easy to cut
The smallest of designs sit well
It can be machine washed
Cons
10. Arteza Heat Transfer Vinyl
Arteza Heat transfer Vinyl holds a tenth place in the list of best ones. For any beginner who wants to experiment with the colors and textures of vinyl sheets easily, this bundle is for them. You will enjoy quality time personalizing your fabric objects with these safe and high-quality vinyl sheets.
Features
Colors: The bundle comes in 22 assorted vinyl sheet colors. Not all of them are matte, but some are neon or metallic. It adds a wide option to explore your personalization even more.
Durability: The durable HTV adhesive provides seamless and strong integration with the fabric. Hence, you can wash them in the machine, repeat wash, and still, the design will remain intact for the longest time.
Uses: You can use these vinyl sheets on any fabric textile, such as cotton, leather, polyester, etc. It will work the same for everyone. Even your kids can use them for their crafting activity as these sheets are chemical and toxin-free.
Specifications
Material: Vinyl
Compatible material: fabric
22 assorted colors
Pros
Strong fabric adhesive
Eco-friendly materials used
Can be machine-washed
Easy-to-use
Cons
The sheets are a bit thick, which makes them a bit tough to cut
11. Heat Transfer Vinyl, Ohuhu 36 Pack Sheets Iron-on Vinyl
You have upgraded yourself from an amateur to a professional and want to explore more different types of sheets. Therefore, you need to own these HTVs from the Ohuhu store. These 36-pack iron-on vinyl sheets will turn your party mode on with all the glitters it has.
Features
Colors: The bundle comes with 36 premium-quality, mostly used, and radiant colors. Out of which, 5 of the sheets glitter. So, you can use those glittery sheets for gifting purposes or to make party props. The colors won't fade or peel even after 50 washes.
Ease-of-use: By following a few steps, you can effectively transfer your favorite design on your boring t-shirt to amp it up. The sheets are a wide array of usage, mainly on leather, fabric, and non-woven fabrics. The thin structure makes them easy to cut so that you can customize the shape to match your desired one.
Eco-friendliness: Ohuhu always thinks of going green for the environment and user. Therefore, they have made their vinyl sheets free from any harmful materials.
Specifications
36 vinyl sheet pack
All together weighs: 2.35 pounds
Dimension: 12×10 inches
Pros
It contains 5 glitter sheets
SGS approved for containing non-toxic ingredients
Can survive more than 50 washes
Stretchable on fabric
Easy to cut and weed
Cons
12. YRYM Heat Transfer Vinyl Bundle
Lastly on the list I have is this lovely vinyl sheet bundle from YRYM. There come specially patterned sheets for exploring the extra mile with creativity and beauty. Moreover, the easy transfer of design makes the sheets compatible with any type of fabric. Boost up the colors of your life with YRYM vinyl sheets' that are going to last very long.
Features
Adhesive: Each sheet has a strong adhesive that makes them sit seamlessly on the fabric surface. Even after 50 machine washes, they won't fade, chirp or discolor. The design and pattern will be very long with such durability.
Uses: These vinyl sheets are fabric compatible. So, anything made of textile has the ability to carry these vinyl designs flawlessly. From mesh, cotton, polyester, leather to mixed cotton, you can try them on and enjoy some bright colors.
Colors: The colors are super vibrant, and they come in a 52 color bundle. Out of them, 9 come in special color combinations for special days or occasions. You will get holographic, rainbow, and even uniquely patterned sheets included in those nine.
Specifications
Dimension: 12×12 inches
32 colors bundle
Material: PU
Pros
Has great stickiness
Is machine wash friendly
Easy to transfer due to heat sensitivity
Easy to cut and weed
The colors are vivid and radiant
Cons
Buying Guide for Best Heat Transfer Vinyl
Before you decide to buy your most favorite vinyl sheet bundle, you need to stay acknowledged of a few things. In this way, you can prevent yourself from buying the wrong one. Even though buying heat transfer vinyl sheets does not require scientific research, we have accumulated some 'things to consider that everyone needs to read.
Eco-friendly
We live in a world where humans only think about themselves for their benefit. But little do they know when the environment is affected; they are harming themselves too. Probably most of us know the consequences of using toxic, chemically infused vinyl sheets. Therefore, it is always advisable to buy eco-friendly vinyl sheets for our safety and good health and save the planet for the next generation. Or simply look for the ones that are SGS or CPSIA approved.
Heat Sensitivity
Vinyl sheets with good heat sensitivity are easy to use and provide flawless design imprints- just the way you think. Because the sensitivity provides enough and quick heat transfer so that everything sits on the surface well. As you know, re-pressing the heat can distort the design.
Durable Adhesive
One of the most important things to consider for heat transfer vinyl sheets is their adhesive potency. If the design imprint does not adhere to the surface well, it will peel off or even fade after a few washes. Therefore, strong adhesive sticks on the surface well and survives through many washes, and design lasts a long time.
Stretchable
A stretchy vinyl on fabric is important. Because fabric such as t-shirts, pillows, and backpacks are stretched as they don't hold a consistent shape so, when stretched, you will see some poor-quality vinyl starts to peel off and shades. Hence, all your hard work goes in vain. To test the stretchiness, it is advisable not to pull the fabric too long apart, as it is not required.
Wash-proof
If you rely on a washing machine for washing cloth, buy vinyl sheets that are machine wash friendly. Not every vinyl can take the rigorous wash of machine; hence they prematurely fade out. However, to keep the vinyl print intact for the longest period, it will be better to hand-wash them with soft detergents.
Use
You might get confused between vinyl sheets and vinyl stickers, which is obvious for beginners. The sheets are mainly used on fabrics with heat transfer. At the same time, the vinyl stickers are something that is stuck on non-fabric objects where heat won't work.
Color Diversity
Color diversity depends on personal choice. Some people require singular color because their work or need desires that specific color. At the same time, beginners or kids require multiple colors to explore the world of creativity even more.
Thin Sheets
Vinyl sheets' durability is not determined by their thickness. Rather thick vinyl sheets are hard to cut, weed into a customized shape. Therefore, always choose thinner vinyl sheets that you can easily cut and weed without distorting your project.
How to Use Heat Transfer Vinyl?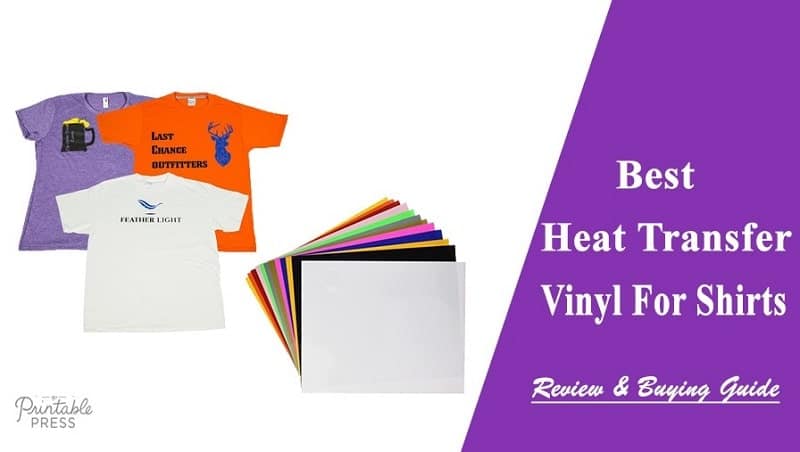 When you get your hand on vinyl sheets, the first thing in mind is how to use them. But know that heat transfer vinyl sheets are easiest to use than you think they would. As the name suggests, you need to heat the sheet to transfer the design to your desired object. Below, we will see how you can use heat transfer vinyl just by following some simple steps.
Step 1: Print
Use a vinyl sheet printer to print on your favorite design/ pattern on it.
Step 2: Weed
The second step is to weed out the excessive area of the sheet where the design is not involved.
Step 3: Heat press/ Iron
Next, take your household iron to transfer heat through the design you have printed to imprint it on the surface you want. Remember to put even pressure throughout the sheet, and don't miss any spot.
Step 4: Peel
Lastly, peel off the white sheet on top and enjoy your design!
How to Cut Heat Transfer Vinyl?
Cutting a heat transfer vinyl is not anything hard. The fact that if your vinyl sheet is thin, then cutting becomes stress-free for you. According to your convenience, you can either use an electronic cutter or a pair of plain household scissors to cut it. The next step is cutting the sheet according to the size and shape you want.
Electronic cutters are more reliable and easier for cutting vinyl sheets compared to scissors. On the other hand, electronic cutters are very expensive. So, everyone cannot afford it. However, the vinyl sheet will work the same for both ways of cutting. Always keep the protective sheet on your vinyl sheet while cutting it, or else it won't stick afterward.
FAQ:
What HTV do professionals use?
A professional can work with any type of vinyl based on their requirement. Professionals prefer thin vinyl sheets that will be easy to cut. Also, the sheets must have a strong adhesive to stay on the surface for a long time.
Is Siser better than Cricut?
Both are good in their ways, as SISER HTVs are broader in dimension compared to Cricut ones. On the other hand, Circuit vinyl has a wide variety of textured sheets such as glitter, foil, etc.
What vinyl is good for shirts?
Cricut is the best choice for shirts as it works on every type of fabric, including polyester, mixed cotton, etc. With this simple iron-on Cricut vinyl sheet, you can customize your shirt anytime.
What is the difference between vinyl and heat transfer vinyl?
Vinyl comes with adhesive with a peel-off paper backing on the back that helps them stick to an object. At the same time, heat transfer vinyl requires heat to transfer the print or design to an object.
How long does vinyl last on shirts?
With good care hand-wash, vinyl on t-shirts can last more than 50 washes. Even if the vinyl comes machine wash-friendly, it won't survive more than 30-40 washes depending on the quality.
How long does Cricut vinyl last on shirts?
Cricut vinyl shirts can survive 50-60 washes, that to hand wash with mild detergents. Harsh washing can make them feel or fade prematurely.
Final words
On a final note, we want to say that for someone searching for the best heat transfer vinyl in the market, they won't go wrong with my suggested 12 of them. Where beginners opt for cheaper and easy to start with vinyl sheets, on the other hand, professionals look for more premium versions of them.
We have selected each of them with scrutiny to suit both novice and professionals with vinyl sheets. All the brands are worth investing in to get a customized beauty on your favorite object. All the 12 best heat transfer vinyl are durable, thin, and easy to transfer that serves everyone's requirements and preferences. Hence, get your favorite ones today.