Choosing an ink pad could mean either you will get rough, blotchy stamps or flawless presentable artworks. It depends on the quality of your ink pad, of course. Not everyone, especially amateurs, knows the difference between the best and worst of ink pads. To save your time researching multiple ink pads to get perfect stamps every time, I have exclusively picked the 5 best ink pads for stamping out of the myriads.
Whether to put fingerprints on documents or to carry on with your important stamping projects, picking any of my reviewed ink pads won't disappoint you. I have selected them based on crucial features such as color depth, design, safety, pad size, etc.
Top Picks : 5 Best Ink Pads For Stamping
Table for Best Ink Pads For Stamping
Product
Description
ExcelMark Ink Pad for Rubber Stamps
● Works with fabrics

● Works with rubber stamps
● Water-based ink

2000 PLUS Stamp Pad
● Ink can be refilled

● Works on cardboard
● Two sizes of pad available

Ranger Archival Ink Pad
● 16 vibrant separate color

● Non-acidic and non-toxic
● Smudge-proof

Lsushine Craft Ink Pad Stamps
● Waterproof

● Safe for kids
● Easy to clean off

Ranger Archival Jumbo Inkpad
● Waterproof

● Bleed and Smudge-proof
● Non-toxic and Non-acidic
Top 5 Best Ink Pads for Stamping
1. ExcelMark Ink Pad for Rubber Stamps
ExcelMark excels in creating ultra-size stamps for rubber stamps with six different colors to pick from. You can expect it to work excellently on fabric, too, along with papers and cardboards. Moreover, this water-based ink has superb ink transfer to provide some amazing and praiseworthy results.
Key Features
Ink quality and variation: ExcelMark rubber stamp ink pads come with six superior quality ink colors. The inks are said to transfer well on any surface evenly. The pads can be re-inked that makes the pad last for months even after daily use. The ink pigmentation is commendable that leaves on rich and vivid stamps.
Pad Size: The pad size is huge, which is made for large projects and stamp heads. The size is 4-1/4 inches by 7-1/4 inches. In this top five ink pads list, this one is the largest of them all.
Compatibility: The rich pigment of the ink makes them transferable on fabrics, cardboards, and papers, of course. It is a water-based ink pad, so you can expect it to dry faster without leaving any smudge.
Benefits
High-quality ink transfer
Generously-sized
The ink provides crisp stamps
Works great with fabrics
Works well with rubber stamps
Drawbacks
Limited colors of ink and do not contain the primary colors.
2. 2000 PLUS Stamp Pad
For those looking for a budget-friendly option for ink stamp pads, the 2000 Plus stamp pad can fulfill it. Just because it's cheap doesn't mean 2000 PLUS has compromised with the quality. You can still enjoy long-lasting and crisp images stamped on your surface by staying within your budget.
Key Features
Pad Size: 2000 PLUS brings two different sized ink pads for users' convenience. There comes a 2.75×4.25 inches for small fingerprint-like purpose stamping, and another comes a 6.25×3.5 inches for a bit larger stamp head and projects.
Ink Quality: Inks are high-quality to leave vibrant and clear stamp designs. There comes one felt stamp pad and gel stamp pad, and both are equally brilliant. A 2000 PLUS roll-on ink comes with stamp pads for re-filing purposes to achieve long-term ink stamping with these pads.
Compatibility: The gel ink pads are compatible with harder and rough surfaces. Because gel provides for pigmentation rather than water-based, the felt stamp pads are usable with your choice of paper and cardboard.
Benefits
Very affordable
Ink can be refilled
Delivers vibrant images
The variation includes a gel stamp ink pad for more precise stamping
Pad comes in two sizes
Drawbacks
There is another color available in this ink pad except for red and black.
3. Ranger Archival Ink Pad
If you are looking for ink pads for professional reasons, then Ranger Archival comes with 12 outstanding ink colors. The best part is that Ranger Archival chose to make their ink pads non-toxic and non-acidic for safer long-term use. You can work on glossy papers, too, and it is completely waterproof.
Key Features
Ink: All the colors come are jet, rich, high-transfer, and waterproof. You can also use market, watercolor, and pigments on top of them, and the ink will receive it. There won't be any smudging or bleeding of ink, but attractive and crisp stamps.
Uses : Since the inks are permanent, you can use them for any creative purpose, such as decorating pieces of jewelry, pots, making your scrapbooks, and other designs. Though the ink pads package does not include re-inker, you can buy re-inkers separately to enjoy the convenience of crafting with Ranger Archival.
Compatibility : You can use these ink pads for any decoration; they are also great with glossy papers. But the fact is, in glossy papers, the ink takes 20 minutes to dry. However, once dried, you are going to enjoy permanent color.
Benefits
Has with 16 vibrant color options
Non-acidic and non-toxic
Leaves permanent ink
Smudge and bleed-proof
Waterproof
Drawbacks
Not encouraged to be used by kids
4. Lsushine Craft Ink Pad Stamps
If you are looking for a colorful ink pad bundle for your kids' growing attraction towards crafting and scrapbooking, the Lsushine Craft ink pad stamps are there. The package comes along with 15 waterproof, fast-drying, and crisp color ink pads for limitless creativity. Lsushine has every comforting feature in its ink pads to meet its little users' needs.
Key Features
Ink: Since these are specially made for kids' enhancing imagination, the inks are safe, non-acidic materials. Not the ink, but the sponges, too, are made safer. The inks are waterproof once dried, and they dry rapidly so that kids can't smudge.
Ease of -use: To start using the Lsushine ink pads, all you need is just a few drops of water to dampen the base. Then, stamp your heart out with the playful colors. The inks are quite easy to wash off from a child's hand, room's wall, and floors after messing up. You can store these stackable compact-sized containers anywhere.
Compatibility: These superior inks are compatible with fabric, wood, soft and hard papers, such as scrapbooks, cards, letters, etc.
Benefits
It comes with variations of colors
Dries fast and waterproof
Safe to use for kids
Easy to clean off
Boxes are durably made so that they don't break after falling
Drawbacks
Not for professional use, as the ink does not transfer well.
5. Ranger Archival Jumbo Inkpad
Finally, we have another Ranger Archival Inkpad. This one is for those disappointed with the previous ink pad from Archival because that wasn't a large size. As the name already suggests, it is a jumbo inkpad for larger projects.
Key Features
Ink: The jet-black ink serves with a permanent stamp on surfaces. Also, the ink is user-friendly, non-toxic, and non-acidic for safer long-term use. It dries very fast to prevent smudging and bleeding that can deteriorate your project.
Compatibility: Ranger Archival Jumbo Inkpad can be used in matte papers and glossy papers, such as photographs and lamination. It takes less than a minute to dry on matte papers but around 15-20 minutes to dry on glossy surfaces. However, you can reduce the time by using a heated drier.
Benefits
Waterproof
Does not bleed or smudge
Provides permanent stamp
Acid and toxic-free ink pad
Dries fast on matte surfaces
Drawbacks
It takes time to dry on glossy surfaces
Buying Guide for Best Ink Pads for Stamping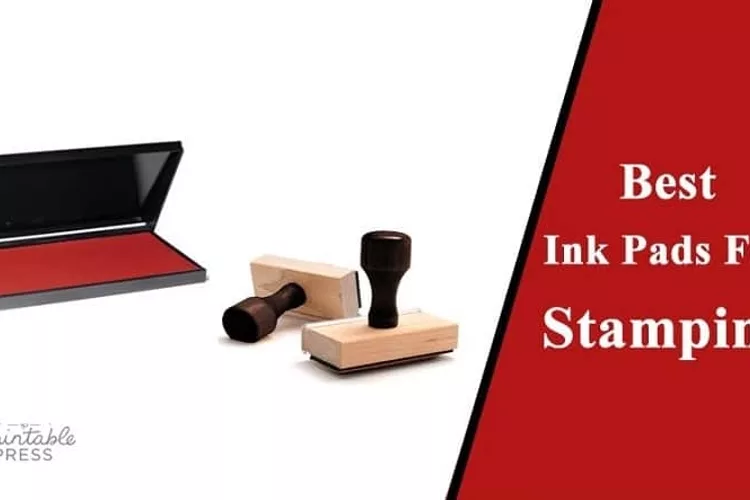 Selecting ink pads for stamping may not be tedious. You like or require color or design, then buy it. However, it is way more than that. Therefore, I will tell you how you can decide to buy an ink pad and what factors to emphasize.
Safety : One of the most important factors to look for is the safety of the ink pad. Some inks are made from acidic and toxic materials, which are harmful to humans, of course.
Especially if you are buying ink pads for your kids' scrapbooking and crafting purposes, you must keep an eye on the safety. Non-toxic and non-acidic inks won't harm little kids even if they deliberately put their hands inside their mouths.
Pad size: A large ink pad holds more ink, and larger stamp heads can accommodate. Selecting the pad size varies from person to person as some need larger ink pads for larger projects such as stamping personal scrapbooks or invitations. Whereas, for small chores like fingerprint stamping and kids' crafting purposes, ink pads less than 3×2 inches also work.
Fast-drying: No one would like to wait minutes for the ink to dry to carry on with the next stamp. If not dried well, the ink can mess up the entire project. Therefore, a fast-drying ink pad can help save time and your entire project. Look for fast drying ink pads, both matte and glossy types of paper.
Color: Ink pads come in different color variations to choose from. You can choose your desired single color ink pad required for your project. For kids, one can buy colorful bundles of the ink pad. Also, make sure the ink color has the high-transfer ability, rich and pigmented, so that you always get an even and crisp-looking stamp without the need of re-stamping.
How to Make an Ink Pad?
Are you a DIY freak and want to try on making DIY ink pads at home? Although it sounds like a tough job, trust me, with just 4 simple steps, you will be ready to stamp with your ink pad. Moreover, like every DIY, these homemade ink pads will also prove cost-effective.
Step 1: Get the belongings ready.
To start with, get your ink pad box ready. Pick a 3×2-5 inches box with a lid, which has slight depth. Now, take a partially dense sponge for the base. A too dense sponge will soak up the entire ink, and the stamp head will need more pressure to get ink. Alternatively, if you don't have a sponge, you can use baby wipes.
Step 2: Cut the sponge:
Measure out the sponge according to the size of the box, making sure the depth is exact. Now cut the sponge evenly using a scissor/ blade.
Step 3: Place the sponge:
Place the sponge inside the box and make sure no corners are headed out. For the baby wipes, fold and layer them up till they fill up the container leaving no edge empty.
Step 4: Pour paint
Now pour some paint of your choice that is lying around in your house. You can also go on with printer ink which is not in use anymore. Do not be frugal with paint, and generously cover the sponge until it is not soaking paint anymore.
Now, you are ready with your DIY ink pad within a few minutes. Take your stamp head and carry on with your project. Also, always keep the box airtight after use.
Frequently Asked Question
What Can I Use Instead of an Ink Pad?
The substitute for an ink pad is a 'glue' pad. With this, an adhesive glue will get on the stamp; then, you can stamp the glue in your desired place. Now, take a preferred powder pigment and quickly sprinkle it on the stamped glue to get the color.
How do I Get My Ink Pad to Work Again?
Mix a few drops of glycerin into the water, and spray it all over the ink pad. Close the box and wait for an hour to use them again. If the ink pad still does not work, you can scrape off the dry pigments and use them with glue pads.
How Do You Use an Ink Pad Stamp?
Lay the pad on a flat surface and stamp on it with gentle and even pressure for a few seconds. Then, pick the stamp and use it on any desired object. You should never put too much pressure on the stamp, or the ink will submerge the stamp and ruin your project.
What is the Best Way to Store Ink Pads?
It would help if you stored your ink pads so that they don't dry out quickly. For this, always make sure you don't leave the lid open or even partially open. Lastly, never keep it standing upright while storing. To go some extra mileage more with your ink pad, you can store them inside a zip-lock airbag to give them even airtight storage.
Should You Store Ink Pads Upside Down?
Yes, it is crucial to keep the lid side down. It helps keep all the ink in the pad on top to get even and crisp stamps every time you use it.
Conclusion
So, this was it for the 5 best ink pads for stamping. Although the list was not too overwhelming, I have reviewed the most prominent five! The brands we have chosen are versatile in making ink pads, as this is what they are doing for years. I hope you could find your desired ink pad based on design, color selection, and pad size.