Trying to settle for the best printable Fabric Sheets? This article will show you five premium sheets that might fall in your price range. Knowing about the frequent questions that most people ask before buying is a cherry top, and it details that too.
Well, Printable fabric sheets work pretty much the same as any other print paper-they roll and print words, images, and designs on them. However, not all sheets are equal; print quality differs from one sheet to the other. When buying, ensure the sheet you choose is compatible with the type and model of printing machine you use-whether inkjet or laserjet.
The sheet should also be durable enough and easy to clean off any mess. Some sheets are also made for quilting, while some are versatile, so be sure to check the sheet's scope of functionality too. Fortunately for you, if you find the process of choosing daunting, you will not go wrong with any of our reviews below.
Editors' Picks: Top Printable Fabric Sheets in 2022
Top 5 Best Printable Fabric Sheet Reviews 2022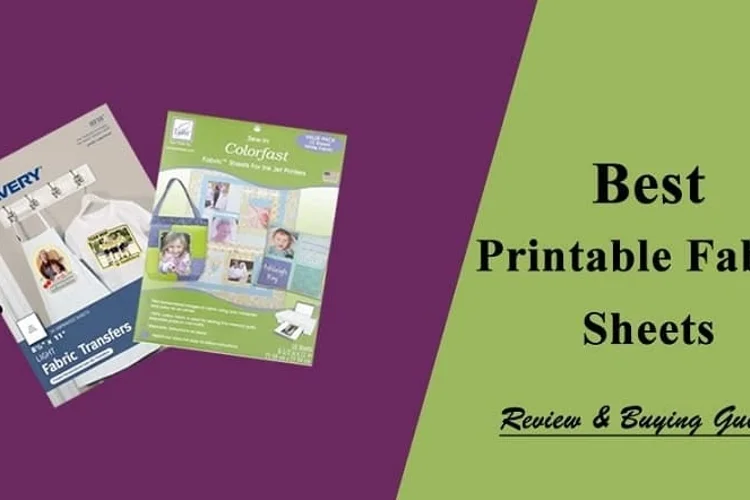 1. Jacquard InkJet Fabric Cotton Sheets
For almost a decade, Jacquard has been making top-quality printing sheets that stand the test, and this model is not any different. Well, this printing sheet costs only a few dollars, which is a steal, especially if you consider its versatility and strength. It comes in a smooth and wove finishing that makes it ideal for use in both inkjet printers and photocopiers. Being soft doesn't compromise its longevity since the sheets withstand wear and tear, making them perfect for years of use. The sheets are also proven to withstand shocks and vibrations.
If you are after a sheet that will let you wallow in the ocean of creativity, then Jacquard has you covered. It measures 8.5 x 11 inches; these sheets work magic when printing or photocopying, allowing you to add any preferred artwork design. Plus, they are easy-to-use, as you only need to peel them back, attach the sheet to the print machine, and use a fusible bonding material. These three steps are enough to take you through the preparation level to print your graphic. The pack weighs only 0.8 pounds and carries 30 sheets that are enough for multiple uses.
Key Features:
Easy to use: you need to peel off the backing and attach the fabric sheet using fusible bonding material or by sewing. It is advised to wash the wash after 24 hours.
Print the sheets in your inkjet printer or photocopier: Like standard paper, use the fabric sheets in the inkjet printer or photocopier. You can print sketches, drawings, and photographs on the sheets.
It comes in a pack of 30 cotton sheets: The 30 8-1/2 x 11-inch cotton sheets will complete many projects such as placemats, quilts flags, appliqués on fabric, among others. It is ideal for kids 8 years and above.
Pros:
Provides a range of colorful images for various designs
Ideal for cotton fabrics and any porous surfaces
Compatible with the standard home iron
Con:
Way pricier compared to most variants.
2. AVERY Printable Fabric Sheets
When personalizing heavy items such as blankets, you'd wish to land a sheet that prints every nitty-gritty of your graphics. AVERY printable fabric is specially formulated for use when designing heavy and light items such as tote bags, pillows, quilts, and a lot more. It also bonds quickly on porous surfaces such as cardboards, woods, and any other fabrics. Whether you are creating designs for interior home décor or on cloth such as birthday celebrations, this printing sheet gets the job done anytime with minimum hustle.
The heat-sealing backing makes this product viable even after years of storage. When printing, you only need to peel the backing, insert the sheet into an inkjet printer or photocopier, and run the print command. Nevertheless, you have 8.5 x 11 inches of print surfaces available, allowing you to add images, pictures, texts, and standard icons of your choice. More importantly, the sheets are made of cotton, making them easy to cut into pieces, using either scissors or electric cutting machines.
Key Features:
Add a touch of personalization: The fabric transfer paper sheets can create and customize face masks, aprons, bags, t-shirts, bags, hats, and tank tops.
It is equipped with a heat-seal backing: The fabric transfer is made from 100% cotton and features heat-seal backing to stick to the fabric, wood, cardboard, and other surfaces. Wash with mild detergents for best results.
Easy to customize and transfer the printable fabric: It is easy to customize with free templates, clip art, and fonts. You need to use an iron to transfer the design or sew-in colorfast fabric sheets onto your desired fabric.
Pros:
Easily bond on any porous surface.
The sheets are 100% irons that are safe from any contaminants
Best for creating different-sized graphics and images
Works best for both heavy and light fabric
Con:
A bit harder to stitch on cardboards
3. 10-pack Colorfast White Printer Fabric
10-Pack colorfast has been around for almost five decades; no wonder this list of the best printable fabric sheets in 2022. It holds firm and promises the best quality in the market, that is why you'll see it enjoy numerous stars and reviews. It also bonds instantly, providing premium quality prints in wash care labels, duvet covers, pillows, and tote bags. If you are looking for a sheet that works best for embroidery, 10-pack colorfast has your back as it is 100% cotton fabric. Also, it is chemically treated and specially formulated for quilts and another advanced-level branding.
Immediately you remove the backing paper, you should be able to sew these fabric sheets just like you'd do with any cotton sheet. The product allows you to use both the needle and a sewing machine, depending on your project's best works. Plus, the ink is pigmented to prevent instant fading, especially with numerous cycles of machine-washing. The print sheet starts fine and prints colorfast and straightforward images, texts, icons, and pictures in inkjet machines.
Key Features:
It comes in a pack of 10 sheets: Each pack contains 10 8.5″ by 11″ sheets. You can use these sheets on various projects such as making pillows, clothes, quilts, among other fabrics. It also allows you to sew photos or graphics into projects.
Printable fabric sheets: Like other printing papers, you can print graphics and photos directly from the computer onto the fabric sheet using a color inkjet printer.
Hand washable: This product is hand washable and requires you to rinse it with water and press to set ink for better results.
Pros:
You can apply heat to give your prints a unique tint.
The sheets are not sticky hence ideal for hand needle-sewing
Dries off to form photos with a beautiful, luxurious feel
Does not smear unwanted shade on the surface you print
Con:
Applying too much heat when ironing can result in an undesired hue
4. EQ Printables Inkjet Fabric Sheets
EQ print sheets score high when looking for one-colored papers that guarantee clear-detailed prints on any surface. Whether you are designing flowers on your pillowcases, embroidering, or scanning photos on your birthday apparel, this sheet comes in handy. It also produces near-perfect texts and images, making it ideal for scanning love letters. Plus, it weighs only 0.8 pounds, making it your ideal when looking for something that is not bulky.
EQ has the best value for money, save for its non-heat adhesive transfer. Well, this quality sets it apart, as it allows for easy stitch on. Unlike most sheets in the market-including the ones we've reviewed, this sheet is compatible with inkjet printer's ink and special ink. The special ink makes photo fabrics, vinyl transfers, and solutions on fabrics a breeze. The six sheets in the package measure 8.5 x 11 inches; they should feed and roll seamlessly on a standard inkjet printer. When working on small-sized labels, only a single sheet is large enough to print up to three labels.
Key Features:
It is fabric sheets for inkjet printers: To print sharp, photo-quality images, you need to use an inkjet printer. No special ink or printer setting is required. You can take a photo or scan a hand-written letter to use on your next project.
Easy to peel plastic backing: After printing, allow the ink to dry in 15 minutes, then peel the plastic backing with ease. When the fabric is dry, sew it into your project.
Colorfast and hand washable: to remove the excess ink, you need to soak the fabric sheet for 10 minutes, rinse until the water is clear. The process ensures no ink fades or loses the sheet's quality.
Pros:
Produces colorfast results that dry faster
Washes off easily in distilled water before it permanently dries
It comes with clear-detailed instructions in the package to start you off.
Quilts are faster compared to most variants on the market.
Con:
A bit hard to hand-sew, especially if you are a novice
5. PPD Inkjet Canvas 100% Real Printable Cotton
The last in our list of reviews is the PDP inkjet, another promising printable cotton sheet made in the US. Well, this package consists of 10 sheets that are finished in matte to start and finish you off even the most complicated design chore ever. Each sheet is A4-sized (8.27 x 11.69) inches, so you can rest assured of space. The white-colored space means they work best when creating white backgrounds. Otherwise, depending on the type and color of your ink, you can entrust PDP sheets with creating customized images, texts, graphics of any color. You can print colored images on all types of materials, including cotton shirts, cardboards, tote bags, and a lot more.
Quality is not a question since PDP printable sheets offer instant dry, hence minimizing errors while detailing. With perfect ink, you should get nothing short of high-resolution images and graphics that you can give to your beloved. Even more, the sheets are half the price of its competitors, so it allows you to cut cost curves. The real-perfect texture and appearance make them compatible with inkjet printers and your ideal when looking for stunning results.
Key Features:
High resolution: It is designed with high-resolution inkjet coating to produce high resolution. The PPD printable canvas can print both art reproductions and photographs in high resolutions with a regular inkjet printer.
Compatible with inkjet printers: It is compatible with all inkjet printers using standard ink, dye-based, or pigments. You can use it in your home or office inkjet printer since there is no unique equipment.
It is made from true cotton Canvas: The PPD Inkjet Canvas is made from 100% cotton. Photos on canvas are a stylish and appealing way to decorate the walls. It is ideal for artistic portraits, landscapes, and prints.
Pros:
High-resolution images on both white and black fabric
Dries faster for colorfast results
Easy to use with both dyes and pigmented inks
Feeds easily in any standard inkjet printers
Con:
It only works with inkjet printers.
Buying guide for Inkjet Fabric Sheets
You can use printable fabric sheets to personalize or decorate various fabrics. They are affordable and come in sets with 10 or more sheets. Interestingly, most fabric sheets work with different printers. The printed design can be transferred using an iron. Here are factors to consider when purchasing printable fabric sheets:
Durability
Most fabric sheets are made of100% cotton. When the image is transferred, it will appear sharp and will not fade even after multiple washes. The sheet can either be hand or machine-washed. They also work well with both light and dark fabric.
Opacity
You need to consider the color of the fabric you want to personalize. Some fabric sheets are designed for use with light fabric while others with dark material. For instance, if you're going to personalize a light t-shirt, look for printable fabric sheets made for light color fabrics and vice versa. Using the wrong fabric sheet leads to unappealing results.
Type of the printer
Different printable fabric sheets are designed to work with varying types of printers. You need to buy sheets that are compatible with either an inkjet or laser printer. Get the right printer to help you transfer your images to your items. For home use, inkjet printers will suit you best since they have a small footprint and are affordable. A laser printer is recommended for your commercial projects to offer quality images.
Paper Size
It is essential to check the fabric sheet size the set comes with before purchasing. Check the length of the printable fabric sheet and ensure it first well the image size. You can consider a sheet bigger in size to offer more freedom to work on larger images and designs.
Budget-friendly
The printable fabric sheets tend to be best for designers who want to personalize items such as t-shirts, sweaters, or totes without incurring printing costs. The fabric sheet allows you to take an image and print it just once. It is also a cost-effective way to decorate your old sweater, accessories, and more.
How to Make Printable Fabric Sheets?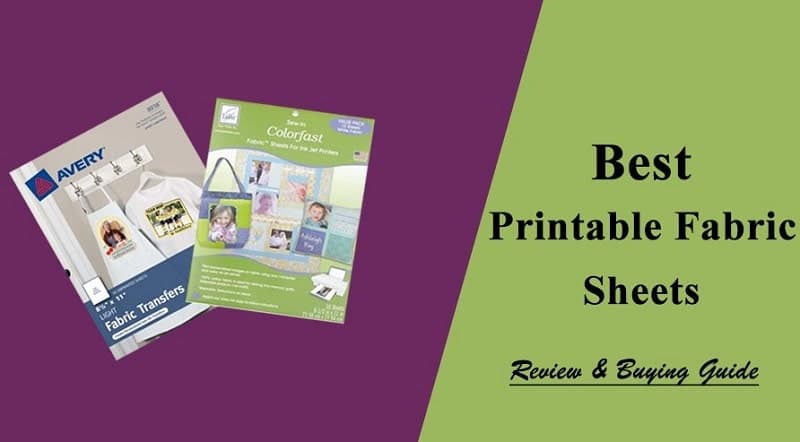 If you want to make your printable fabric sheets, then you need 100% cotton material and freezer paper or adhesive labels for the backing. Although the process is easy, fun, and economical, you need to plan, spare time, and prepare adequately.
What is required?
100% cotton fabric
Iron
Ruler
Scissors or cutter
Cutting mat
Fixative for pre-treating the fabric
Firm and smooth ironing surface
Lint brush
Here are steps to follow:
Step 1: Pre-treat the fabric using an ink fixative.
Step 2: Iron the fabric to eliminate wrinkles
Step 3: Cut the fabric slightly larger than the finished fabric sheet. It reduces the possibility of getting wax or adhesive on the iron and iron surface.
Step 4: Affix the backing to the fabric with either freezer paper or adhesive label.
If you are using freezer paper:
You need to cut an 8.5 x 11″ piece of freezer paper.
Lay the fabric on the ironing surface with the right side down
Place the freezer paper over the fabric with the shiny side down.
Iron the freezer paper side until it is fixed to the fabric
Turn the sheet over and iron the fabric to remove any wrinkles.
Using an adhesive label:
Place the fabric on the ironing surface.
Peel off the backing
Align one end of the label with the fabric; apply the label's adhesive side to the material.
With the fabric
right side up, iron to remove air bubbles or wrinkles
Step 5: Trim the fabric sheet to align the freezer paper and adhesive label backing. Cut any loose threads to prevent them from being caught in the printer.
Step 6: Use a lint brush to remove any lint on the fabric
Types of Printable Fabric Sheets
There are a variety of printable fabric sheets available on the market. Each type has its own unique benefits and drawbacks. Here is a quick overview of some of the most popular types:

1. Cotton
Cotton is a natural fiber that is very absorbent. It is also durable, making it a good choice for printed fabrics that will see a lot of use. However, cotton can be expensive, and it wrinkles easily.

2. Polyester
Polyester is a synthetic fiber that is more affordable than cotton. It is also less likely to wrinkle, making it a good choice for printed fabrics that will be used for clothing or other items that need to look neat and tidy. However, polyester is not as absorbent as cotton and can be less durable.

3. Silk
Silk is a natural fiber that has a luxurious feel. It is also very absorbent, making it a good choice for printed fabrics that will be used for clothing or other items that need to look neat and tidy. However, silk can be expensive, and it wrinkles easily.

4. Linen
Linen is a natural fiber that is very absorbent. It is also durable, making it a good choice for printed fabrics that will see a lot of use. However, linen can be expensive, and it wrinkles easily.

5. Wool
Wool is a natural fiber that is very absorbent. It is also durable, making it a good choice

Benefits of Using a Printable Fabric Sheet
There are several benefits of using a printable fabric sheet.
Create Your Own Custom-Made Clothing Items
One benefit is that you can use it to create your own custom-made clothing items. You can also use it to make home décor items, such as curtains or tablecloths. Additionally, you can use it to create quilts, blankets, or other types of fabric-based projects.

Versatile
Another benefit of using a printable fabric sheet is that it is very versatile. You can find them in a variety of colors, patterns, and textures. This means that you can use them for a wide range of different projects. Additionally, you can buy them in different sizes so that you can create larger or smaller items depending on your needs.
Inexpensive
Finally, printable fabric sheets are relatively inexpensive. This makes them a great option for those who want to create custom items on a budget. Additionally, you can often find them on sale or at discount prices online. This can help you save even more money on your projects.
FAQs about Printable Fabric Sheets
How do you print on fabric sheets?
You can print on a fabric sheet using three methods: label method, spray adhesive method, freezer paper method, photo fabric methods, and printable fabric sheets. All these methods are unique, and each may work better for specific designs and graphic surfaces.
How do you use Avery printable fabric sheets?
Use computer software to design the creation of your choice. Load one sheet into your inkjet and print the sheet. Carefully place the sheet on top of your fabric, image down against the surface spot you want to print. Avery is an iron-on printable fabric, so press a standard iron over the sheet and rub gently. The image or graphic will transfer automatically to your print surface.
Can I use my printer to print on fabric?
Yes, a compatible printer should help transfer your designs from the computer to the printable fabric sheet. For example, the list we've compiled contains sheets that work only with inkjet printers.
What is the best way to print on fabric?
Screen printing is probably the best way to transfer swirls of images and texts on any fabric. It is also fast, efficient, and with little mess. It has the edge over other modes such as thermal printing since it works both on dark-colored and white-colored surfaces.
Buy now at Walmart, eBay, Etsy (subject to availability)
10-pack Colorfast White Printer Fabric - Walmart, Etsy, eBay
Jacquard Inkjet Cotton 8.5X11 30 Pack - Walmart, Etsy, Ebay
Lansing 100% Cotton Poplin Sheets, White - Walmart, Etsy, Ebay
EQ Printables: 25 Inkjet Fabric Sheets - Walmart, Etsy, eBay
NuFun Activities Inkjet Printable Iron On Heat Transfer for Dark Fabrics, 8.5 x 11 inch, - Walmart, Etsy, eBay
Avery Printable Fabric Sheets, 8.5" x 11", Inkjet Printer, 5 Iron On Transfer Sheets - Walmart, Etsy, eBay
Jacquard Inkjet Cotton 8.5X11 10 Pack - Walmart, Etsy, Ebay
EQ Printables Inkjet Fabric Sheets,1 Pack - Walmart, Etsy, eBay
June Tailor Colorfast White Printer Fabric (3 Pack) - Walmart, Etsy, eBay
Electric Quilt Cotton Lawn Fabric Sheets - Walmart, Etsy, eBay
Electric Quilt Company Photo 6pc Printables Inkjet Fabric Sheet, Off-White - Walmart, Etsy, eBay
Conclusion for Printable Fabric Sheet Buyers
Choosing the best printable sheets is the most crucial decision should you decide to use sheets as a transfer medium. In case you intend to sew the sheet, make sure to use fusible fabric sheets as they guarantee the best resolution. Alternatively, if you have a printer, make sure to check whether the sheet you've chosen is compatible with your printer.
Costs should not be your worry, but on a limited budget, going for a cheaper sheet should not mean compromising on quality. Remember, the heavier your sheet is, the stiffer and thicker it will be. Be sure to check the sheet's thickness as it should augur well with your design needs for long-lasting and colorfast results.