The main idea behind the introduction of ink tank printers was to free the users of the pain of changing cartridges every now and then. With the launch of the first Epson Ecotank model, the Epson ET-4550 in 2015, ink tank printers started their journey in the vast market of printers. Three years after the launch of Epson ET-4550, Canon launched its first ink tank printer which was the first member of the Canon Megatank family. To this date, various Epson Ecotank and the Canon Megatank models rule the ink tank printer market. In this article, I am going to give you an in-depth analysis, discuss the pros and cons and compare the features of both these models, so that you can make a decision for yourself while choosing an ink tank printer for your needs.
A discussion of

Canon Megatank vs Epson Ecotank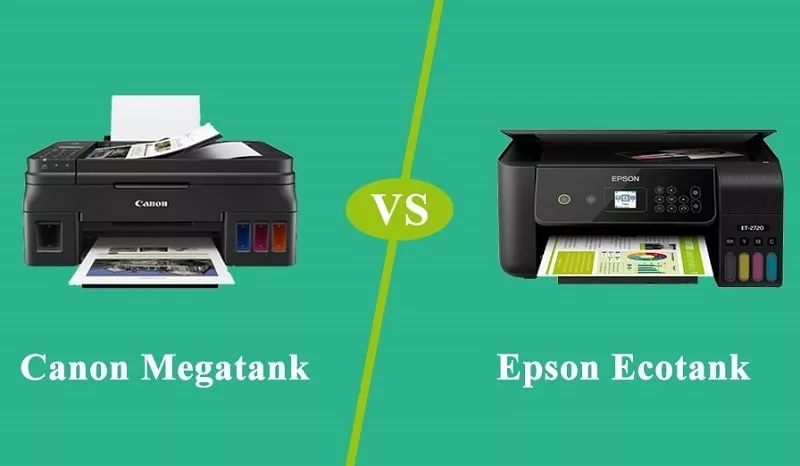 Canon Megatank
There are numerous models of Canon Megatank printers that are available in the market. Canon printers such as Pixma G7020, Pixma G6020, Pixma G5020, etc are some of the latest and most popular variants of Canon Megtank printers. With the latest features that are available in the tank printer industry at reasonable prices, the Megatank printers have raised the bar for tank printers that are considered entry-level. With these printers, Canon has vowed to provide its customers with genuine color inks that ensure high quality at a very low cost. The integrated ink-tanks in these printer faces the front, so tracking the ink level is very easy. The handy ink bottles with distinct nozzles on the other hand make sure that only the equivalent ink tanks get refilled by the ink tanks. Moreover, the easy connectivity, high-speed yet high-quality printing and easy maintenance altogether make these printers an ideal choice for home and small to medium businesses.
Epson Ecotank
The first company to launch an ink tank printer with a large ink reservoir was Epson. The Epson Ecotank printer that was released in markets in 2015 was the first family of ink tank printers. Epson Ecotank printers are built with the goal of ensuring high quality yet cost-efficient printing. However, unlike their competitors that make printers with the same cost-effective motto, the Epson Ecotank printers focus on business sizes ranging from small to large rather than home use or occasional use. EcoTank ET-4760, EcoTank ET-3760, EcoTank ET-3710, etc are the latest and most prominent variants of these Ecotank printers. Ecotank printers are slightly more professional in build and are a bit more on the expensive side compared to entry-level ink tank printers such as Canon Megatank. Since the first Epson Ecotank printer that was released in 2015, these printers have carried great brand value and innovation. The latest models of these Ecotank printers come with voice-activated printing.
Comparison table of

Canon Megatank vs. Epson Ecotank
| | | |
| --- | --- | --- |
| Parameter of Comparison | Canon Megatank Printers | Epson Ecotank Printers |
| Quality of Prints | More polished text and images are clearer | Less smooth text and less clear images |
| Speed and Volume | Lower printing speed and volume | Higher printing speed and volume |
| Ink Holding Capacity | Smaller ink container. Prints half of Ecotank printers in a single fill. | The ink container is larger. Almost double printing capacity with a single fill. |
| Initial Prices and Costs | Much cheaper. | Costlier. Costs almost 3 times more than a Megatank printer |
| Environment Friendliness | Less environment friendly | More environment friendly |
| Maintenance and usage costs | Less expensive | Considerably more expensive |
| Display | No display or minimalistic display | Full-colored smart LCD panel |
The Breakdown of

Canon Megatank vs. Epson Ecotank
Quality of Prints
An ink tank printer is not designed to print the highest quality of images and texts. Rather their primary goal is to print more volumes in lesser time to make them cost-effective.
However, both Canon Megatnak and Epson Ecotank printers despite their cost-effectiveness provide good printing quality. Both of them will perform decently by ensuring clear images and smooth texts in their printings.
However, although both these printers offer almost similar quality in printing, Canon Ecotank slightly outperforms the Epson Ecotank printers. The images produced by the Ecotank printers are clearer and texts are smoother compared to the Ecotank printers.
Although one thing that should be kept in mind is that, none of these printers' print quality matches the quality produced by a laser printer.
Printing Speed and Volume
The Canon Megatank printers are more suited for home use or occasional uses. These printers will have different features such as Ethernet connection and automatic feeders. They also perform great and produce good print quality.
However, if your main aim is to fulfill the daily large volume printing needs of an active business, then the Epson Ecotank printers are definitely the ones to go for.
The Epson Ecotank printers have been designed to keeping in mind the businesses that need high volume printing at comparatively less cost.
An Epson Ecotank printer can easily handle at least 50 prints per day with ease. On the other hand, the Megatank printers' printing capacity is roughly around half or even less of Epson Ecotank models.
So, if you are looking for greater speed and volume between these two printers, then Epson Ecotank printers are the ones you should be using.
Ink Holding Capacity
If we consider the ink tank capacity, then we can get an idea of the total quantity of prints that a user can get out of an ink tank. Again, in terms of ink holding capacity, there is not much difference between these two printers. However, the Epson Ecotank printers again edge the Megatank printers out in terms of ink capacity too.
A Megatank printer can print about 18,000 pages in black text in a single refill. That means, if a user prints 500 pages in one month, a single refill can last about 3 years.
An Ecotank printer will perform at similar levels. But, unlike Canon Megatank printers, there are some Ecotank models that have extra-large tanks. These models with extra-large tanks can print about 40,000 black-text pages, which is double the capacity of the most capable Canon Megatank Printers.
Initial Prices and Costs
While Epson Ecotank trumps the Canon Megatank printers in most metrics, prices and costs are parameters where the tables turn in favor of Canon Megatank Printers.
As the Epson Ecotank models are more premium versions of ink tank printers, they are very expensive compared to the Megatank Printers. An Ecotank printer may cost you thrice more than a Megatank printer.
However, it is not a given though. There are models of Epson Ecotank printers that can be even half the price of a good quality Megatank printer.
Having said that, initial prices are not everything, operational cost is an important factor too. And again, this is another metric in which the Megatank printers outperform the Ecotank ones.
The replacement ink bottles for the Ecotank printer are noticeably more expensive than the ones the Megatank printer use.
Environment Friendliness
Environment friendliness should be another metric that we need to reflect upon while choosing a printer. And strictly from an environmental perspective, the Ecotank printers are the better option among these two. The Ecotank printers use a unique technology which is called the Piezo technology.
On the other hand, the Megatank printers use heat to force the ink into the page rather than Piezo technology, which makes them more harmful to the environment around them.
Maintenance and Usage Costs
As days and months go by, the gulf between the maintenance and usage costs between these printers becomes bigger. The Econtank printers use a kind of replacement ink that is more expensive than the ones used by the Megatank printers.
On the contrary, the Canon Megatank printers' replacement inks are more accessible and cost only half of what the Ecotank replacement inks cost.
However, you can cut down on the cost of Megatank printers' replacement inks, by looking extensively in the market for affordable Epson printer inks. Although, even the affordable Ecotank printer inks cost much more than the Megatank printer inks.
Display
Although Ecotank and Megatank printers both are successful in their similar goal of providing cartridge-free printing, their presentations are very different from each other.
Canon Megatanks have opted for a much cheaper presentation by not including any LCD panel in them. Instead, these printers have a set of command buttons that does the job of an LCD panel. Even in the models that have a display, the displays are very minimalistic and uncolored.
The minimalistic displays in the Megatank printers do not show much information. They just about show the options for the operation that you try to perform at that moment.
On the other hand, the Ecotank printers since their inception, have a stylish colored LCD display. The 2.4" LCD panel in Ecotank printers is capable of letting you preview the page or the photos you are going to print. You need not turn your computer on for the previews. This is a magnificent feature that makes the Ecotank printers stand apart from the Megatank printers.
A larger LCD display also helps in having a clear and defined user interface. The menu and commands are clearly visible, so they make the Ecotank printers easy to operate.
Pros & Cons of

Canon Megatank vs. Epson Ecotank
Canon Megatank Printers
Pros
Very affordable initial buying price
Extremely cheap to use and maintain for a long time
Completely easy to operate
Smooth texts and clearer image quality in printing
Ideal for home and casual uses
Cons
The printing capacity is limited. Cannot print more than one or two hundred pages in a month.
The printing speed is very less
Unsuitable for businesses where you need regular printing
Comparatively harmful to environments
The minimalistic display panel is not well defined
Epson Ecotank Printers
Pros
Very good printing quality
Can print thousands of pages in a month
Very suitable for businesses where the printing demand is heavy
Uses Piezo technology, so it is environment-friendly
High-Quality LCD display panel
Professional outlook
Very satisfactory printing speed
Cons
Expensive initial price
Very costly to maintain as the replacement inks are very expensive
Complicated to operate for a new user
The printed texts are less smoother and images are less clearer compared to the similar type of printers that cost less
Conclusion: Which One to Choose?
To summarise, both printers provide their users with their own sets of features and conveniences. Along with these, they have some limitations too. Both Canon Megatank and Epson Ecotank printers are very good choices as ink tank printers. However, which one you should select depends on your specific needs. If you are looking for a comparatively cheap ink tank printer for casual home use, then the Canon Megatank printers are the ones to go for. On the other hand, if you need to print a high volume of pages regularly for your office or business, then you should definitely choose the Epson Ecotank printers.