With so many options to use for putting images on t-shirts, you might think no one would be interested in learning how to do so without transfer paper. After all, printing with transfer paper is one of the easiest ways to get graphic designs onto t-shirts. It appears that with the explosion of t-shirt printing options there is no reason to produce a printed t-shirt without transfer paper.
Putting designs on t-shirts without using transfer paper is possible. You might still have your doubts as to whether it is possible to put designs on t-shirts without the heat transfer paper, heat transfer vinyl, a screen printing mesh, or other tools.
The trick is to do put your design on the t-shirt with a stencil.
But, what is a stencil?
A stencil is a pre-cut template that is used for designing graphics. Stencils can be a simple graphics or complicated design. No matter what it is, you can produce a stencil by either using a downloaded template or getting help from any image editing software to create your stencil image. 
How to Put a T-Shirt Design on With a Stencil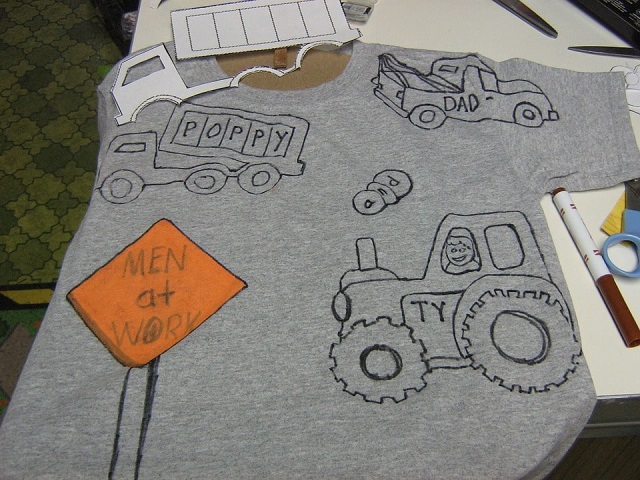 The first thing you would need to do after you have created your design is to print it. Use A4 paper to print your stencil design for the best results. You may then put acetate on top of the image and secure it with tape.
Next, cut the design to make a stencil on the acetate. It is recommended that you start with the small spaces in the center and expand out gradually. This way you can repair any errors you have made on the stencil using the tape.
Before you transfer your design on the shirt, wash it first and allow it to dry completely. You take this precaution to prevent your shirt from shrinking.  Once you have prepared your t-shirt, put it flat on the surface you will be working in. Also, insert a cardboard layer inside the t-shirt.
Stick the stencil to the t-shirt with masking tape. Make sure that the stencil is flat against the t-shirt and that the cardboard layer is in place.
Now you can turn to your ink.  Mix it on the palette until you get the color you want. Use a foam paint roller to roll the ink until you see no lumps.  The roller must be completely covered with the ink.
Next, roll your color across the stencil starting with a few light strokes followed by heavier strokes as you go along. The aim is to cover your t-shirt with a full coat of ink which must be evenly distributed. Before the ink dries, carefully remove the stencil.
Your t-shirt is ready for the next step. Place a sheet of baking paper over the image.  The ink should be thoroughly dried before you put the baking paper over it, so make sure the ink is dried. With the baking paper on top, iron the design for as long as the time stated on your fabric ink.
Once you are finished ironing, admire your handiwork.
That's it! A few simple and straightforward steps for putting an image on t-shirts without transfer paper. As you have seen, stenciling your design is an alternative to using transfer paper to print designs on t-shirts. With stenciling, you will be able to transfer any design onto t-shirts at a less costly rate. So, allow your creativity to soar with the stenciling technique for producing awesome t-shirt designs. Your family, friends, and customers will love it!