Vinyl printing is not a thing that started today; it has been around for several decades. So diverse is this sub-niche in the printing industry that you may need to acquaint yourself with tricks that work and do not work. However, printing vinyl stickers should not be daunting since it follows specific sequences with an easy learning curve. Read How to Print Vinyl Stickers.
Whether you want to print your favorite V-neck t-shirt or add customized stickers onto your bed sheet, this type of printing comes in handy. It lets you embed smudge-free, vibrant, and quality texts and graphics onto your apparel, smooth wooden surfaces, and even glass. The most crucial part is that the stickers are long-lasting and withstand multiple times of washing.
If you are still dark about print vinyl stickers, you may wish to know what this article reveals. Read on to gather the vital information that will enable you to print stickers like a pro. Knowing about step-by-step procedures to follow is a cherry top, and we reveal that too.
What Vinyl Sticker Entails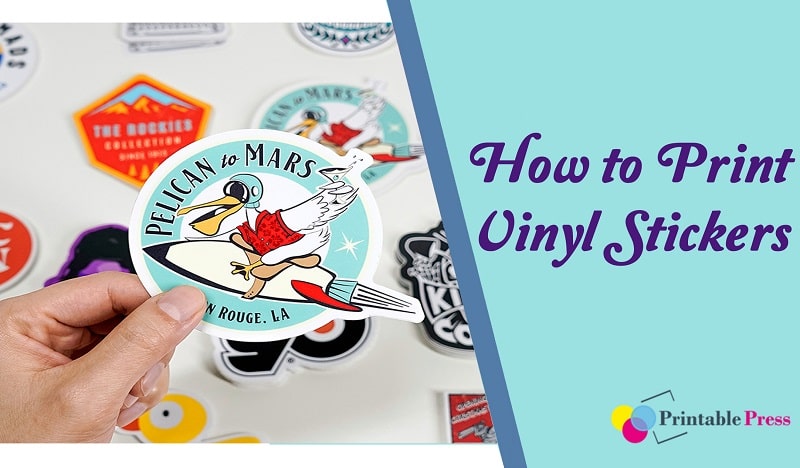 When printing your shirt, you have the choice between adding custom images or stickers. The two options work perfectly depending on what you need to create out of your print surface.
Vinyl stickers (commonly referred to as tattoos) apply when decorating walls or apparel, branding vehicles, creating business promotion signs, and a lot more. Larger stickers can be sandwiched on car windows, such as those you see on Uber. You can also use stickers as small pieces that pass crucial information to educate and enlighten.
Like most stickers, Vinyl stickers adhere to almost every smooth surface. So long as the surface is flat and clean, the tattoo should mount effortlessly. Quality stickers can withstand scratches and stand out even under heavy rainfall or extreme snow.
What You Need to Print a Vinyl Sticker
There are two main methods of vinyl sticker printing; using either a machine cutter or a vinyl sticker printing machine. A printer cutter is an automated machine that lets you trim the desired designs. If you choose to use a sticker cutter, you will need a PC or laptop for designing, a printer (laser jet or inkjet), and vinyl print paper. Lastly, it would be best to have a presser or regular iron box if you prefer manual printing.
A vinyl machine helps in cutting, pressing, and printing the stickers. If you choose this option, you only need a computing device for designing your sticker.
Can You Print Vinyl Stickers with an Inkjet Machine?
Well, inkjets are the most popular. Not only are they versatile for multiple printing needs, but they also work well when printing vinyl stickers. However, to print vinyl on an inkjet, you must have an equally compatible printing paper.
Once you have loaded the paper into the machine, press the print button, and the printer will begin printing immediately. If connected to your computing device, you can remotely control the printing process from your computer by pressing "ENTER" when the "PRINT" pops on your screen.
How to Make a Vinyl Sticker without a Machine
Just as we have hinted above, you can as well make a vinyl sticker without a machine. You may need an iron box–your regular iron box can do the work–for pressing. Alternatively, you will trim the words you intend to print manually–using a razor or a pair of scissors instead of a cutting machine.
Finally, use baking paper instead of vinyl print paper. You can effortlessly draw on baking paper hands-free. You do not need software to design your sticker.
How to Print Vinyl Stickers with an Inkjet Printer - Link
Create a Print Surface
Your print surface can be your favorite T-shirt or any other piece of garment. It can also be a smooth wooden or glass surface. The print surface you create determines what printing method will best suit the graphics, texts, or images you want to print.
Check whether the printing paper you have at hand is compatible with your design surface. Most sticker papers in the market work perfectly for soft fabrics and wooden surfaces. Also, make sure the paper you have chosen works well with the printing machine or printer you intend to use.
Making Your Printing Surface Clean
A piece of fabric can accumulate specks of dust or grime. If your printout cracks along certain lines, chances are that you may have sandwiched small objects between the print surface and the sticker.
Mix water with rubbing alcohol that is 70% isopropyl. Dip a clean sponge into the mixture and use the sponge to wipe off any dirt lurking on your print surface. If you do not have to rub alcohol, you can alternatively use soapy water. Either way, make sure to wash all the soap when done and hang the fabric for one hour to air-dry.
Preparing Your Print Design
Your print sticker can be anything from an image you saw on the internet to a photo captured by your cell phone. It can also be a photo of your business logo that you need to manipulate. You are not limited to choice. When preparing the design, your creativity carries the day, and it is the only thing that may let you feel good about the quality and aesthetics of your final printout.
Download the Sticker
There are wide assortments of stickers with different shapes, texts, colors, and images you can print. Type the word "vinyl stickers" in your web browser, and you will see a list of stickers online. Download the image, text, or graphic of your liking and save it on your computing device.
Alternatively, you can draw your preferred sticker on a piece of paper and snap it using a digital camera. Save the photo on your computer.
Use Editing Software to Cut the Sticker.
Three software stands out when it comes to editing vinyl stickers. You will never go wrong with Coreldraw, GIMP, or Easy Cut. These three apps come with tools for illustrating any sticker, cropping, indenting, cut-paste, white balance, exposure, saturation, and many more. Plus, their graphic interface is user-friendly with a fantastic learning curve.
Use the functions available to create the design of your choice. For effortless printing, make sure whatever you design fits in an 8 x 11 inches frame. The resolution should be 300 pixels per inch.
Transferring the Design to a Printing Paper
Fine-tuning the Orientation
Open your editing software and edit the size of the sticker you are designing. Make sure to keep the size of the document as 8 x 11 inches. If you intend to print multiple stickers, arrange your projects in a row while ensuring their margins match the working space of your paper.
Once you are done, search and click the preview button to ascertain how the project will print. If any of your designs go beyond your document's borders, move the edges or make the graphics smaller.
Loading and Print your Design
Load the vinyl printer paper into your inkjet printer—just the same case you would do when printing a book. Make sure the non-adhesive (print side) is facing the printing tray.
Once done, run the print command and wait for the printed paper. Check whether the prints are visible and are of high quality. In case of any mistake, you can check the design, make any corrections, and re-print the paper.
Transferring the Paper to a Vinyl Cutter
A vinyl cutter is first-hand, especially when doing DIY projects. It is user-friendly and can be automated.
Before you start, press the ON button on the cutter to keep it ready for cutting. Then, load the Vinyl paper you have printed above inside the vinyl cutter.
The blade's Origin attached to the cutter should be at a point near your paper's bottom right. This way, you stand a chance to minimize wasting a good chunk of your vinyl paper.
Most Vinyl cutters take between 5 to 10 minutes to press. This period also varies based on the type of fabric you intend to print. For example, a plain t-shirt requires that you press the paper for about 10 minutes in a heat press.
Also, make sure the temperature of your press is set at the required range. Cotton fabrics demand a heat alignment of about 305degrees Fahrenheit.
Once you have set the correct configurations, the machine will cut the paper; precisely following your project's outlines. It uses a sharp knife that moves from one side of the printed paper to another to leave behind the printed letters and graphics.
Weeding the Sticker
You can choose three types of weeding tools: hooked weeding pick, Exacto knife, or curved tweezers. All these tools can help you with lifting and removing any border.
Trimming the borders will leave you with only the images or graphics you designed above. To avoid damaging your design, make sure to gently and firmly trim around the edges. This trick also helps with attaining precision cuts.
For example, if you want to trim the letter "O," place the tweezer at the letter's exterior edge. Cut it precisely around. Finish off with cutting the center in a circle.
Print the cut Sticker
It is the final process in your printing journey. Up to this point, the heft of what you need to know is already covered. However, it does not hurt to pay attention to how to print your sticker since any slight mistake can still compromise the quality of the outcome, even at this point.
If you are printing a t-shirt, lay it flat on a smooth surface. The backside should face up. Run the hands over the fabric to straighten it.
Recheck the spot you want to print and make sure it comfortably accommodates the size of your sticker. It also does not hurt to check for grimes the last time. If there is any, remove them asap.
Position the sticker precisely, ensuring that it does not go outside the edges of the spot you want to print. The sticky side of the sticker should face down. Finally, use the fingers to press and smoothen it against the print surface.
How to Print Vinyl Stickers with a Cricut
Vinyl Cricut is another easy way to print Vinyl stickers. The best part of this option is fully automated, giving you a perfect chance to work with precision measurements.
Once you are designing your project, take an unusable Cricut and remove the liner from the transfer tape it comes with. Load the liner into your inkjet computer and print it.
Check if the graphics you want to print are clear and well-detailed. Straighten the fabric on a flat surface and clean the surface you wish to print. Position the sticker image formed on the cricket along the edges of the spot you intend to print. Finally, lower carefully and press the Cricut against the fabric.
Rest the Cricut for about five minutes. Then, peel the liner, starting from one corner leaving behind the sticker lurking on your print fabric.
In this process, Cricut has replaced the vinyl printing paper as a transfer tape. Well, unlike print papers, Cricut does not need pressing and curing to transfer the image or text in your sticker to the print surface.
Final thought
If you know how to print vinyl images, printing stickers should be a walk in the park. In this piece, we've shown you the three most popular methods that work. Whether you have a printing machine, Cricut, or iron box, any of these methods should give you quality results. Let us know what worked for you in the comment section.