The best iron on transfer paper can significantly improve your machines' workability and your output's general quality. Therefore, you must pick the right paper that matches all the functions you are looking for. Iron heat transfer papers for screen printing come in two primary colors-dark and light. Dark-colored papers are mainly used for transferring block images on dark or black substrates.
Conversely, light-colored papers transfer accurate and vibrant images on light or white-colored fabric.
However, to ensure ultimate value for your money, knowing what suits your fabric before splurging is just the beginning.
In addition, you'd want to ascertain whether the paper is compatible with your printer, durable enough and if it is rough or soft in texture. If this seems to be the position you are in, don't fret. Your worries are halfway solved with this review since we are about to show you a list of five premium iron printing heat transfer papers that stand out in the market. As a cherry top, we have also detailed their features, compatibility, suitability, design, and even what each might not do for you.
Top Picks by Editors: Best Iron on Transfer Paper
The Following Are 10 of the Best Iron on Transfer Paper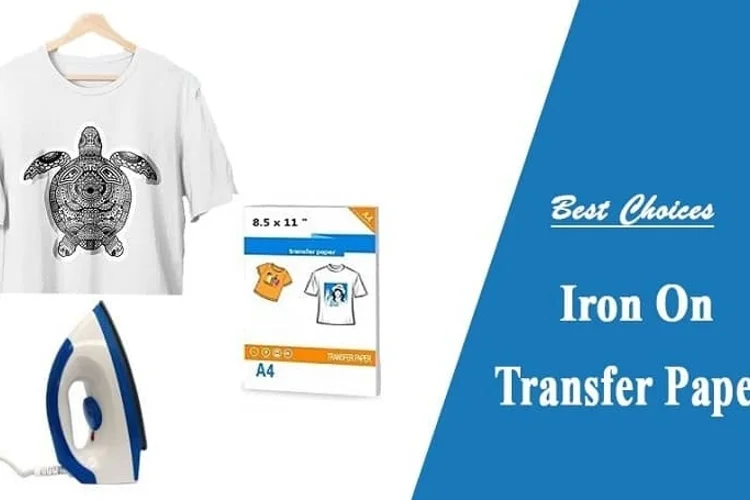 Ironing on a design on fabric can be pretty troublesome no matter how prepared you are.
Even if you have all the right materials and have planned things out perfectly, it won't be easy to iron out the design you want if you don't have high-quality transfer paper.
Fortunately, you have options and many choices in quality when it comes to transferring paper, more than ever before.
The technology surrounding iron-on designs have evolved, better and better chemicals are being used, and the transfer paper is becoming more and more accessible as well.
If you need to make designs on fabric, consider this list of iron-on transfer paper sets and packs.
1. 12 Pack 8 and ½ x 11-inch Iron-on Light Fabric Transfers by Avery
If you need transfer sheets for a t-shirt or any fabric that has a similar frame to a t-shirt, look no further than Avery's pack of transfer sheets. It is one of the best iron on transfer paper recommended by many professionals.
The thing about iron-on transfers on fabrics is that because fabrics are washed a lot, the colors can run. Unfortunately, this is a common problem with the transfer from most iron-on transfer sheets: They do not consider what happens to fabrics after being washed.
Fortunately, Avery has considered this with their transfer sheets. Containing a special formula called ColorShield, you will not need to worry about ironing on designs fading when they are ironed on with Avery's transfer sheets. This is very useful if you use Avery's transfer sheets to create designs on fabrics that are washed constantly, such as towels or t-shirts.
If you don't want to take the time to create designs, that's no problem. Avery's website has dozens of templates that you can save. In addition, if you are interested in creating designs and want to make use of a die-cutting machine, that is also possible with Avery's transfer sheets.
There are two things that you need to watch out for with Avery's transfer sheets, however. The first is that only 12 come in a pack. So if you intend to iron-on designs for a lot of fabrics, you'll need to stock up. Also, their common 8 and ½ by 11-inch size does not really lend itself to much creativity.
2. 4 Pack Glow in the Dark Heat Transfer Vinyl Sheets by Kenteer
There are a few things that set Kenteer's transfer sheets apart from others.
First, any colors that are transferred onto a piece of fabric with them are guaranteed not to fade and will last 40 items of washing without fading. This is very impressive and beats nearly every other brand of transfer sheets by leaps and bounds.
The second thing has to do with the material of the sheets themselves. Kenteer's transfer sheets are made of vinyl, which lends themselves to several things, glow-in-the-dark designs being one of them. Yes, it is possible to create glow-in-the-dark designs on fabrics with Kenteer's transfer sheets. This is another thing that many other brands do not possess.
The size of the sheets is the final thing. While most transfer sheets follow the industry standard of 8 and ½ by 11-inch size, Kenteer's sheets are 10 by 12 inches. This allows for a little more freedom in whatever designs you want to iron on.
Only four sheets come in Kenteer's pack. This can be very frustrating if you intend to make many designs on many different fabrics, and you'll be required to stock up if you want to use Kenteer's transfer sheets.
It can also be challenging to work with Kenteer's transfer sheets because of the different materials involved. This is especially true if you want to create glow-in-the-dark designs with them.
3. 40 Pack 8 and ½ by 11-inch Inkjet Light T-shirt Transfer Paper by PPD
If you need to make a lot of the same design for t-shirts, towels, or any other fabric that is light in color, you'll get a lot out of PPD's pack of transfer paper.
Coming in a pack of 40, you won't need to stock up if you need to make a lot of designs. This is perfect for making team uniforms or printing lettering or designs on other kinds of fabrics. You won't worry about running out of anything, and this is very convenient.
PPD's transfer paper is elementary to use as well. Just load the paper into a printer, come up with your design, and print it. PPD's transfer paper is compatible with nearly all printers, and that is what makes it so easy to use. Some of the more complicated transfer paper brands are not like this, as they require certain printers.
Other than the fact that you get a lot of paper with PPD's pack and it is compatible with nearly any printer, nothing else can be said. They can only be used with bright-colored fabrics, and that can be a major inconvenience. What if you need to print designs on darker-colored fabrics? You'll need to look elsewhere for that.
8 and ½ by 11-inch paper can only accomplish so much when it comes to making fabric designs as well. If you are using PPD's transfer paper for the team or work uniforms, prepare them to look very plain. You don't have a lot of room on an 8 and ½ by 11-inch canvas.
4. 12×15 Inch Easy Weed Heat Transfer 12 Color Starter Bundle by Siser
A major issue with the standard 8 and ½ by 11-inch sheet of paper is that it does not typically allow for any real impressive designs when ironed onto fabric. This leads to very simplistic designs.
Siser's transfer paper has solved this issue. Being an impressive 12 by 15 inches in size, it will allow you to create way more complicated designs for any kind of fabric.
And "any kind of fabric" is no lie, as Siser's pack of transfer paper contains one sheet of different kinds of colors. This will grant you a world of endless possibilities when designing. If you need to create a specific design for fabrics, you will want Siser's pack of transfer paper.
However, exactly one of every color is not really convenient when it comes to transferring paper. Indeed, Siser's pack of transfer paper is designed for those who need to make specific designs for fabrics. If you need to make the same design multiple times, you will want a different pack of transfer paper.
The larger size of Siser's transfer paper means you may not be able to use certain printers. When you use this paper for fabric designs, you will need to be sure to possess a compatible printer with 12 by 15-inch size paper.
5. 12 x 10 Inch 20 Pack of Assorted Color Vinyl Transfer Sheets by Fame Crafts
Sometimes you need something better than just 20 sheets of white transfer paper that you can print a team or company name on. There are some times where you also want to create a larger design as well.
For situations like these, you'll get a lot out of Fame Crafts' transfer sheets. Coming in one of every popular color, the possibilities are endless. There won't be a design that you won't be able to create when you have Fame Crafts' bundle in your possession.
You will not need to worry about the designs fading when washed, either. Fame Crafts' transfer paper contains easy to weed polyurethane, which allows any fabric that gets ironed on to stay on the fabric after dozens or even hundreds of washings.
Again, Fame Crafts' transfer paper is meant for specific designs, not multiples of the same design. And one thing that could have made this pack of transfer paper much better is if they had more than one of every color sheet in the pack.
You will also need a printer that can work specifically with Fame Crafts' transfer paper because of its unusual size and the vinyl material. Check to see if the printer you own is compatible.
6. Heat Transfer Paper for Dark Fabric
The first in our list of reviews is the Dark Fabric Heat Transfer Paper by UNEWPRINT. Well, just as its title goes, this paper is your best choice when looking to add customized prints on black fabrics, such as T-shirts, aprons, hats, and bags.
This product suits light-colored fabrics, and it works perfectly with inkjet printers. Meaning, if you use a laserjet, it may not work for you. Instead, it can result in a mess and even cause costly damages to your printer.
You have the option of cutting this paper manually or using a plotter to dissect it into small pieces. Just make sure to demarcate your plots well to avoid creating impractical pieces that end up in the waste bin.
This paper allows you to use both the basic iron and press machine to transfer the design to your fabric. However, if you intend to create a long-lasting print, it is best to use a press machine to guarantee seamless details and durable output.
The paper is easy to use and should not result in poor-quality prints. If your images and letters are coming out blurred, check your heat settings, ink quality, and transfer time.
Key Features:
It can be cut manually or using a cutting plotter.

Compatible with an inkjet printer and pigment ink

Transfer effect varies depending on ink quality, transfer time, and paper.

Suitable for aprons, T-shirts, hats, and bags
Pros:
Easy to use with both iron and press

Guarantee quality details in inkjets

Smooth texture for fine details

Standard-sized (8.3″ x11.7″) for basic printing needs
Cons:
It only applies to inkjet.

Cannot transfer designs on white or lights substrates
7. Iron-On Heat Transfer Paper for Dark Fabric
If your screen printing work entails designing more than 60% cotton, this transfer paper is what you are looking for. Measuring 8.3 x11.7 inches, this iron paper by Printers Jack absorbs ink to form a beautiful film that transfers designs superbly on dark substrates. It is also stretchable, making it your ideal bet when looking for something that does not tear under pressure.
One sure way to identify screen paper that works is by assessing its workability and texture. Well, no tester who used this sheet has come out to evaluate such metrics, short of long-lasting prints that withstand multiple washes. That tells you that you won't regret spending your dime on this paper, as long as you use suitable equipment.
In the package are 20 sheets that are incredibly durable for both heavy and light-duty tasks. Each sheet is smooth-textured and works perfectly with inkjet printers. Other than cotton, they also work magic when designing fabric such as polyester blends and nylon fabrics.
For best results, heat the film at a temperature range of 329 to 365 degrees Fahrenheit for 25-30 minutes. Keep the pressure setting at HEAVY, and let the sheet cool well for long-lasting print.
Key Features:
Easy to use

It can be used on pillowcases, bag, T-shirts, and aprons

It gives the best transfer effect

20 high-quality sheets
Pros:
Easy to cut using either plotter or scissor

Compatible with both heat press and iron

Guarantees long-lasting print on nylon, vinyl, and polyester
Cons:
8. Jolee's Boutique Easy-Image Heat Transfer Paper
Every detail of your design matters when creating appealing images and letters that will melt your client's heart. Jolee's boutique offers you a perfect opportunity to unlock your creativity when designing shirts, tote bags, nylon sheets, and other types of fabric.
This paper will transfer every single part of your design to a dark fabric without missing a dot. So you can be sure to create well-pieced graphics that you can gift to your family members, friends and use to expand your client base.
The package comes with five sheets that are A4-sized. All these sheets fit in and work perfectly with inkjet printers. In addition, the pieces are durable enough to withstand wear and tear.
Jolee's boutique print paper cures at high temperatures of about 300 degrees Fahrenheit. However, they transfer graphics and beautiful images that do not shrink, fade or melt even under agile wash cycles. The photos also withstand UV light hence perfect for places with extreme sunlight and intense heat.
Key Features:
Includes 5 sheets

Designed for dark fabric

You can customize your image.

Transfers your design onto the tote bags and shirts
Pros:
Easy to use with both press and basic iron

Opaque sheets are great for images on dark substrates.

Transfer well without leaving messy prints behind
Cons:
9. Nufun Activities Inkjet Printable Iron-On Heat Transfer Paper
NonFun iron paper for screen printing is a premium-grade medium that transfers graphics and designs on dark fabric. It comes in handy every time you want to personalize T-shirts, throw pillows, face masks, hats, aprons, totes, bags, and almost anything.
This printing paper measures 8.5 x 11 inches and works well with inkjet printers that use regular ink. In addition, you can check from the package a step-by-step instruction on using the paper and a link to a video tutorial that arrives with the pack.
NonFun paper bonds with nylons and polyesters, leaving behind soft, stretchable, crack-free, and 100% machine washable marks. When cured to the latter, the graphics can last years without bleeding or fading.
Key Features:
Easy to use

Suitable on throw pillows, hats, tote bags, masks, and T-shirts

High-quality paper

Great for customizing gifts for family reunions, birthday parties, businesses, holidays
Pros:
Creates long-lasting colors that do not crack

Graphics do not peel off when ironing.

Easy to cut with scissors and plotter

Allows for specific designs without compromising quality
Cons:
10. TransOurDream Tru-Iron on Heat Transfer Paper
The last in this list is the TransOurDream heat transfer paper for light fabric. So far, this is the only screen printing paper that supports white fabrics, so you can rest easy if that was what you were in pursuit of.
The pack comes with 20 sheets-numerous compared to the reviewed options and other market variants. All these sheets stick well on the screen to form a film and subsequently stick perfectly on fabrics, especially those with 30-100% cotton or nylon.
With this paper, you can customize DIY images on pillowcases, table cloths, canvas bags, totes, woodies, masks, aprons, flags, banners, and a lot more. It comes in handy when designing shirts and apparel for occasions such as weddings, Christmas, Halloween, Father's Day, Thanksgiving day, or birthdays.
TransOurDream is easy to slice into pieces using scissors or a plotter. It is compatible with inkjet printers. With proper curing, it forms images and graphics that are 100% machine-washable and bleed-free.
Key Features:
Ease to use

Compatible with inkjet printers and heat press machines

It comes in a pack of 20 sheets.

Durable and machine washable

Perfect for transferring images, text, and pictures
Pros:
Professional-grade paper that supports commercial use

Easy to use with both press and iron box

Peels away from the fabric effortlessly without any mess

Versatile for use on almost all white-colored fabric
Cons:
How to Use Iron on Transfer Paper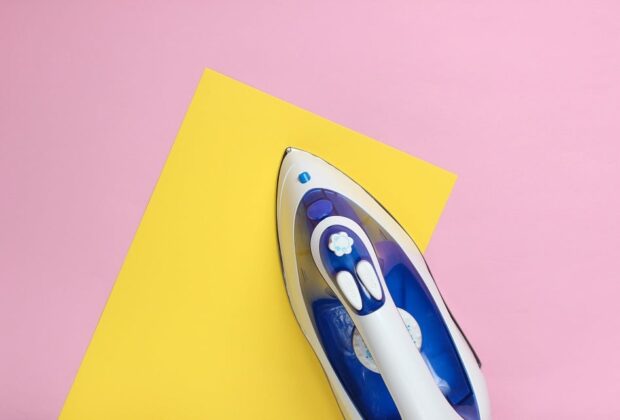 In case you cannot afford a printing press, you're not limited to choice. Your regular iron box can do a great job heating your transfer paper and transferring the images right onto your fabric. Let's walk you through a step-by-step procedure on how to make the whole process a breeze after getting a Best Iron on Transfer Paper on your hand.
1. Ensure your transfer paper supports iron printing.
Most papers available in the market, including the ones we've reviewed, support regular iron use. However, it doesn't hurt to check the package for suitability since some papers are specifically for press printing. Also, remember to choose light papers for light fabrics and dark paper for dark fabrics.
2. Design your transfer.
In your computing device, create a transfer depending on the artwork you want to feature on your fabric. Next, flip the images, edit to perfection, then print using a printer compatible with the paper you chose above.
3. Place the fabric on a flat surface
Lay the fabric on a flat surface, preferably a clean tabletop. Run your hands on the material to keep it flat as possible, eliminating any wrinkle. You can as well iron the fabric.
4. Cut the transfer paper
Using a scissor, trim the transfer paper to leave behind the part covered with the printed graphics. This way, you will easily position the paper on your desired spot for a flawless result.
5. Place two cardboards to sandwich the part of the fabric you want to print
Start with placing cardboard inside the fabric to separate the surface you want to design and the other side of your apparel. For example, if you want to print the front of a T-Shirt, place one cardboard inside the T-shirt in a manner that separates the front side from the back.
Once done, place the transfer paper, image-side down, against the strategic spot you want to design. Finish by covering the transfer paper with another cardboard.
6. Iron the transfer paper
Ensure that the iron is on a high heat setting. Then, position it over the cardboard and press it while running it over the cardboard in circles. The pressure should be consistent and can last between 2 to 3 minutes.
7. Remove the top cardboard
Once you are sure that your image or graphic has formed, remove the iron and top cardboard. Again, if you were consistent and keen enough, you would see a glossy image or block texts formed on your designated spots the way you printed them.
How to Print on a Transfer Paper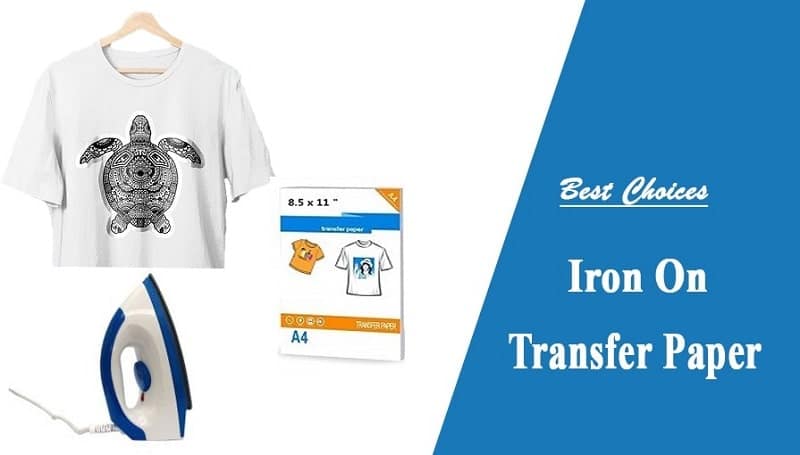 Here is a step by step procedure on how to print on a transfer paper:
1. Select the best transfer paper
Choose the best transfer paper compatible with your printer-whether inkjet, laserjet, or vinyl. Your paper choice should also work well with the type of fabric you intend to print, whether dark or white-colored.
2. Prepare the graphics.
Your graphics include images, logos, artwork, or writing you want to transfer to your fabric. You can download the graphics online or source them from tools such as cameras or phone media. Using appropriate software, edit the graphics to your preferred format and size.
3. Print the graphics
Insert the transfer paper in print and use the computer to run the print command. Check whether the output comes out the way you want it. Also, check the contrast of your transfer paper as it determines vibrancy.
4. Print the fabric
We are considering using a machine press in this method since we've shown you how to print using regular iron in part two above.
On your press, adjust the temperature to a level best suitable for your transfer paper. Finish with adjusting the time on your press machine. Of course, you can always refer to the manual guide on your press and the paper's package to know the temperature to go for.
5. Print the shirt
Place cardboard between the two sides of your fabric. Then place the fabric on top of a flat-leveled surface. Make sure it is straight enough with no wrinkles.
Place your transfer paper on top of the fabric, with the image or graphics aligned to the spot you want to print. Then use a printing press to transfer the image and texts onto the fabric.
Remove the fabric and check whether the graphics have formed the way you intended.
Conclusion for Buyers Looking for Iron-on Transfer Papers
When you think about screen printing, transfer paper comes to mind. No matter your type of design, transfer papers are the only medium available to make your printing process a success. Whether you are designing images, block texts, or plain backgrounds, this article will help you find the best paper for you.
Additionally, we've shown you how to use DIY alternatives such as Iron to customize your fabrics. Let us know what worked for you in the comment section, and you'll be sure to get a reply.
There are many uses for transfer paper, and different packs of transfer paper can solve different situations.
As you have just discovered, different colors and combinations are ideal and optimal for certain situations.
If you need to create multiple simple fabric designs, there are packs of transfer paper that address that very need.
If you are interested in creating specific fabrics for specific fabrics, a transfer paper solves that issue.
Determine what you need transfer paper for, then go from there. You have plenty of options, so explore them and see which option is best for you.