What are the pros and cons of heat transfer paper vs. vinyl? This question has been debated for many years, but we have finally put it to bed! Some people prefer one over the other because they each offer different qualities such as durability or cost-effectiveness.
For example, Heat Transfer Paper is less expensive than Vinyl but doesn't stand up to wear and tear. On the flip side, Vinyl is more durable than Paper which makes it easier on your wallet in the long run. So how do you know which one is best?
If you were to choose between heat transfer paper and vinyl to transfer graphics to your t-shirt, what are some of the things you need to consider?
Heat Transfer Paper vs. Vinyl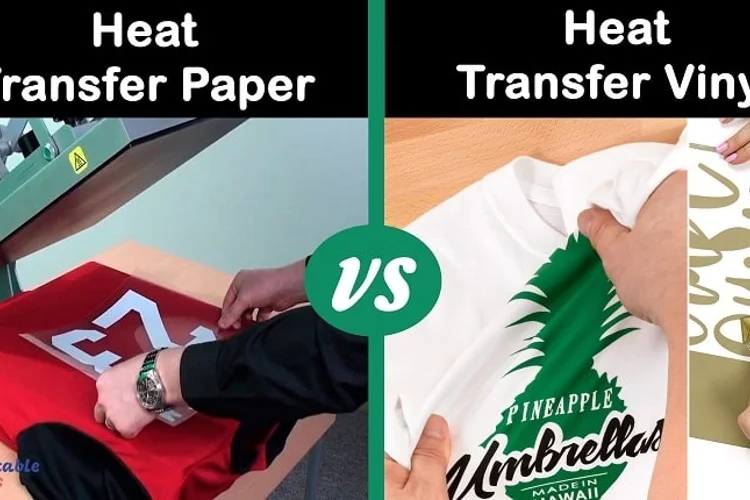 What is Heat Transfer Paper and Vinyl?
Heat transfer vinyl is an excellent way to add personality and individuality, which has led many crafters into the business. The process of heat transferring personal graphics onto fabric or other materials only requires simple tools that are easy enough for beginners!
Heat transfer paper is a process that transfers designs printed on specialty sheets of heat-sensitive paper to fabric. The result can be seen in any garment you put it onto, such as shirts and hats!
The Uses
Creating custom heat transfer projects is a great way to channel one's creativity. Heat transfer paper is the cheaper alternative to printable vinyl. It is vital to ensure that Heat Transfer Paper, also known as Sublimation Paper, is heated to at least 400 degrees, so the design inks are seamlessly transferred. Heat transfer papers and sublimation papers are commonly used for laser printing.
The ability to print designs on fabric, ceramic, or other canvas using heat transfer vinyl is exciting and can be accomplished using heat transfer vinyl. According to their names, HTV is vinyl, while Transfer Paper is paper. A wide-format printer is ideally suited for creating HTVs and can be used for printing them on high-quality materials with an inkjet or laser printer.
Number of Layers
As opposed to Heat Transfer Vinyl, Transfer Papers can print full-color designs in just one layer. In contrast to transfer vinyl, which has no multiple layers, a user can only utilize it in a single press.
So, what is the difference between paper and vinyl? As we've just discussed, HTV has a glittery sheen to it that makes your design really pop. The lamination on Vinyl also gives you an extra layer of protection against water and scratching that can occur with use over time. It all depends on how you want the end product to look.
The Size
Printable HTVs are made for use in industrial printers. To print on them, you'll need a large machine that uses solvent or eco-solvent ink and can handle rolls of vinyl 15 inches to 60 inches wide (that's right: they're not just stickers!) The reason? It's because these printer machines cost more than the average desktop one does!
Heat transfer paper doesn't feel like heat transfer vinyl; it feels much more like the touch of a crisp sheet of printer paper. Heat transfers are intended for printing with an inkjet or laser printer and come in smaller packs that correspond to standard desktop printers- 8.5″x11″ and 11″x17″.
Heat Transfer – Using Paper or Vinyl?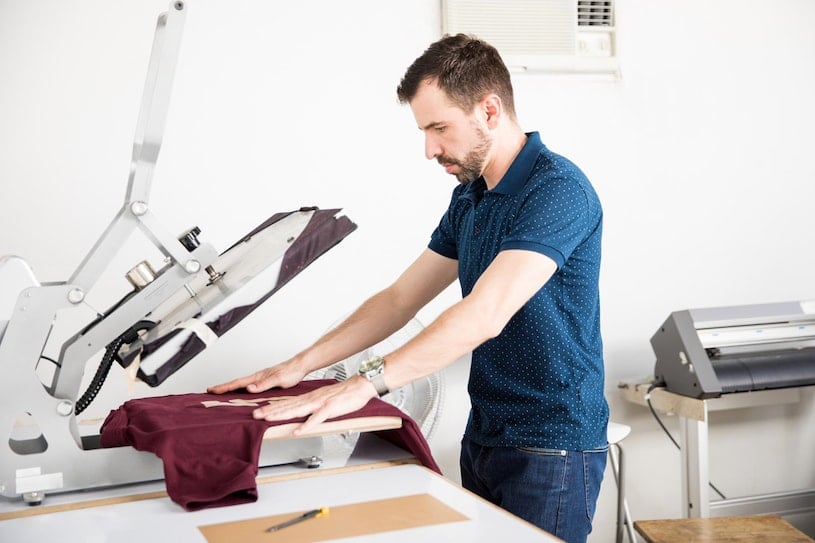 If you want to produce items with multiple colors, then the iron-on transfer paper is your best bet. Vinyl is a little more cumbersome for use with numerous colors. It is easier to use vinyl cuts for single-color designs. If you were to produce a blend of color or overlap elements using vinyl, this would be challenging.
The vinyl on the t-shirt is heavy, so it is essential to check the adhesiveness of the vinyl panels you are using. Always Use a mop to clean vinyl to remove surface dirt, dust, and hair. If your design is large and unwieldy, you might not feel too comfortable wearing the vinyl version. There are, however, various brands of vinyl that offer excellent quality suitable for t-shirt printing. Higher quality vinyl is typically thinner than inferior quality vinyl. The thinner vinyl is easier to cut with the vinyl cutting machine or by hand. Furthermore, high-quality vinyl is easier to transfer to t-shirts, and they are produced in a range of vibrant and trendy colors your customers will love.
Heat transfer paper is easy to work with. Just create your design, print it on the heat transfer paper, and apply the design to the t-shirt with a heat press machine or an iron. You have two options with heat transfer paper: light-colored fabrics and the other for dark colors. Each transfer paper has its specifications that you need to pay attention to. It is not practical to use the heat transfer paper meant for light-colored fabrics to transfer images onto dark-colored apparel. It won't work!
The main downside of using heat transfer paper for t-shirt designs is the lack of durability you get. The typical transfer paper print does not stand up to washing and will fade after a few washes. If the heat transfer print was not done correctly, you will also experience cracking and fading in short order.
Conclusion
No doubt, your choice between heat transfer paper and vinyl depends entirely on how you intend to use the materials. The selection also depends on your circumstances. The advantages of using heat transfer paper are that this material is relatively low cost, easy to use, flexible regarding what you can produce with it, and the final results are acceptable to customers.
The main downside is that t-shirts printed with heat transfer paper tend to fade and crack after a few washes. On the other hand, Vinyl is mainly used for designs that are not too complicated regarding color and design elements. If you love vinyl on t-shirts, then you are more likely to be satisfied with the results.
You might need to consider the compatibility of your material to the task at hand. Flexibility is the range of creative options you can explore for your t-shirt design is also another consideration. How easy it is to transfer your design to the t-shirt and the range of colors you have at your disposal are vital considerations when choosing between heat transfer paper and heat transfer vinyl.
! If your decision-making process includes considering cost or durability, then go for vinyl; if appearance matters most, consider HTV for more visual effects. Let us know when you are ready to get started on designing some custom prints in either medium so we can help make sure everything looks perfect together.