You have two options in front of you when you are tasked with creating designs for shirts or other kinds of fabric.
The first thing you can do is take what you need to specialize in doing such things. While this is easy to do, it may not be possible to do in your area, and it is not nearly as cost-effective.
The second thing you can do is do it yourself, doing the same thing that embroidery shops do.
This is made possible by way of the best printable vinyl. Utilizing heat transfers, printable vinyl makes it easy to create logos, names, or other visual features for any fabric.
Top Picks : Best Printable Vinyl For Shirts by Editors
Best Printable Vinyl for Shirts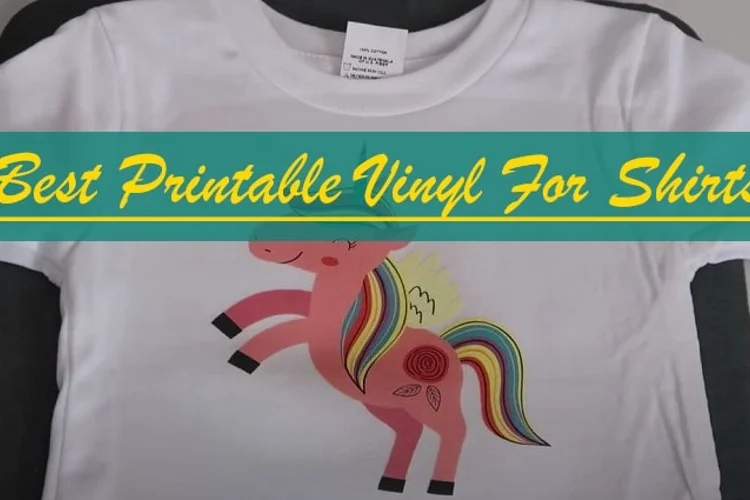 1. 25 Pack 8.5×11 Inch Printable Iron-on Heat Transfer for Dark Fabrics by NuFun Activities
One of the most significant issues most printable vinyl sheets face is that there are not enough sheets in the pack. Unfortunately, it isn't much you can do when you only get 5 or 10 sheets in a pack. This is especially true if you are tasked with making designs in bulk, such as making uniforms or anything of that nature.
With 25 sheets coming in the pack, you'll have all you need to do whatever you need with NuFun Activities' vinyl sheets. This best printable vinyl makes them perfect if you need to make uniforms or any other situation that requires you to make a lot of the same logos, names, branding, or other visual aspects for fabric.
It is effortless to use NuFun Activities' transfer sheets as well. All you need to do is make the design, print the design, peel it off, place it on the piece of fabric you want to iron the design on, and then physically iron the design. So again, there is the minimal effort needed to do this, and it is not complicated at all.
You will probably struggle using NuFun Activities' transfer sheets on brighter colored fabrics. While it is possible to do this, the paper itself uses pigments that heavily favor dark-colored fabrics. As a result, you'll likely need to find different transfer sheets if you are looking for the best printable vinyl transfer sheets that you can use for brighter fabrics.
2. 20 Pack 8.5×11 Inch Light and Dark T-shirt Transfers for Inkjet Printers by PrintWorks
Although most vinyl transfer sheets work perfectly with darker colored fabrics, most struggle to create good designs on lighter colored fabrics. This makes a significant issue for anybody who needs to develop strategies for lightly colored fabrics, and there aren't many vinyl transfer sheets that can do this.
One of the best things about Printworks' vinyl transfer sheets is that you can use them on dark and light fabrics. This makes them much more versatile than other vinyl transfer sheets since you can make a design for a dark fabric with one sheet, then turn around and make a design for a light fabric using the same sheet.
You also do not need expert knowledge to apply Printworks' transfer sheets. All you need to do is create the design, print out the design, and then peel it off and iron it onto your fabric. This process takes a short time, less than 10 minutes.
The only thing you might need to watch for with Printworks' transfer sheets is that only 20 sheets come in the pack. While 20 sheets are still plenty to work with, you would be surprised at how many more options you have with the packages that contain 25 or more sheets. Of course, whether this limits you depends on your situation, but it is still something to watch out for.
3. 5 Pack 8.5×11 Inch Heat Transfer Paper for Dark Fabrics by Avery
Most fabric transfer paper does not resist washing. While the designs from the paper may come out looking acceptable right after you have applied them, the designs will usually fade as soon as they are washed, which is highly frustrating to deal with.
You will not need to worry about this when using Avery's heat transfer paper. The paper itself is uniquely formulated, never to fade any given fabric, no matter what the design may be. As a result, it is perfect for complicated logos and other kinds of branding that demand much stronger transfer paper.
Unlike most heat transfer sheets like this, Avery's heat transfer paper is not difficult to apply. You can apply it just like any other given transfer sheets by printing the design out, peeling it off, then ironing it on. Of course, you can also use a heat press, but you are not limited to a heat press like other transfer sheets like this.
Only five sheets come in Avery's pack of heat transfer sheets. This makes it less than ideal for creating designs in bulk. If you are interested in doing something like this, you'll need to stock up on them as more best printable vinyl. They also do not work with brighter fabrics at all. You'll need utterly different heat transfer sheets for that.
4. 6 Pack 8.5×11 Inch Printable Heat Transfer Paper for Light Fabrics by Avery
The majority of transfer paper works for dark fabrics and nothing but dark fabrics. Even though it is possible to create designs on light materials with transfer paper like this, the chances are good that it will not come out the way you want it to. Most of the time, you'll need to acquire different transfer papers for bright fabrics, and this search is frustrating.
Your search for transfer paper that you can use on bright fabrics has ended with Avery's transfer paper. Not only can you transfer designs to colorful fabrics with it, but the designs themselves also will not fade immediately after being washed. This quality is premium with transfer paper, especially transfer paper that you can use on bright fabrics.
Most transfer paper will require you to use a heat press to apply it correctly. Doing this is a complicated process. Fortunately, Avery's bright fabric transfer paper can be applied just like any transfer paper ideal for darker fabrics. This makes it much easier to use and saves a lot of time.
As you might have guessed, Avery's bright fabric transfer paper only works on colorful fabrics. It is impossible to apply it to dark fabrics. Also, only six sheets come in the pack, which means you'll need more if you are tasked with making bulk designs such as making team uniforms and other such things.
5. 10 pack A4 Size Heat Transfer Vinyl Paper by Hutu
Nearly all heat transfer vinyl paper follows one size: 8.5×11 inches. This makes it very difficult to create more significant designs, if not impossible. You'll need to use two different sheets to make a more extensive design than 8.5×11, and dealing with this is very frustrating.
Hutu has the solution for you if you deal with this. With their best printable vinyl transfer paper being an A4 size, you'll have a lot more room to create designs than with transfer paper that measures 8.5×11 inches. This best printable vinyl heat transfer paper is also compatible with a lot more printers than you would think since it uses pigment-based ink.
You also have options with Hutu's transfer paper. You can either use a heat press, or you can iron it onto your fabrics of choice. Most transfer paper with an A4 size can only be applied using a heat press, and it is very nice that you have options with this particular transfer paper.
Understandably, you only get ten sheets of transfer paper in Hutu's pack. While this is to be expected because of the slightly bigger size, it is still something you'll need to watch. You should also expect it to fade after washing when you iron it on, which isn't very common in transfer paper for dark fabrics.
Printable Vinyl for Shirts: A Buying Guide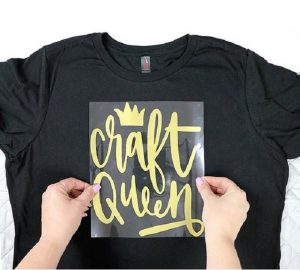 Heat transfer paper and printable vinyl for shirts and other fabrics are not all the same.
This means you'll need to consider a few things before setting out to acquire a pack.
Do You Need to Make Designs for a Light Fabric or Dark Fabric?
This is the first consideration you should have, and other concerns will revolve around this.
Most printable fabric and transfer sheets are designed for dark fabrics but can also work with light fabric.
The problem with this is that these designs tend to fade when they are applied to light fabric.
Other transfer sheets are specifically designed for light fabrics, and these are what you should seek out if you need to make designs for brighter fabrics.
How Many Designs Do You Need to Make?
There are many reasons why you will need to create designs on fabrics.
Transfer sheets come in different quantities, and because of this, you'll need to consider how many designs you need to make and how many pieces of fabric.
Because best printable vinyl for brighter fabrics tends to come in fewer quantities, you'll also need to accommodate for this.
What Kinds of Designs Do You Need to Make?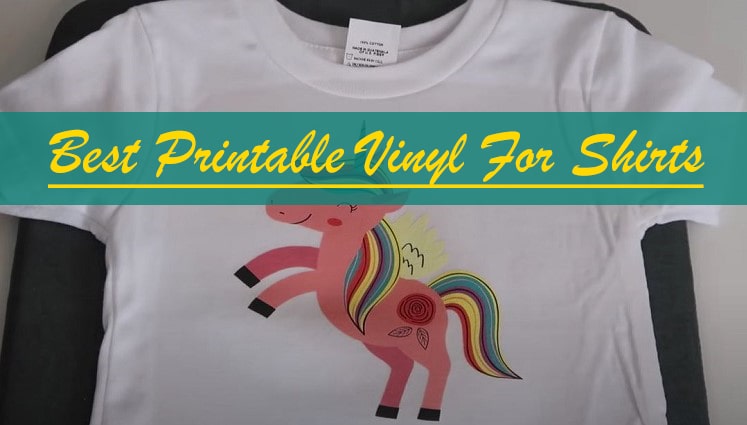 Most printable vinyl sheets have dimensions measuring 8.5 inches by 11 inches, which is the standard letter size of paper.
While this works well for most designs, there are sometimes where you might need to create more significant designs that this size of the sheet will not satisfy.
There are bigger sheets out there, and you need to know that you may need to stock up if you do need sheets of this size since they usually only come in packs of 5 or so.
How Often Will You Wash and Wear the Fabric That the Design Will Be Applied?
While the best printable vinyl sheet designs tend to last more than a few washes before fading, you might find that specific sheets are better at resisting fading than others.
This is especially true when it comes to packs that contain a lot of sheets.
The designs from sheets like these tend to fade pretty quickly, where packs that do not contain many transfer sheets are usually created with fade resistance in mind.
How to Use Printable Heat Transfer Vinyl
There are two ways to apply transfer sheets onto your fabric of choice: You can iron them on or use a heat press.
You'll need to print out the design before performing any of these physically.
Doing this is just like printing anything else: Put the heat transfer sheet into the tray of your printer, use whatever software you need to create the design, then print the design out.
Make sure your printer can print this kind of sheet out before you do this. While most printers can do this, there is a surprising amount that does not.
After your design has been printed on your sheet, you now have the choice to either iron on the creation or use a heat press to press it onto your fabric.
Ironing the design onto the piece of fabric is very easy and does not take too long. It is just like ironing any other part of the fabric.
The only thing you might need to do is slightly increase your iron's heat level; this way, the design is clear and firmly pressed.
Using a heat press takes a little longer because it takes time for the press to heat up properly to affix the design onto the fabric firmly.
However, there is less risk of using a heat press, making your design a little more resistant to fading.
Conclusion on Buyers Looking for Shirt Printable Vinyl
The next time you need to create t-shirts, resist the temptation to go to an embroidery shop. You can easily do what they do all by yourself by using the best printable vinyl paper.
Doing this is much easier than you think, and it does not take nearly as much time as you feel. If you have access to a printer, an iron, and an ironing board, you can effortlessly create typically any design on any t-shirt.
Take some time to see what kind of transfer paper you need and what kinds of designs you can make with your transfer paper.