The unavoidable thing with clothes is that ever so often you must iron them. While some fabrics are quite easy to iron without fuss, there are others that you must take extra care to iron. Polyester is one such fabric. Although polyester is deceptively simple to iron, it is easy to mess up and burn the material.
That is why this article is taking time out to show you step by step how to iron polyester. When you iron this fabric properly, it will look crisp and sharp again. No wrinkles.
So, if you have polyester garments like shirts, jackets, and trousers, then these tips will help you to take good care of them with your dry or steam iron.
What is Polyester?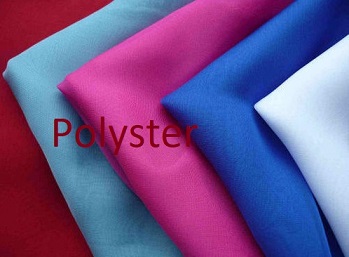 But first, let's look at what polyester is.
This material is synthetic, as in, it is a man-made fabric created from resins or polymers. By its texture, you can tell that polyester is also a kind of plastic blend. The unique thing about polyester is that it is wrinkle-resistant, and it is not so easy to get dirty.
No wonder polyester became quite popular after it was introduced in Britain by chemists in 1941 and later in the United States in 1951. One of the strong selling points about polyester is that you can wear it for extended periods without ironing.
You will find polyester in almost any line of clothing, and it is most popularly used as material for uniforms. Modern polyesters are much more comfortable, thanks to the microfibers that allow the fabric to feel better against the skin and to move well with your body.
Polyester is also a durable fabric that can withstand certain uses (also why it is a popular uniform material).
How to Iron Polyester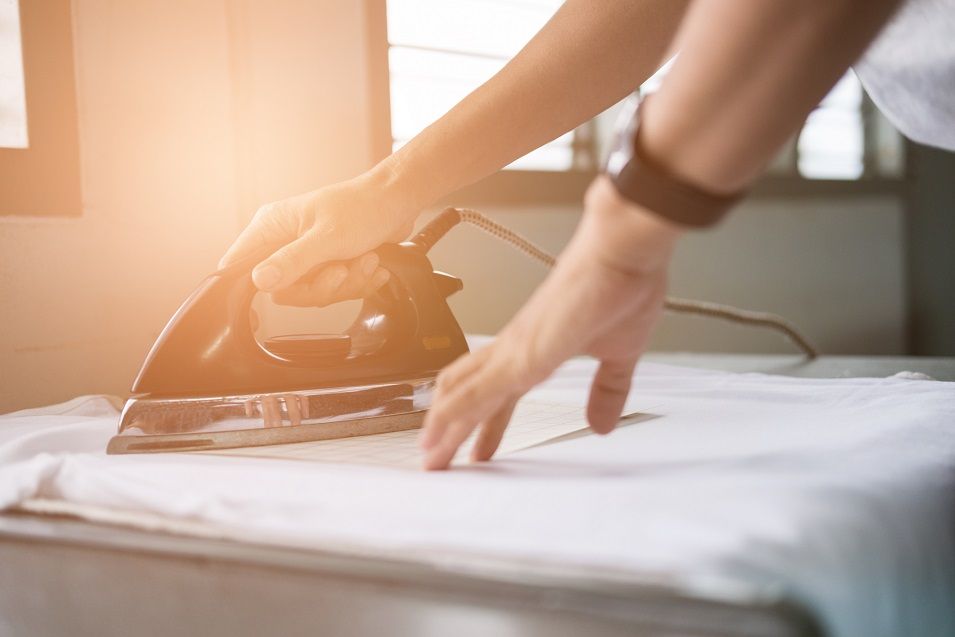 You might think that for a fabric that is designed to be wrinkle-free, there is no need to iron it. That may be true generally, but there are occasions when your polyester garment will develop creases here and there. In such cases, you need to iron those creases out as quickly as possible.
You can iron your polyester clothes but make sure that the temperature of your iron is at the right settings for this fabric. As you see, polyester is a form of plastic – thermoplastic to be exact. As a plastic-based, synthetic material, polyester cannot be ironed with a too-hot iron. This temperature setting is to avoid the material melting or scorching during ironing.
So, to iron polyester, it is best to play it safe and avoid direct heat. One tactic is to place another fabric, preferably cotton, over the polyester to iron it. A safer strategy is to use a fabric steamer to remove the wrinkles. You would, however, need to carefully run the steamer where it is required so that the entire fabric does not stretch out of shape.
That said, here are the steps you need to iron your polyester garment to get them looking like new again.
With a Steam Iron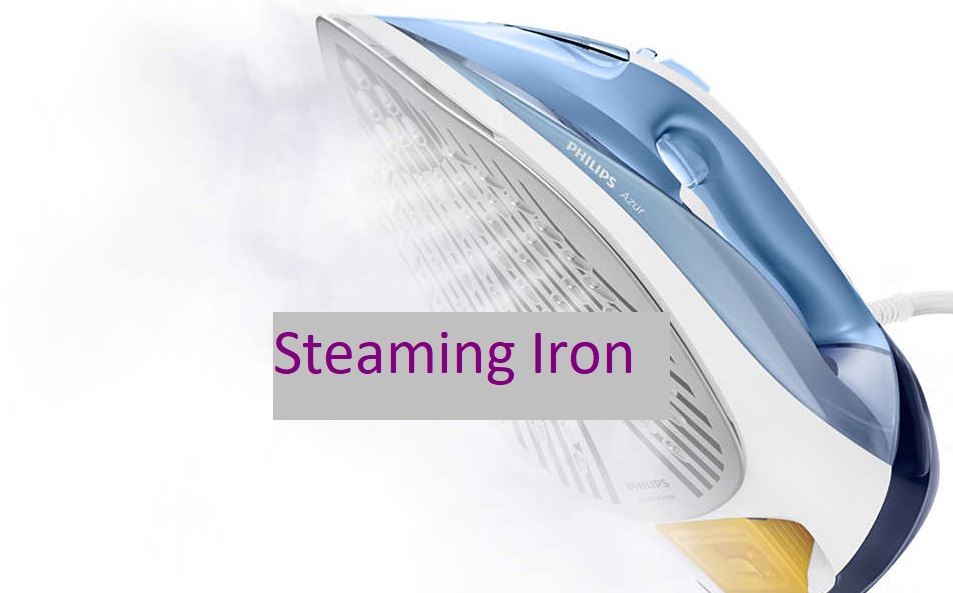 Once you find wrinkles on your polyester after you have laundered it, use your steam iron to get them out.
Pull your garment inside out and lay it on your ironing board or flat surface.
Place another fabric over your polyester garment. You may use a thin cloth or towel, a damp ironing cover, or a thick cotton material. For wrinkles that appear in certain parts of your polyester fabric, dampen only that section of the covering fabric with water from your spray bottle.
Set your iron's temperature to low or medium. If your iron has a specific setting for polyester, use it. Run the iron over the damp cloth (placed over your polyester) to loosen the wrinkles. Use slow but firm strokes.
Remember to avoid placing your iron directly on the polyester fabric. Always use another fabric to cover the area you need to iron. This precaution will prevent you from scorching the material.
With a Fabric Steamer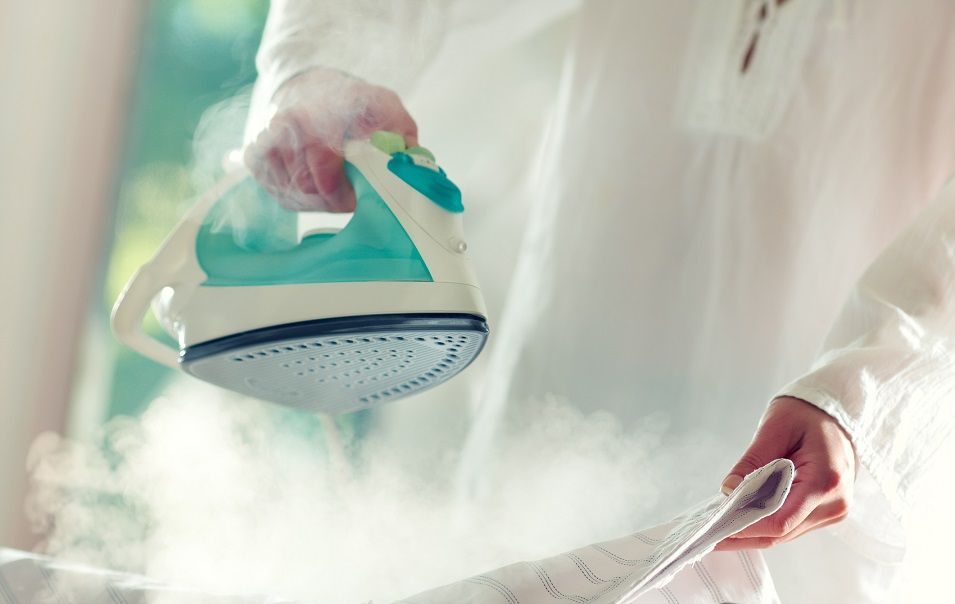 The steam from a fabric steamer will effectively remove wrinkles and creases from your polyester garments.
Hang your garment in a space that you can move around comfortably. Use your fabric steamer to run it over the clothing. As you move your steamer around, slightly tug at the areas that need attention to smooth out the fabric. Avoid pulling your garment too hard, though, or it may stretch out of shape.
That's it! The wrinkles should be gone.
With a Dryer
Using a dryer is another convenient way to remove wrinkles from your polyester garment. If the care label allows this to happen, you may use a mixture of one tablespoon of fabric softener and three cups of water. You may use plain water if your care label does not allow the use of fabric softener.
Put the clothes in the clothes dryer along with a damp towel, which will help to make steam. Turn it on for approximately 15 minutes. If the wrinkles are still there, rerun the dryer for another 10 minutes along with the damp towel.
With the Shower
Using the shower is a quick fix method if you do not have an iron on transfer paper, a fabric steamer, or a clothes dryer to use. This method comes in handy if you are traveling out of town.
Use the same mix of fabric softener and water if your garment care label allows this.
Next, hang the clothes on a plastic or wooden hanger (avoid metal) and suspend it outside as close to the shower as possible, but not inside the shower itself.
Set the shower at its hottest settings and turn on. Leave the shower curtain open but close your windows and bathroom door.
Leave for about fifteen minutes to allow the steam to loosen wrinkles. Check afterward to ensure that the wrinkles are gone.
In case the wrinkles are still there, repeat the previous steps but this time tug the fabric as the bathroom steams, so you get more of the lines out.
Finally, once you get all the wrinkles out of your polyester garment, keep it hung on a hanger so that it won't crease or wrinkle again. You may keep it in a clothing bag or plastic. If you fold your garment, ensure that you do so in a way that will not crease or wrinkle it again.
Conclusion
Ironing polyester is not something you need to do often since this synthetic fabric was designed to be durable and wrinkle resistant. In the case that your polyester becomes wrinkled or creased for some reason, it is best to iron them out as quickly as possible. This article has gone through four easy to follow methods for removing wrinkles and creases from your polyester garments. You will find them quite useful whenever you find yourself needing to remove wrinkles and creases. The critical thing to remember is that polyester cannot take direct heat. So you would have to iron it indirectly through a covering layer of fabric (like damp cotton, towel, or ironing cover). Once you follow these simple steps, your polyester garment should come out much more presentable – sharp and ready to wear again.