How do you produce printed t-shirts from home with only a household iron? That question might seem ridiculous since there are so many more efficient ways to create high-quality t-shirts with more sophisticated tools. The iron often comes in handy when you want to do a simple heat transfer job, and you don't have a heat press machine, or you can't bother to use one.
It is now much easier than ever to print amazing designs on t-shirts yourself with only an iron. All you need is your design, t-shirts, printer, printing paper, and of course, the clothes iron. Once you have everything set up, you are ready to go.
Here are the main steps you need to take to print t-shirts at home with an iron.
Steps for t-shirt printing with an iron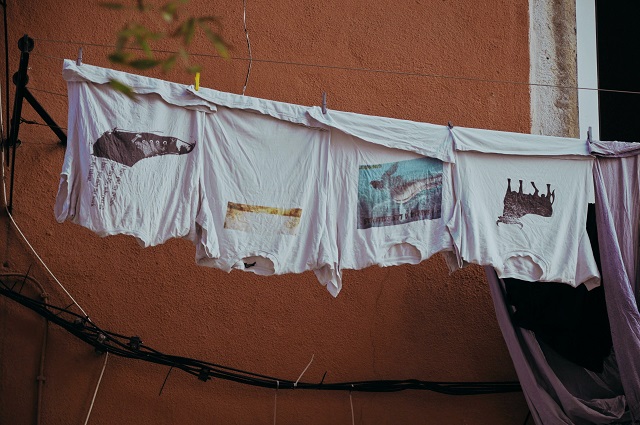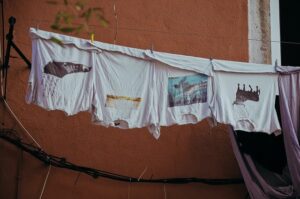 Design your image using any of the online design templates, or your favorite designing software. Note that it is always better to design your image the way it should appear on the t-shirt. When you are to print it, you must use the mirror or flipped image.
Test print your design on plain paper before you print it to the transfer paper.  Make sure that the transfer paper you will use is the best type for the printing you will be doing.
You may need to trim your design to a narrow margin. It is also a good idea to keep your edges rounded so that the image does not lift during ironing, and eventually during washing.
Prepare the workspace you will be using. One way to do this is to place a pillowcase on a hard surface that is resistant to heat. Do not use an ironing board! Select a table top instead.
Get your iron out and plug it in. Make sure that it does not have water in it and that the steam setting is set to zero.
Adjust the iron's cotton setting and preheat it for five minutes.
Smooth out the pillowcase and t-shirt to get rid of wrinkles.
Now you are ready to iron your design onto the t-shirt. Put the transfer paper with the design onto the garment. Make sure to set it in the location you want it to be.
Apply firm pressure to the iron and move it slowly from left to right followed by the top to bottom movement.
Iron over the edges as well.
Once you are through, turn off the iron and allow to cool.
Take the garment out of the heating area and put it aside to cool for around two minutes.
Carefully and slowly peel the backing paper from the t-shirt.
While you are peeling the transfer paper from the t-shirt, check to see if the image is lifting. If the image lift, iron it again, particularly around the areas that are lifting. Allow the ironed t-shirt to cool before you try to peel the design again.
To avoid accidents, always be safe when using the iron. Ensure that the temperature and heat settings are the correct ones for the apparel you are working with. Do not use the steam settings as this will damage the design and spoil your results. Try to spread the heat evenly on your design surface. Always use transfer paper when ironing – never use the iron directly on the printed design you want to transfer. Follow the instructions on your transfer paper for the best results.
Conclusion
There you have it. Easy steps for ironing any design onto t-shirts using only a clothes iron. These steps are easy to follow, and you can get going within a very short time. Printing designs on t-shirts can be fun. You would need to prepare yourself so that you will produce your best effort without certain hassles.