Game lovers love to play multiplayer games. It may happen that you and your friends play the same game.
Why a Need for an App like Hamachi?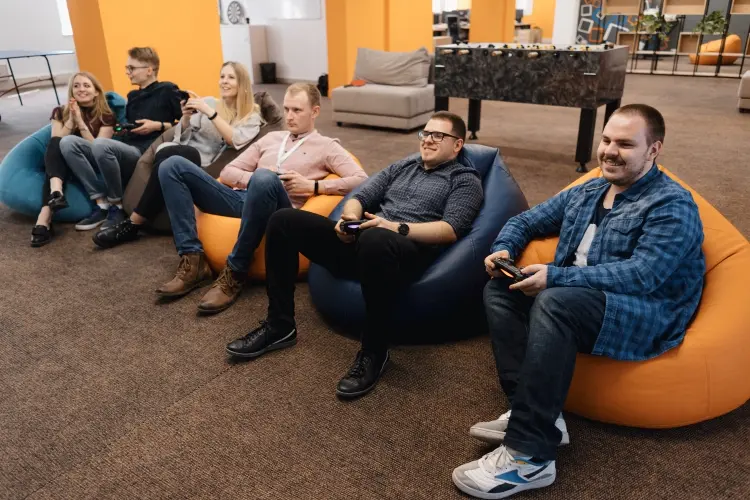 When both of you love to play the same games, then it would be more fun to play and talk over the microphone. The multiplayer is better even if the players have to work as a team or they play as the opponents. Do you know which parties are best for the gamers? LAN parties! Yes, gamers enjoy such type of gathering in which they have a room contains computers and all of the participants involved in playing games with their friends. Here, a question arises! What if you would like to enjoy LAN gaming but you cannot go to these specific parties? How to enjoy LAN games from the comfort of your home? Hamachi is a medium that allows you to do so. This virtual LAN connector helps gamers to be in contact with their loved ones and friends so that they can play team games. You need to have a computer and a good internet connection. In this way, you will be able to get benefit from Hamachi. Hence, you may get issues with the Hamachi. Most of the users complain about the issues related to the driver. Also, the software does not come with other features except virtual LAN.
Do you like Hamachi, but want to move towards a good option that does not contain such issues? Do you want to enjoy LAN gaming parties with better accessibilities? We get a list of some better Hamachi alternatives for virtual LAN gaming. Continue reading this article to explore more!
Best Hamachi Alternatives to Create Virtual Networking Services for Remote Accesses
We have done the research and pick top Hamachi alternatives for you. In this way, you will be able to enjoy gaming experience for FREE of cost. Also, you do not need to face issues like 100ms+ ping, driver problems, gaming lag, and the host system, etc.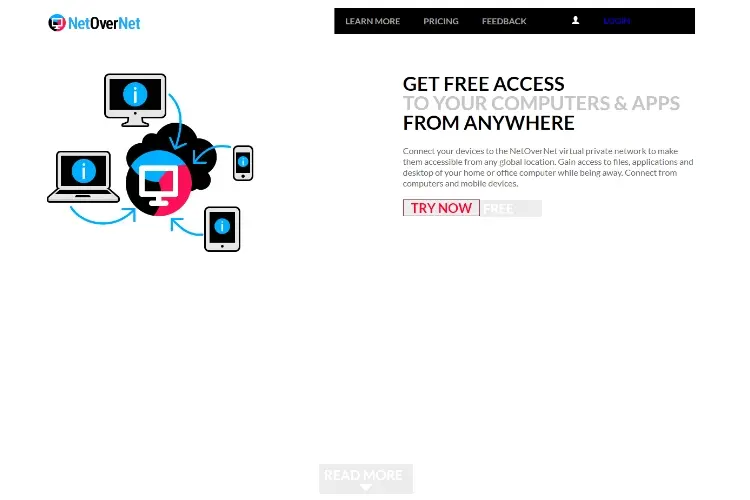 The first alternative in our list is none other than NetOverNet. This is one of the best virtual systems providing virtual LAN. Originally, it is a VPN emulator. Hence, its interface is simple and easy-to-use. Also, it has the ability to connect different PCs with one another. When connecting computers with each other, every computer gets its different login details. Because of its amazing features, it is one of the most popular LAN emulators out there. It also allows you to share data with the connected computers. Well, the availability of connections in the free version is limited. If you would like to get benefit from more connections, you have to go for the paid version.
As a whole, you do not need to go for any other software if you want a basic solution for creating a virtual LAN to enjoy the gaming sessions. This tool is powerful yet simple. It permits you to connect with multiple devices. This feature makes it prominent among other tools of this type. All of its characteristics make it a better alternative to Hamachi. What are you waiting for? Download and start using it. Choosing between the free and paid version is solely your choice.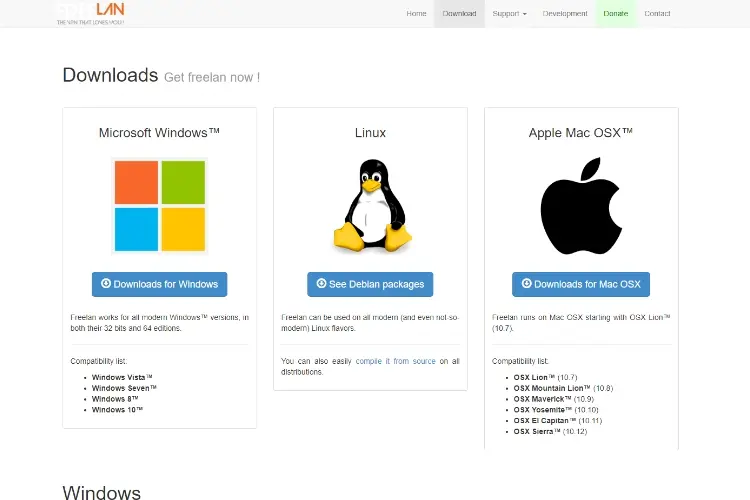 The next name in this list is 'FreeLAN'. Most of you may have known about this amazing tool. The name suggests its features. It is an alternative to Hamachi. Also, it serves as a VPN creator. Because of its easy use, user-friendly interface, and prominent features, it is quite famous in this field. You can create your private network by using the clients of this VPN. In addition to it, you do not need to personalize anything or any key feature of this VPN. It is an open source. So, all you need is to become a user by signing up. You can customize it on the basis of your requirements. For example, you may make it hybrid, peer-to-peer, or client-server. You will not get any lag while playing games. This feature proves it as a high-speed LAN.
When talking about some bad sides, this tool does not allow you to edit something automatically. It means, no GUI is available on this tool. So, you have to configure and edit things manually. Hence, you will find guides on their website that will help you a lot. In case of any issue, you can contact their customer support. All of their correspondents are highly active. So, you will get your response within minutes. Overall, it is a free Hamachi alternative.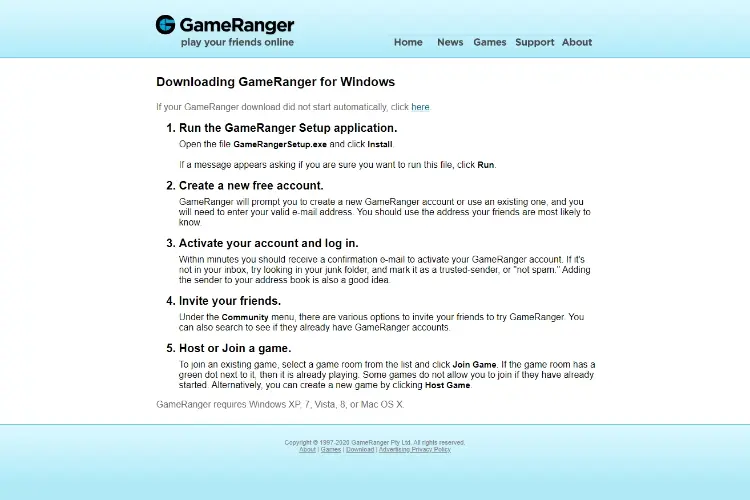 The next tool in our list is GameRanger. No doubt, it may have fewer features as compared to the other solutions. Hence, its 100% security makes it the utmost choice for its users and LAN gaming lovers. This is the feature that makes it prominent. Other than that, you can say that it does not contain a good range of features when compared with related tools. While using this tool, you do not need to be worried about connection lags or interruptions. On the other hand, other gaming software gets some interruptions that make the gaming experience bad. In this way, the pings become low. You can consider GameRanger, the best alternative for Hamachi. In case of any issue, you may check the below video to get assistance
These videos will be enough to get an idea regarding how it works and how to play games by using this tool.

This company initiated this project in 1999. Later on, in 2008, they expanded this project to make it compatible with PC gaming. You will find it as one of the most reliable gaming solutions for game lovers. No other tool can beat its level of stability and security. Why other tools cannot beat the level? Because GameRanger connects international clients by using different drivers. Also, the security level is high with low pings.
Here, you should note one thing that you can play any kind of LAN game by using Hamachi, but GameRangers works for a specific range of games. You need to check that list to know if it contains your desired game or not. As a whole, if you are looking for a better alternative to Hamachi, then you should go for GameRanger. It is free of cost. To get benefit from its premium features, you have to buy its gold membership.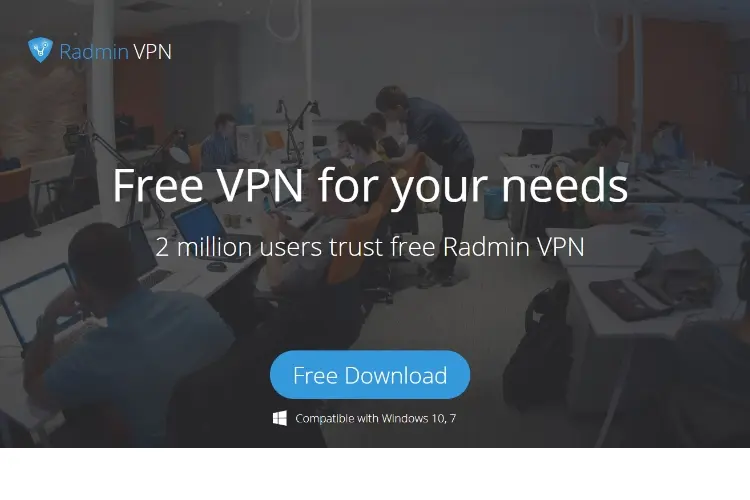 The next Hamachi alternative in our list is Radmin VPN. You can use all of its features for FREE. You don't have to be worried about the limitation of the gamers and users while using Radmin VPN. Also, its speed is high. With its secure features, you can get benefit from its features without any doubt. The interface is easy-to-use. So, you do not need to be a technology-friendly person to use it accurately. Its high speed services make it one of the most appreciated tools for virtual LAN gaming. Because of the high speed, you can easily play your favorite games with the teams without any interruption.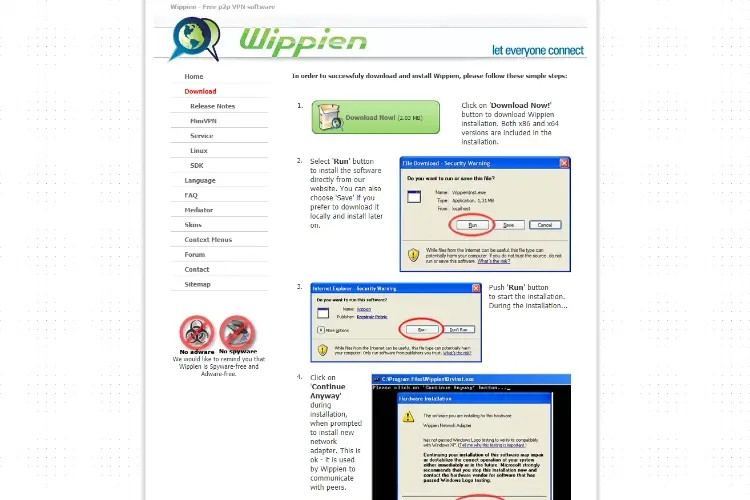 Another free Hamachi alternative is none other than Wippien. You may consider it as one of the most appreciated applications to follow LAN connections. It requires a little storage which is just 2MB. So, it is lightweight, and so it does not bother your PC. In this way, it works well for the gaming experience and does not cause an interruption in your gaming experience. Its source code is open, so you don't have to pay even a single penny to get benefit from its features. It connects P2P associations and PCs with each other. You can make your own clients as per your requirements. In case of any difficulty, you may surf their website. You will find the required information there. YouTube is another source to get the required information. You can download it for FREE. There is no restriction. Hence, you should adhere to the fact that it works fine with Jabber or Gmail accounts.
Bottom Line!
You must know about Hamachi as it is a popular software and game lovers adore it. Hence, it comes with some of the cons that make people look for the Hamachi alternatives. These issues include gaming lag, high ping, and limited connections. In this article, we have discussed a list of top alternatives for Hamachi. Hopefully, you have liked this selection. We have covered the most trustworthy websites with easy options. In this way, you can make your gaming experience easy and more fun. All of these websites are free to use. Some of them allow you to get benefit from their premium features. For this, you have to buy their premium plan. Hence, if budget is a concern for you, then you can use their free features. Let us know about your experience with Hamachi or any of the above-mentioned tools. We would love to hear your views. In case of any query, you can drop it in the comments below. Also, you can contact us anytime. We are here to assist you!