There are many media types when printing on thick paper, so it is essential to double-check what the printer can handle before printing. This prevents any problems or printing errors on the printer. Most printers have software-based controls that can move the print head up and down to adjust the paper thickness.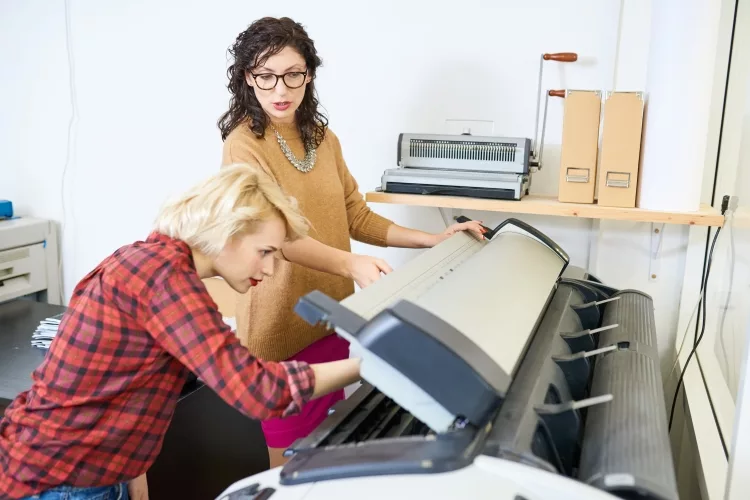 Common Problems to Print on Thick Paper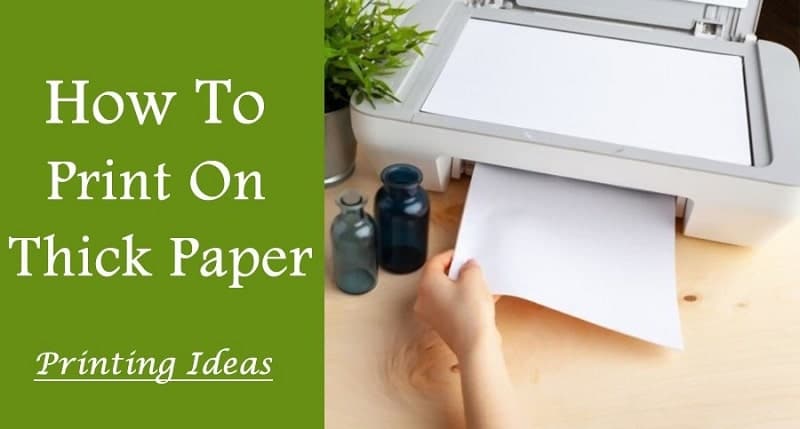 Your printer may not handle all types of thick paper, so if you are unsure, we always recommend checking the specifications, reading the documentation, or talking to an expert. Using the wrong media may cause problems or, in the worst case, damage the printer's inside. You need to pay attention to the media types that the printer can support and the maximum media weight. If your media is too thick, it may cause a paper jam because the printer will not handle it.
Your printer may only process card paper through specific paper trays or sometimes through manual feeding. Using the wrong paper tray may also cause paper jams or printing errors. It is always best not to feed too much paper. Some printers can only print one sheet of paper, but since card paper is thicker than standard paper, it is best to ensure enough space. Make sure your media is not wrinkled or torn, as this can also cause problems when printing.
Also, we recommend that you perform a test print beforehand. Make sure to use only one sheet of heavy media and test the printer first, instead of loading the entire tray and sending the document for printing. The printer driver settings may contain a lot of information, which is worth studying and understanding. You can select the type of media to be used so that the printer can be set up correctly before printing.
Expert Tips for Printing on Thick Paper
Most people only think about printing on regular paper, but what if you need to print on something a little thicker? Whether it's for a special project or just because you want your documents to stand out, learning how to print on thick paper is a handy skill to have.

Luckily, it's not too difficult to do. Here are a few tips:

Make sure that your printer can handle thicker paper. Not all printers can handle different thicknesses, so check before you try to print anything.
If you're using a home printer, use the highest quality setting. This will ensure that the ink doesn't smudge or run on the thicker paper.
Give yourself plenty of time. Thick paper takes longer to print than regular paper, so be sure to plan ahead.
With these tips in mind, you'll be able to print on any thickness of paper with ease. Enjoy your standout documents!

How to Print on Thick Paper
Open your document and select "File"> "Print."
Before sending the document for printing, please select "Properties," which will open the printer's driver settings.
Find the Paper Settings tab, which will allow you to select various media types that the printer can handle.
Choose your paper type. (Cardstock, glossy cardstock, etc.)
Also, make sure all other settings are correct, such as quality and paper size.
Click OK> Print
Notes
Put the paper in the manual feed slot with the side to be printed facing up.
Ensure that the paper or envelope is straight and in the correct position in the manual feed slot. Otherwise, paper or envelopes may not be fed correctly, resulting in skewed printouts or paper jams.
Do not put multiple sheets of paper in the manual feed slot at a time. Otherwise, it may cause paper jams.
If you put any media (paper, envelopes, etc.) into the manual feed slot before the printer enters the "ready" state, the media may be ejected without printing.
If necessary, press the home button.
Choose settings.
Select printer settings. You will see the following screen:
Choose thick paper.
Choose On.
Press the home button to exit.
Some people may ask, how to print on thick paper? Open the document, picture, or web page you want to print on thick paper, and press "Ctrl-P" to open the "Print" dialog box. Click the laser printer under "Select Printer," and then click the "Properties" or "Preferences" button (the buttons that appear vary depending on the printer manufacturer).
Canon Printers to Print on Thick Paper
Canon desktop printers have the function of preventing paper abrasion, which can minimize the head impact of thick paper.
On a Windows computer, go to Printer Preferences.
Find the Maintenance tab
Find and click the "Custom Settings" button
On the following menu, click the "Prevent paper abrasion" check box.
After selecting the "Prevent paper abrasion" setting, you may see a warning before starting each print job.
Epson Printers to Print on Thick Paper
Epson printers are designed to print on a variety of different paper types, including thick paper. This makes them a great option for printing projects such as resumes, flyers, and brochures. If you need to print on thick paper, be sure to select the "thick paper" setting on your printer. This will ensure that your project prints correctly and looks professional.

If you're not sure which type of paper is best for your project, be sure to check out Epson's selection of specialty papers. These papers are designed for specific applications, such as printing photos or creating invitations. By using the right type of paper, you can create high-quality projects that look professional and polished.

FAQs
What is the Thickest Paper You Can Load Through the Printer?
Heavyweight white card paper 8.5 inches x 11 inches-thick paper for printing-inkjet/laser 80-pound card paper (50 sheets)
Can the Printer Print on Thick Paper?
Both laser printersand inkjet printers support printing on thick paper. Before printing with a laser printer, please configure the paper type setting in the print options.
How to Adjust the Printer to Thick Paper?
Adjust the paper thickness setting to prevent paper jams.
Press the "Menu" button on the printer.
Also, Press the arrow up and arrow down on the printer keyboard to select "Custom Paper."
Press "OK."
Press the up and down arrows to select the thickness level.
What Thickness of Paper will the Printer Pass?
The following are some examples of the largest GSM recommended for the most common printing scenarios. 74gsm to 90gsm-This is the basic standard office paper used in laser printers. 100gsm
How to Change the Paper Settings of the Printer?
Resolution
Click Start, point to Settings, and then click Printers.
Right-click the appropriate printer, and then click Properties.
Click the Paper tab, and then click the paper size you want to use in the Paper Size box.
Click OK, and then close the printer folder.o 120gsm-This is the fixed paper used for standard letterhead and free paper.
What is Thick Printing Paper Called?
Cardstock
Card paper is thicker and heavier than copy paper and can be used for business cards, report covers, and more heavy-duty applications than document text pages.
Can You Load Card Stock Through the Printer?
Generally, home printers can handle 80-pound or 10-dot thick card stock (a little thicker), and the paper may jam. Coatings are added to a variety of card paper to give the paper a smooth, polished appearance. (Think about business cards. These business cards are usually printed on slightly glossy cardstock.)
Which GSM Paper is More Suitable for Photo Printing?
This is especially meaningful when you want to print many images because lower GSM usually means cheaper paper. 200gsm to 300gsm-this weight is very suitable for printing images when the souvenir elements are extreme. The most common examples are greeting cards, invitation cards, gallery images, etc.
Which Paper is Best for Photo Printing?
Although the semi-gloss photo is not as strong as the full gloss effect, it makes the photo popular, but it has less light reflection. Since glossy paper makes images more vivid, this coating option is most suitable for color photo printing.
Conclusion
The key here is to ensure that the paper type selected in the print driver matches the paper type with the bypass tray set. The order in which this process is performed does not matter. You can set the correct paper type for the bypass tray before sending the paper to the paper, but this only requires an extra stroke. We hope you find these instructions helpful when printing to a Sharp printer on heavy paper.
Thank you for coming! If you need a quotation for a beautiful and easy-to-use Sharp copier, fill in our quotation request form. Skelton can help you repair it quickly and professionally if you need a color copier rental in Houston. Print, scan without delivery, installation, and networking!