Though there may be a variety of ways to reset an Epson printer, the most common is by following these simple steps. Whether you are experiencing trouble with your printer or you just want to clear the memory and start fresh, resetting your Epson printer is a fairly easy process. In this article, we will walk you through the steps to perform a hard reset on your Epson printer. Be sure to read through them carefully before getting started!

Steps to Reset Epson Printer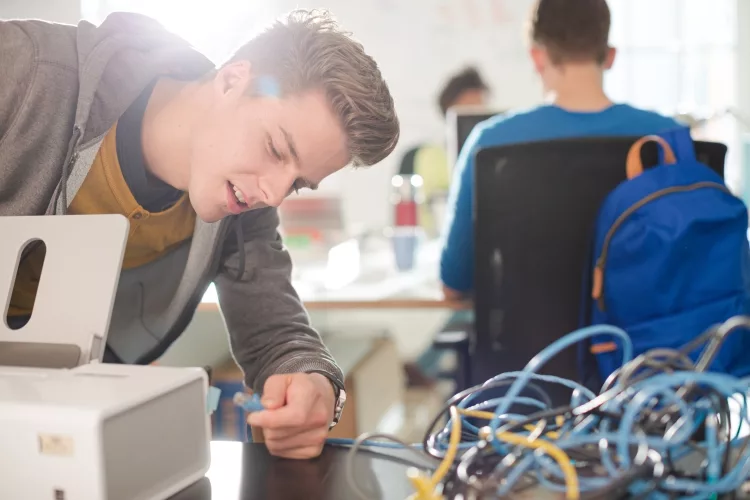 If your Epson printer isn't working the way it should, you may need to reset it. Here are the steps to do so:
Turn off your printer.
Unplug the power cord from the back of the printer.
Plug the power cord back in and wait for the printer to turn on.

Press and hold the RESET button on the front of the printer for about 10 seconds.

Release the button and wait for the printer to start up again.

If your printer is still not working correctly after resetting it, please contact Epson support for assistance.

Why do I have to reset my Epson printer?
There can be a variety of reasons why you might need to reset your Epson printer. One possible reason is if the printer becomes unresponsive or stops working altogether. A reset can sometimes fix these issues.
Another reason you might need to reset your printer is if you change the type of paper you're using and the printer isn't calibrated correctly. By resetting the printer, you can recalibrate it so that it prints correctly on the new type of paper.

Finally, a printer reset can also be helpful if you want to clear out all the old print jobs from the machine. This can free up some memory and improve the printer's performance.

No matter what the reason, there are a few different ways to reset an Epson printer. In most cases, you can either use the printer's menus or download and use a specific reset utility. Whichever method you choose, be sure to follow the instructions carefully.

Resetting your Epson printer can be a helpful way to fix common printing problems or improve the machine's performance. Follow the instructions carefully to ensure a successful reset.

The WIC Reset Utility is a handy tool that allows you to reset your printer's Waste Ink Counter. This can be helpful if your printer is displaying the "Servicerequired" message, or if it's not printing correctly.
You can download the WIC Reset Utility for free from our website. Just click on the link below to download it.

Once you have downloaded and installed the utility, you can use it to reset your printer's Waste Ink Counter. Simply follow the instructions in the utility's help file.

If you need any assistance resetting your printer's Waste Ink Counter, please don't hesitate to contact us. We'll be happy to help!
How Do I Reset My Printer Manually?
There may come a time when you need to reset your printer manually. Perhaps the printer has stopped working or is not printing correctly, and a manual reset is the only way to fix the problem.
Fortunately, resetting a printer is a relatively easy process. Here's how to do it:

Disconnect the printer from your computer.
Locate the power button on the printer and press it to turn it on.
Wait for the printer to boot up completely. This may take a few minutes.
Once the printer is booted up, locate the cartridge carriage and open the cover.
Look for two small buttons on either side of the carriage and press them both at the same time.
Hold the buttons down for about five seconds, then release them.
Close the cartridge carriage cover and reconnect the printer to your computer.
Open up a document or Web page and try printing again. The printer should now be reset and working correctly.
Epson Maintenance Reset Utility
Maintaining your Epson printer is essential for the life of the device. As any owner of an Epson printer knows, there are a number of issues that can arise with time and use.
For example, you may find that your print quality has decreased or that it takes longer to warm up before printing.
You also might notice when lifting paper out of the tray at times there is ink on it which will cause damage to both your hands and clothes when handling it. Fortunately, these issues can be fixed by using our maintenance reset utility.
The Epson Maintenance Reset Utility is a simple, quick and easy way to reset your printer. The utility can be downloaded from the following link. Once you download the file, follow these directions:
Close all open applications on your computer before running the Utility.
Double click on "EpsonPrinterServiceUtil_ENU_x64" icon to start up the program. *) Select "Maintenance." *) Press "Enter" button when prompted for confirmation of resetting your printer back to factory settings.
Choose between whether or not you want to print out instructions in English or Spanish.
How Do I Clean the Ink on My Epson Printer?
You may find that ink is leaking into your printer and making a mess of things. This happens for a variety of reasons, but the end result is always the same: you'll need to clean it up. Fortunately, cleaning an Epson printer isn't hard at all.
The first step is to remove any paper or other materials from inside the printer and then turn off your computer and unplug the power cord from both ends. Next, lay out some newspaper on a flat surface near your work space so that you can easily dispose of any waste without spilling it onto anything else in your home.
Remove the ink cartridges from the printer
Open the lid on your Epson printer and find a small white lever that is usually located in one of three places - towards the front, towards the back, or near one of the side panels
Pull up on this lever to release any residual ink that may be present in your machine
Take a cotton swab dipped in alcohol and gently wipe down all surfaces inside your printer where you can see ink residue
Replace your ink cartridges with new ones if they are low or empty so you don't have to worry about cleaning them later
Close up your Epson printer once you're finished by replacing its cover and making sure it's securely closed before turning it off for good.
Conclusion for Ways to Reset Epson Printer
This article has explained how to reset an Epson printer and the steps involved in doing so. We hope this has been helpful for you. Let us know if we can be of any other assistance, or answer any questions that may have arisen during your research process.