We know that it is not the most straightforward job to find the perfect printer. You can make many choices, and we are here to find you the most suitable printer for your needs. If you're a person who waits for the holidays to get your loved ones a card, you better keep on reading. To ensure you get the perfect greeting card, we will dig deep and discuss all there is to know about printing top-notch greeting cards. We will review the Best Printer for Greeting Cards and let you know which printer will get the job done.
However, as unpleasant as it might be, it does not necessarily put you off sending a personal greeting card. Rather than purchasing one from a supermarket, make your own and print one at home!
Our Favorite Printer For Greeting Cards
Top 7 Best Printer For Greeting Cards
1. Canon PIXMA TS5320 Printer For Greeting Cards
The Canon Pixma TS5320 is your go-to inkjet printer. This state-of-the-art device comes with a 1.44" OLED display and a LED status bar to let you know what is happening. You can tell what's going on in a different room because of the bright LED colors. The printer will not take a lot of space, and it is ideal for home and the office-good news for the people who like colorful things because this printer comes in four distinctive colors.
You can get it in black, white, green, and pink. The variety of colors helps to give your office or home a more colorful touch. There is a hybrid ink system that enables you to print sharp-quality photos and texts. Better yet, the printer comes with only two cartridges. You will be glad to know that this printer works with Alexa and that you can use your phone to ease the process.
Features:
OLED & LED status bar constructed display
Come with color variation
Hybrid ink system
Air print
Connects with Alexa
This printer is excellent for the office and also at home. However, it is not the best printer for crafts. It cannot print 11″x17″ & 12″x12″ papers. It is not the best for Disc printing, making it suitable for office use.
Pros:
This displays a bright and clear view of printer information .
With this printer, you edit your photo.
You can use it with Alexa.
It comes up with ink.
It provides sharp and high-quality photos or documents .
Cons:
It doesn't provide you with high photo editing features.
It doesn't work with Bluetooth.
External memory card isn't supported .
2. Canon TS9521C
The Canon TS9521C is an excellent printer for people who are into crafting and making scrapbooks. This unique printer comes with a 4.3" LCD screen and can flawlessly print 11″x17″ & 12″x12″ papers. If you plan on making an outstanding greeting card, this is your printer. There are five individual ink systems which is a plus point for every user. You can print exciting default patterns straight from the printer. You can use your memory card and print files from there. There are plenty of fun features that come with this printer.
You'll be amazed by the seamless connectivity of this printer; it guarantees wireless printing and conveniently links to a range of computers, including Android and iPhone tablets and smartphones.
Features:
Five Individual Inks
More Print Service and Wi-Fi the PIXMA TS9521C
12'x12 inches paper support
Air prints
Connects with Alexa
You can print Disc labels and album arts using this fantastic printer. Alexa works perfectly with this printer, and your phone comes in handy as well. The printer does not come with a LED screen, and it is not suitable for your office. However, if you're planning to print cards and hang posters, this is your printer!
Pros:
Prevents photo from fading
It can print from all your preferable devices
It connects with WIFI and Alexa
It can deliver high volume project demand.
It provides a specification sheet.
Cons:
It doesn't come with inks.
Some of these don't have a built-in template.
Papers sizes are not user-friendly.
3. HP Envy 4520
The HP Envy 4520 is a low-budget standard printer for everyday use. The printer comes in black and can print 20 pages a minute. It has a 2.2 mono touch screen, which is easy to use. You can use your phone for wireless direct printing. This printer is excellent for printing borderless photos, and you can print on both sides. This feature is perfect for printing greeting cards and holiday photos.
With HP Instant Paint, you can afford to be creative: Save up to 50% on ink and never run out. Print lab-quality images for pennies at home. You can simply print images from your mobile screen or any device. Print up to twice as many pages or images of the Original HP high-yield ink cartridges
Features:
It airs paints and is a duplex printer.
Wireless and touch screen display.
You don't need to reassemble while printing photos.
It prints two sides simultaneously.
Paper sizes are supported.
This printer has some drawbacks. Firstly, the printer does not have a separate photo tray, and it does not come with NFC. You need to create anything you need to make: Print, scan, or copy rapidly and conveniently with a 2.2-inch display; click and go. Save and conserve energy with simple, automated two-sided printing, using up to 50% less paper-print borderless laboratory-quality images, laser-quality papers, pages for scrapbooks, etc. -Right at home.
Pros:
You will never run out of ink.
You can print as many as you can.
You will get perfect photos without trimming.
Save up on ink and paper.
A hardware warranty will be provided.
Cons:
Limited warranty of the hardware.
It's heavy.
Photos are not very high resolute.
4. Epson Expression Home XP-440
The Epson Expression Home is a versatile printer with a conspicuous 2.7 inch LCD screen. This inkjet printer comes in black, and this printer is ideal for people who do not like changing the cartridge often. The printer is superb because it saves a lot of ink. You can also use your phone for wireless printing. You better get this printer if you want to get photos from Instagram and Facebook because Epson's creative print app allows you to print your social media content with ease and perfection. The printer also comes with a memory card slot, so you do not always need your PC to print.
Features:
It is designed for use with Epson cartridges only.
Hi-Res 2. 7 inches Color LCD
Creative Print mobile app
100 sheet paper capacity
built-in memory card slots
Epson regularly changes firmware to correct security concerns, performance issues, minor bug fixes and maintains the printer works as expected. This printer was developed to operate only with genuine Epson ink cartridges, and specific changes can affect the functionality of third-party ink cartridges. This printer has a significant drawback.
The efficient cartridges come with a price. You cannot use third-party cartridges on this printer; only Epson cartridges will work. Another disadvantage would be the expensive cartridges.. Non-Epson branded or updated Epson cartridges that worked before the firmware upgrade do not continue to work.
Pros:
Provides you with Hi-quality prints
Color LCD to easily print, copy and scan
Very handy because it's wireless
Affordable individual ink cartridges
Included photo editing features
Cons:
Cannot print A3 large paper.
You cannot print banners or CDs.
This printer was designed to work only with genuine Epson ink cartridges.
5. Brother MFC-J995DW
The brother MFC is another efficient printer for everyday use. The printer comes with four cartridges, and the cartridges are expected to last for a whole year. It will work flawlessly with Alexa and your phone. This printer is arguably the best printer for your office. It has a sophisticated network system and NFC one-touch connection that helps to connect the entire office. The printer comes with a paper tray, and it prints on both sides. The Brother MFCJ995DW Investment Tank inkjet all-in-one printer with tank technology is the perfect option for your home or small office needs.
It features revamped Investment Tank cartridges and an inner ink reservoir that provides continuous printing for up to 1 year without buying ink-no more running out of ink during an essential or time-sensitive print job. Investment Tank models track actual ink use and show your approximate remaining page counts to give you enhanced exposure so that you can print confidently and digitally without disruption.
Features:
Provided with the MFCJ995DW cartridges
Ink vestment tank system
Eliminate ink replacement guesswork
Prints from multiple devices
Wireless and very handy
There are plenty of pros. However, some would say that the printer is a bit too loud and a bit too slow. Besides, this printer weighs around 20 pounds, unsuitable for people who love their gadgets compact.
Pros:
Exceptional savings and uninterrupted printing for up to 1 year
lets you know the amount of ink you've used and the amount remaining
Can work with multiple devices
Adjustable up to 150 paper tray
Automatic document feeder
Cons:
No need to re-insert the paper to print on the back
6. Canon Pixma TR150
The Pixma TR150 is a small and elegant portable printer designed for use at home, in the workplace, and on the go for professionals-the Pixma TR150 Wireless Portable Printer is lightweight and compact-made for use in bags and backpacks and helps you to print without an AC outlet thanks to the available LK-72 Battery Pack Print high-quality single-sheet paper flyers. It's got Compact and lightweight; this flexible, space-saving printer is designed for excellent portability.
It prints easily from a variety of wireless solutions, such as the Canon Print App, Apple Air Print, Mopriar Print Service, and Google Cloud Print, directly from your mobile devices, as well as it Prints sharp papers and colorful images up to 8.5″ x 11″.
Features:
Pixma TR150 wireless
mobile printer
designed for outstanding convenience
Print sharp documents
Compact and Portable
It provides Borderless images with quick printing speeds and easy to print wirelessly directly from mobile tablets and cloud2 and saves up to five custom models at your fingertips anytime you need them. Pair the PIXMA TR150 with the available battery pack for superb portability anywhere the day takes you. You can print those files straight from your printer monitor, plus an intuitive system that includes a 1.44-inch OLED display that makes it easy to print anywhere.
Pros:
You can print anything out of your phone.
Very easy to carry around.
Prints sharp and vibrant photos and documents
Space-saving, compact and portable
You can print hassle-free from a range of wireless options.
Cons:
Battery sold separately
Cannot print large paper
Cannot do the heavy-duty task
7. HP Envy 114
The trendy HP ENVY 114 e-All-in-One is a creative complement to your home-low-noise acoustics to minimize printer noises for quiet print output, and the paper tray is extended and retracted, so it stays out of sight while not in use. The sleek style, wireless printing, and lab-quality images are impeccable. Print images and documents instantly from every mobile device with HP ePrint-just send them to your printer and print them immediately.
It goes On-the-go printing and Web-connected convenience. Also, this printer provides outstanding paper savings, easy energy savings. It is automatically print two-sided and provides a flexible paper service with front and back paper feeding, making it a perfect printer for greeting cards. It's lightweight, so you can match it to your house or office anywhere you want.
Features:
Windows System Requirements: XP 32-bit
Constructed with Intel Pentium II
Vista: 800 MHz 32-bit (x86) or 64-bit (x64) processor
2 GB RAM
Slim body
Pros:
Stylish creativity for a quality printing experience
Complete flexibility and picture printing in one
On-the-go printing and web-connected ease
Outstanding paper saves, the fast saving of electricity
Cons:
one-year limited hardware warranty
Buying Guide of Best Printer For Greeting Cards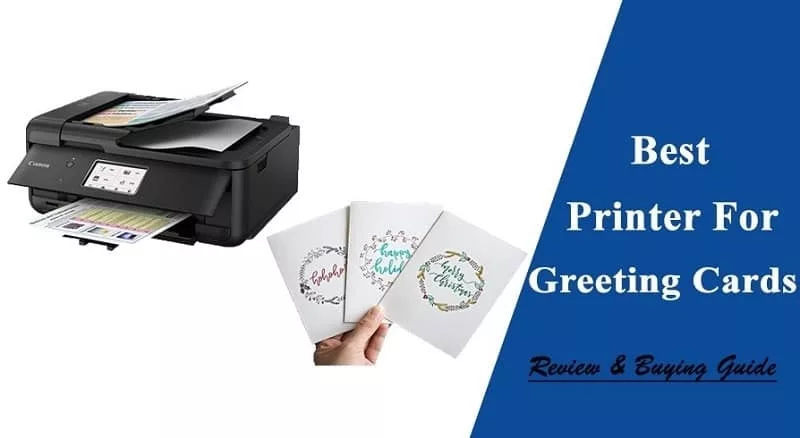 The first issue to be answered by all printer purchasers is a straightforward matter of how much you plan to print. Inkjet printers use wet ink cartridges and dry quickly, while laser printers use a toner that binds the ink to paper to produce quicker results and integrated financial use.
Pick between inkjet and laser. If a mixture of text, illustrations, and pictures is usually written, an inkjet is a way to go. Most people can print almost anything, and, in photographs, a laser printer makes the most sense in contrast to laser printers. Laser printers deliver sharp text in black and white, though some have decent color and graphics.
Monochrome laser printers are often available at competitive prices, provide decent printing speed, and supply prints with lower printing costs per page than an inkjet color. But consider either quitting the versatility provided by a color jet printer.
A multifunction printer is a scanning, faxing, and printing printer too. A Multifunction Machine makes sense for home use, not just to save money, but it's cheaper than purchasing a printer and standalone scanner. As part of your printer, scanning is beneficial because it helps you read documents directly on your screen.
Although the versatility of multi-purpose applications and print output is usually higher, the quality of a new kiosk or mail-order, service such as Shutter fly is rival or superior. However, the price you are paying for this sort of product is the print rate.
Most of the job is automated nowadays. However, they also need a scanner to scan and upload a signature for the occasional photo art project. For customers like this, likely, a significant printer doesn't respect the space it occupies and the servicing of ink cartridges.
How to Print Greeting Cards?
You must specify a custom paper size for your printer to use most pre-scored inkjet note cards. This functionality is provided by Epson, Canon, and HP printers. The trick is to describe paper measurements constantly. The programs offer complete versatility in layout scale, picture and text positioning, and color control.
Place the distance on your paper's smaller proportions, and the sheet is continually longer than its length or height. Though Photoshop is a pricey application, Elements provides all of the choices you need. The edition is very inexpensive. Print the detail first if you intend to print texts or graphics within your card. After that, you just need to change the alignment button based on how your greeting card is set up.
How to Start a Greeting Card Business?
However, almost any occasion demands a card, so that you may have to be original but standardized, specific, and blank to cater to many different tastes and types: older and younger, male and female, urban and rural. Usually, you can make small changes to the template to achieve broader appeal, but don't attempt to satisfy everybody; you're going to get out of business quickly.
Choose the suppliers who will bargain on the manufacturing process, particularly in the early stages when you want smaller print sizes to be checked on the market. Develop good relationships with your vendors; there will be occasions when you want a rush job or a last-minute shift.
Creating an e-commerce website is easy, but you must make your customers come to your site creatively. Offer your face-to-face incentives, particularly Pinterest and Instagram, to visit your site and use social media the most. Cards are very visual, so use visible persons' forums to create an atmosphere and circulate.
Do not under-sell yourself; it is just the exclusive creations, and customers are happy to pay something more. You might worry about licensing your job if it does not appeal to produce and sell your cards. Big card firms still scout for new talents, and you will see your creations sell worldwide.
FAQ on Best Printer For Greeting Cards
Can You Make Money Selling Greeting Cards?
Yes, you can, but you have to make sure your ideas are unique. The use of greeting cards is on the decline as people are more into wishing online. However, there will always be a place for adorable, creative, and well-thought greeting cards.
How Much Does It Cost to Print Cards?
This entirely depends on how many cards you're printing, the size of the cards, and the quality of the cards. If you've planned something out of the box, then it might cost you extra. If you've designed it yourself, you're going to save some money. Greeting cards are usually priced from a dollar to ten dollars. A single card would cost around this figure.
What is the Best Paperweight for Greeting Cards?
This depends on how you want your card. But the most used card stock weight is between 80lb to 110 lb. This weight is perfect for invitations. The 100 lb card stock is used primarily for wedding invitations.
What Card Stock Do You Use for Greeting Cards?
The plain card stock would be the best option for greeting cards. One might want to use embossed and textured cards as well. Glitter card stock is also a great option to give the card an elegant touch.
Buy on Walmart
Canon SELPHY CP1300 Wireless Compact Photo Printer - Walmart Link
Epson PictureMate PM-400 Wireless Compact Color Photo Printer - Walmart Link
HP ENVY Photo 7855 All in One Photo Printer with Wireless Printing, HP Instant Ink ready, - Walmart Link
Epson Expression Photo HD XP-15000 Wireless Color Wide-Format Printer, Amazon Dash - Walmart Link
Canon SELPHY CP900 Black Wireless Color Photo Printer - Walmart Link
Buy on eBay
Canon SELPHY CP1300 Wireless Compact Photo Printer - eBay Link
Epson PictureMate PM-400 Wireless Compact Color Photo Printer - eBay Link
HP ENVY Photo 7855 All in One Photo Printer with Wireless Printing, HP Instant Ink ready, - eBay Link
Epson Expression Photo HD XP-15000 Wireless Color Wide-Format Printer, Amazon Dash - eBay Link
Canon SELPHY CP900 Black Wireless Color Photo Printer - eBay Link
Conclusion for Printer For Greeting Card Readers

When selecting a printer for cards, the highest factor is the paper, the print speed, and print performance. Top loading paper trays are often chosen for the printer. Do not pick a printer loaded only from a forward cassette paper. It's not going to fit on the stock card. The best printer for greeting cards is easy and exceptionally easy to use, whether it is to print greeting cards, images, or primary documents.
It's so cool to be imaginative in your home, and created cards are the right way to use them to create something extraordinary and emotional.
It is essential that you have all the right supplies at hand, including the perfect printer for your work, if you want to make homemade cards.
Recommendation for Printer For Greeting Card Buyers