Choosing the best wired printer may seem an easy task, but once you start looking at the features, it becomes challenging. Are you looking for an ordinary printer, or want one with the ability to scan and copy?
When purchasing a wired printer, you need to consider features such as Page Per Minute (PPM), functions, inkjet or laser, monochrome or full-color, and the paper tray's capacity. The physical measurement gives a good indication of how much space it will occupy on the desk.
The best wired printer needs to have a printing speed of 10-20 PPM for color pages and 20-30 PPM for black and white pages print. An average printer should have a paper tray that accommodates 150-250 sheets in terms of capacity.
Editors' Picks: Top Wired Printers
If you are looking for a printing device, here are the best wired printers to choose from.

5 Best Wired Printers Review- Selected by Expert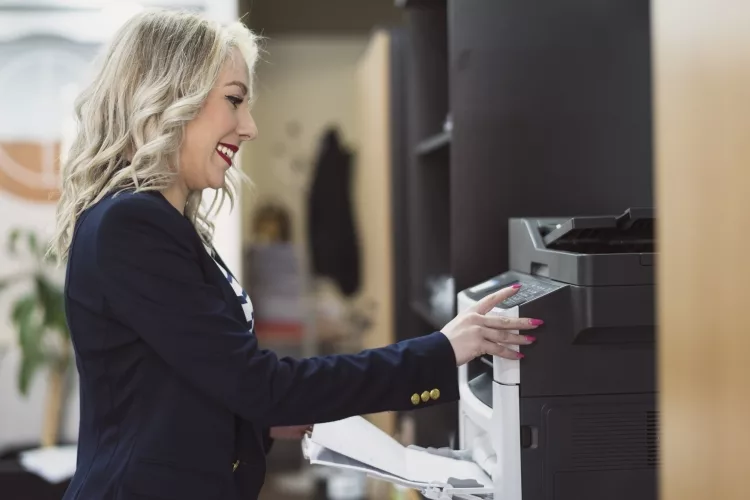 1. Xerox B210DNI Monochrome Laser Printer
Xerox B210DNI Monochrome Laser Printer is designed with controls to provide print quality, reliability, and performance. The printer has a printing speed of 31 ppm letter size and 30 ppm A4. This one of the best wired printer is perfect for home use and a small office with 1 to 5 users.
The printer is made with portability in mind; it features a lightweight and compact designs that allow easy movement and occupies less space. It features security features and protocols, including HTTPS, IP and Mac address filtering, Secure Print, and many more to ensure sensitive data over the network are protected.
Thanks to the paper tray, which has a paper loading capacity of 250 sheets, the refill is a quick task. The Xerox B210DNI has features that minimize environmental impacts like Green World Alliance, EPEAT, Automatic two-sided printing, Toner Saver, and others.
It comes equipped with in-built Wi-Fi, which connects the printer to smart devices without a router or other setup. The devices supported by this printer include smartphones, laptops, or desktops with AirPrint, Mopria, Google Cloud Print, and Android support.
The printer comes with a 1 -year hardware warranty and free customer service.
2. Canon PIXMA TS3320
The Canon PIXMA TS3320 comes equipped with a 2 cartridge hybrid ink system to ensure great print quality, while the rear tray makes reloading of plain or photo paper quick and easy. The printer is named "All-in-One Printer" as it offers quick and easy scanning and copying. It maximizes office space and offers simple documentation creation as best wired printers.
The PIXMA TS3320 features built-in Wi-Fi to allow easy printing from a laptop, smartphone, and tablet. Thanks to the wireless connection, which provides a quick setup process from the smartphone. The printer can use the Canon PRINT app, Mopria on Android mobile devices, or Apple AirPrint on iPhone.
Besides, it comes with a straightforward interface that can easily be adjusted to operate the printer on the 1.5-inch Segment LCD screen. Lastly, the printer can print 5" X 5" borderless square photos using the Canon photo paper from social media or smartphone.
3. Brother HL-L8260CDW Business Color Laser Printer
Brother HL-L8260CDW Business Color Laser Printer offers print quality with a printing speed of 33 ppm in color and black. The printer has an automatic duplex print feature, which helps reduce the printing cost and produce two-sided presentations, booklets, documents, and brochures. The laser printer is ideal for busy offices and small businesses that need quality output.
Brother HL-L8260CDW features built-in wireless and Ethernet interface for easy setup and sharing on a wireless network. Additionally, it can print from a mobile device through AirPrint, Mopria, Google Cloud Print, Brother iPrint and Scan, and Wi-Fi Direct. It is equipped with additional security features to protect against unauthorized device access and restrict printing on users or groups.
By using high-yield, 2 replacement toner cartridges (4,500 pages black and 4,000 pages color) helps reduce operating costs. Thanks to the adjustable 250 sheet capacity tray for legal-sized paper and letter and a 50-sheet capacity multi-purpose tray for printing letterhead and other media. Lastly, you can configure the printer with multiple trays to meet your requirements.
4. Canon Pixma MG2522
The Canon Pixma MG2522 printer comes with a scanner and a copier. The simple printing machine is suitable for use in the home, office, and more to print, scan, and copy documents according to your preferences.
Amazingly, the Canon printing machine supports optional XL ink cartridges, so no need to keep replacing them now and then. The scanner's maximum resolution is 600 x 1200 DPI, producing quality output. Thanks to its lightweight and flat designs, an All-in-one printer can be portable and ensure it is stable on the desk as best wired printers.
In terms of capacity, the canon printer has a tray that holds up to 60 sheets of plain paper. The printer comes equipped with FINE cartridges with black and color, power cord, USB Cord, User guide, and Set up CD-ROM.
5. Brother HL-L2300D Monochrome Laser Printer
Brother HL-L2300D Monochrome Laser Printer is designed to produce quality prints with a print resolution of 2400 x 600 DPI. Amazingly, the duplex printing feature ensures allows printing on both sides at a printing rate of 27 ppm. The laser printer is ideal for home and office use.
It features a high-speed USB port which can be easily connected to the computer and start printing job. By using the toner save mode ensures you print more pages with less amount of toner. Plus, the N-in-1 printing feature gives you the chance to combine data and print them onto a single sheet.
Additionally, the Monochrome Laser Printer has a paper input tray that holds up to 250 sheets at one go. It accommodates both the standard size and letter papers. You can manually feed envelops and letterheads on the separate manual feed slot. Thanks to its streamlined design, which ensures the printer takes less space and adds décor to the room.
Finally, the printer comes with a one-year warranty.
With everything being digital these days, you don't need a paper copy. There is a need for you to have a printer for office work or school presentations. If you know how to connect a wired printer to a laptop with a USB cable, then you can sort things easily and fast. Once the printer is connected, you will get a printout of your presentations, documents, and spreadsheets.
Here is How to Connect a Wired Printer to a Laptop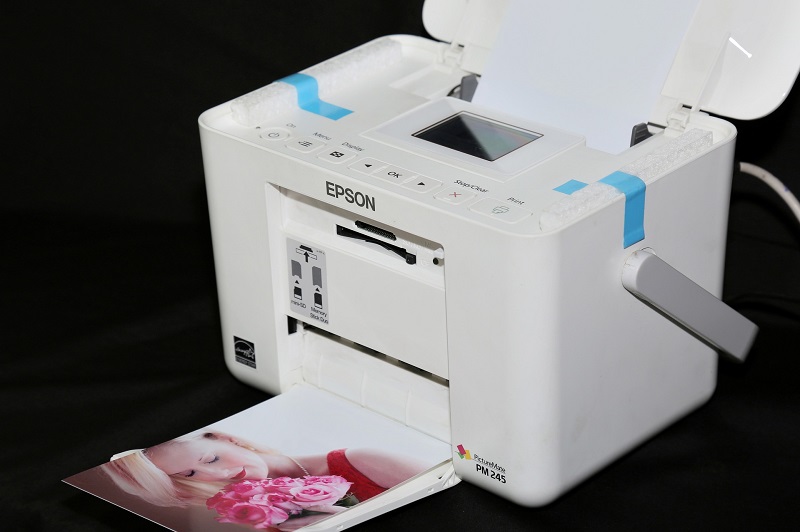 Before adding your printer, you will need to connect it to the laptop. A wired printer is connected to the PC using a USB cable. The laptop should notify you that a new connection has been made. If your PC has left you do all the figuration by yourself. Here are the steps to follow:
Step 1: Inserting a USB Cable
Make sure the printer is off and use a USB cable. Insert its USB cable into one of the laptop ports and turn it on.
Step 2: Open Windows Setting
Check at the bottom left of your screen, click on the window icon to show your Start Menu. You will see a gear icon linking to your window setting.
Step 3: Access Devices
On the first row of the window setting, click the icon labeled "Devices." On the Device column, select "Printers and Scanners." On this page, you will find the "Add Printer or Scanner" option.
Step 4: Connect Your Printer.
After clicking on "Add Printer or Scanner," the PC should be able to detect your printer connected through a USB cable. When the printer name pops up, click it and complete the installation according to the computer's instructions.
In case the laptop doesn't detect the printer, ensure it is on and connected using a USB cable. If you can't find it, click the "the printer that I want isn't listed" option. The PC will give you different options to help you connect it.
Wrapping Up
Printers are ideal devices that you need for both your business and home use. If you have a smart device, laptop, computer, camera, you need the best wired printers as well. How you intend to use the printer determines which is suitable for you.
Are you looking for best wired printers that can perform other duties apart from printing, such as copying, double-sided printing, scanning, borderless printing, and more? Choose a device with all the features required to perform these tasks.
Here are the best wired printers if you need one. It would help if you read through this article to get detailed information to consider when buying a printer for your office, business, or home use.
Buy on Walmart
Canon PIXMA TR4519 All-in-One Color Wireless Inkjet Printer for Home Office - 4-in-1 - Walmart Link
Canon G2260 All-in-One Wired Supertank (MegaTank) Printer | Copier | Scanner| USB - Walmart Link
Canon PIXMA MG25 22 Series Inkjet Wired All-in-One Color Printer - Print Scan Copy - - Walmart Link
Canon PIXMA MG 25 Series Inkjet Wired All-in-One Color Printer - Print Scan Copy - Print - Walmart Link
HP DeskJet Plus 4155 Wireless All-in-One Printer | Mobile Print, Scan & Copy | HP Instant - Walmart Link
HP Envy Pro 6455 Wireless All-in-One Printer | Mobile Print, Scan & Copy | Auto Document - Walmart Link
HP Tango Smart Wireless Printer (2RY54A) and Instant Ink $5 Prepaid Code - Walmart Link
Buy on eBay
Canon PIXMA TR4519 All-in-One Color Wireless Inkjet Printer for Home Office - 4-in-1 - eBay Link
Canon G2260 All-in-One Wired Supertank (MegaTank) Printer | Copier | Scanner| USB - eBay Link
Canon PIXMA MG25 22 Series Inkjet Wired All-in-One Color Printer - Print Scan Copy - - eBay Link
Canon PIXMA MG 25 Series Inkjet Wired All-in-One Color Printer - Print Scan Copy - Print - eBay Link
HP DeskJet Plus 4155 Wireless All-in-One Printer | Mobile Print, Scan & Copy | HP Instant - eBay Link
HP Envy Pro 6455 Wireless All-in-One Printer | Mobile Print, Scan & Copy | Auto Document - eBay Link
HP Tango Smart Wireless Printer (2RY54A) and Instant Ink $5 Prepaid Code - eBay Link