We are in the age and time when electronic devices such as televisions, home theatres, game consoles, and even computers, etc. come with amazing features. Many of these devices are designed to entertain people, while some are designed to help people perform tasks easily.

For instance, a computer is an electronic device designed mainly to help people process and store data. Computers are also programmed to perform logical and arithmetic operations.
Over the years, computers have been upgraded from one generation to another, and each update comes with improved features that help them perform generic operations that are designed in form of programs. Every program designed allows computers to perform several tasks, and a good example of such tasks is printing documents in paper format. For this type of task to be accomplished, accessories such as scanners and printers are attached to a computer.
Printers are computer accessories connected to computers to perform printing tasks. It offers features that help people print documents and quality pictures in different paper formats.
What is a Photo Paper?
A photo paper is a special kind of printing paper designed to print photographs in high-quality and also giving photos a smooth and pretty look. Photo papers are coated with wax and bleached for whiteness to ensure that ink doesn't spread on the paper when printing photos.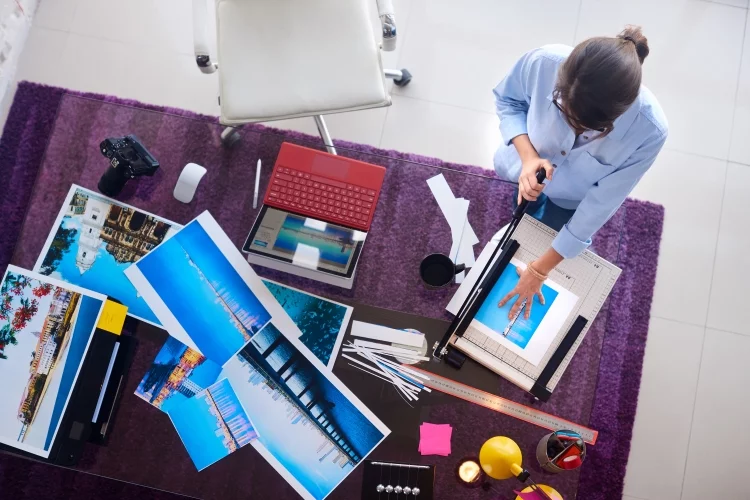 Photo papers come in different styles which makes them more expensive than regular printing papers. Examples of photo papers are glossy photo paper, matte photo paper, and satin photo paper. They offer benefits that give your photos an excellent finish than other printing papers.
Using photo paper to print your photographs will give them a quality and professional look.
There are basic steps you need to follow if you want to print photos from your gallery using photo paper. It is a common occurrence to find people paying a lot of money to printing services just to get their documents and pictures printed in quality formats. It is really good to contract your printing works to a professional printing service because it helps save the stress of doing it yourself. However, learning how to do this yourself has its benefits, such as saving printing costs. The process is a lot easier if you understand the basic steps.
So, in this guide, we will introduce you to basic steps you need to follow if you want to print your photos using photo paper. These steps are easy to follow.
How to Print Photos on Photo Paper
The basic steps below will guide you on how to print photos on photo paper;
STEP 1: Prepare Your Photos for Printing:
The first thing you need to do is to arrange the photo(s) you want to print in your device gallery. Ensure they are available on the device connected to your printer so that the printer can easily detect and access the files. So, ensure your photo(s) are saved on the device before proceeding.
STEP 2: Select a Photo Paper that Matches the Computer Printer:
As discussed earlier, there are different styles of photo paper, so it is important to identify the one that compliments the type of printer connected to your computer. Using photo paper that matches your printer will bring out the quality of your photos and also prevent wastage.
STEP 3: Ensure You Edit Your Printer's Photographic Settings:
The next step you need to carry out is to carefully edit your printer's photograph settings to match the type of photos you want to print. This will improve the quality of your printing and deliver a unique final result. This process includes selecting the type of paper photo to use.
STEP 4: Select a Photo Paper of Your Choice:
Once your printer's photo settings have been put in place, you then need to select the type of photo paper you want to use. Follow the simple steps below to get this done.
Click "Start Menu" from your desktop
Click "Control Panel" from the Start menu to display
Click "Printers" from the control panel display
Click "Printer Properties" from the printers setting display
Select the photo paper of your choice from the drop-down menu
Select "Maximum DPI" to get the best print quality
Once this process is completed, move to the next step.
STEP 5: Load the Photo Paper of Your Choice into Your Printer:
At this stage, you will have to carry out a physical task that involves loading your photo paper into the printer connected to your computer. Ensure you follow the instructions associated with the type of photo paper you are using when loading it into your computer. You will find an instruction guide on how to do this on the photo paper package. Your type of printer can also determine how you will place your photo paper, so ensure you get familiar with this.
STEP 6: Select the Photo You Want to Print from Your Gallery
Once your photo paper is properly loaded in your printer, go ahead by selecting the photo you want to print from your gallery. To do this, double-click the photo file in whichever folder you must have saved it from the first step. In some cases, you will have to right-click the photo file.
At this final stage, click "Print" from the dropdown menu displayed after selecting the photo you want to print. This process will automatically prompt a display where you will get to select the size you want and some other photograph settings. Then click "Done" to complete the process. Wait for few seconds while the printer prints your photo on the photo paper.
YouTube Tutorial Video Links
You should visit the YouTube video links above to have a pictorial view of how to carry out the process of printing photos using photo papers. They are useful videos that will be of help.
If you need to print multiple photos, carry out this printing process one after the other to ensure quality printing is achieved. When your photo has been printed, avoid placing it face-down on a surface. Instead, remove the printed photo from the printer tray and place it carefully on a plane surface with the printed part face-up until the colors dry up.
In the case of multiple prints, ensure you don't stack the printed photos on each other. Place them separately on a surface like a table or a desk until the colors dry up.
Furthermore, it is important to put certain things in place before proceeding to print such as ensuring your printer is of high quality and in good condition before use. You can browse the internet to determine the best printers for printing photos. We also recommend using quality printer ink that will not damage your printer toner or reduce the quality of your printing.
That is that about printing photos using photo paper. Easy and fast right? Certainly.
Important Factors to Note When Using Photo Papers
Here are important factors to note when using photo papers to print photos;
Modify Printer Settings:
It is highly important to modify your printer settings before printing your photos to avoid smearing. When you select the best print quality when printing a photograph, there is a high tendency that the printer will use up a high quantity of ink that causes smearing. If this happens, it will affect the quality of your print, so ensure you adjust your printer quality.
Conduct Proper Cleaning Check:
It is highly important to conduct a proper cleaning check on your printer before proceeding to print. Ensure you clean the media guides by wiping them thoroughly and cleaning any form of debris attached. A clean printer will help you prevent issues associated with smearing.
Select Appropriate Photo Paper:
You need to get familiar with the different types of photo paper available and ensure you select the appropriate one for the type of printer you use. Your printer manual will give you an idea of the appropriate photo paper to use. Once you have it, ensure you store it in a dry place.
Learn How to Load Photo Paper in a Printer:
It is not enough to determine the type of photo paper to use, you also need to learn how to place it in your printer. Follow the instructions on your printer manual to get directions on how to do this. This involves emptying the tray and loading the empty tray with your desired photo papers. Ensure they are properly fitted into the tray before proceeding to print.
You can print photos in the comfort of your home if you follow the steps in this guide.
Conclusion
A high percentage of modern-day printers can print on photo papers. Photo papers are quite different from regular printing papers and are mostly used for framed photos, scrapbooking, and photo albums. So, if you need one, you can buy online or check computer and printing accessories stores around your locality. Make sure you buy photo paper that matches your type of printer, which means you can order from your printer manufacturer.
Above all, ensure you are using a quality printer. When you have a quality printer in place, ensure you install good printing software on your computer system and also ensure you have a good internet connection when necessary. With this guide, we believe you have access to all the tips needed to print photos using photo paper. Kindly share the article with your friends.