Printers have become an integral device in daily life, both for working professionals and students. Even though working professionals can fit into any type of printer with years of experience, students find it tough to find a printer for their dorm room to accommodate and provide effective service at the same time.
Therefore, I am here to the rescue with six outstanding printers for the dorm room to fit in your style. These are not your typical, bulky, and noisy printers but are modern, compact, and filled with tons of built-in features. So, do not look anywhere else if you are here for the review; just jump into it.
Our Favorite Printer For Dorm Room
Product Reviews for Best Printer for Dorm Room
1. HP DeskJet 2755 Wireless All-in-One Printer
HP DeskJet 27 55 Wireless All-in-One printer holds the first place with drooling features. Those looking for a smart inkjet printer for worry-free performance bet no one can compete within this price range. The printer is a 3-in-1 inkjet one with printing, scanning, and copying features.
Key Features
3-in-1 printer
Works wireless with smart app
Dual-band wi-fi system
1-year warranty
Inkjet device
Print speed 7.5 ppm, one-side
Monthly capability: up to 100 pages
Highlighted Features
Convenience: It is one of the most reliable inkjet printers used to print, scan and copy according to users' needs. There is a small LCD that provides the utmost comfort in viewing. Moreover, the printer notifies while the ink is about to finish so that you get to restock it.
Wireless connectivity: One can connect the printer with their devices via the HP app and operate it wirelessly via that app. You can also print and scan on the go from your device and share it with a third party via Google drive with full security.
Output: This printer prints 7.8 pages per minute with a 5.5 ppm monochromatic color. The monthly volume capacity is between 50-100 pages. From the virtual world, you can print vibrant photos with this printer.
Pros
You can use it for three works
Provides wireless performance
Save 50% ink usage
It has a small LCD for convenience
Allows wi-fi and Bluetooth connectivity
Cons
Cannot print dual-side of papers
2. HP ENVY Pro 6455 Wireless All-in-One Printer
The HP ENVY Pro 6455 wireless printer is the best-seller inkjet printer in the market. Plus, it is the most affordable too, which can fit a student's budget. You can enjoy wireless 3-in-1 printing, scanning, and coping mechanisms that will be borderless and vibrant.
Key Features
Auto document feeder
Dual side print/ scan
Inkjet
Connects via mobile, tab, or desktop
Print media: Paper and Glossy paper
Highlighted Features
Convenience: You can use the printer for three other purposes than printing, such as scanning, copying, and even mobile faxing. You can fax easily via your device directly and share it instantly with a third party. Since it is an auto dual-side printing machine, you don't have to worry about paper wastage.
Output: You can expect 35 pages document feeder from this printer. Moreover, it can seamlessly print on gloss papers along with matte papers, that too borderless. The 100-sheet input tray increases the productivity of the printer.
Connectivity: For printing, scanning, and copying wireless, you need to connect with the Hp mobile smart app. You connect the app via wi-fi and command it to do its job from anywhere.
Pros
Affordable
One can use it for multi-purposes
Auto two-sided printing
Provides borderless printing
Saves 50% paper usage
Cons
It does not include a separate photo tray
3. HP OfficeJet Pro 8035 All-in-One Wireless Printer
Though it may look like a mediocre traditional printer, its compact and sleek design infused with many beneficial features is worthwhile. It is another HP inkjet printer for dorm rooms to use in envelopes, cards, gloss papers, and high-resolution printers. The 4-in-1 printer is a fantastic device for every workplace or student dorm must-have.
Key Features:
Color touchscreen
Energy-star certified
Ethernet networking
Automatic document feeder
Inkjet technology
Color type: Basalt
USB port for image print and scan
Highlighted Features
Convenience: The printer has high-tech convenience that includes digitized printing and scanning directly via mobile app. It can print two sides of a document, automatically saving paper for about 50%. You can print, fax, scan, and copy your documents with this smart printer using the touchscreen display.
Security: For users' ultimate privacy protection, this printer has a built-in encrypted security system that protects documents, Wi-fi, and password protection. None of the external hackers can reach your documents.
Output: The printer can print 20 pages per minute. You can connect voice-over control from Alexa to command the printer. You can print on various paper types from the printer, starting from high-resolution paper, glossy paper, envelopes, card stock, etc.
Pros
Saves energy consumption
Easy to use with LCD
Has voice activation
Auto two-sided printing
Can print wireless
Cons
It does not include an easy slide-off glass
4. Brother Compact Monochrome Laser Printer
After all the HP hypes, we have got a Brother Laser printer for you. This laser printer's sleek, compact outlook makes it suitable for dorm rooms. Starting from large to tiny fonts, your prints will come out flawless and perfect with this printer.
Key Features
Convenience: The printer offers a wide variety of convenient printing. You can print envelopes, cards, and high-resolution papers of a letter and legal size with this printer. One can flexibly handle the papers in the manual slot.
Output: This laser printer can print 32 pages per minute with monochrome toner. You can get the highest efficiency within specs of minutes compared to other inkjet printers. Moreover, the 250-sheet paper tray adds more efficient handling of papers without refilling all the time.
Connectivity: The printer has a USB port for printing documents, files, or pictures directly from your device. Also, you can connect it with Alexa for voice-over control for commanding the printer with your voice to save your time or multi-task.
Highlighted Features
Laser technology printer
Monochrome print
Work with Alexa
Prints 32-pages per minute
Has USB connection
Pros
Price is student-friendly
Sleek and compact design
Provides professional-looking docs
Enables USB printing
High-speed output
Cons
Does not have other features like scanning or copying.
5. Canon Office and Business MB2720 Wireless All-in-one Printer
Those looking for a bit high-end inkjet printer for getting some extra benefits can buy this Canon Office and Business MB2720 All-in-one Printer. The sleek wireless printer can make your color prints look flawless, borderless just the way you would imagine. The lightweight body makes it flexible to move around.
Key Features
Wi-fi, wireless technology
Auto duplex prints
Weighs, 3.5 pounds
Inkjet color
Print media: plain paper
Highlighted Features
Convenience: You can enjoy other features like scan, copy and fax apart from printing with this compact and lightweight printer. The paper trays have 500 paper capacity to let users avoid refilling every time.
Connectivity: The printer has a USB interface to directly use documents from your device to print, scan, copy, or fax. It works with almost all windows and Mac devices to support the users. You can also connect with dual-band wi-fi and print wireless with your devices.
Output: The laser printer uses high-quality, smudge-proof ink (toners) to provide intricate details effectively. Also, dual-side printing prevents paper loss and hassle, which one gets from single-side printing.
Pros
Saves 50% paper with dual-side printing
Very lightweight and sleek design
Prints borderless
Compatible with both Mac and Windows
Works wirelessly for convenient printing
Cons
Does not work with other types of paper besides plain ones.
6. Canon PIXMA TR4520 Wireless All in One Photo Printer
The last printer on our list is the Canon PIXMA photo printer in the most affordable range of all. This tiny and lightweight printer can fit into your dorm room desk with ease. We cannot emphasize this Canon printer's reliability for students looking for a smart printer with a minimal budget.
Key Features
Inkjet technology
Print media: gloss photo paper
Auto power on/ off
Has wireless connection
Smart buttons to operate
Highlighted Features
Connectivity: You can connect it with Alexa to control the printer with your voice, even though smart push-on buttons are available for easy usage. Alexa can also notify you when the ink is about to finish so that you can refill it on time. It has auto-
Output: With wi-fi wireless connectivity or USB port connectivity, you can directly print through your device. The ink is smudge-proof and jet-black to provide an excellent outcome on gloss photo paper.
Uses: This printer has minimal usage. You can print gloss photo paper only and not plain paper. So, this Canon PIXMA can serve the utmost benefits for those looking for such a printer. It also auto-shuts off when not used for a long time to save power.
Pros
Very cost-effective
Sleek and compact body
Easy usage with smart buttons
Has USB port for convenient printing
Provides bright and rich color output
Cons
Does not work on plain papers.
Buying Guide of Best Printer For Dorm Room

When you would pick a printer for your dorm room, it might not seem a tough job. Because the features are relatively straightforward, and each of them serves a direct benefit to the users. However, in this buying guide, I will tell you the factors to look for in a dorm room printer that will enhance its usability even more.
Space consumption: Buying printers for dorm rooms must include this special consideration of space. No matter how effective and good-looking a printer you buy, if you can't fit it in the required compact place in your dorm room, then you won't enjoy using it. Make sure the 'space' of paper trays is present in the front and back.
Cost-saving: Smart printers have high upfront costs already, so saving up costs on usage can help you as a student. Some printers run on cost-per-page depending on the ink used. Also, dual side printing allows 50% paper-saving than single side ones.
Efficiency: The efficiency you want for your printer will depend on your needs. If you are a senior year student, you might want more efficiency due to overloaded assignments and projects. Printers come with efficiency like 15 pages-per-minute, also in 50 pages-per-minute. So, choose yours accordingly.
Special features: Since you are a student living in a dorm, somedays you might need to print, other days fax or scan. It is better to buy printers with multi-purpose so that you can depend on yourself and don't have to stand in a queue in your college computer labs on the final assignment days.
Ink-type: Generally, multi-colored ink printers come a bit more expensive than monochrome ones. Nonetheless, it all depends on your choice. If you can invest in a multi-colored one, then you will get the world of benefits. However, if you don't require colors on your notes, then monochrome is better.
How to Connect an HP Printer to Wi-Fi?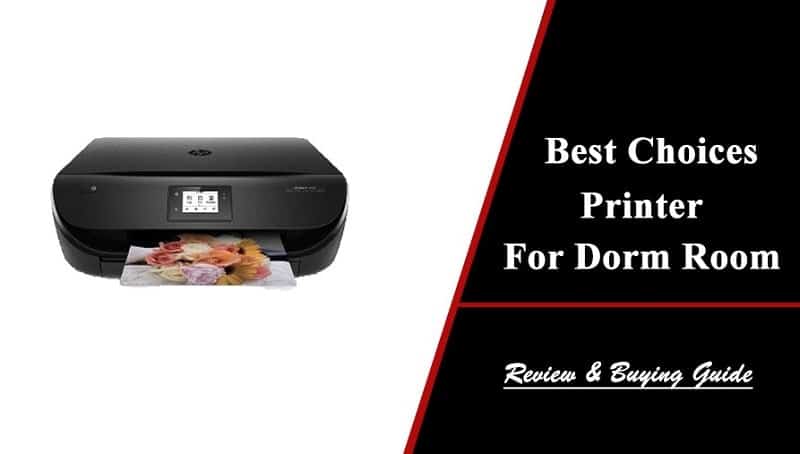 You can connect your HP printer in 4 different options based on the HP model.
HP Auto Wireless Connect
New HP auto wireless printers come with several smart features to make your printing more enjoyable. HP auto wireless connects it easier to print out of any system instantly through a wireless connection. Auto wireless connects permit you to establish a connection between your printer and the available wireless network automatically. A modest software to control this feature is available on the HP support page.
Step 1: Visit the HP support page and insert your model number to find suitable versions of the software based on your operating system and follow the on-screen instructions to install them into your computer.
Step 2: Turn on your printer and run your software to proceed further. Choose wireless when you're prompted for Network connection type (Ethernet/Wireless). Click "Yes, send my wireless settings to the printer (recommended)."
Step 3: All you can do is just blink. Wait for your HP printer to connect with the computer and just click "finish" when prompted.
Wireless setup Wizard
Hp printers with a graphic display come with an operating feature of a wireless setup wizard on its control panel.
Step 1: Unplug the ethernet cable from the printer.
Step 2: Power on the printer.
Step 3: Find the wireless icon from the control panel, tap the icon, or go to the Network menu.
Step 4: Choose Wireless settings and then tap Wireless Setup Wizard.
Step 5: Search your network, enter the Wired Equivalent Privacy (WEP) or Wi-Fi Protected Access (WPA) key, and you are good to go.
WPS Push Button Connect
If you don't have a built-in push button on your printer, you must complete the whole step manually. First, go to the wireless menu, click Wi-Fi protected setup. Complete the steps shown in on-screen instructions. Choose the WPS Button option, and you will find notifications about pressing your WPS button on the router.
Find the WPS button on your router and press it to enable it within two minutes of completing the previous step.
If a password input prompts up then, you should search for it on the printer's label. If you can't find it there, then look for it on the Wi-fi Protected Setup.
Note: You can also connect your printer without a router with direct access.
How Many Types of Ink are There?
Different inks are used in a wide format of printing when it comes to color printing. Several types of inks have their ideal characteristics and benefits in some sectors while lacking in a couple of others. There are mostly five common types of color printing ink that are used and the differences between them.
Aqueous Inks
Aqueous inks are a good choice for bright color printing. Among the two varieties, Dye inks are water-based inks that evaporate water and leave the ink behind while installed. Bright color delivery is Dye ink's advantage. However, they fade out faster under the sun's rays, so better to use the print-out copies indoors.
UV inks are more resistant to the sun rays, and they are more of a chalk dust type material suspended in the water. Once installed, the water evaporates, and the chalk-like little dots left behind form the image. They last longer than the aqueous ink.
Solvent Inks
Dye congaing pigment inks do not use water to evaporate but a volatile organic compound instead. Inexpensiveness and flexibility on certain surfaces make it durable, which holds up perfectly in all types of conditions. Toxic chemicals used in production are the only drawback of these inks, but special care must increase production efficiency.
Latex Inks
Latex inks are not far away from the solvent inks other than the toxic chemicals in production. Though the chemicals in Latex inks are not user-friendly, they offer many promises with flexibility on different surfaces, including vinyl. For most people, these types of inks are still new.
FAQ on Best Printer For Dorm Room
Which printer is best for college students?
Since college students have to deal with hectic studies, assignments, and projects in their life, having a multi-purpose printer would be the best. All the smart printers from HP have scanning, copying/ faxing facilities other than printing.
Which printer is best for students?
Students can choose HP ENVY Pro 6455 Wireless All-in-One Printer in an affordable price range with all the essential features. It can go wireless, too, with scanning and copying benefits included. It's sleek and compact to sit on your dorm room's PC table with ease.
Do college students need a printer?
What is a good all-in-one printer for home use?
The Canon PIXMA TR4520 Wireless, All-in-One Photo Printer is a good all-in-one printer one can get. You can use it wirelessly from anywhere via Wi-fi. Also, you can connect it with Alexa for convenient voice-over control and much more.
Conclusion
No one can ever go wrong by purchasing a high-quality smart printer for themselves. Days where the pandemic is making everything digital, a printer is a much-needed device that every student must own. Within the first few uses, you will become a pro at printing your documents.
I reviewed six printers; all of them are exclusively picked amongst the wide varieties laying here and there, seeing all the benefits they can give you. Do consider my buying guide before you make a purchase, as it will help you prevent picking the wrong one.
Recommendation: