Stickers are steadily emerging to be ideal means of promoting one's brand, gifts, art forms, and products. By simply sticking it on products, packaging, or issuing them around as promotional items, you can take your brand anywhere. Best Sticker printer machines are a must-have tool if you are ever to make your name through product or brand promotion. They allow you to make eye-catching and memorable brand stickers in whatever color you find appealing.
This gives your product the attention it needs to get it flying off the shelves into the arms of unwitting prospects. Here is further insight into the best sticker printer machines available in today's market.
Our Favorite Sticker Printer Machine
5 Best Sticker Printer Machine Reviews 2022
1. The Brother VC-500W Compact Color Label and Photo Printer
The dynamic yet compact Brother VC-500W color label by ZINK Zero uniquely showcases wireless networking features. This uniquely allows you to issue printing instructions from any of your smart devices. This can include your smartphone, tablet, or even laptop. This nifty machine allows you to print detailed full-color stickers, labels, and photos. You can even print printers that are as long as 17 inches in a single pass without having to add ribbons, toners, or cartridges. In addition, the ZINK paper comes readily embedded with all the colors that are needed for top-notch photo printing.
Features
Easy to Use: Operating this machine is quite a breeze, and you stand to enjoy the easy and full-color printing experience. This gives you more time to concentrate on amazing printing ideas and designs.
Versatility: The brother VC-500W is dynamic in terms of use as it allows the user to create and print an array of items. These vary from photos, print labels, stickers, custom gifts to personalized decorations. It thus finds use in diverse settings such as party favors, photo projects, business projects, organization duties, and home décor.
Smart Connectivity: This modern technological marvel uses wireless or Wi-Fi connectivity to allow you to connect and print from anywhere. It also enables you to share directly from your smart appliance when linked by the same connection. This aspect takes convenience to an entirely new level.
Pros
It has a free label editor app that allows you to get more creative by tinkering on the sticker.
Its smart connectivity is convenient to use.
It has dynamic uses.
Cons
The distance of the connectivity is limited by the wireless connection's range.
2. The Arkscan 2054A Shipping Label Printer
If you're seeking to print out the product or package labels clearly, then the Arkscan 2054A is the ideal printer for this job. This printer by the renowned Arkscan brand is white in color, with a monochrome printer output, and uses thermal printing tech. It is widely used by revered shipping brands all over the world in printing shipping labels. A few of these include but are not limited to FedEx, Amazon, PayPal, Shippo, Shipping Easy, Stamps, StockX, XPSship, Pirate ship, Endicia Dazzle, USPS, and ShopGator.
Features
Multifunctionality: This versatile printer is unmatched when printing product labels, barcode labels, shipping labels, and labels for any other use. It can print between a minimum of 0.75" and 4.25" for the width with a length that ranges between 0.4" minimum to 90" maximum. You only have to load the support roll inside the printer with the fanfold paper going on the printer's back. In addition, it quickly prints at a speed of 5 inches per second.
Ready to Use: The device with preloaded free software by Bar-Tender UltraLite Label Design. This provides the user with the most frequent label-design print features. You thus do not have to come up with a label design from scratch. In addition, the amazing piece of software has full design capabilities for graphic barcodes, texts, and serialization.
Top-Notch Customer Service: Arkscan is 5-star rated for offering real-time tech support via live chat, phone, and even remote access. They are ready to lend a helping hand if you find it difficult to set up or operate the machine.
Pros
It is a high-speed shipping label printer that efficiently prints.
It readily supports roll paper placed into the printer.
It comes preloaded with the most frequently used label-design print formats.
Cons
You have to reload when the roll paper is depleted.
It is high on the budget.
3. The Xyron 5" Sticker Maker Machine
Most sticker printer machines become obsolete in the absence of electricity. Luckily, the Xyron 5" sticker printer beats this inconvenience by being one of the few non-electric printers available in the market. This simple yet unique device comes in blue or grey and measures 7.87 by 6.69 by 6.3 inches. It is ready to use and works by effortlessly applying adhesive to your sticker after a few turns of the knob. The machine achieves this with little to no mess, thereby saving up on clean-up time.
Features
Easy to Use: This natty device can create stickers within a spur of a moment. You place any item that is 5 inches wide in its entrance and turn the knob a few times. Once it is fully through, tear and peel the sticker when you want to use it.
Simple Drop-in Refills: This revolutionary device by Xyron is already loaded with non-toxic permanent adhesive. If you happen to finish the adhesive, you can easily replace it by dropping in a new refill.
Unleash your Creativity: Creatives out there get the chance to unleash their imagination as the appliance is great for arts and crafts. It allows you to add a sticker to any piece of art form you may have in mind. This includes paper, die cuts, labels and decorations.
Pros
It is ready to use and does not run on electricity.
It is one of the least technical sticky printers and is thus easy to use.
It does not require massive clean-up afterward.
Cons
Its adhesive refill is sold separately.
4. The NETUM Shipping Label Printer
The Netum 4×6 shipping printer is the second label printer on our list. It has a monochrome printer output with thermal printing tech and uses USB connectivity technology. It uniquely comes with an Auto Analyzer that ensures your first label does not go to waste by taking a quick snapshot. It can print labels with a width of between 1.49" to 4.1" and a maximum of 11.81". In addition, it ideally prints warehouse labels, 4 by 6 shipping labels, barcodes, bulk mailing labels, and ID labels.
Features
Compatibility: Netum strived to ensure that the label printer is compatible with the most common operating systems in existence. This includes Windows XP onwards, Mac OS 10.9 onwards as well as Chrome OS. In addition, they offer a top-rated customer care service that readily offers technical support when the need arises.
Quick Printing: The Netum label printer offers unmatched high-speed printing at 150mm per second. Moreover, it uses an imported printer head that does not need any ink or cartridges.
Renowned Brand: Most major shipping platforms use the Netum sticker printer as their go-to label printing machine. A few of these platforms include Ship-Station, Stamps.com, Shipping-Easy, Ordoro, and Ship-Works. In addition, market platforms also find extensive use for this printer. Some of them include eBay, Etsy, Amazon, Shopify, UPS, and Food Nutrition Brands.
Pros
It offers high-speed label printing services.
It is compatible with an array of operating systems.
Cons
It is high on the budget.
5. The Terow T9200 USB Thermal Label Printer
The Terow thermal label printer does not pull any punches when it comes to speed, as it prints at an emphatic pace of 160mm per second. In addition, it can print a 4 by 6 label in one second, which saves up to 2-3 person-hours every day. This contributes a lot towards better work efficiency. Moreover, it comes with a heat-resistant printer head that can serve up to 50 km of printed labels before needing repair or replacement. Also, it has a 203 dpi UHD print that makes the printed characters astonishingly clear.
Features
Readily Adjustable: The label printer comes with a Dual media sensor that automatically positions and measures the label sizes. This enables the thermal printer to adjust to various printing paper specs with relative ease readily. In addition, it can print the label up to 4.3" wide, which is ideal for warehouse labels 4 by 6 shipping labels, ID labels, and barcodes.
Simple to Set up: Using a USB flash disk, you can easily set up the receipt printer. It comes with a toothed knife that allows you to cut off the printed label easily. In addition, it is easy to change the paper since it lacks a paper bin design. Finally, its external box holder is just perfect for supporting roll-type cut sheets as well as a stacked cut sheet.
Guaranteed Satisfaction: The package comes fully loaded with the printer, USB cable, bracket box, power cord, adapter, manual, and, importantly, the warranty card. Terow allows for returns and exchanges within the first 30 days of usage. You are thus not stuck with a device that does not live up to its standards.
Pros
We can perform thermal printing without using ink or toner, which saves energy and reduces workload.
It is easy to set up.
It has an auto-adjust function.
It comes with a free external bracket.
Cons
It is limited to printing labels.
Buying Guide of Best Sticker Printer Machine
Resolution
This should be at the top of your list when considering buying a printer. In terms of resolution, measure the dots per inch. You will get better results with a higher resolution printer as it will come in handy when printing HD photos and colors. It looks unprofessional to print drawings and photos that come out appearing faded. For instance, if the printer has a 4800 x 1200 dpi resolution, you expect the saturation and contrast to shine right.
Ink Cartridge
An ink cartridge directly reflects on your operating cost. Obviously, you are searching for a color printer to make your stickers. First, make sure the ink cartridge that you go for will last long. You don't want to run to the supply store to replace a spent cartridge in the middle of the night. Also, check if the printer supports third-party cartridges. Most printers have this feature, but it is smart to confirm with your dealer. Then, you are guaranteed to get more options to choose from in terms of cartridge buying.
Wireless Connectivity
Please take advantage of this revolutionary feature since most printers on the market have it. It comes in handy when you are caught with a deadline. For example, forgetting to print an advert sticker spells havoc with a client. However, with wireless connectivity, you can scan a photo or design on the go and send it to the printer, where you can print it quickly.
Paper Handling
Sticker papers come in different forms and choices. It would help if you got a sticker printer that is versatile in how it handles them. White paper stickers usually get the job done and can work with any decent printer. They look good indoors, inside of car glass, or on the fridge. However, if the goal is to get a sticker that lasts, you need to print it on vinyl paper. Thus, your printer should be able to handle any specialty paper.
How to Print Stickers at Home?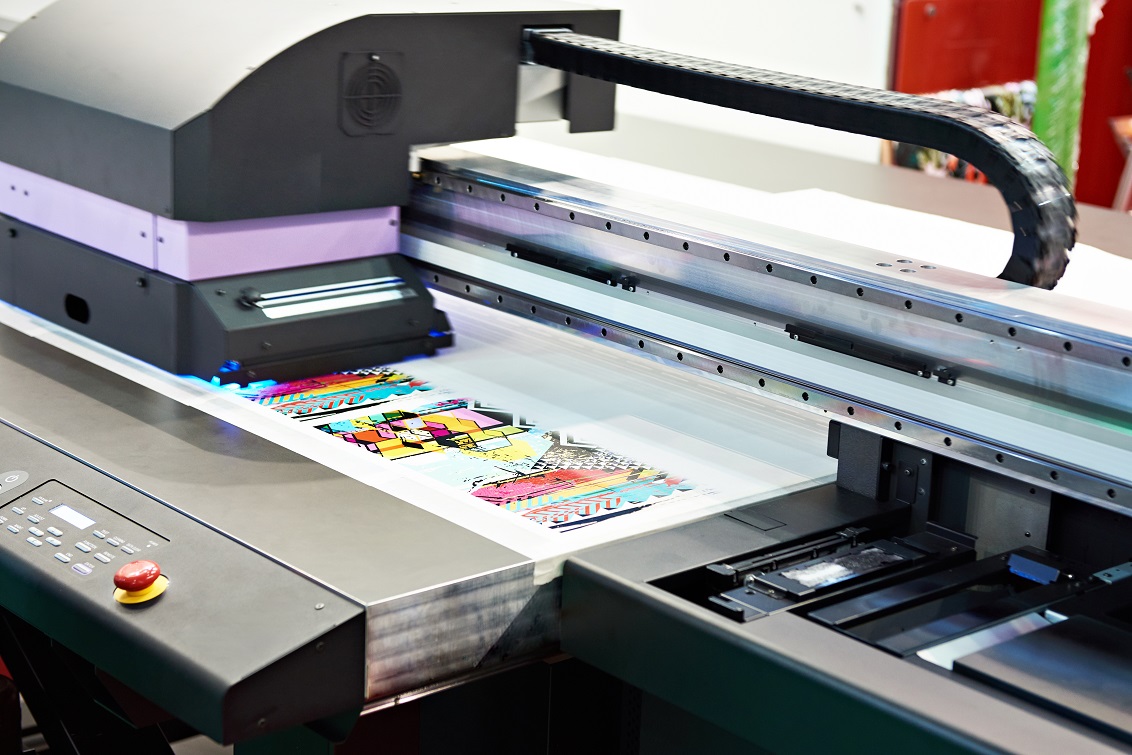 Paper
First, you need to figure out which medium you'll use to print your stickers. The options available are vinyl or paper. Knowing the difference between them will ensure you get the desired results. Further, ensure the medium picked is compatible with your printer. Paper labels are the cheaper option of the two, and they are simple to work with. Vinyl labels are long-lasting and are great for places constantly exposed to water. However, they may fade out quickly, leaving you wondering who added bleach on them.
Printer
Next, pick out the right printer for the job. It depends on the sticker's design, but a 1200 dpi print usually gets the job done. However, for sticker designs with dynamic color ranges and tonal variation, get a printer with no less than 6 cartridges.
Printing Process
After getting the two right, you can start printing your stickers. First, create a design template using image editing software that you are familiar with. At the same time, ensuring you color match while choosing the right colors. Then print it on a blank piece of paper. This you will load to the printer as the template. Make sure the lever doesn't touch paper edges as it will buckle. This would result in unsightly creases that are hard to remove once the process is done. Lastly, let the ink dry before removing the stickers from the sheet. Also, don't print on the same sheet twice as it would result in a paper jam.
FAQ on Best Sticker Printer Machine
Can You Print Stickers with A Regular Printer?
Absolutely! You don't need any special sticker printer since a regular printer can get the job done. However, do some careful planning before printing to avoid wasting sticker paper or ink.
What Type of Printer Do I Need to Print Stickers?
Honestly, there is no definitive best printer for stickers. Just watch for a printer that fits your needs. It depends on whether you intend to use the printer for home use or commercial. Use the guide above to help you in picking the right one.
How Do I Make and Print Sticker Stickers?
First, you need to insert the sticker paper into the printer tray. If you are using Microsoft Word design, click on print. Then, go to the printer properties of the printer and select "other photo paper." This will make the process compatible with the sticker paper since it is a type of photo paper. Finally, select the quality at which you want to print the paper and press ok.
How Do You Make Easy Homemade Stickers?
Stickers are easy to make by just sourcing materials around your house. You'll need some paper, a pair of scissors, glue, and paint. First, draw out your design on a piece of paper, then cut it out. This after painting the sticker to whatever your creative mind dictates. Lastly, apply glue on the back and let it air dry for a while. Later, lick the back and press the sticker on your desired surface.
Buy on Walmart
Thermal Label Printer - iDPRT SP410 Thermal Shipping Label Printer, 4x6 Label Printer, - Walmart Link
K Comer Thermal Label Printer 150mm/s- Desktop 4x6 Commercial Direct Thermal Shipping - Walmart Link
Phomemo M02 Portable Pocket Printer- Mini Bluetooth Wireless Thermal Sticker Printer - Walmart Link
Xyron Create-a-Sticker, 5", Sticker Maker, Machine, Permanent Adhesive (0501-05-10A) - Walmart Link
Pink Shipping Label Printer, [Upgraded 2.0] MUNBYN Label Printer Maker for Shipping - Walmart Link
Mini Pocket Sticker Printer-Bluetooth Pocket Thermal Printer-Portable Smart Photo Printer - Walmart Link
Mini Printer, Portable Sticker Printer for Printing Student Notes, Journal, List, Memo, - Walmart Link
Buy on eBay
Thermal Label Printer - iDPRT SP410 Thermal Shipping Label Printer, 4x6 Label Printer, - eBay Link
K Comer Thermal Label Printer 150mm/s- Desktop 4x6 Commercial Direct Thermal Shipping - eBay Link
Phomemo M02 Portable Pocket Printer- Mini Bluetooth Wireless Thermal Sticker Printer - eBay Link
Xyron Create-a-Sticker, 5", Sticker Maker, Machine, Permanent Adhesive (0501-05-10A) - eBay Link
Pink Shipping Label Printer, [Upgraded 2.0] MUNBYN Label Printer Maker for Shipping - eBay Link
Mini Pocket Sticker Printer-Bluetooth Pocket Thermal Printer-Portable Smart Photo Printer - eBay Link
Mini Printer, Portable Sticker Printer for Printing Student Notes, Journal, List, Memo, - eBay Link
Conclusion
Stickers are a great and cost-effective way of passing information. They can be conveniently stuck on most surfaces such as doors, walls, cars, and signage. Any curious person passing through such items will definitely pause and have a look at the information contained. Besides, they have a longer lifespan when compared to most types of media. What remains is selecting the best printer for sticker printing. Just make sure the printer of your choice can handle the delicate sticker paper. Fortunately, the printer models mentioned are capable of this, among other benefits.