It is not necessarily important to attract a group's interest or develop an item's esthetics to great expense. Printing stickers is an eco-friendly option for making customized planner stickers. Here I'll discuss the 5 best printable sticker paper.
How often did you purchase sticker packs to see that half of them are not applicable, and some would do great if they were in a different shade or text? But now you can make your own desired sticker at home.
Sticker paper is one of the essential elements of this method. That's the surface that gives a new look to the designs. Thus you must materialize the pattern specifically and ensure good quality on your selected paper. Let's talk through the best 5 printable sticker papers down below.
Top Picks: Best Printable Sticker Papers
Product
Description
iLable sticker paper

Eco-friendly
Durable
Perfect formats

Matte white sticker label


Customizable
Premium matte paper
Easy to write

Ink-Jet Shipping Labels

Easy peeling
100 Total Labels
Permanent self-adhesive

Midcoast Full Sheet Sticker Paper

Water-proof
100 glossy adhesive white sheets
Easy peel corner for easy removal

Inkjet or Laser Printer online Labels


Easy to remove
Customizable
Multi-purpose product
Best Printable Sticker Paper Reviews
1. iLable sticker paper
If you are looking for something eco-friendly yet long-lasting, this iLable full sheet sticker paper is here for you. This full sheet paper sticker is 8.5" x 11". This provides you 100 white sheets and matte white labels. iLabels are durable adhesives that make them sticky and durable. Every label can stick firmly to any substrate with high-quality products. iLabel quality management has very stringent criteria. In addition, before selecting our labels, we checked multiple label fabrics and adhesives.
It is perfect for cutting mats. iLabels are solid, durable, and lasting positive sealants. Each label can stick securely to every surface with high-quality materials.
Features:
Durability: Through strong self-adhesive, all smooth surfaces, including envelopes, cartons, paper, plastic, glass, tin, or steel, are well-lasting. The product itself speaks of its high-quality durability.
Safety: ILable full sheet sticker papers are made safely, without any toxic elements. It is chemical-free. So feel free to use it without any hesitation.
Uses: Great for FBA, barcode scanners, label titles, envelope stickers, gift notes, and so forth.
Cleaning: The matt white stickers contain no splits or rips to peel easily.
Specification
5'' x 11''
100 white sheets.
100 white matte labels.
Pros
Easy to peel, without any rips or splits.
High-quality built system.
Long-lasting.
Eco-friendly.
Cons
2. Matte white sticker label
The classic Matte White Paper is durable for any use if you make custom labels and stickers for your business or throwing a big party or function, brandings, and packing. These labels are laser and inkjet printing compliant. The matt surface removes ink smudges to print quickly!
The matt surface adds a breeze to printing. With plumes, pencils, pens, or any other printed instruments you have, write quickly on it. These stickers have a permanent coating of adhesive on the back. It sticks to boxes, cardboard, paper, and flat surfaces well.
The flat, matt body promises strong results, and its outstanding lasting adhesive is crafted to hold and stay.
Features
Durability: Premium matte white paper stock provides a sleek and smooth finish with long durability to stick and stay.
Easy to write: Its matte surface makes writing very easy and smooth. With a pen, marker, or even with a pencil, you can doodle whatever you want. It's just like a normal paper.
Self-glued: This matte white sticker label comes with a strong yet enduring adhesive layer on every label back. Just peel it and stick it.
Variety of shapes: A huge number of sheets and rolling sheets and comes in a width shape.
Specifications
This weighs 12 ounces.
9'' x 11''
35 sheets.
Pros
Easy to peel.
Laser/Inkjet printer-friendly.
Easy to write.
A wide section of shape and size.
Cons
A bit costly yet worth every penny.
3. Ink-Jet Shipping Labels-Full Sheet
Both inkjet and laser printers operate with these papers, so you don't have to invest in new media. Internet brands should not allow them on their liners or back-slits. Consequently, when you get sticker paper from here, you do not sacrifice your expectations and specifications.
From its flexible range, you can conveniently select the most appropriate. You may also scan for several other papers such as shiny, neon, acrylic, and more, along with the usual white matte material.
Features:
Variance: Some variants such as shiny, neon, Acrylic, and more can also be looked at from these articles.
Consequently, when you have sticker paper from here, you do not sacrifice your desires or specifications. You can conveniently select the most fitting one from the flexible set.
Handy: These papers work with inkjet and laser printers so that you don't have to pay for a new press. Online brands do not make them on their liners by back-slits.
Some varieties are engineered to offer a convenient benefit, such as weather tolerance or removability. They are the perfect paper stickers for Circuit and other computer adhesives.
Smudge-proof : It will not change color, glossy, or crumble. The stickers come in packets of 10, 100, 250, 500, 1000, 2000, 5000, and 10 000 sheets. These stickers are permanently covered. As the "ordinary" is known to be the specific type, they typically have a width of 8.5 inches and 11 inches.
Specifications
100 Total Labels
Sheet Size 8.5-x-11-inch
Product Dimensions 11 x 8.5 x 0.2 inches
Pros:
It contains 10 to 10,000 sheets
The entire sheet is 8.5 by 11 inches in dimension.
It fits for inkjet printers and laser printers
smudge resistance and irreversible
cons:
Sheets' dimension is small
4. Milcoast Full Sheet Sticker Paper
For a while, Milcoast has been continuing to concentrate heavily on paper and mark products. The full mark with a dazzling finish is included in its wide range of such items. This form of coating helps improve the contrast between the colors of the sticker design.
While the glue is commendable in its power, you can remove it anytime without the fear of smearing the area. So you can consider this to be the best glistening sticker. This high-quality gloss finish improves the waterproof features of your stickers together with the enhancement of the vibration. These sticker sheets can be found at a much more affordable rate in contrast to many of their counterparts.
Features:
Premium quality: Print long-lasting Milcoast Glossy adhesive picture craft paper adhesive tags, markers, signs, and more for your classroom, home and workplace. This paper is manufactured Milcoat water-resistant formula from Milcoast to resist water from this paper and avoid spraying.
Durable & waterproof: Each coating sticks securely and adhesively on the back without removing. Each paper is porous enough that the ink does not wash away when immersed in water and humidity. The vibrant finish captures light and gives your images or layouts a bright, special shine.
Multi-purpose: Water-resistant Milcoast Paper can be printed with stamps, stylos, or pencils, compliable with inkjet and laser printers. This paper is a perfect option for all forms of work and applications, such as maps, charts, posters, signage, ID tags, clinical charts, data panels, permits, guides, and other details.
It is also an outstanding choice for basic leisure uses, including arts, crafts, photo albums, prints, signs, labels, stickers, bottles, jars, etc.
Specifications
letter size 8.5" x 11″ with 100 sheets
repels light water drops
Dimensions 11 x 8.5 x 0.65 inches
Pros:
Smudge resistant and customizable shape
Waterproof
Easy to peel
Compatible with Inkjet or Laser printers
Cons:
Do not provide a warranty
5. Inkjet or Laser Printer online Labels
Labels are normally considerably thinner than bolts. They can even be peeled off more easily and with less effort. That's why you also see them as the material for professional wrapping on soft drinks and related packaging.
The principal sheets here are 12 inches long and 7.5 inches wide in regular format. This product is made of persistent adhesive that allows the adhesive to stay on each surface for a long time.
It also air emissions on common cutters such as Stencil, Fellow, and Silhouette.
This item has no rear brake on the lining, so the cutting mat can quickly be removed. Any order in our research project comes with a rigid plastic processing clamshell to secure your sticker paper sheets during shipment and between applications.
Features:
NO SLITS ON LINER: This does not have binding slits, suitable for use with the digital cutting tools, or even printable adhesive paper - non-yellowed, non-smudge-resistant - indefinitely. It is great for inkjet & laser printers.
Easy to remove: Detachable paper printers are complete stickers without a slit in the rear. The white, light sheet is a matt/non-glossy regular printer paper. The non-permanent adhesive provides durability because it has no traces left behind.
Customizable: You can create the custom product stickers with this, an exclusive online label customer design program. Any order contains your exclusive code on the box list of your order. This matt removable project paper fits the laser and inkjet printers as soon as you are ready for printing.
Multi-purpose product: The activation code for Maestro Label Creator is included with every order. The code will provide you all the information; check the slip on the box. You can work with free wills, such as making a DIY sticker, custom-made stickers, cardboard laboratories, etc.
Both inkjet and laser printers work with these printers, so you don't have to pay for a new press. Internet brands don't produce them on their liners with back-slits. This feature means that they are the best adhesive paper for Cricut and other cuts! They are the best adhesive paper!
Specifications
It weighs 3 pounds.
12'' x 0.8 inches.
Includes 100 sheets.
It's in the shape of a rectangle.
Pros:
Smudge-proof.
Comes with a plastic clamshell case.
No slid or rips.
Easy removing
Cons:
It's not water-resistant.
Buying Guide of Best Printable Sticker Paper

You must print your sticker on an equally sturdy sheet if it is intended to last a lot longer. The paper is a water-resistant or fluid leak, spills, toxins, temperature, and a lot more common.
On the other hand, glossy sticker papers are more versatile in conditions where picture visibility is required. It's easier to highlight the specifics and make the finished product extra vivid. Besides, who wouldn't like the uniqueness of their stickers?
This paper should, of course, be consistent with the form or model of a printer you have. Most inkjet and laser printers can function as sticker papers. So if you want something versatile, then you should know your needs first. Then you are ready to have your own machine for your desired sticker.
How to Use Cricut Printable Sticker Paper?
Make your own exclusive stickers with Cricut Printable Clear Sticker Paper to embellish all kinds of craft or accessories! This sticker paper is fantastic for various projects, either for birthdays or for daily customized products.
A range of materials can be applied to the adhesive-backed paper. The clear sticker paper helps you make personalized designs and match cards, scrapbooks, diaries, journals, crayons, and more to do with your Cricut device. To print patterns, use your home printer to cut the paper through the Cricut device.
Four - five packets.
Use it with your home printer through the Cricut machine.
Size: 22x 28cm (8.5 x 11 inches)
Suitable for all kinds of occasions.
Perfect for making colorful stickers.
FAQ on Best Printable Sticker Paper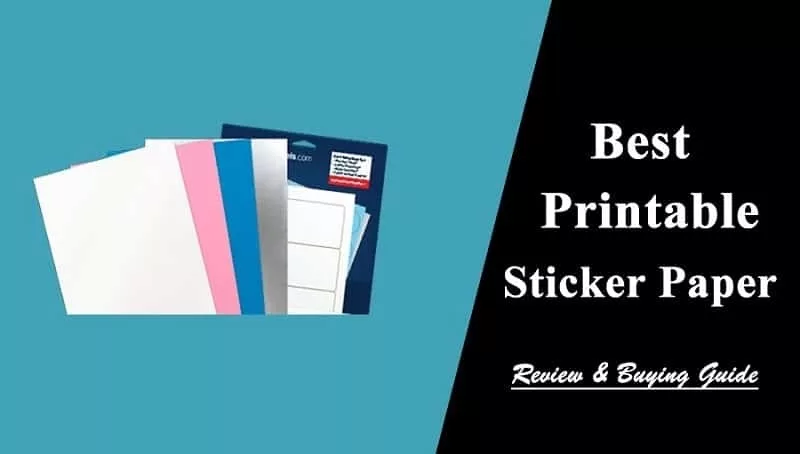 What's the difference between printable vinyl and printable sticker paper?
The biggest controversy about the fabrics used is when it comes to stickers. Either paper or vinyl stickers may be stickers. Each type has its own specific characteristics and advantages. The decision you make depends on what you need.
Sticker paper is A little different from printable vinyl. For items like auto decals, stickers, notebooks, printable vinyl is preferable. Sticker papers are suitable for products like additives and laptops.
How do you use paper Studios printable to remove sticker sheets?
Firstly Cut the paper into sizes and cut it out using high-quality scissors, then decorate the wall with your sweet will! Print out tiny pictures carefully cut across the photo so that no white borders are printed out and stuck to the wall for a quirky look or a children's decor. The Inkjet Printable Vinyl picture paper specifically matches any studio printer type with common inks.
How do you use printer sticker paper?
Initially, you really do need to think of the best medium to print on your stickers. The paper and vinyl stickers are usually printed. The understanding of their differences will allow you to obtain the desired outcomes. If your sticker style needs people who are more inclined to variations and involves more tonal variety, aim for a printer with no less than 5 cartridges.
Any of our favorite sticker printing printers are available here. With any application or image editing program you know, you can build your sticker style. But sticker printing will become expensive if you do not do it right the first few times, much like everything you want to do yourself.
Is Cricut printable sticker paper waterproof?
Yes, Cricut printable sticker paper waterproof. It is also entirely adjustable and compliant with Cricut, Silhouette Cameo, and every other machine cutter available on the market, not only with waterproof but with tear-resistant printable vinyl. Due to the permanent attachment of printable vinyl stickers, they can stand for a good cleaning. However, hand washing is encouraged to keep the decals as long as possible.
Final Words
Identify the correct paper from various materials, colors, dimensions, and more for your individual and career projects. Think about the application field for these stickers and how well they can hold against time and tears before you conclude. As there are so many options, it should be a thrilling journey to narrow the final choices. You should order the smallest unit of your chosen sheets to see if they function with the sample designs! And if you are not sure, you can check the best 5 printable stickers, as I discussed above. I hope it helped you!
Related Post for Printable Sticker Paper Buyers
Buy on Walmart
PAPERVISUAL Printable Vinyl Sticker Paper for Inkjet Printer 20 Decal Sheets Matte White - Walmart Link
Sticker Paper for Inkjet Printer 30 Sheets Vinyl Sticker Paper Glossy Waterproof - Size - Walmart Link
Premium Printable Vinyl Sticker Paper for Inkjet Printer,80 Sheets Matte White Waterproof - Walmart Link
JOYEZA Premium Printable Vinyl Sticker Paper for Inkjet Printer - 25 Sheets Glossy White - Walmart Link
30 Sheets, Printable White Sticker Paper, Laser/Inkjet Printing - Matte, Letter Size - Walmart Link
JOYEZA Premium Printable Vinyl Sticker Paper for Inkjet Printer - 25 Sheets Matte White - Walmart Link
Premium Printable Vinyl Sticker Paper - 50 Matte White Waterproof Decal Paper Sheets for - Walmart Link
Buy on eBay
PAPERVISUAL Printable Vinyl Sticker Paper for Inkjet Printer 20 Decal Sheets Matte White - eBay Link
Sticker Paper for Inkjet Printer 30 Sheets Vinyl Sticker Paper Glossy Waterproof - Size - eBay Link
Premium Printable Vinyl Sticker Paper for Inkjet Printer,80 Sheets Matte White Waterproof - eBay Link
JOYEZA Premium Printable Vinyl Sticker Paper for Inkjet Printer - 25 Sheets Glossy White - eBay Link
30 Sheets, Printable White Sticker Paper, Laser/Inkjet Printing - Matte, Letter Size - eBay Link
JOYEZA Premium Printable Vinyl Sticker Paper for Inkjet Printer - 25 Sheets Matte White - eBay Link
Premium Printable Vinyl Sticker Paper - 50 Matte White Waterproof Decal Paper Sheets for - eBay Link