The demand for printers is undeniable. From the office to school, a printer is a part and parcel. The demand for printers for homeschooling rises higher than before, especially in this global pandemic. We need lots of softcopies daily. Projects, worksheets, lab copies, different documents- you name it!
It's not always possible or user-friendly to use handwritten copies. To add professionalism or seriousness to work, printed copies are more fruitful than handwritten ones, and it is scientifically proven. For homeschooling, children will have more focus when they are provided with printed copies.
It won't be wise to look for cheap printers as they will eventually fall into a bad investment. On the other hand, buying a super costly printer may not bring you extraordinary value.
So, while you're purchasing a printer, you should possess a good idea about printer features in your head.
Top Picks: 5 Best Printer For Homeschool
Table Comparison for Printer For Homeschool
Product
Description
Pantum M6552NW

Print Speed: 22ppm
Print Quality: 1200*1200 DPI
3-in-1 ADF
Connectivity: USB 2.0 and Wi-Fi

HP Color LaserJet Pro M479fdw

Print Speed: 28ppm
Color printer
integrated with Amazon Alexa
Duplex Printing: Yes

HP OfficeJet Pro 9025

Print Speed: 24ppm
Self Healing Wi-Fi
2x faster scanning
Amazon Dash Replenishment service

Brother MFCL2710DW

Print Speed: 32ppm
Monochrome printer
50-sheet ADF
250-sheet paper capacity

Lexmark MC3224adwe

Print Speed: 24ppm
Less noisy
Compact form factor
Environment friendly
Top 5 Best Printer For Homeschool
1. Pantum M6552NW
Features
Bulk printing Laser printers are proper for bulk printing. This printer is 22ppm that means it can print 22 pages per minute. 22ppm is not slow or super fast. It is average and adequate for homeschooling.
Heavy-duty Pantum M6552NW is a 3-in-1 ADF(automatic document feeder) printer, which is super helpful if you have to handle a higher volume of works at a time. It enables working in a scanner, fax machines, and printers, of course!
Refilling system A refill system of 150 pages of this printer can save a considerable amount of time for you. It comes with a wireless connection with a direct printing method and with a pantum app.
Switch between operating systems Both iOS and android printing is possible, along with a USB 2.0 and Wi-Fi connection.
High-resolution DPI(dots per inch) refers to a good printing experience. More dpi indicates a better quality resolution. This printer has 1200*1200 dots per inch. And 1200*1200 dpi gives you good printing.
Specifications
High definition printer
Input capacity 150 sheets
Direct printing for a mobile device.
Pros
It can work as a fax machine, printer, and also as a scanner.
Saves your time by refilling paper.
Works both in iOS and Android.
Cons
One year of warranty you are starting from the date of purchase. Between this period, if any problem arises, contact the provider via Amazon email.
In short, if you're looking for a printer that fits your budget with a respectable speed, this can be the right choice for your light-duty homeschooling.
2. HP Color LaserJet Pro M479fdw
This is an all-in-one printer used by everyone in the family without worrying about the output volume.
Features
High-quality color printer HP Color LaserJet Pro M479fdw is a color printer that can seamlessly print 28 pages per minute to keep high quality.
Automated input Two-sided scanning can be quickly done now. It has a 250 sheet input tray and a 50 sheet auto document feeder. Complicated workflows can be fully automated with this printer.
Touch screen control panel All the steps in a complicated workflow can be configured via the customizable touch screen control panel. This will save your time by reducing manual.
Direct connection This printer lets you print with or without connecting to a local network. You can use built-in Wi-Fi Direct to connect the printer with your smartphone or any digital device directly for easy mobile printing.
Strong security If you are concerned about the security of your printer, this printer comes with best-in-class security. The security features are instant threat notifications and optional PIN/Pull printing, helping to secure the sensitive data sent to the printer.
Energy saver, cost reducer Energy-saving technologies not only save the environment but also save operating costs. HP Color LaserJet Pro MFP M479fdw saves up to 18% energy over other products.
Avoiding reprint problem In some printers, pages stuck while printing, resulting in reprint and wastage of pages and ink. Original HP 414A/414X toner cartridges are designed for a multifunction color laser printer to avoid this problem.
Virtual assistance Another most exciting feature is this printer is integrated with Amazon Alexa. This makes it very user-friendly for students.
Specifications
250 sheet input tray and a 50 sheet auto document feeder.
.Can print 28 pages per minute.
Multifunction color laser printer.
Pros
Saves up to 18% energy over other products.
Secured highly.
Avoids reprint and wastage of ink/pages.
Cons
3. HP OfficeJet Pro 9025
Features
Artificial intelligence What if your printer could order ink automatically from an online store such as Amazon before it runs out. Well, with HP OfficeJet Pro 9025 now, you can enable the Amazon Dash Replenishment service.
Fast and compact This printer can print 24 pages per minute; it has a 35-page automatic document feeder 39% smaller in size. This printer model can scan up to 2x faster than its predecessors.
Superb time-saver You don't have to waste time on repetitive tasks as this printer sync to QuickBooks, Google Drive, etc., which is the easiest way to scan and store your essential documents.
Remote controlling You can access your printer via the HP Smart app, which not only allows you to print and copy remotely but also shows you an update of ink levels.
Self-healing Wi-Fi HP OfficeJet Pro 9025 introduces self-healing Wi-Fi. It ensures you stay connected while performing a task by self-network diagnosis, and it automatically undergoes up to 3-stages of reconnection. This helps you get rid of manually connecting it to Wi-Fi every time it disconnects.
Unshakable security HP believes in protecting your sensitive data. It has some built-in security features such as necessary encryption, document protection, Wi-Fi security, and password protection.
If you buy it from Amazon, you will get two months for free when you enroll in HP Instant Ink.
Specifications
This printer can print 24 pages per minute.
Before the ink runs out, it can self-order ink automatically.
Auto-connect to Wi-Fi.
Pros
Time-saving.
Fast work speed.
It can be controlled remotely.
Cons
4. Brother MFCL2710DW
Do you own a small business, and you homeschool your kid as well? Then Brother MFCL2710DW is the best option for you.
Fast speed with high-quality This is a powerful and efficient printer that can print faster and save time. Brother MFCL2710DW is designed for increased efficiency with the best printing speed of 32 pages per minute. But speedy printing does not mean low print quality; this laser printer will provide you high-quality monochrome printing.
Higher sheet capacity Its dynamic features include 250-sheet paper capacity, which will improve efficiency with less need to refill.
Flexible printing This printer offers you a flexible printing option. It comes with a manual feed slot that can handle a variety of papers and sizes.
Increased productivity An automatic document feeder is very much needed to increase your productivity and save time. It has been designing with a 50-sheet automatic document feeder.
Easy remote printing can be connected with your home Wi-Fi, so you can even print while you are not in your home. It also comes with amazon dash replenishment. So, ordering new cartridges won't be a hassle.
Specification
Printing speed 32 pages per minute.
250-sheets paper capacity.
Handle a variety of paper sizes.
Pros
Fast service with good quality.
50-sheet automatic document feeder increases productivity.
Has artificial intelligence.
Cons
Doesn't support external storage devices.
5. Lexmark MC3224adwe
For a home printer, we always prefer a compact one that can fit anywhere easily.
Fast service Lexmark MC3224adwe is a multifunction laser printer packed with a 1-GHz dual-core processor and 512 MB of memory. This configuration allows it to print up to 24 pages per minute. This printer can contain up to 250 pages, and it has a single-sheet feeder. Lesser noise Some printers produce louder noise while printing, this printer's highest noise range is 49dB. Which means it won't distract you much.
Easy print from device It can connect with Wi-Fi, making it easy to print from your devices. It can also be connected via USB or ethernet. Default app and security Mopria is an app by Lexmark, which is helpful to control the functionality of your printer wirelessly. For Apple device users AirPrint and American are supported by this printer. Lexmark offers a full-spectrum security architecture to keep your information safely over the network and at all points in between.
Specifications
This printer has a 1-GHz dual-core processor and 512 MB of memory.
Noise range 49dB.
Print up to 24 pages per minute.
Pros
Work done faster.
Lesser noise.
Apple devices are supported by AirPrint and AirScan.
Cons
ADF is not auto-duplexing.
Buying Guide of Best Printer For Homeschool
When you're looking for a homeschool printer, you should keep some about printers. Which printer should you buy, which feature is most compatible with your needs, and also a budget-friendly printer for you? Otherwise, you will end up spending money on a thing that has no use for you.
For this reason, a buying guide can help you to make a correct and proper choice for purchasing and guide you in the right direction.
So, firstly what you should focus on is-
Volume Capacity and Speed Capacity:
The capacity depends upon how much printed paper you will need for your daily work life.
If you need more printer paper, you should go for a heavy-duty printer. Else a light duty will suffice you.
How Many Devices You Can Connect with Your Printer:
A printer can be used with one single device with a USB cable or with multiple devices.
As per your requirement, you should search for printers,
Some printers can be connected with one device in the market, and others can be used while connected with multiple devices.
Output Requirements:
Well, you may need blank inked output or a multicolored one.
You may need a simple output printer for regular use or a glamorous one. For example, when you have to produce continuously brochure-type kinds of stuff.
So, depending on these features, your buying should depend.
Single Functionality or Multifunctionality:
In multi-functionality printers, scanning, faxing, copying is integrated along with printing.
And in single functioned machines, you can have printing benefits without any other features.
So, you have to decide which one is suitable for your homeschool and then think about purchasing the right one.
Why Buy a Printer for Homeschool?
Suppose you need to print an important document right now. But, it's midnight, every local shop is closed. What will you do then?
In this type of case, for homeschooling, a handy printer can be your life savior.
You will need a ton of documents, sheets, work-sheets, syllabus, and curriculums in homeschooling. To manage all this stuff, a printer is a must. Ultimately, this printer will help you organize your work for you and save a significant amount of time.
Children are more attentive to paper than to phone or pc or any screen. To bring back attention to education, a printer can help produce paperwork and benefit children and teachers.
Having a printer is also suitable for health. Are you surprised? Do you think printers can have any relation to health?
Well, digital screen exposer for a lengthy amount of time is harmful to the eyes. Especially for children, this is way more badly effective than elders in their developing age, so using printed papers can protect them from harmful rays of devices.
If you contemplate the factors mentioned above, you will indeed consider purchasing a printer for your homeschool.
FAQ on Best Printer For Homeschool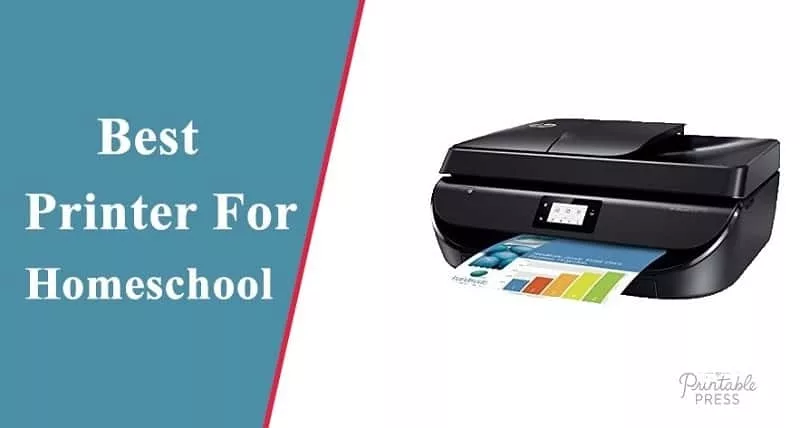 Can I use my printer with Wi-Fi?
You can quickly know this by reading the handbook that comes with your printer. Generally, if your printer has a "W" on the title, that means it can be connected with Wi-Fi. But, remember, this "W" can also mean white. So, check properly before buying.
What is DPI?
It refers to "Dots Per Inch". It is a way of measurement of the resolution of the scanned document or your printed document. The higher the DPI, the higher the dot density. That means, the better quality of printed copy.
Why does paper stuck in the machine?
There can be multiple reasons. The two most common reasons are- (1) Low paper quality and (2) Thick paper. Avoid overfilling the paper tray. Your printer can jam, if you insert wrong size of paper.
Will your operating system support your printer?
If your machine is from new generation, then your operating system might not support the printer. It is better to check the features listed in the handbook before you buy.
Why is my printer producing steam?
This is not a very uncommon phenomenon. It occurs mainly when your paper is damped. But if you can smell any smoke, then turn off the machine and seek experienced help.
Conclusion:
For homeschooling, the printer is part and parcel nowadays. You can not think of your schooling without an excellent printer. A quality printer can reduce your workload and also enhance the quality of teaching.
When you are buying a printer, remember the requirements and features. you can choose printers from above if you want to.
Without preparation and without considering compatibility with your desired work, you should not buy any stuff included a printer.
Because that can cost you unnecessary spending of money and is sheer wastage.
Knowing every pros and cons, every bit of your printer, invest your money on it.
And enjoy!
Recommendation: