A transfer paper is also popularly known as Inkjet Transfer Paper. It is used to transmit texts, images, or combinations of the two onto fabrics such as t-shirts, tablecloths, pillowcases, cotton bags, aprons, and hard surfaces like wood. The transfer paper creates high-quality customs on your t-shirts or any other garment type. The good thing is that it is easy to use and apply the images you want on your t-shirts for your function or sale. Read the article to know How to Use T-shirt Transfer Paper.
Technological advancements have played a crucial role in the artist industry. This is because you can decorate t-shirts using the images that you create and print from your computer. You only need to design unique ideas, print them on a transfer paper, and then transfer those images from the transfer paper to your t-shirts by heat. The process is simple, as we will explain here.
However, you can purchase the packaged transfer kits at the art store, crafts store, or big-box retailers. These kits include things such as transfer paper, image software, and some fabrics.
What to Look For When Choosing Heat Transfer Paper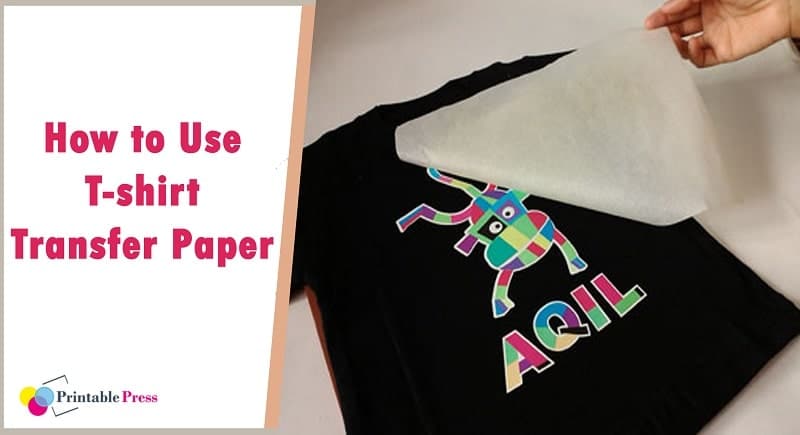 Getting the suitable heat transfer for your task is an essential step since it will determine the results. It will also save you some money and prevent you from messing up with your transfer image. These factors are:
Which Type of Printer Do You Have?
Is it a laser or inkjet printer? These two printers are not cross-congruent with each other. Therefore, if you are using an inkjet printer, you require inkjet transfer paper for t-shirts. If you are using a laser printer, the most appropriate paper is laser transfer paper.
Don't worry if you don't know the type of printer you have. There is a label on the printer's surface referenced either as an inkjet or laser. If there is no label, you can scan your printer's exterior to see the brand name, and in case it doesn't show, then you can Google Search.
What is the Color of the T-shirt You Want to Print?
Do you want to print dark-colored t-shirts, light-colored garments, or both? It would be best to consider this because dark-colored garments need a transfer paper different from light-colored fabrics. This is because dark fabrics need a transfer paper with a white backing for accurate and precise colors, while light garments require transfer papers with a vivid transfer layer with the garment design.
Don't get confused at all. Just know the fabric color you want to print and use the right transfer paper.
What Artwork Type Do You Want to Print?
Do you want to print high detailed photos or vector-style designs? Vector graphics are illustrations or image designs that you can create with programs like CorelDraw or Adobe Illustrator.
If you want to print vector-style graphics, you can use any transfer paper, inkjet, laser, light, or dark fabrics. In case you want to print photos, the best option is inkjet transfer paper.
How to Make T-shirt Transfers on Computer
Creating homemade transfer paper for t-shirts is not much complicated. This guide will help you on how you can make your t-shirt transfers direct from your desktop.
First, you will need to find the image you want to transfer or design your image using the software program. Then, if you already have a picture of the image, you can scan it into your computer or search on the internet for the image you want.
Iron on Transfer Paper Instructions
Please do not use an old picture or any picture you come across on the internet since you need to have the right to use a particular image if you want to reduplicate it and sell. If you wish to do so, follow this procedure; on your Google page, click Search Tools- Usage Rights- Labelled For Reuse, and you will have acquired the rights to use that image.
Transfer images with dark colors usually come out better compared with light color images. It is also essential to note that standard at-home printers do not print white color but instead leave a blank area since they assume that you are using white paper to print the image, and the white paper will be reflected on the image.
Light-colored parts of the image will be distorted or discolored after being ironed onto fabrics since the t-shirt color mixes with the light coloring. However, you will get incredible results when you use dark, solid colors because they contrast nicely against the t-shirt, giving a darker, non-transparent color to be printed out.
You can use software to edit the image, resize it, alter colors, add effects, or make any other change you deem proper to come up with a perfect image. This image can be from the internet, your image, the image of your child, an animal, or anything you want as far as you can print it from your home printer and you have already acquired the rights to use that image, then you can transfer it onto your t-shirt.
If you are printing light-colored t-shirts, you need to mirror your images to ensure the final product faces the right direction instead of backward when ironed onto your t-shirt. Before printing the image from your computer, ensure you have flipped it. Image flipping is essential if your transfer image has some words because of failure to reverse it; the words will appear on the back of your t-shirt. To mirror the image on your desktop, use Flip Image Horizontally, Reverse, or Mirror commands.
Ensure you use the right transfer paper to get incredible results from your transfer. Transfer papers come in two different types, namely: those used on dark-colored fabrics and those used on light-colored fabrics.
Before you do the actual printing of your transfer image onto the transfer paper, carry out a test and print it on standard paper. It will allow you to see whether the image colors appear the way you want and see if you have printed the whole image or some sections are cut out. This is because the way the image appears on the desktop screen may not be the same when printed. Also, ensure the image is on the right page's side.
How to Use T-shirt Transfer Paper Step by Step
Now that you know how to make t-shirt transfers on your computer, we will take you to use the t-shirt transfer paper step-by-step.
Place your t-shirt on a hard, flat surface, and iron it if it has wrinkles. Remember to use a heat-resistant surface and should be large enough to accommodate the whole transfer area.
Cut the transfer image into the shape you want so that you can be able to position it accurately on your t-shirt. In addition, it will give you an easy time when transferring the image.
You need to protect your t-shirt from the transfer by placing a folded-up brown paper bag or cardboard piece inside the t-shirt just beneath the area where you will iron the transfer image. The barrier created between the t-shirt two pieces will help prevent the iron heat from transferring the image on both sides of your t-shirt.
How to Iron on T-shirt Transfer Paper
Gently place the transfer image on the t-shirt, position it the way you want it to be, and iron it. Carefully follow the iron-on transfer paper instructions highlighted above. To iron, a transfer image is not the same as usual ironing, which uses an ironing board since iron-on transfer requires more direct heat. Using iron boards would not be more effective because ironing boards' function is to diffuse and spread the heat. It would help if you ironed transfers on hard surfaces such as wooden boards or Formica since they retain heat better than other surfaces. Make sure your iron is in the hottest setting possible to transfer onto your t-shirt efficiently. Ensure you don't use steam since it can affect the transfer's ability to stick to your t-shirt.
Distribute the iron heat evenly around the transfer paper, mainly target the image's outside edges and then inward to the image's center. Gently apply pressure for around three minutes and ensure you move the iron around to prevent the paper from scorching, which may end up burning the transfer image. Ensure the transfer edges are well attached before you proceed to remove the backing paper. If the edges are not adequately stuck on your t-shirt, continue ironing the transfer edges until they are fully attached while applying even and steady pressure on your iron.
After your transfer image is fully attached, please turn off your iron and allow it to cool for several minutes. Please do not take off the transfer paperback before the image has thoroughly cooled since you will ruin it.
Cast off the backing paper gently starting from one corner. Wash your t-shirt after at least24 hours to give it enough time to set off. If you wash your t-shirt before the elapse of those hours, there are high chances of ruining the transfer image. Ensure you wash and dry your t-shirt on a cool setting to add more protection to the image you have already transferred. This is because your t-shirt will last for an extended period depending on the care you give it while washing and drying it.
Alternatively, you can wash your t-shirt by hand instead of using a washing machine. First, gently clean your t-shirt with light detergent, and don't bleach it. After washing it, do not use a drying machine to dry your t-shirt. Instead, hang it to dry. This will ensure that your transferred image will last for an extended period.
That is the guide on using t-shirt transfer paper and making t-shirt transfers on a computer. As you can see, the process is easy, and you can comfortably do it.
Don'ts when Ironing your T-shirt Transfer Paper
Here are some of the common mistakes that you need to avoid when using iron-on transfer paper since they can cost you more:
Do not forget to reverse the image
Print on the sheet's non-coated side
Do not iron for long
Do not use an iron that is not hot enough
Do not iron the image on an even surface
Ensure you apply exact enough pressure when ironing
Final Verdict
With the advance in technology, now inkjet transfer papers for t-shirts are better than before. They are essential since they will help you develop high-end custom t-shirts and garments. Moreover, as seen above, using t-shirt transfer paper is easy and ideal for beginners.
You start by creating an image of what you want to transfer on your computer, print it on the transfer paper with either an inkjet or laser printer, and then place it on top of your t-shirt and gently apply pressure and heat.
Recommendation: