There is a lot that the printing industry offers, and it has not lost its significance. The world of printing is widespread, and you need to grasp every concept involved in the process. With new printing options and inventions gracing the industry, you should be well-acquainted with digital printing. A question raised How to Reverse Print in Word?
It covers various techniques, and it's vital for printing letters, newsletters, posters, signage, menus, and labels. Digital printing saves time and money as you can make as little as one print. To make your printing project come out right and satisfying, be well-versed with different terminologies used in the field.
Probably, you have heard, read, or know a lot about reverse print. If not, read on and gather vital information to guide you in your printing endeavors.
Everything to Know about Reverse Printing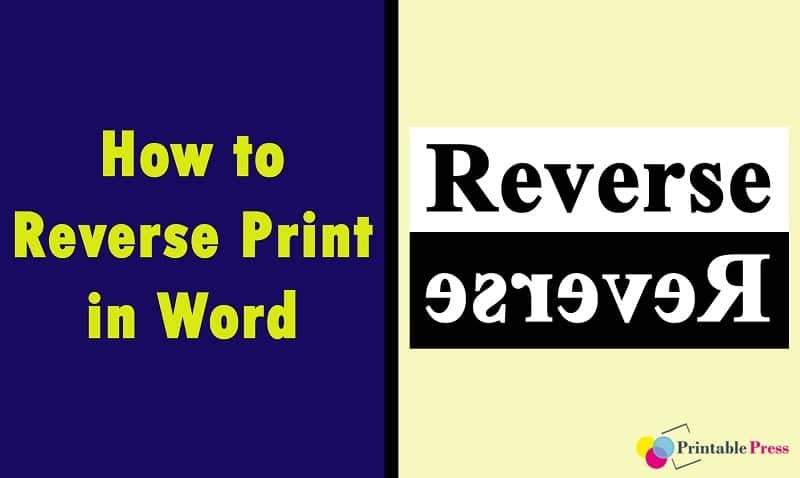 Print options vary, more so depending on the printer one is using. You can access many of these printing options in the Print Dialog Box on your printer. You can as well rely on your Word document to access more print options.
Surprisingly, when you utilize the Word print option, you will replace any options you choose in your printer. One of the unique print options that will grasp your attention is to print pages in reverse order. If it's your first time to come across this option, you will probably wonder how to reverse print order in word 2013.
Reverse print is the best option to go for when you are printing multiple-page documents. It's pretty convenient, and you will print as many pages as possible and in the correct sequence. Your final documents will be collected, arranged, and assembled accurately when reverse printing.
When printing your documents or files in Word, you can print them either forward or backward. However, this exercise will depend on the type of printer you use. In the printing industry, a reverse print is any graphic or text that has been produced using ink to form its unique outline.
This process allows the underlying paper color to create the actual image. To reverse or mirror a text in a document, you must enter it in a text box. Once you flip it, you can remove the appearance of having used a text box by getting rid of the outline.
The reverse print technique has also been handy in fabric printing projects. For instance, a mirror text can be transferred into a garment using heat and pressure. There are multiple options to know, ranging from the type of printer to use to Microsoft WordArt.
Have you ever undertaken a heat transfer paper project to print a text or image on a fabric you can read in the mirror? If yes, then you are aware of reverse fonts and what reverse printing brings about. However, there is a lot to know about how to reverse print images in word 2007.
Whenever undertaking a printing project, there is always a rewarding and correct way to print documents in Word. And when it comes to a reverse print, here are a few benefits to motivate you in your projects. Have a look:
It is a convenient way to print a bulk of files.
Cost-effective option to print as many documents as you wish
It saves more time because you don't have to spend a lot of time sorting and rearranging the printed copies.
Creates consistency as you can print in the correct order.
Improves work efficiency if you are operating a printing business.
Printing Mirror Image Hassle-Free
If you are a novice in the printing world, you may be wondering whether it's possible to print in mirror-image format and create iron-on transfers. Indeed it is possible and a less daunting task. It would be best to learn how to print a mirrored image or text using Windows or Mac applications.
Once you know how to reverse print images in Word, you will find it easy to transfer text to fabrics and iron-on transfer papers. Microsoft Word does a good job when printing documents, and you should embrace these skills in printing onto wax or parchment papers. Remember, everything is reversed on the printout, and there are several factors to consider. Have a look:
Check Your Printer Settings/ Properties
Before you learn how to reverse print image text in Word and undertake such a project, check your printer settings. Printers used in the printing industry vary and come with various features. It's wise to check whether your printer has the reverse part.
Unfortunately, many printer manufacturers give these features different names. Some of the common terms used to define this feature include:
Reverse
Mirror image
Backprint
Flip horizontal
Before you decide to use another method to flip a text or artwork, check to see if your printer supports reversed output. Click on printer properties and follow the provided steps or instructions.
Use Reliable Online Reverse Text Generator
How to mirror text in word 2010 shouldn't be challenging if you rely on online reserve text generators. You will find online platforms that allow you to type a text or insert an image you want to reverse print. These free tools will instantly convert your image or text into a backward version of the original image or text.
These tools give outstanding results in seconds and with less effort. It's convenient and accessible to any user. You can use these tools whenever you wish, and on any text you want to reverse. Here are comprehensive steps on how to use a Reverse Text Generator.
Copy the text you want to reverse.
Paste it in the blank box.
Choose if you wish to flip, reverse, or revert the text.
Wait for a few seconds for the process to finish.
If you are ready to reserve print your documents, you should tick every step involved right. There is no room to make errors, so you need to be cautious about undertaking this printing project. HP printers are widely used in the printing industry thanks to their all-in-one features, high-yield ink options, and efficient printing speeds.
With this in mind, I don't have any uncertainties knowing how to reverse print images on an HP printer. Follow every detail on how to mirror an image or text in Windows or Mac operating systems. Read on and learn how to print reversed images or texts.
Reverse Text and Image on Windows
Windows 10 is one of the most convenient operating systems widely used in the world. Its user experience and functionality are unparalleled. It's more satisfying if you didn't have any worries using Microsoft Word to reverse print texts or images on windows.
Knowing how to reverse print image Windows 10 makes it easy to undertake printing projects stress-free. However, it's the ability to reverse print, making it a worthwhile operating system to install on your computers.
You can quickly and consistently print mirrored images or texts on a windows PC. Follow a few steps below:
Go to Microsoft Word and click on the "Insert" tab.
Select the "Pictures" option and add any image you like to the document. Use some of the images saved on your computer.
Click the "Format" tab. Standard image formats to print include PNG, TIFF, BMP, and JPG.
Click on "Rotate" in the arrange group. Flip the image on any of the provided options and reverse it.
Now that the image is reversed. Click the printer icon to open your print options or preferences. Then print the image.
Alternatively, you can use the single command that forces a printer to reverse print an image or text. Here is how to go about it:
Open Word and click on "Options">Advanced.
Scroll through the group and stop on the "Print" section.
To reverse print a text or image, select the "Print Pages in Reverse Order" check box.
Click "OK" and exit the Options section.
Reverse Print in Word on Mac
Every component on the Mac operating system is optimized, so don't stress if you want to print a mirror image. Clear your doubts today if you don't know how to reverse print in Word on Mac with these helpful steps:
Open the graphic or photo in preview.
Click on the "Tools" menu.
Then click on "Flip Horizontal" on the menu. You will flip the entire text.
Print your image. Now your text is reversed.
Go on and select "Print" and click "OK." You will print your mirrored text.
Reverse Print Image PDF
Many people widely use PDF (Portable Document Format) to save files that cannot be altered and need to be easily printed or shared. It's a reliable format compatible with Windows, Mac, and other operating systems. When using PDF, it's easy to integrate non-text elements, images, and hyperlinks.
With every person using PDF today, it may not be easy to know how to reverse print image pdf. The good news is that there are a few steps you can follow and mirror images or texts. Have a look:
Click the "Open File" icon to load PDF.
Click the "Edit" button, and select the image.
Click "Overturn Horizontal" or "Overturn Vertical" to mirror your image.
Edit the file as you wish.
Click the "File"> "Save As."
Click the "Print" button and print your mirrored PDF image.
How to Reverse Print Text in Google Docs
A Google doc is a vital tool that makes it easy to create digital content. While using this tool, you can easily edit a document while others can spontaneously see the changes you make. Significantly, you can automatically track the changes you make on your document and return to the document's previous version.
You can also use Google docs from anywhere and on your phone, laptop, or desktop. If you don't have the internet, you can still use it offline and upload the document later. Despite the many benefits of using Google docs, many people may not know how to reverse print text in Google docs.
There are a couple of procedures you can reverse print text in Google docs. However, you should choose the most convenient method, and it involves:
Click "Insert," then "Drawing," and "New."
You will find an "Action" tab.
Click on the tab and select "WordArt."
A small text window will pop up, and you can insert the text you want to reverse.
Enter to save if you want to use more lines of the text; press Shift+Enter.
To reverse your text horizontally, put your cursor on the center-right square on the text box. Then drag the text to the left.
Click "Save" and close it for the text to appear in Google docs.
Print your reversed text.
Final Thoughts
It shouldn't be that daunting to reverse print in Word if you have the skills and are determined to excel in your endeavors. Whether you are printing on Windows, Mac, PDF, or Google docs, there are incredible steps you have to follow. With thorough practice, you will use this knowledge to undertake different printing projects.
Recommendation: