You might have gone to a store and bought a polyester shirt only to realize it is baggy for you. You don't need to worry since you can shrink it without going to the store to ask for a smaller one.
It is very hard to fit correctly on a garment made from polyester fabric, but there are some ways to shrink polyester.
Is It Possible to Shrink Polyester?
The short answer to this question is yes, it is possible to shrink polyester. However, the amount of shrinkage that will occur depends on a number of factors, including the type of polyester and the method used to shrink it.
Generally speaking, polyesters made from petrochemicals can be shrunk more easily than those made from natural materials. The most common method for shrinking polyester is to heat it in an oven or a dryer. However, if you are careful and use the right temperature, it is also possible to shrink polyester using a steam iron.

When shrinking polyester, it is important to avoid overheating it, as this can cause the fabric to become brittle and lose its elasticity. Also, be sure to check the care instructions for your garment, as some types of polyester are not meant to be shrunk.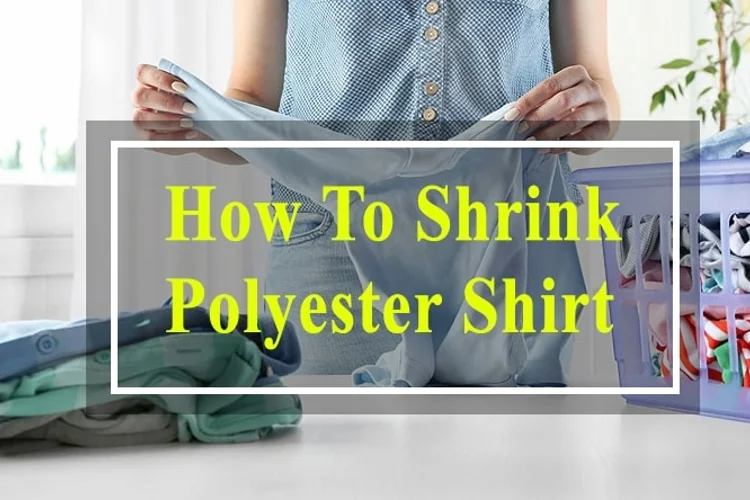 Why Do You Need to Shrink Your Polyester shirt?
1. Recycling old shirts
Polyester is a durable fabric that you can invest in for decades. If you need to recycle your old garment from time to time, you can do it by shrinking it. The process will make recycling more comfortable to get through.
2. Proper Fitting
Polyester clothes tend to be baggy, and you need to modify them to fit better. Most people love fitting clothing to give them a better look. You can shrink the shirt to bring it to size.
Best Ways to Shrink Polyester Shirt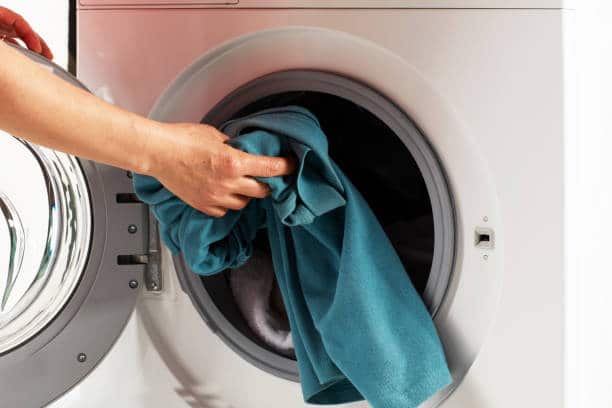 Shrinking a Polyester Shirt Using a Dryer
Before putting the shirt in the dryer, ensure the pocket doesn't have things such as clips and coins, which tend to get stuck in the dryer. Keep turning your shirt inside out to prevent its prints and colors from getting affected. Set the washing machine for the right shrinkage temperature to avoid messing up its color fading.
To prevent the shirt from heating, don't put multiple polyester garments in the same dryer. You can also consider the longest washing cycle. The heat is the leading cause behind shrinking the polyester shirt. Make sure the maximum temperature is 81°C or 178°F.
Be patient until the wash cycle is completed. When it is out of the machine, let it cool down and then check for any shrunk parts. In case you are not satisfied with the shrinking, you can repeat the process.
Caution: It is not recommended to keep repeating the process frequently. The shirt tends to fade its color over time. Plus, using the dyer method can cause wear and tear in the cloth hence reducing its durability.
Shrinking a Polyester Shirt Using Boiling Water
This method works effectively if the polyester shirt is wet. The steps are easy; first, you need to turn the shirt inside out and get the boiling water ready. There is no specific boiling point that will work on any polyester. You need to consider the shirt's size and thickness.
Place the shirt in the boiling water so that the hot molecules can break down the polyester fibers. It leads to a shrinking in its overall structure. It requires time for this process in about an hour.
Caution: Use a heatproof utensil such as a wooden spoon when putting the shirt inside the hot water. It allows you to quickly submerge the cloth. Don't fill the pot up.
Shrinking Polyester Using Iron
Wash the shirt well with hot water in the dryer before placing it under the iron. Ensure the temperature is standard to avoid hampering its texture. Longer washing cycles and hotter rinsing methods are recommended for the best shirking results.
You need to prepare the ironing board by placing a cloth on it. Spread the washed and rinsed shirt by turning it inside out to protect the outer layer designs. Add a cotton cloth on the top where you will be pressed. This prevents the heat from damaging the polyester's texture.
Before starting to iron, set the temperature to medium or low. When the iron is hotter, it tends to make polyester stiff. Apply more pressure on the shirt to ensure all the moisture has escaped as well as shrinking.
Caution: Make sure you set the temperatures at lower temperatures to prevent damaging the garment beyond repair. The cloth needs to be wet before ironing, so don't place it in a dryer. Don't keep repeating the process even if you do not get the desired results. Keeping on ironing can lead to color fading and long-term damages.
Different Types of Shrinkages
There are few things you need to consider before shrinking your poly shirt.
1. Shrinking a Polyester Blend Shirt
If the shirt has a care label that indicates a polyester blend on it, then the chances are that the garment has an equal amount of polyester and cotton fabric. It is easier to shrink a blended shirt than 100% polyester as it requires less heat to get the cloth to its right size.
2. Minimal Polyester Shrinking
Suppose your shirt requires minimal shrinkage, just a simple wash in a washing machine and dry using a dryer to do the magic. Use of laundry detergent is not necessary if the cloth is not dirty. It works significantly if your polyester is blended with cotton.
3. Moderate Polyester Shrinkage
For a polyester shirt that is not blended to cotton, you need to use a higher heat temperature for optimal shrinkage. It is perfect for a polyester garment that requires extra shrinkage.
4. Maximum Polyester Shrinkage
High heat is required to shrink your 100% polyester shirt because it is a synthetic fiber that resists shrinkage. You can use an iron with high temperatures to get the most shrinkage for your shirt.
How to Care for Polyester Shirt after Shrinking
After achieving your desired size, there are several measures you need to take when washing and drying to make it remain soft, vibrant, and comfortable.
When washing it, use the permanent press setting on your washing machine. It cools the material before turning to prevent it from wrinkles. Make sure you turn the shirt inside out when washing to prevent it from fading. Use a warm setting on the washing machine when washing the polyester. The hot water does make the shirt not only clean but also further shrinkage.
You can use a liquid fabric softener while washing or drying the garment to eliminate static cling. Ensure you dry it on low heat to prevent further shrinkage. You can also hang the shirt on a cloth line to air dry.
Tips When Shrinking Polyester Clothes
1. Read instructions
It is vital to read the hidden tag on the shirt to check any rules you need to follow when washing it. Go through it to find out the fiber on the shirt. It will guide you to know how easy or difficult it is to shrink the polyester shirt.
2. Laundry bag
If you are going for the dryer, ensure you put the washed polyester shirt in a laundry bag. You can make one for yourself by tying up a pillowcase and placing the garment in it. You can now use this in the dryer for 10 minutes to give fantastic results.
3. 100% struggle
Any fabric made of 100% polyester fabric is extremely hard to shrink. It doesn't react to bleaches, regular detergents, and temperature differences. It is almost impossible to manage the amount of shrinking with naked eyes. You need to be careful while purchasing a polyester cloth since it is difficult to modify its structure and texture.
FAQs
Here are some of the most asked questions that will help you in a shrinking polyester shirt. You will learn what is needed of you in case you don't know.
Does a 100% polyester shirt shrink when washed?
Polyester fabric does not shrink easily. If you follow the instructions on the label, then it will not shrink.
Will polyester shrink in the dryer?
You are required to pour hot water all over the shirt and then throw it into the dryer for best results. By just throwing it into the dryer without adding anything, then it will not shrink.
Can you wash the polyester shirt in hot water?
Yes. High heat can shrink your shirt. You are recommended to use cold water when washing your polyester garments.
How can I shrink my polyester shirt without a washing machine?
In case you don't have a washing machine, then you use an iron. It is efficient, just like a washing machine.
Conclusion for Ways To Shrink Polyester Shirt
Shrinking polyester garments will help you recycle or refit your old shirts. Besides, the process is very delicate, and you need to be careful with the best shrinking process. The polyester fabric is durable, and you need to follow the right steps and proper heat setting on your clothes washer, dryer, and iron to shrink it without damage. Otherwise, the texture and color will be compromised.
Although the process may be arduous and tricky, doing it right leads to satisfying results. Now that you have known how to shrink your polyester clothes, you can shrink as many as you can. Don't be worried again about a shirt that is too big for you.