If you spend a lot of time on your desktop, you very likely do not get a lot of your tasks done on time because there's no drive.
To get rid of boredom, all you might need is a Windows 10 desktop which keeps you entertained and motivated.
Sure there are lots of Windows 10 Themes available for download online. But,it is a good idea to customize your desktop with something different.
So, what alternative do you have to give your desktop a fresh look? The Rainmeter is our favorite of all the customization tools available on Windows10. Never heard of it before? Here is a little overview of what a Rainmeter is.
Why Best Skins from Rainmeter?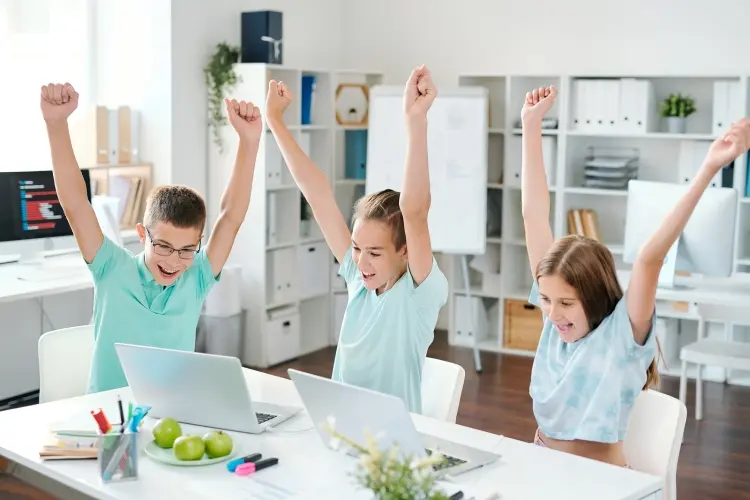 Rainmeter is a desktop customisation software for Windows operating system. With this powerful software, you can have customizable skins on your Windows desktop. It has a lot of different functions. The functions include giving you basic information about your system hardware and audio player. You can also print your favorite skin out to hang it on a wall as a picture.
Rainmeter is a free desktop customization tool that gives you the power to transform your desktop outlook. With this, you can display extra information including a Clock for telling time.
Display Network statistics, processor usage and even Email details on your desktop screen. You can tweak it to fit your personal preference thanks to the impressive variety of skins.
This free tool is available on all Windows versions. All you need to do to get started is have it installed on your Windows PC. It is also possible a skin can be made using a good scanner.
But, it could be very stressful trying to find the best skins yourself. Not to worry, we have compiled twenty best Rainmeter skins.
List of Best Rainmeter Skins for Windows PC in 2022
This will help you get started on your journey to improving the outlook of your desktop. Let's get started.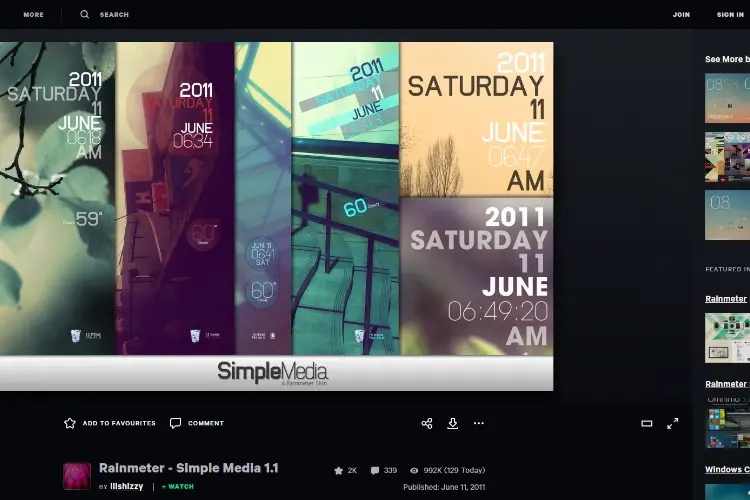 Are you are a music lover who wants to have ultimate control over your listening experience? The Simple Media Rainmeter skin is definitely for you.
It features extra elements from Token and Enigma skins. Simple Media also comes with a set of components which allows you to customize your media player. So, you can have it the way you want to. There are also modules for weather, date, recycle bin and time.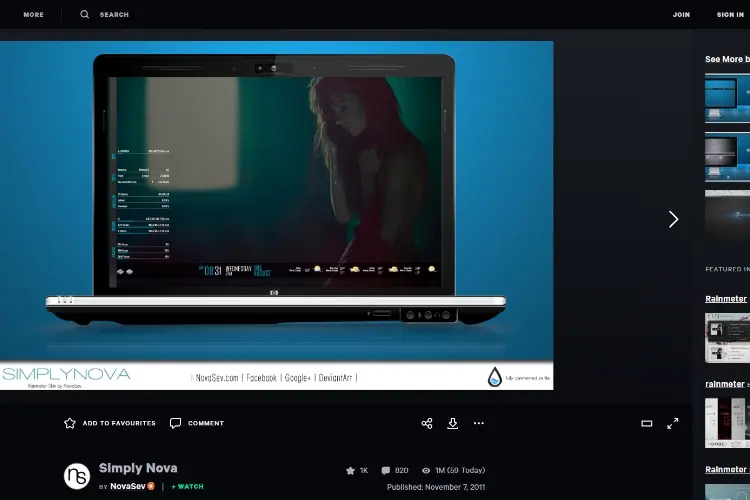 This Rainmeter skin is quite old but remains a favourite among a lot of Rainmeter lovers. This Rainmeter skin deserves to be on our list of best Rainmeter skins. Especially as its impressive features earned it a tag of Skin of the Month when it was first launched. It also had as much as 450,000 downloads around that time. This skin lets you view RAM/ CPU/ Disk Usage, weather conditions. You can also view your IP Address, date, time and network bandwidth usage.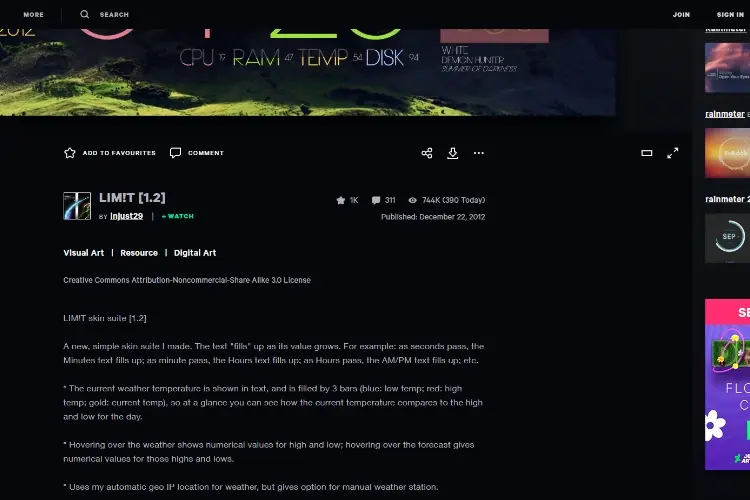 Searching for something fresh and straightforward? Then you would fall in love with Limit Rainmeter skin. This skin has simple features that are scalable to fit the screen of your desktop. Its most prominent feature is "The text "fills" up as its value grows" which attracted a lot of fans. Since the data for each skin is in a grey font, it becomes filled with colour as the individual values rise. So, with a quick glance at your desktop, you can view a lot of data.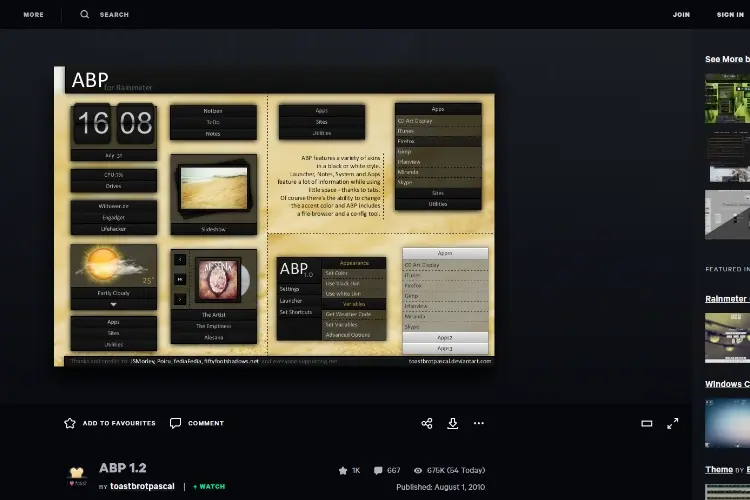 With its beautiful layout, volume skin and new search skin, it is not hard to see why ABP 1.2 makes our list. Its configuration tool is like that of the Tabmeter 2, as it is set in white and black colour. Impressive features in this Rainmeter skin include ToDo RSS Reader, weather. There is also a display of system information and apps.
5. Windows 9 Single Mark 4 - Skin Link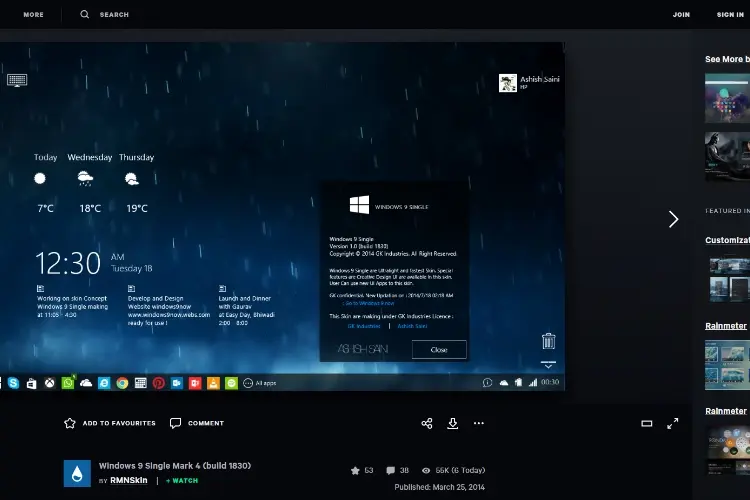 When you think of engaging and uncomplicated, the Windows 9 Single Mark 4 Rainmeter skin pops up.
The skin comes from the Windows OS concept and doesn't disappoint when it comes to changing your desktop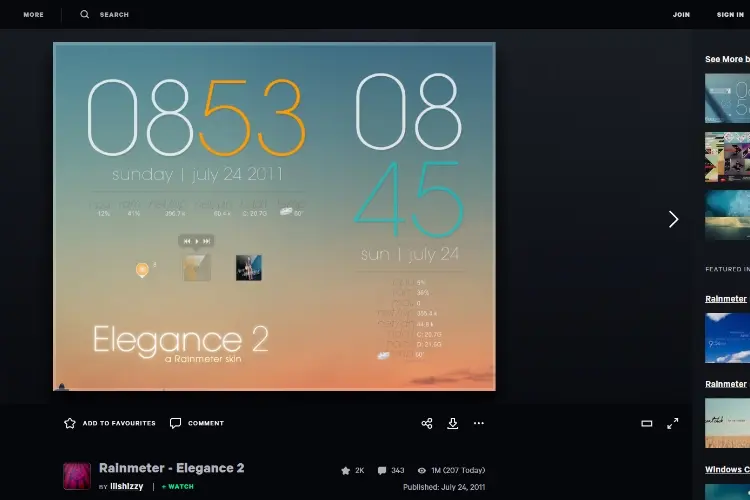 With this update to Elegance by Lilshizzy comes some pretty impressive new features. The Elegance 2 gives you almost every detail about your PC on your desktop. This skin does all these without cluttering your desktop.
This easy to customize Rainmeter skin can be set to your preference. Whether you wish to change its colour, orientation or size, is up to you. Features include information about your hard drive, date, time, recycle bin. Email, weather, CPU and now playing player are also accessible.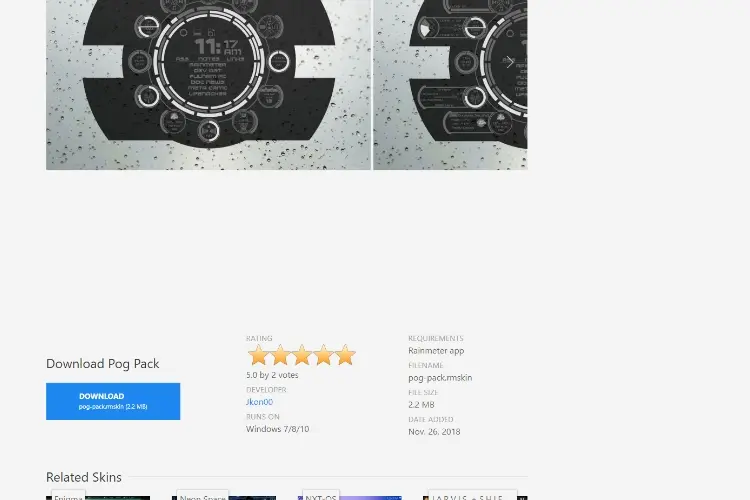 Pog Pack gives your PC desktop a whole new outlook with both digital and analogue views. This Rainmeter skin requires an installation of Enigma suite. It also requires Rainmeter of not less than version 1.3. With these, you will get the best out of this skin. With about ten different variables, you can customize as you wish.
8. Neon Space Rainmeter 2.4 - Skin Link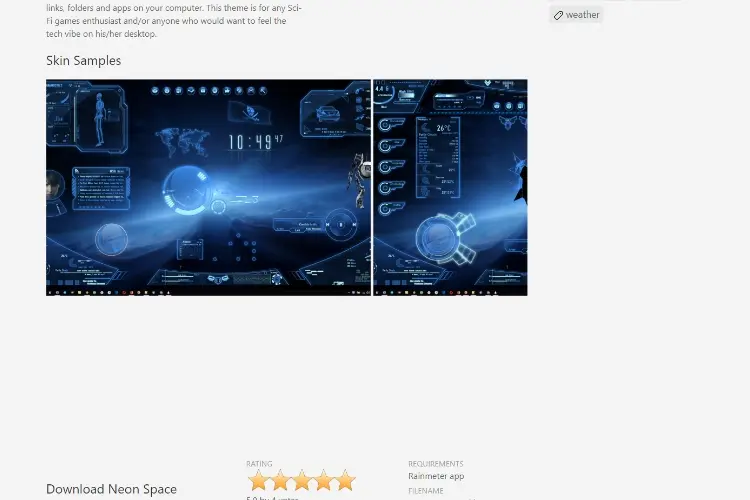 With the Neon Space Rainmeter 2.4, your Windows desktop gets glassy and 3D effects. What we love about this Rainmeter skin is that it loads pretty fast and supports a variety of languages. Installing this skin gives you access to features such as weather, audio visualizers. You also get audio players including Spotify and customization of fonts.
9. Blue Green Fresh - Skin Link
This cool Rainmeter skin gives a soothing feel when installed on your desktop. It contains music players, browsers, information about your CPU, RAM and hard disk drive. It also allows you to edit your important notes right on the skin. Keep track of your activities and enjoy other cool features with this Rainmeter skin.
10. Pileus Suite - Skin Link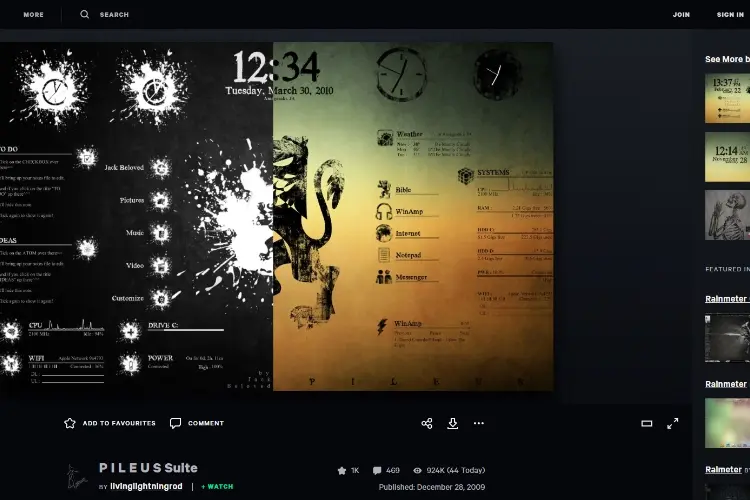 Pileus Suite includes information about weather, important notes, RSS Reader, music players. It also contains system launchers for folders. This Rainmeter skin appeals to lovers of anime.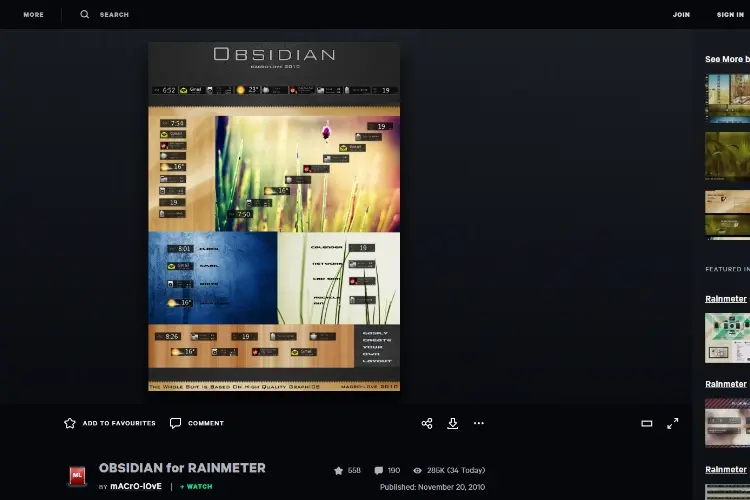 The Obsidian Rainmeter skin comes in the form of widgets on your PC. It gives you access to various information including a clock. Other features include, WiFi, calendar, Gmail, RAM and hard disk usage. This customisation system gives your desktop a unique feel. This skin certainly deserves a spot in our list of best Rainmeter skins.
12. Darkness Fall - Skin Link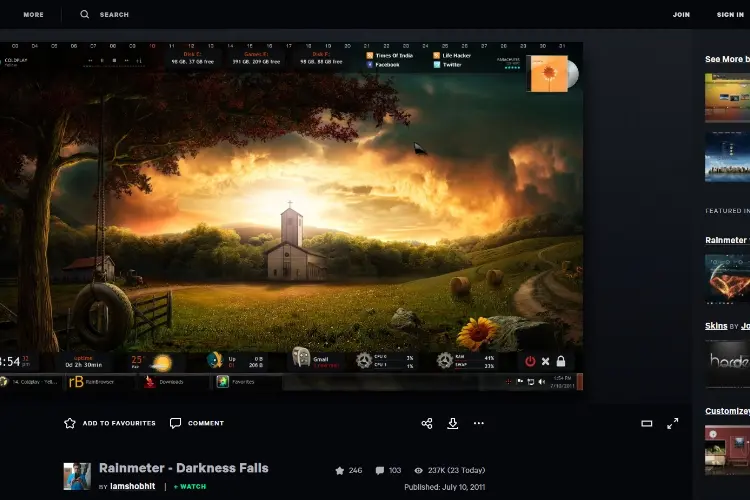 This skin has impressive apps such as Object Dock, calendar, windows blinds and CD Art display. It comes with a fantastic landscape that changes the outlook of your desktop. This skin take your desktop from drab to wow.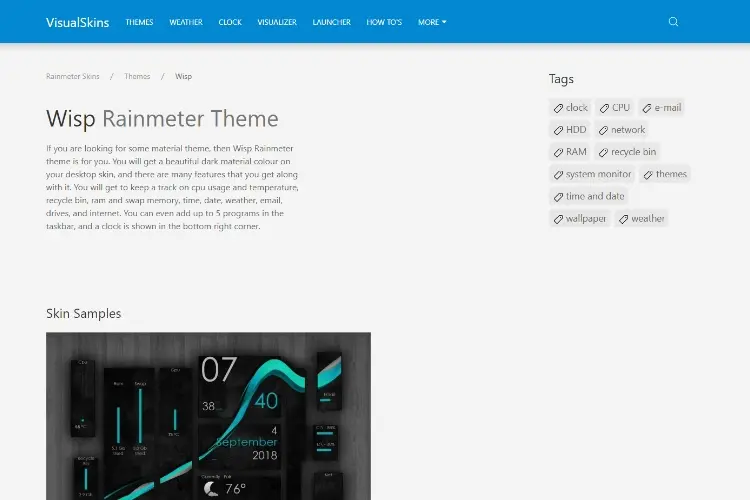 Wisp is a classy but straightforward Rainmeter skin. IT includes modules for network monitoring and CPU usage. Also available are temperature monitor, Email, weather, date, and recycle bin.
14. Monochromatic Redux - Skin Link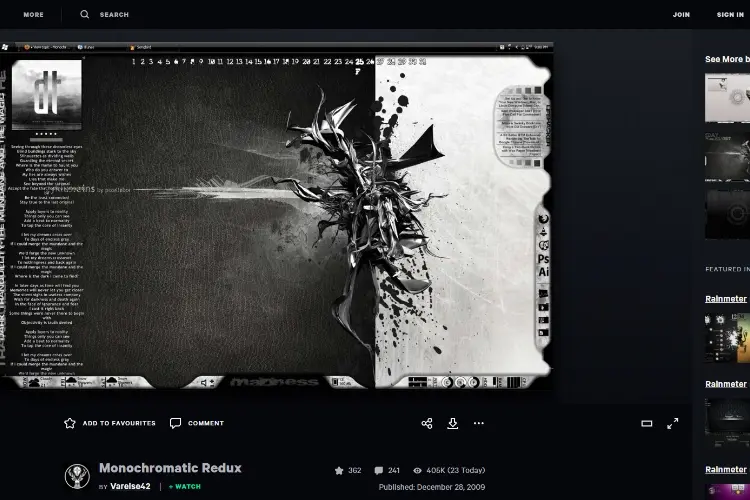 For all fans of graffiti, the Monochromatic Redux is sure to appeal to your style. Its impressive and high-quality background is perfect for any desktop.
The modules that go with this skin include iTunes controller, system information, weather. There's also a calendar, notes and even a slideshow for your favourite pictures.
15. Galaxy Suite Rainmeter - Skin Link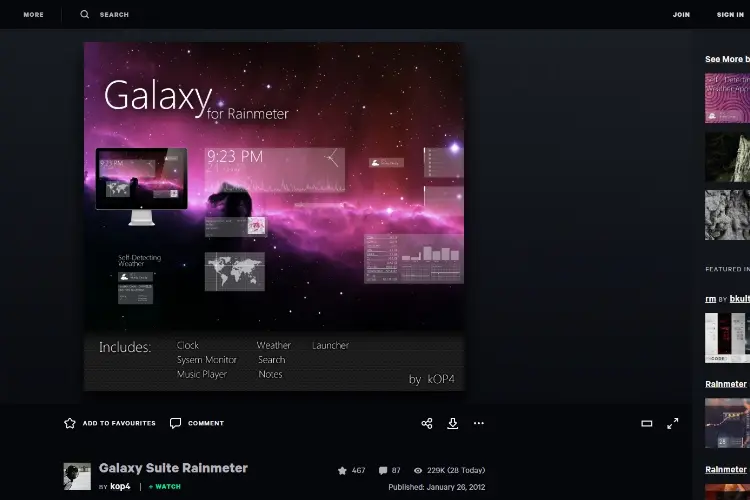 Using distinct tabs and tables, the Galaxy Suite Rainmeter skin allows you to view your information in an organised manner.
Whether you are simple or more prone to clutter, this skin's features appeals to everyone. The features include a system monitor, accurate weather detector. There's also a search bar, music player, launcher and a simple clock.
16. Mass Effect Rainmeter Skins - Skin Link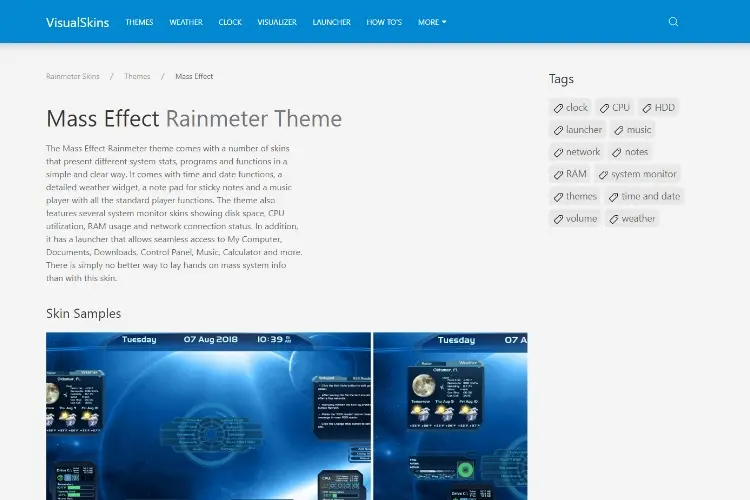 For all fans of the game Mass Effect, this Mass Effect Rainmeter skin is for you. Apart from its impressive layout, this Rainmeter skin has modules like hard disk data. There's also date, time and media playback controls.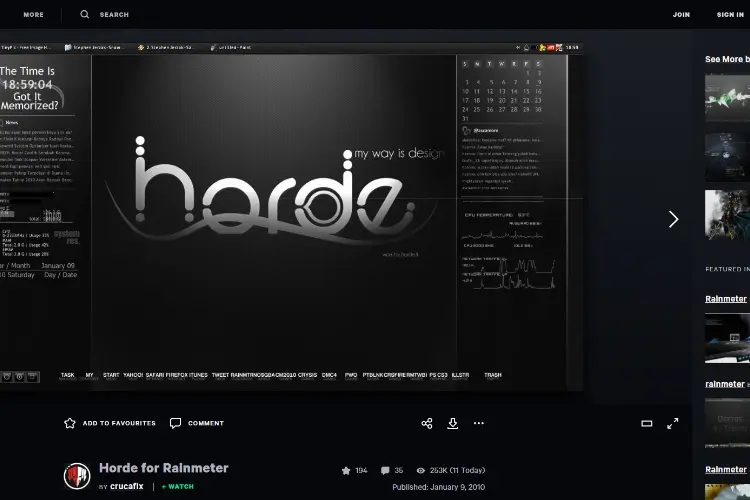 There is no doubt that the Horde Rainmeter skin has a beautiful layout. Like most Rainmeter skins, it has the RSS reader, calendar and network information bar. Other features include the power toy and circle system resources.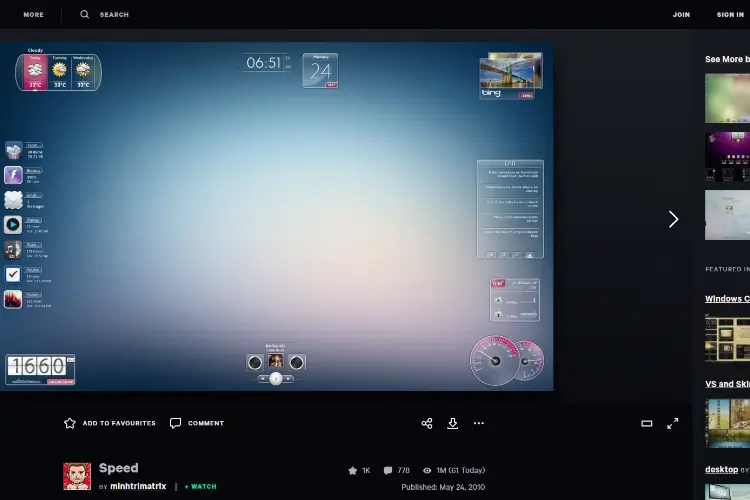 Fans of frosted glass and transparent effects find Speed as their best Rainmeter skin. It looks amazing when combined with wallpapers with minimalistic designs. You can also rearrange its modules to fit your desktop resolution. The information showed in this Rainmeter skin includes email notification counts. It also displays network status RAM and CPU usage data, weather forecast, date and time.
19. Skyrim Rainmeter Suite v2 - Skin Link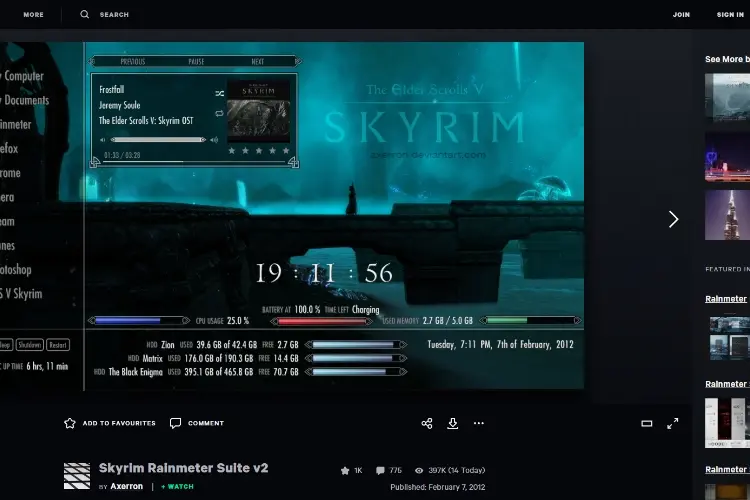 This is another Rainmeter skin whose template comes from a game. This time, the Skyrim game. With about twelve different skins included, this skin comes with a customizable dock. Other features include launchers, battery life bar, clocks, CPU and RAM bars. Music players and shutdown/restart buttons are not left out.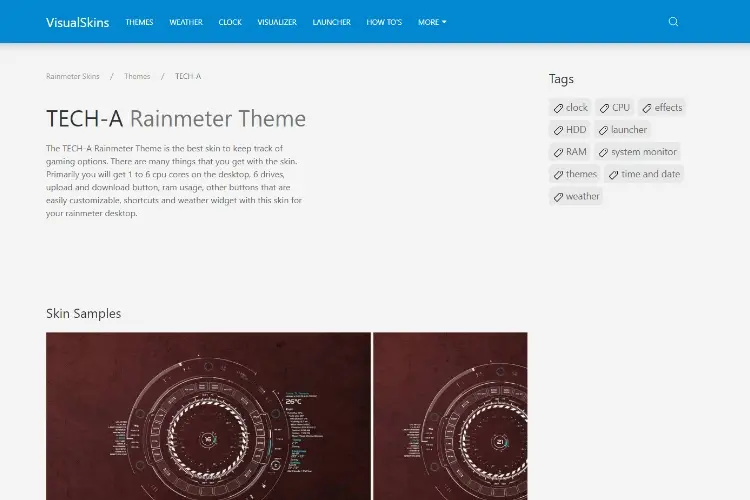 Our list is not complete without mention TECH-A.
This beautiful skin is a favourite among fans of Rainmeter skins. The skin modules are quite easy to configure. They consist of everything from network upload to download details and power status. It also has RAM usage to Disk partition, weather details, useful shortcuts, date/time and more.
Conclusion of Windows PC Best Rainmeter Skins for 2022
So, there you have it. We have compiled our list of twenty best Rainmeter skins which will appeal to your taste.
It is time to say goodbye to drab computer screens. Our PC acts as a kind of extension of our personalities, use these Rainmeter skins. They will bring your desktop to life while still enjoying their basic functionality. So, go ahead and jazz up your desktop with any unique Rainmeter skin of your choice.
Thank you for reading this piece. Although a lengthy read, the information contained within has been worth your while. If you'll like to share your thoughts with us, the comment box is available. Endeavour to help us share this post on your social media platforms. We'll love for your friends to cop beautiful skins for their computer screens.