Every creative person on Earth wants to explore more into their world of creativity. Therefore, why not go for a printable heat transfer vinyl to design your basic t-shirt on your own. With these, you can select your color, design, and patterns that match your personality and mood for the day.
Why look for printed clothing in the market while creating your own with our best printable heat transfer vinyl? In this article, you will encounter seven of those cool vinyl that won't let you down. Even if you are a newbie, these will be a breeze to start heat pressing with!
Our Favorite Printable Heat Transfer Vinyl For Cricut
Top 7 Best Printable Heat Transfer Vinyl For Cricut
1. Fame Crafts Heat Transfer Vinyl Bundle
I have the first vinyl set from Fame crafts, renowned for robustness and 20-different color variations in the market. Fading and diminishing their color away through several washes is not easy due to the presence of durable polyurethane. Moreover, each of your designs will come out precisely with these easy-to-heat transfer vinyl bundles.
Features
Durable polyurethane: The presence of durable polyurethane enables the vinyl prints to withstand rigorous washes up to a hundred times. Even though the vinyl is thin and lightweight, they are extremely well-fastened.
Heat pressure: As the sheets are thin, heat pressure falls evenly and strongly on them so they can print out the color and design well on your clothing. Even the smallest of designs will stand out when it receives the optimum heat through the vinyl. You won't have to wait for long for proper heat application.
Color variations: This bundle comes with 20 most common and wanted color vinyl, one sheet for each color. The vinyl sheets are 100% authentic, and nothing artificial is mixed with them.
Pros
Has 20 different color variations
Allows fastest heat transfer
Color does not fade away even after hundreds of washes
It has a thin and lightweight feel
It makes design and patterns look more precise
Cons
It can be hard for beginners to start with as it contains no instructions
2. Permanent Adhesive Backed Vinyl Sheets by PrimeCuts USA
If you are looking for some money-saving vinyl heat transfer sheets, then go for these Prime Cuts 65 pieces of 12×12 inches ones. These ready-to-use sheets are not only meant for fabric printing but are also compatible with home decors, banners, windows, mugs, basically anywhere you want some customization. With these high-end vinyl sheets on a low budget, your design skills will hold no boundaries.
Features
Easy to peel liner: This enticing colored vinyl sets free you from every hassle of frustrating peeling and weeding process where you tend to loosen the adhesive power. These come with an easy peeling liner to quickly open and use the sheets for your purpose.
Color variations and size: The sheets come in a generous 12×12 inches dimension and are easy to cut from any angle and in any shape. They come in 65 colors with shades of all primary colors. Moreover, you will get matte, glossy, and shimmery textures in those variations as well.
Multiple usages: You can use these vinyl sheets to print on mugs, cars, furniture, or any plain surface you want to apart from fabrics. Creations will be unlimited for anyone. Moreover, kids can explore their field of fun and creativity with these non-toxic and safe vinyl sheets.
Pros
It saves your time and energy with its ready-to-use features
Environment-friendly and BPA-free
It has a wide array of uses
Withstands multiple washes with less harsh detergents
Waterproof sheets
Cons
Color variations can be confusing for beginners
3. SiserEasyWeed HTV Sheets 12 inch by 15 inch
All the beginners out there who want to start with printable heat transfer vinyl sheets can buy this bundle by SISER Store. They are easy-to-use, lightweight, and thin sheets that even kids can use in their arts and crafts sessions. In addition, they do not leave any detail or pattern unprinted for being pressure sensitive and offer an excellent stay even after several washes.
Features
Color variations: The set comes with 12 different colors of each HTV sheet for a wide array of uses. The package is perfect for newbies to start these basic color ranges and compatible with fabrics.
Pressure-sensitive: The sheets being pressure sensitive makes easy heat transfer. Therefore, every small design and pattern stick on the fabric with no issue. Heat pressing will never be easier with these lightweight and thin vinyl sheets.
Easy to weed: The easy weed design allows unmatched durability to last through several washes. The thin design makes the sheets easy to cut and customize your shape. You can surf through many creations to amp up your basic clothing into an interesting piece.
Pros
Cost-effective bundle
Thinner and lightweight
Has faster heat transfer to amplify the smallest detail
Withstands several washes for durability
Great for beginners
Cons
It is too basic for advanced prints
4. Vinyl Rolls (Oracal 651) Choose your colors 47 options.
Quenta has something more to offer you than just heat transfer vinyl sheets! You get a whole range of color palettes of heat transfer vinyl sheets to match your surface. The sheets are made thick, which means no amount of scratch can harm your design, plus the color will stay stacked even throughout many washes.
Features
Color variations: This bundle has the most enigmatic 47 colors of sheets to explore your imagination a little further. Starting from all the basic colors like red, blue, green, this set has unique silver, gold, and beige colors. To indulge in art into crafts, they can start with this Vinyl Rolls set.
Thickness: Due to the extra thickness of the sheets, they remain scratch-proof. Rough handling and scratches will barely harm the design you are going to make with these vinyl sheets.
Durability: The thickness also increases the durability of the sheets, for which it can outlast several washes depending on the type of wash and detergent you use. Of course, harsh detergents may affect the colors faster.
Pros
Very thick and durable
It has a wide range of colorful sheets
Survives many washes
Scratch-proof
Very inexpensive compared to competitors
Cons
The thickness makes them hard to cut
Requires more heat pressure
5. Angel Crafts 12″ x 10″ Heat Transfer Vinyl Sheets
Angel Craft's 12×10 inches HTV sheets are another set for beginners to start with. These are some medium-sized, thin vinyl sheets with 16 varied colors that provide quick and easy cuts. You can start with your creative imaginations with color choices on any surface without any restriction.
Features
Color and size: These 16 colored heat transfer vinyl sheets come in 12"x10" size, perfect to handle small to medium surfaces. Beginners and kids can have a great start with these vinyl sheets without compromising on their color choices.
Usability: You can use these vinyl sheets for multi-purposes and on many types of surfaces, such as walls, cars, windows, or even on crockeries. Personalize your favorite things uniquely with these Angel Craft HTV sheets.
Heat transfer: Due to their thin structure, the sheets transfer heat faster to make the design stick on the surface better. No small pattern will be left untouched EasyWeed vinyl sheets. Moreover, they are effortless to cut to create your customized shape.
Pros
Thin and easy to cut
It comes in 16 variety of colors
The size makes them easier to handle, especially for beginners and kids
It comes at a lower price
Cons
Not for someone who wants bigger sheets
6. Joyinland Permanent Adhesive Backed Vinyl Sheets
Last but not least, we have these 44 adhesive-backed vinyl sheets to provide you endless possibilities of creativity with colors. Among the other five, this bundle is the cheapest, with so many extravagant choices. You can surely gift your creative friend one of these bundles to find their happiness in decorating every corner of their home!
Features
Size, texture, and color: There are 44 colors of these 12×12 inches vinyl sheets that too in varieties of textures. Joyinland has incorporated matte, glossy, metallic, and brushed textures into those sheets to meet everyone's needs.
Usability: You can use them on any surface, both indoor and outdoor your house except garment/ fabric. Therefore, feel free to use these sheets to decorate any corner of your house according to yourself. Just an investment of 18 dollars and your creativity will provide a unique touch to your surroundings.
Ease of use: With just four easy steps, you can create a design of your own. These sheets already come ready-to-use with potent adhesive. In addition, the lightweight design provides extra ease to cut and customize the shape on your own.
Pros
Very cost-friendly
Use for both indoor and outdoor decorations
It comes in 44 colors with different textures of sheets
Comes ready-to-use
Easy to peel off with bent corners
Cons
Strong adhesive is not meant for fabrics
7. Firefly Craft Regular Lime Green Heat Transfer Vinyl Sheet
Lastly, we have the Firefly Craft Heat Transfer Vinyl Sheet for someone who works with a certain color. Since they come as single 12×20 inches sheets, so layering them up is a breeze. Firefly Craft brings them in 35+ different color single vinyl sheets from which you can choose the particular ones you want to work with.
Features:
Stretching ability: The thin construction of Firefly Craft vinyl sheets induced a unique stretching ability into them, for which the sheet almost looks like a part of the surface you print on. Moreover, you can layer the sheet up if you need to.
Size and colors: Firefly makes single 12×20 inches vinyl sheets with 8 inches extra for additional design. They come in 35+ different vibrant and charismatic colors for individual choices.
Weeding: The best part of these sheets is that you can weed them with any plot cutter, hence, saving your money from buying different types of cutters. Moreover, the pressure-sensitive back allows for easy weeding by allowing the sheet to stick on the back carrier.
Pros:
Has exceptional stretching and layering ability
It is easy to cut or weed
Has 8 inches bonus size for extra designing purpose
It works amazingly with almost all plotting cutters
It comes in vibrant and enticing single colors
Cons:
It is costlier for people who want to buy different colors.
How Many Colors Do You Need?
The need for the number of colored vinyl sheets differs from person to person. Because some people only need a single color for one-time printing, whereas others need variations for creativity expeditions. Therefore, color choice is a personal preference.
As far as weight is concerned, lightweight HTVs are for those who want to print on garments because they are wash-friendly. At the same time, heavy-designed vinyl sheets are required for non-garment objects because they are scratch-proof.
What is Heat Transfer Paper?
Heat transfer paper is a unique paper that uses heat to print designs and patterns on garments. It requires a design to be drawn on a heat transfer paper using an inkjet or laser printer and then heat via iron to transfer the design on a t-shirt or any clothing.
Buying Guide of Best Printable Heat Transfer Vinyl For Cricut
Now let us quickly look at the helping guide for buying the best printable heat transfer vinyl in the market. Throughout this section, you will get to know what to look for while you choose your perfect set of vinyl sheets to hoard on your imagination. But, of course, these are not just mere sheets; that's why you have to look out for a few strong factors.
Color Ranges:
Not everyone requires all the colors of vinyl sheets; extra pieces of sheets add unnecessary cost. For example, if you have to make your business t-shirt print, you only need the color that goes with your business logo. However, if you are a true creative craftsman who likes to explore more and more, then the case is different, where 100s colors might fall short.
Furthermore, some sheets come with different textures to meet specific demands. You can also buy your needed color/s with different textures.
Usability:
Some vinyl heat transfer sheets are made with soft adhesive for fabric prints, whereas others are made with hard adhesive for other surfaces such as walls, cars, and other surfaces.
Therefore, please read the label of the sheets before you buy them, depending on your requirement. For example, if you want to use heat prints on your garment, buy the soft-adhesive ones, and if you want to decorate your home/ car, buy the strong adhesive ones.
Weight:
The weight of the vinyl sheets plays a major role in determining your choice. Wondering how? Lightweight vinyl papers are good on garments; they are easy to cut with more precision so that you can make delicate shapes. Moreover, their adhesive won't wear away after a few washes like that of the heavier vinyl.
Whereas, for other surfaces that do not require much cleaning and washing, heavyweight vinyl papers make great choices. The weighty ones also don't scratch easily and stick tightly on a place unless water contacts. Also, heavy vinyl papers are difficult to cut with intricacy, especially for beginners.
Thickness:
A thin structure of the vinyl paper makes the heat press process easier. Moreover, every detail of the design sits well on the surface through heat as the heat is being spread evenly. As a result, you don't have to put much time and effort into heat pressing the sheets.
Please make sure the thickness is less than 0.3 mm, or else you will have to re-do it every time and waste vinyl sheets upon failure of proper design establishment on the surface.
Wash-friendly:
If you buy vinyl sheets for clothing design, make sure you buy a wash-friendly and durable set. If the sheets do not have that much durability to withstand washes, then the color and design will automatically fade away after a few washes.
What is Printable Heat Transfer Vinyl?
The novice who has the least or no idea regarding printable heat transfer vinyl transfers a certain design or pattern on a surface through heat pressing the 'vinyl' sheets. In simpler words, they heat to print the design! Some people do it as a hobby or recreation, whereas some do this as a job.
Can I Start with Printable Heat Transfer Vinyl with No Prior Experience?
Well, yes, if you have a mind full of extraordinary designs and patterns for which you keep doodling on your notebook, then start with buying a low-costing easy-to-go vinyl sheet set and see where your creativity takes you to.
You can customize your basic clothing with your creative design, or you can decorate your home in different patterns. It all depends on what type of sheet you choose.
What is the Difference Between Printable Vinyl and Transfer Paper?
The basic difference between printable vinyl and the transfer paper is that the former doesn't work with regular inkjet or laser printers, like the latter one. Also, heat transfer papers are inexpensive, and their prints do not withstand more than 20-30 washes. At the same time, a good-quality vinyl print can last up to a lifetime.
FAQ
What is the Best Printable Heat Transfer Vinyl?
The top 5 best heat transfer vinyl in the market are:
Fame Crafts Heat Transfer Vinyl
Permanent Adhesive Backed Vinyl Sheets by PrimeCuts USA
SiserEasyWeed HTV Sheets 12 inch by 15 inch
Vinyl Rolls (Oracal 651) Choose your colors 47 options.
Angel Crafts 12″ x 10″ Heat Transfer Vinyl Sheets
What is the Best Printable Iron-on Vinyl?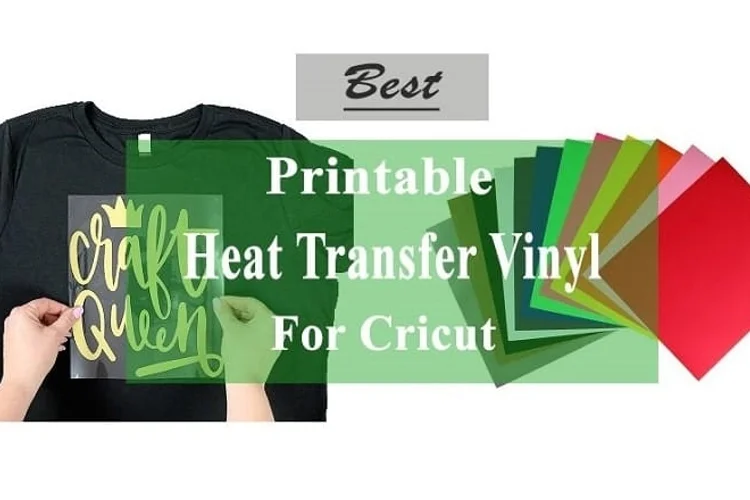 The iron-on vinyl is the one that requires heat transfer (iron heat) for printing on your garments. We have 7 different best printable iron-on vinyl reviewed, and their names are:
Fame Crafts Heat Transfer Vinyl
Permanent Adhesive Backed Vinyl Sheets by PrimeCuts USA
SiserEasyWeed HTV Sheets 12 inch by 15 inch
Vinyl Rolls (Oracal 651) Choose your colors 47 options.
Angel Crafts 12″ x 10″ Heat Transfer Vinyl Sheets
Joyinland Permanent Adhesive Backed Vinyl Sheets
Firefly Craft Regular Lime Green Heat Transfer Vinyl Sheet
Is There a Printable HTV?
There are printable HTVs available in the market, and they are considered one of the easiest ways to attain colored designs on a surface. However, these require heat pressure to print on the colored graphic on your garments or accessories.
Can You Heat Press Printable Vinyl?
Yes, one can heat press printable vinyl, as they work via heat transfer to instill the multi-colored design on your desired surface. With little effort, you can customize anything on your own with these printable heat transfer vinyl sheets.
Can Printable Vinyl Be Washed?
That depends on the quality of the vinyl sheets; it means if the vinyl has potent adhesive, then they can be washed. However, make sure to go for hand-wash only with mild detergents to keep the adhesive strong.
What Kind of Ink Do You Use for Printable Vinyl?
For printable vinyl, latex, solvent, or eco-solvent inks are used. Regular jet ink won't work with printable heat transfer vinyl as it does on transfer paper.
What Type of Ink is Used to Print on Vinyl?
Printing on vinyl is effortless with four ink types, including latex, solvent, aqueous, and UV curable inks. Your vinyl printer will accept any ink as long as it is dye-based, like the four aforementioned types.
Can Printable Vinyl Be Used on Shirts?
There is no doubt about that. You can print colored graphics on any garment with heat transfer vinyl. Just design your pattern or fonts and heat them to transfer them to your shirt.
Can You Put Modge Podge Over Printable Vinyl?
Modge podge can be used on printable vinyl to make customized photos/ prints on your canvas. Modge podge is exceptionally non-toxic and safe to use for anyone and the environment.
How Do I Transfer a Printable Vinyl?
To transfer a printable vinyl, you need to use your hand to open the seal and reveal the adhesive side. It would help if you did not use transfer tape for this purpose, as it will ruin the entire project/ design.
How Long Do Printable Vinyl Shirts Last?
If you use good-quality vinyl sheets, then the vinyl printed shirts will last more than 50 washes, which is eventually the t-shirt's entire lifetime. However, always use mild detergents and avoid rigorous machine washes to make them last even longer.
Conclusion
Whether you are a novice or expert in this, you must pick good-quality vinyl sheets to help you create the best of your imagination, and we have already introduced the best to you. Now that you have known the six best printable heat transfer vinyl and got a buying guide to help you pick one, you should not wait to get yourself a set and start your creativity.