Gone are those days when you need a document scanned and what comes to mind is going to an office or a café.
Why Looking for Best Android Scanner Apps for free
You can get docs scanned right from the comfort of your home! Actually, it is from the comfort of your phone. With your Android smartphone or tablet, you can get just about any document scanned. All you need is a good camera which you most probably have. Oh, you need something else too. You need a scanner app to scan documents.
With these apps, you can scan your documents and save into any format that you want. It would interest you to know that these Android scanner apps work faster than the bulky ones in offices and cafés. An added advantage is that with them, you would be able to access any type of document from the cloud. Some even come with impressive editing tools!
Ways to Have Free Best Scanner Apps for Android in 2021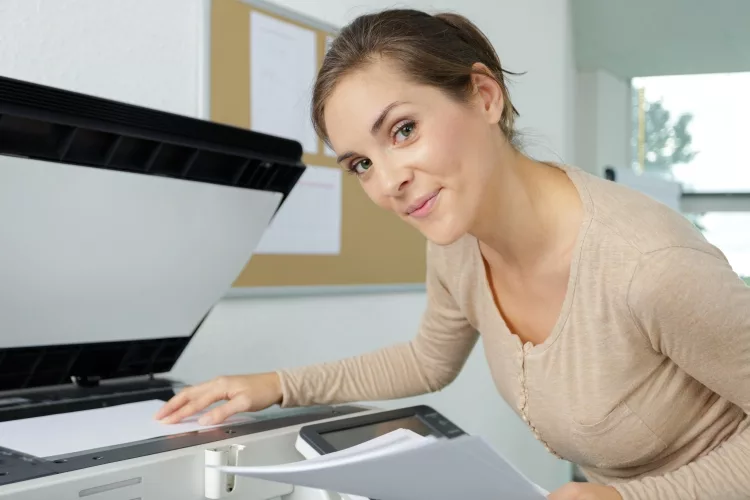 Ready to get scanning with your Android device? Let's get right to it

1. CamScanner – Scanner to scan PDF - App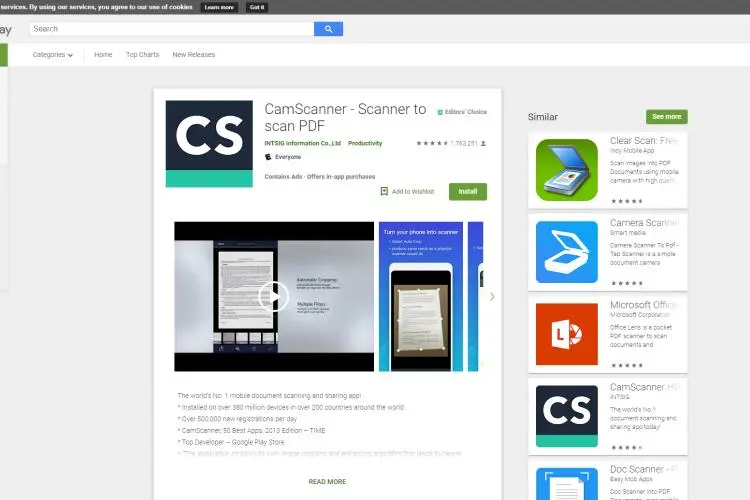 With CamScanner, you can scan right about every document that you can think of. From images to business cards, down to documents. After scanning, you may then export the scanned file via PDF or JPEG format. You can even safeguard your documents by setting a password or code on the app.
This app is one of the most popular and most rated ones. On Play store, it has over 380 million downloads! The app comes with an internal optimization tool. It is this optimization tool that would enhance all the details on the documents. With it, a scanned document whose texts, images, and graphics are showing clearly is sure.
Sharing the scanned document with others is also possible via the app. whether it's through social media or as an email attachment. You may also print directly from the app and fax directly if the need arises.
2. Tiny Scanner – PDF Scanner App - App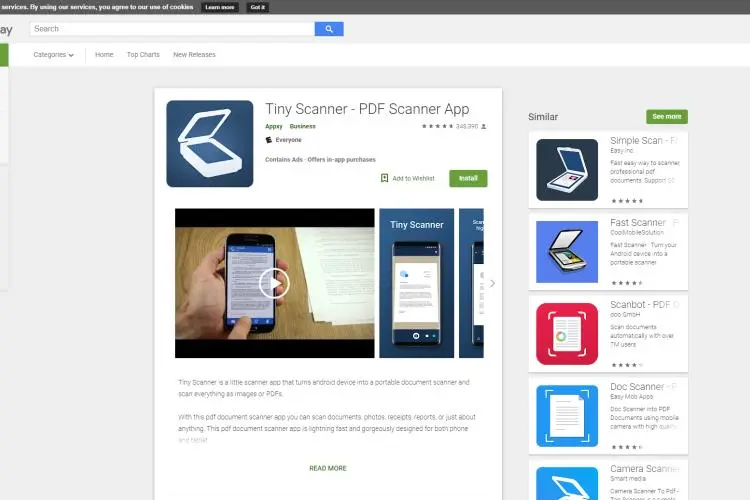 The name might be tiny but the features are standard. You don't even have to sign up for an account before you begin touse this scanner app. scan whatever document you want to, and save them in PDF. You may also export the scanned document as an image. As it supports cloud storage services, you would be able to print out your document when you want to. You can even adjust the page sizes for every document.
With its auto edge detection feature, you are sure to take images that won't result in a distorted document. You may scan documents in either black &white, color, or grayscale. It also has a passcode feature for safeguarding all your confidential documents. Sharing your scanned document is easy with the instant sharing feature.
It works very fast and is compatible with not just your Android mobile phone but your tablet as well.
3. Adobe Scan: PDF & Business Card Scanner with OCR - App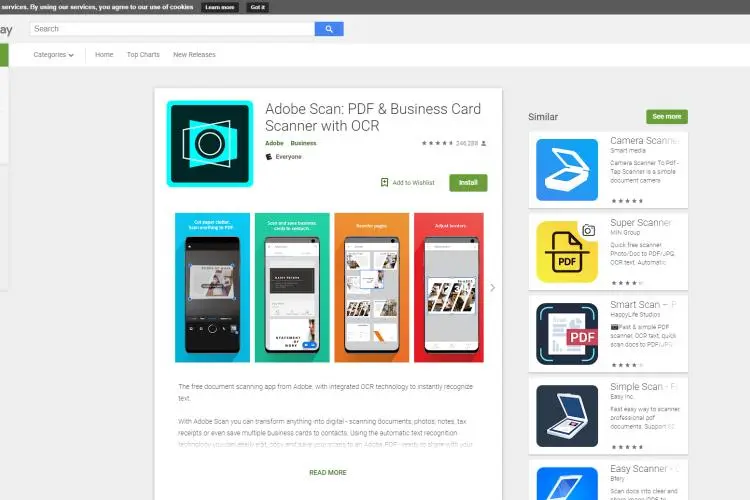 Every Adobe product is sure to get things done. The Adobe Scan app is no different. This scanner app will meet all of your scanning needs. You get to export the scanned document as PDF. You may scan and convert many pages of a document into one PDF file. Also, you get to share your document through as many channels as you like. If you want to, you may share your scanned documents as images. You could back them up to the cloud if you want to.
With this scanner app, you can correct the color of all scanned documents. This way, details on the documents are as legible as they can be. The app has a simple and easy to use interface.
With the Optical Character Recognition (OCR) feature, you are sure to get a scanned document with very sharp and legible details. The integrated automatic text recognition technology would let you edit your scanned documents.
Really, there are many more enjoyable features on Adobe Scan. It is best experienced!
4. Fast Scanner: Free PDF Scan - App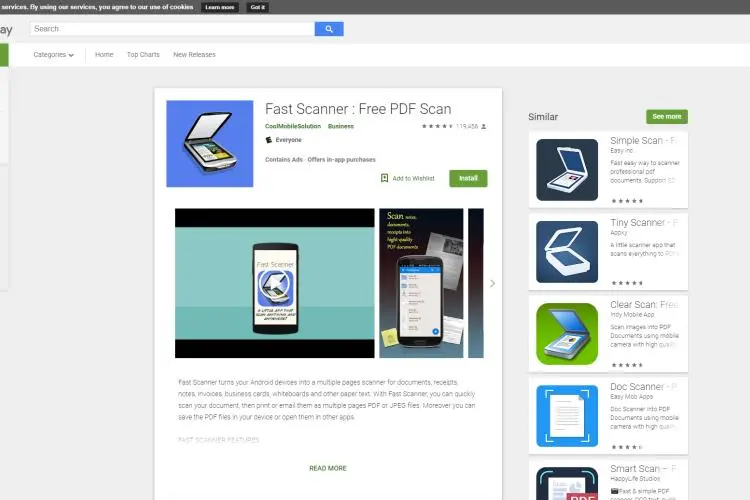 All you have to do is use this app once and you'd have to agree with the 'fast' in its name. It offers all the amazing features that a good scanner app has. And it does this fast. Scan all your documents and get them exported via JPEG format or PDF. Deleting and adding pages within the scanned file is prettyeasy with Fast Scanner. Printing the documents out is also just as easy.
There are many image editing options to choose from. This way, you are sure that the outcome of the scanning is as good as it can be. You can print your documents via Cloud Print and other print apps. It works perfectly on both Android phones and tablets.
5. Scanbot – PDF Document Scanner - App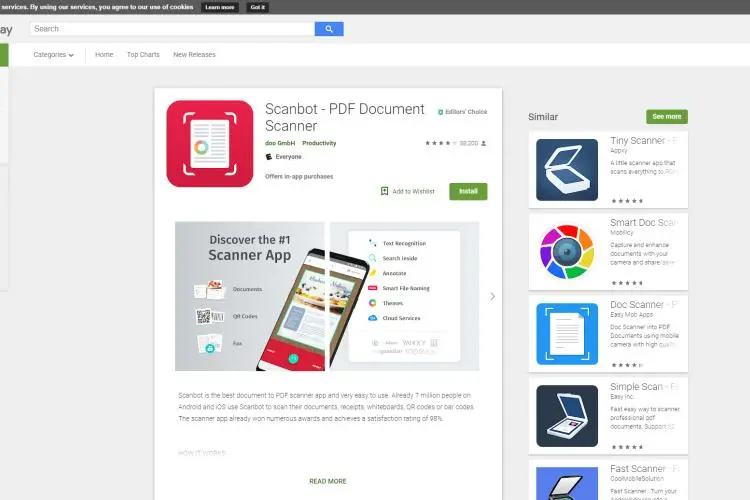 Scanbot is a reliable document scanner. Scan your documents, back them up in the cloud, and send them through any platform. You may even fax through the app if the need arises. If you want to search for content within the document, well go right ahead with Scanbot. It is that reliable and functional.
What's more, it goes beyond scanning just documents. It supports both barcode and QR scanning. This way, identifying products and items is easy and so is getting to websites in seconds.
It also makes use of the earlier mentioned OCR. Control the color of your documents by choosing to make it colorful. You could also choose tomake it colorless or just somewhere in between. You may share your scanned documents through a host of cloud services. Some of the common ones include Evernote and Dropbox. As if all these were not enough, you can also use Scanbot as a document reader. So, highlighting texts, adding signatures, adding notes is easy.
6. Clear Scan: Free Document Scanner App, PDF Scanning - App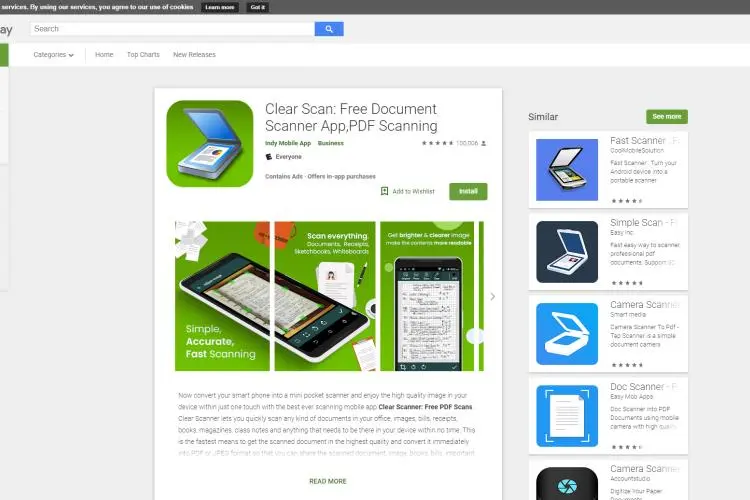 This scanner app is not only fast but also clear as its name depicts. Get all your documents and pictures scanned and then convert them to PDF or JPEG. When you are done, print them out via Cloud Print services. All scanning is of high-quality. You may get editing done as you wish too. Adjust the brightness, straighten images, and remove shadows with your Clear Scan app.
Saving many pages in one document is possible with Clear Scan. You may also set page sizes as well as reorder the pages of the document. Want to email only some part of that document? Well, with this app, you get to select specific pages.
If you are concerned about your phone's storage, well good news. The size of this app is so small, your phone would barely know the difference when you install it. Also, there is a backup and restore feature so, you can backup all your files. This way, you don't have to worry about losing your scanned documents when you change or lose your device. All you have to do is to manually restore your data.
7. Microsoft Office Lens – PDF Scanner - App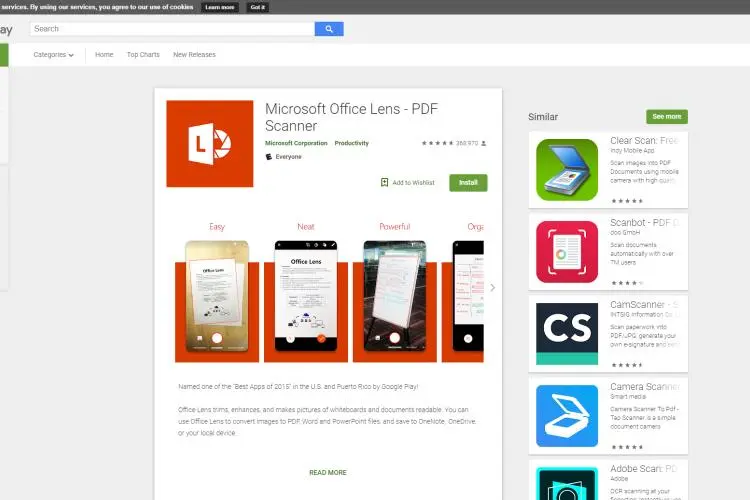 If there is one thing we all know about Microsoft, it is that they always deliver. With the Microsoft Office Lens, they did not disappoint. You can scan documents. You can also convert images to PowerPoint, Word files, or PDF. The app is very easy to use and it gets the job done in good time. The app would make all your documents readable by trimming and enhancing them.
With Office Lens, you can share your scanned documents through your desired platform. Do you need documents scanned for academic purposes? Or it is for business purposes? Microsoft Office Lens is available to save the day.
8. TurboScan: Scan Documents & Receipts in PDF - App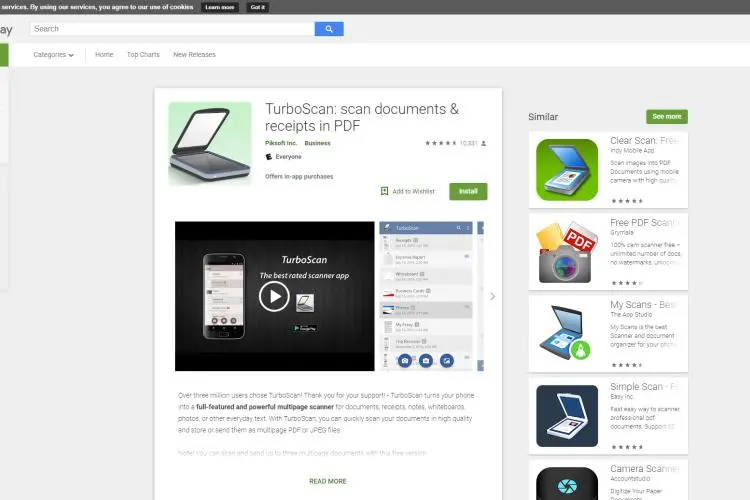 With TurboScan, getting all your documents scanned in high-quality is a no-brainer. Scanning and sharing your documents is prettyeasy. You get to arrange various documents in one PDF page. You may export your documents as either PNG, JPEG or PDF. Printing is also made easy via Cloud Print services. The processing time of this scanner app is very fast. Scanning a page takes nothing less than 3 seconds. The interface is also easy to use.
It has a 'SureScan' feature that would give you a scanned document that is as sharp as sharp can be. With this feature, you also get to edit the documents by adding or deleting or rearranging the pages.
9. Smart Doc Scanner: Free PDF Scanner App - App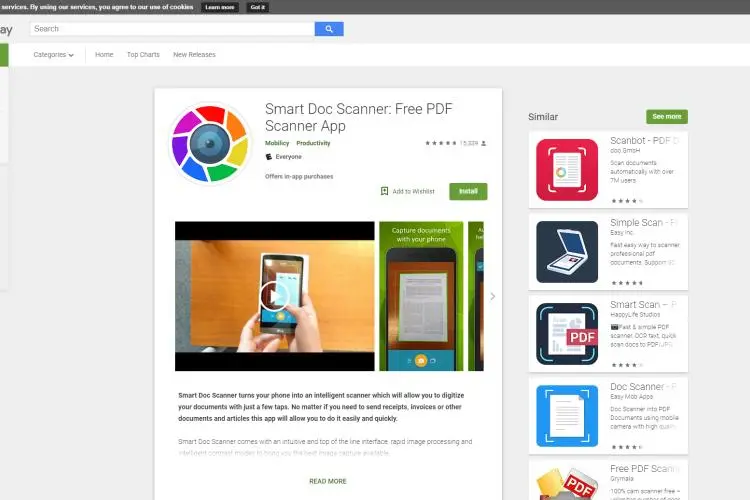 All of the amazing features we have been going on about in the previous app? Smart Doc Scanner has everything and more! It has got all you need to get your document scanned perfectly. You can easily adjust the documents by cropping and zooming to get better results. If you are working with a document that has many pages, there's a batch scanning mode to make things faster.
It has the OCR feature that would help you convert images to texts in good time. This conversion can take place in over 40 languages. Not just that, the image to text conversion checks for spelling errors too. It supports almost every image format, from the regular JPEG to PNG to GIP and lots more. With just one tap, you can share all your PDFs.
You may also backup your documents with the various cloud storage options. The interface is easy to navigate and is also user-friendly.
10. Document Scanner - App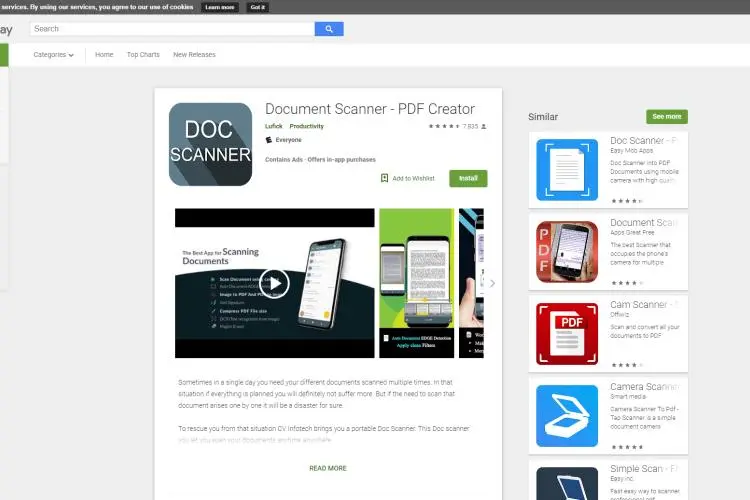 This scanner app is just as complete as every other one on this list. Yet, it stands out from most by having a QR code scanner. There is also a barcode scanner. If you want to, you may create a QR code for a website too. There is also a flashlight feature. With this feature, scanning a document in a poorly lit environment is possible.
You can also crop and zoom your documents to give the best results. Your scanned documents can be shared as either PDF or JPEG formats. It is also possible to choose your preferred page size for a document.
With the cloud storage pictures, your documents get a reliable backup. There are various filter techniques to help scanned documents come out super sharp. With the Document Scanner app, you are sure to get a scanned document that is as original as the one on paper!
Conclusion of Free Scanner Apps for Android in 2021
Your first call when the need to scan a document arises no longer has to be the office or a café. You could simply whip it out, place it on a flat surface and get scanning over with under few minutes. Make use of any of the 10 best, free scanner apps above to meet all your scanning needs conveniently.