There's nothing more frustrating than trying to print something and having the printer not work correctly. If you're having a problem with your Epson printer, don't worry - we're here to help! In this blog post, we'll walk you through some easy steps to fix a communication error on your Epson printer. Keep reading for more information.

Steps to Fix a Communication Error on Epson Printer
In most cases, a communication error on an Epson printer is caused by a faulty cable or port. If you're experiencing this issue, try the following steps to fix it:
First, make sure the printer is on
Check to see if there's a paper jam or any other problem with the machine
Unplug the printer from the power outlet and your computer.
Reconnect the printer's power cord and wait for it to boot up.
Reconnect the printer to your computer using a different USB port.
Try printing again.
If the communication error persists after following these steps, you may need to contact Epson support for further assistance.
Common Epson Printer Communication Errors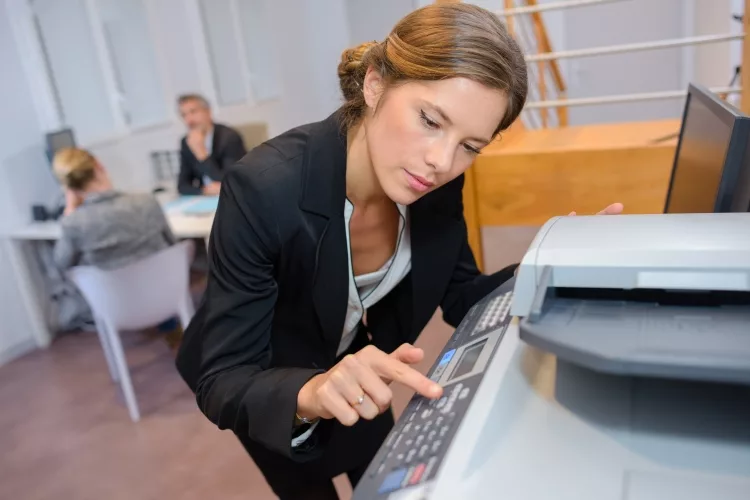 If you're experiencing communication errors with your Epson printer, don't worry - you're not alone. Many Epson printer users have reported this issue, and fortunately, there are a few ways to fix it.
One way to try and fix the communication error is to uninstall and reinstall the printer driver. You can do this by going to Control Panel > Programs and Features and clicking on "Uninstall a program". From there, find your Epson printer driver and click "Uninstall". Once it's been uninstalled, go to your printer's website and download the latest driver for your model. Once it's downloaded, open the file and follow the instructions to install it.

If uninstalling and reinstalling the printer driver doesn't work, you can try resetting your printer. This can be done by pressing and holding the "Power" and "Resume" buttons on your printer for about 10 seconds. Once you've reset your printer, try connecting it to your computer again and see if the communication error has been fixed.

If you're still experiencing communication errors with your Epson printer, there may be a problem with your computer or network connection. In this case, you'll need to troubleshoot those issues before you can continue using your printer.

I hope one of these methods resolves the communication error for you! If not, feel free to leave a comment below and I'll do my best to help.

Why Is My Epson Printer Saying Communication Error?
There can be a number of reasons why your Epson printer is saying communication error. It could be that the printer is not properly connected to your computer, there's a problem with the printer's USB cable, or there's an issue with the software.

If you're having trouble connecting your printer to your computer, make sure that the printer is turned on and that the USB cable is securely plugged into both devices. If the USB cable is faulty, you may need to purchase a new one.

If you're experiencing problems with the printer's software, try reinstalling it or updating to the latest version. If these steps don't solve the issue, contact Epson support for assistance.

How Do I Reset My Epson Printer?
Epson printers are one of the best-selling printer brands. Epson is a Japanese company that has been producing printers since 1984. If you have an Epson printer and need to reset it, follow these steps:
Turn off your printer by pressing "ON/OFF" button on your machine until the screen goes blank and no buttons light up.
Unplug the power cord from the back of your machine and wait for 30 seconds before plugging it in again
Press and hold down both "Cancel" and "Reset" buttons at once for five seconds
Release both buttons after holding them down for five seconds
Your screen will show "Enter Network Key"
Enter 1234
Finished.
With an Epson Printer, What Does Communication Error Mean ?
Communication error is the difference between what a speaker intended to say and what was actually heard. This can be caused by many factors, including background noise, dialect or accent, words that sound similar for people from different cultures, and hearing loss. Luckily there are a number of strategies you can use to decrease communication errors in your everyday life.
"A communication error can happen when you are talking with someone face to face or over the phone. It could also happen if there is a technical issue and your internet connection or signal drops." This blog post will examine what communication errors mean, how they occur and how we can avoid them.
For many people, the word "error" can be a scary and overwhelming thing. It might conjure up feelings of failure or inadequacy and make you worry about what it means for your future. However, there are different types of errors in communication that we need to understand before we get too worried.
What does server communication error mean?
If you're using an Epson printer and see a communication error, it means that the printer can't communicate with your computer. This could be due to a number of reasons, such as a problem with the printer's driver, a problem with your computer's USB port, or a problem with the cable connecting the printer to your computer.

To troubleshoot this issue, try disconnecting the printer from your computer and then reconnecting it. If that doesn't work, try reinstalling the printer's driver. If you're still having problems, contact Epson support for assistance.

Conclusion for Ways to Fix a Communication Error on Epson Printer
Have you experienced this problem with your Epson printer? If so, try one of these solutions and let us know how it goes! We hope that one of these methods resolves your issue and you can get back to printing without any further problems. Thanks for reading!