Looking to set up your office or workspace at home with the best and most reliable specialized office equipment but not quite sure how to go about it? We got you covered.
One of the crucial yet overlooked office equipment is a document scanner. They are always overlooked because you don't always need them. However, when you do need one, there just isn't any substitute for them. We might even say they are as reliable as your everyday office computer monitors, printers, etc.
Top Document Scanner 2021by Editors' Picks
Document Scanners: Everything you need to know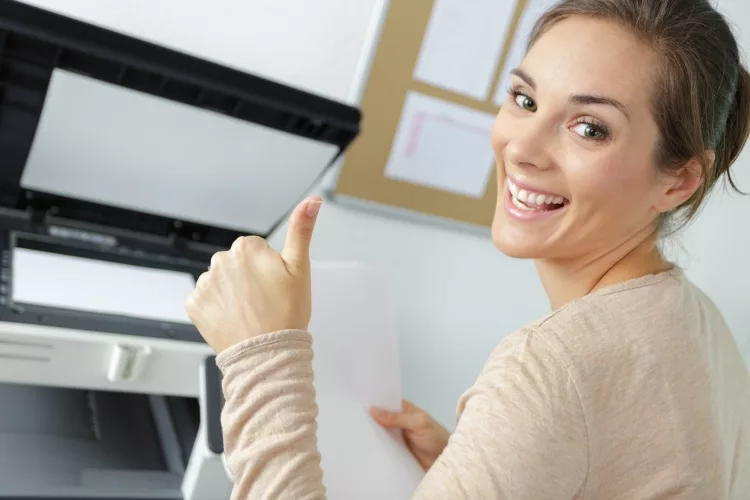 There is an insane variety of brands on the market when it comes to document scanners. And unlike certain office equipment like printers, monitors, etc. there is no specific brand that comes to mind when scanners are concerned.
That said, most of the premium scanners available on the market will easily handle any type of scanning task you have. How well they can do this as well as the range of different tasks you can use them for mostly depends on their make and build.
For instance, dedicated scanners for receipts, ID cards, and other small-sized documents as such usually have small sizes and are pretty portable. File or Document scanners on the other hand are much bigger and even they come in two types.
Before you simply buy one, you need to know what to look for. In this section of the article, we will discuss all the features you need to know before buying a scanner. That way, you can buy exactly what would work for the tasks you would need it for.
NOTE: If you are just looking for a review of the best document scanners available right now in 2021, you can skip to this SECTION
However, if you are interested in knowing the necessary things you might need in a scanner, then read on.
What do you want to scan or plan on scanning?
To be honest, this is the most important question you need to answer. Why? Because every single scanner you can buy right now would perform its essential purpose or function. The function of course is to scan your documents right?
Well, not all scanners work the same way. There are special-purpose document scanners that you can only use to scan documents such as business cards, receipts, ID cards, and books. They are specialized because they come with features specific to the type of document they allow you to scan.
For instance, a document scanner for books has a flat-screen so you can properly place the entire length and width of the book pages on its glass face for scanning. Specialized scanners for ID cards are highly portable and very small. Even more so, you have to consider that such specialized ID card scanners are not often able to scan normal office A4 papers.
Also, you have to consider how portable the scanner is. For instance, you might need to move the scanner around. Some printers are handheld and will let you scan to a memory card or onto your smartphone. However, there are some scanners that you have to connect to a computer before you can use them.
Hence, identify the size of the media you want to scan and look for a scanner that would do just that.
Is a Flatbed Scanner your best option?
Flatbed scanners are the traditional and classic document scanners everyone is used to. The fact that they are suitable for almost any type of scanning makes them incredibly useful. They have a flat glass screen that makes them suitable for scanning documents (office A4 paper), photos, ID cards, bounded books, and virtually any item or object. Provided you can place it on the glass screen of the scanner, the scanner would scan it.
Another thing to consider is how delicate the original you want to scan is. A flatbed scanner won't cause any damage to your photos or document. Other scanners that have auto feeders for instance could easily damage documents, especially if the original is already degrading or in poor quality.
Of course, they also come with some issues. The biggest of all is that you have to manually scan each document sheet by sheet. The implication of this is that you have to spend hours scanning hundreds of sheets if the document is large. This in other words means you spend lots of time and there is also a high chance of mixing up the documents while scanning.
Do you need an Automatic paper tray (sheet feeder)?
This feature on a scanner only comes with certain scanners. However, it is an important thing to consider.
If you understand that you have to scan documents regularly, especially if it is large documents, you might want to get a scanner with a sheet feeder other than a flatbed scanner.
A scanner with an auto feeder not only significantly reduces the time spent scanning documents, but also ensures no mistakes are made while scanning.
Also, if you would not be doing scanning work much often, it is best to get an all-in-one printer. The benefit of having an AIO printer in this case is just not something you can overlook. For instance, they come with an automatic sheet feeder which makes scanning work fast and efficient. The ADF (automatic document/sheet feeder) that the printer uses while printing would automatically work as a sheet holder while scanning too. Some AIO printers can also scan business cards and photos. However, you have to be sure such a printer can handle such a task.
Will you be doing two-sided (duplex) scanning on your scanner?
This might look like a feature all scanners should have but in reality, not all scanners do. Duplex or two-sided scanning simply means the ability of a scanner to automatically scan the two sides of a page.
Right off the bat, you should note that flatbed scanners cannot perform such tasks automatically. However, you can do duplex scanning manually on them. All you have to do is select the necessary option via the scanner software on your PC or laptop.
Most scanners that come with duplex scanning features come with an automatic sheet feeder. This is quite useful if you have large pages of documents to scan. However, some duplex scanners do not. In which case, you will have to manually pick each sheet and place it in the tray of the scanner. Such scanners are said to have a manual-duplexing feature.
Therefore, the best option to go for if you consider duplex scanning a particularly important feature in your scanner is one that has an ADF (Automatic sheet/document feeder). That way, the machine scans the two sides of the page automatically by itself.
NOTE: Manual duplex scanners come cheaper and are essentially more economic. Hence, the only reason you want to go for a duplex scanner with ADF is if you would be doing large scanning work. Otherwise, manually turning a page to ensure scanning of both sides of the page would work just fine.
What resolution do you need the scanned work in?
This entirely depends on what you want to use the scanned copy of the documents for. For official documents, a resolution of about 300-400 ppi would work just fine.
The quality of the document being scanned also matters since the scanner can only do so much to enhance the quality. Most printers rarely print out documents at 600ppi. So you should not face any resolution issues.
With photos, ID cards, and even colored task receipts, the resolution gets a bit more tricky. For the most part, your scanner should have a resolution of about 600 ppi to ensure a duplicate of the original is scanned onto the PC. However, if the original copy of the photo does not have the small and fine details any more or it is quite old, you might want a scanner with powerful optical lenses.
NOTE: Some scanners come with as low as 4,800 ppi.
The size of the scanned work is also important. Do you want the scanned document to have the exact size of the original? Do you want to enlarge the scanned page?
Flatbed scanners have dedicated software that lets you do just this. However, if the scanner does not have a resolution high enough, the result of enlarging the scanned document can result in blurry pages or photos.
What scanning software do you have access to?
You will be glad to know that most scanners come with software unique to them. So, you don't have to worry about determining the best scanning software for your PC.
The best part about it all is that the software automatically installs itself on your PC the first time you connect the scanner to it. After which you are guaranteed smooth and fast scanning without any hassle.
Of course, not all software is the same. Some come with features that enhance the overall scanning experience. This is the only aspect you might want to ensure you research deeply.
Some software lets you edit your photos immediately after you scan them. Some scanner software has OCR (optical character recognition). OCR features on scanning software vary from scanner to scanner. This feature is the ability of software to recognize text from a scanned image. Some also let you create editable and searchable PDF documents using the scanned files.
That said, all modern scanners that come with unique software would work seamlessly on any computer operating system you run. So, whether it is macOS or a typical windows computer, you don't have to worry about downloading additional software for the scanner to work. Some scanning software even has options for you to scan directly to cloud storage.
So which document scanner is best to buy in 2021? Well, we have examined some of the best-selling scanners and highlighted their best features for you. That way, you can choose the best suited for your office and work as a whole.
Best Document Scanners: Review 2021
1. Brother DS-640 Compact Document Scanner - Link
The Brother brand is one of the most popular brands when it comes to office supplies and equipment. The brand is known for producing quality and top-notch products for home and office use.
Coming in first is the Brother DS-640 portable scanner. It is one of the best scanners for document and business card scanning. You can also use it to scan receipts, laminated cards, ID Cards, among others.
It is quite portable and can be connected to your PC using a USB cable. It has a 16ppm scanning speed which is pretty fast for a scanner of its price. It can scan both colored and monochrome documents.
One thing we particularly love about it is that you do not need a power outlet to use the scanner. It comes with a micro USB 3.0 cable. This cable lets you power the scanner just by plugging it into your PC.
The scanner supports the Brother iPrint and Scan app which is the printer's dedicated software. The software comes with OCR features and also allows you to save scanned documents directly to cloud storage. The app supports Windows, Linux, and Mac PC.
NOTE: Despite its portable size, its optimization power when it comes to producing optimized images and texts is quite unbelievable.
Why you should buy it?
- Connectivity: Micro USB 3.0
- Dedicated Card Slot: Yes
- Software Support: Brother iPrint and Scan desktop app
- Printing Speed: 16ppm
- Duplex Scanning: No
- Auto sheet feeder: No

2. Canon CanoScan Lide 300 Document Scanner - Link
This flatbed scanner offers a more classic scanning experience. It does not have an ADF so you have to manually scan each page of your document. Being a flatbed scanner, you can scan bounded books easily without any hassle.
The scanning area of the printer is big enough to accommodate about four (4) standard-sized photos. Even better, the scanner has basic scanning software that automatically crops and edits the scanned image or photo.
Why you should buy it?
- Connectivity: comes with a USB port (Used to power and connect the scanner)
- Dedicated Card Slot: No
- Software Support: Comes with basic software that automatically enhances scanned images and photos
- Printing Speed: a page every 10 seconds
- Duplex Scanning: No. It is a flatbed scanner
- Auto sheet feeder: No

3. Doxie Go SE (Rechargeable Portable Smart Scanner) - Link
With this battery-powered smart scanner, you can scan anywhere without the need to connect your scanner to a computer. All you have to do is power up the Doxie Go SE, insert the document, scan, save it to the memory card in its dedicated card slot or share it to your cloud storage.
It is a simple yet powerful scanner and it does not require any special drivers for it to work. The Doxie Go SE scanner supports cloud services like Dropbox, Evernote, OneNote, etc.
One thing we particularly love is the integrated software and OCR features it comes with. You can create searchable PDFs as well as grab text from scanned images easily.
Why you should buy it?
- Battery Powered
- Dedicated Card Slot: Yes
- Powerful Integrated OCR technology
- Printing Speed: Scans one page per 8 seconds
- Each full battery charge guarantees 400 scanned pages
- Duplex Scanning: No
- Auto sheet feeder: No

4. Epson Workforce ES-50 Document Scanner for Mac and PC - Link
The Epson Workforce ES-50 scanner is a compact machine that you can easily store on your desk without it being obtrusive. It is lightning fast and has impressive software to help enhance the final scanned work.
It comes with software that supports both Mac and Windows and has incredible scanning capacity. It is suitable for both colored and black/white documents!
The Epson Workforce E-50 comes with Nuance OCR with which you can create editable word files. The software also allows you to create searchable PDFs thanks to its impressive OCR technology.
Why you should buy it?
- Lighting fast scanning
- Connectivity: USB powered. No power adapter or battery required
- Scan documents directly to your cloud storage
- Compatible with Twain Driver for virtual imaging
- Software Support: Yes (compatible with Mac and Windows)
- Printing Speed: scans a page in 5.5 seconds
- Duplex Scanning: No
- Auto sheet feeder: Yes but only a page at a time.

5. Epson DS-530 II Color Duplex Scanner (Mac and Windows PC) - Link
If you want a powerful machine that can scan anything you throw at it, it is the Epson DS-530 II scanner. From badly wrinkled and torn papers to new and neat documents, this scanner would scan it.
For scanning of receipts, business cards to scanning of office A4 paper, this is the scanner for you. Of course, it is pretty expensive, so you might want to be sure it fits into your budget.
Why you should buy it?
- Printing Speed: 35ppm
- Duplex scanning: Yes
- Can automatically scan and arrange documents
- Auto sheet feeder: Yes
- Scan and store your files directly to your cloud storage account
- Comes with a 3-year warranty
- Supports TWAIN as well as ISIS drivers

6. Raven Original LCD Touchscreen Document Scanner (Ethernet Supported) - Link
Rounding off we have the Raven Original LCD Touchscreen Document Scanner. This is a relatively unpopular brand we understand you might not be too keen to buy it.
However, the scanner has an incredibly productive capacity that you will come to love. It supports Ethernet, Wifi as well as USB connectivity. It comes with a large LCD touchscreen where you can set the scanning options you want depending on the type of document you are scanning.
With this scanner, you can easily scan and save documents to your Dropbox storage account. It has a pretty exceptional scanning resolution when scanning photos (600dpi) so you don't have to worry about scanned photos being blurry.
Why you should buy it?
- Ethernet, WiFi, USB, and Cloud storage access
- LCD Touchscreen
- OCR Feature
- Supports Dropbox, Google Drive, OneDrive, Evernote, etc.
- Printing Speed: 35ppm
- Duplex Scanning: Yes
- Auto sheet feeder: Yes
FAQs for Document Scanner Buyers
1. What is the best document scanner?
This depends on the type of document you are scanning. A flatbed scanner with its glass face would be more suitable to scan books. On the other hand, an all-in-one printer would be more suitable for you if you do not scan documents a lot.
Also, you might want to get a scanner capable of duplex scanning if your documents have two sides.
A scanner with an automatic sheet feeder would also be the best option for you if you have a lot of documents to scan.
2. Should I scan my documents?
Scanning can be useful as it helps you keep your documents organized. It also helps to have digitized copies of your documents so you can easily access them anywhere you need them. Besides, it helps guarantee that your important document does not get missing, stolen, accidentally shredded, etc.
The importance of documents in an office cannot be overlooked. The importance of precise bookkeeping can also not be disregarded. Scanning helps ensure you have all the documents you need readily at hand.
3. Is the scanning speed of a scanner important?
This is down to personal preference. Modern scanners have standard scanning speed that is just about the same as one another. However, classic or old model scanners tend to have a longer scanning speed.
NOTE: In case you are wondering, scanning speed refers to how many pages your printer can scan in a minute. Although this can vary greatly depending on whether or not the scanner has an automatic sheet feeder.
Conclusion on Document Scanner Reviews
Document scanners are very useful office equipment. They not only allow one to easily generate digitized copies of important documents. They also let you protect documents even if they are stolen or lost.
Hopefully, you now know the features to look for while selecting a scanner for yourself. Our top picks are a good place to start if you are not quite sure which brands of the scanner to pick.