T-shirts are very common these days and they are worn by almost everybody. Any regular shirt can be transformed by these designs, which give the clothing material a unique sense of style. Printing on shirts is quite easy. But the simplicity with which it is accomplished is dependent on the amount and intricacy of the prints. It may be anything as basic as a home improvement project, a small company, or a large corporation.

Using the right materials for t-shirt printing brings out the best result. In the event you don't have the necessary supplies, though, the procedure may become more challenging. There is a plethora of t-shirt printing materials available, each of which is defined by the size of the print. Knowing what to purchase for a particular job may be challenging under normal circumstances. As a result, we've provided you with the most often used t-shirt printing supplies for maximum efficiency. The items in this list will serve as a guide for you regardless of what you want to use them for.\
Top Materials for T-Shirt Printing
If you're thinking of printing t-shirts at home, you may be asking yourself, "What do I need?"
The following is a list of the equipment required for t-shirt printing, beginning with the most basic items.
Heat Press Machine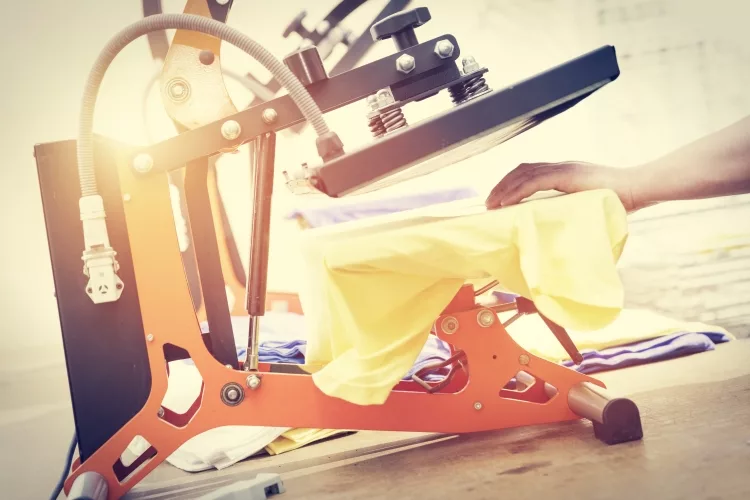 They are also known as heat press and they transfer artwork and images from one surface to another. They are known for their flexibility, since they can be used for a variety of items such as shoes, bags, and other items. They come in various types, including manual press machines (require no electricity), electronic press machines, and commercial grade press machines. The cost and purpose of usage determines the type you choose.
If you are involved in multiple printing, then this equipment is for you. This is due to the fact that you are utilizing a single design for all of the shirts, which ensures that they are all the same. We suggest that you get a 16x20 machine when making your purchase. If you are unable to get this, purchase a 15x15 machine with the intention of upgrading to the former when the necessity arises.
If you don't have access to a press machine, you can make do with an iron box. However, it is possible that the design may not turn out as neatly as you would expect. To prevent the design from getting damaged, you must be mindful of the temperature settings of the machine.
This machine is very important for multiple printing. This is due to the fact that you are utilizing the same design for all of the shirts, which ensures that they are all the same. We suggest that you get a 16x20 machine when making your purchase. If you are unable to get this, purchase a 15x15 machine with the intention of upgrading to the former when the necessity arises.
Inkjet Printer
This is critical, particularly if you want to use the digital heat press technique to complete your project. Transfer of printed designs from the paper to the shirt can be done with the help of this machine. Designs can be printed on the transfer paper with the use of this machine. To obtain the best result, the proper transfer paper (inkjet printer paper) should be used. Additionally, for the greatest results, use a high-quality inkjet printer. You will get a completely clean and exquisite finish on your job thanks to it.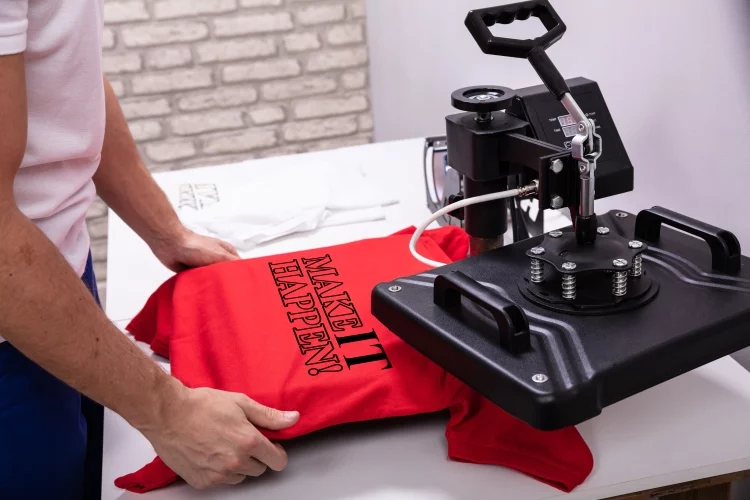 Using a decent printer will enable you to work with various designs, regardless of the size. Software is required for some printers to get the best results.
The Screen
Another important piece of equipment for printing on tee shirts is the screen. This is especially essential if you want to use screen printing to create your prints. It is straightforward and may be created at home with just a few basic ingredients. This tool is mainly used for creating stencils. The design can be made on the shirt by transferring the stencils to the shirt. There is not much difference between the screen and the heat press method except that it can be used for a variety of printing methods.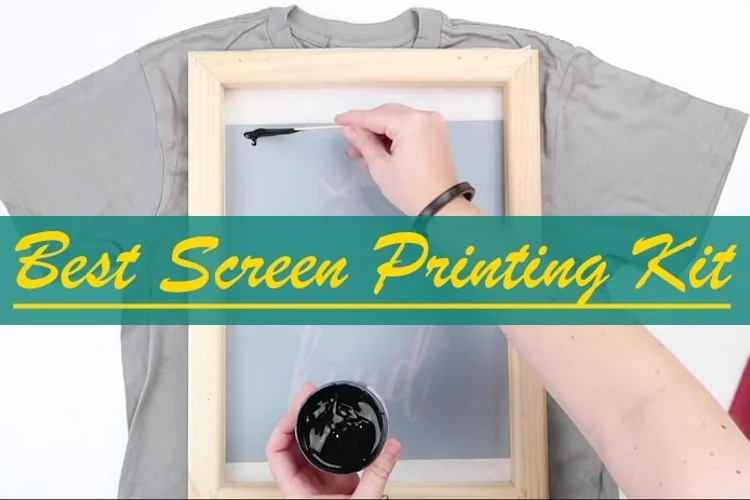 When working with screens, it may be a bit challenging since you will need a separate screen for each color that you want to transfer. Additionally, a screen with a mesh count will be required to ensure thorough design of your work. For example, a mesh count ranging from 15-90 will be required to create a puffy and athletic design, while a mesh count of 15-160 can be used for ordinary printing.
Building your home-made screens will require efficient and sturdy materials for the frames. Materials such as wood and aluminum have sufficient durability. It will become more robust and long-lasting as a result. Furthermore, they are sensitive to light, so make sure you have anything to protect yourself from it.
Emulsion
According to what we previously said, the screen is sensitive to light. Emulsion will be required in order to address this issue. Light-sensitive displays may be treated with this liquid material, which makes them less sensitive to light.
Most of the time, it is applied on the screen before it is used. The formation of the stencil is due to emulsion hardening (occurs during light exposure). It is simple to put this chemical to use. However, you will need a specific instrument for this, the squeegee or a scoop coater being the most popular options. Ensure one of these is available when preparing for screen printing.
Applying a thick layer of emulsion on screens will result in an even and seamless transfer of images. This will offer the screen more space, resulting in a higher output of printing and saturation of color overall. A drying rack will be required to prevent the coated screens from coming into contact when drying them.
Ink
When it comes to printing, this is among the most important materials to have available. If it weren't for the ink, how would you be able to see the design? There are many distinct kinds of ink which are used in printing. Plastisol and water-based inks are examples of such materials.
T-shirt printing will require the use of a solvent-based ink. They are available in a variety of colors. For beginners, you may choose among basic colors such as black, white, red, blue, and yellow, among others. For more distinctive and alert designs, you may combine multiple colors until it looks starts looking good.
Although it is beneficial to purchase a starting mixing equipment to aid in the mixing process, quart containers are frequently used to mix inks. For more accurate results, use scales to weigh the ink prior to mixing.
Exposure Unit
This is the piece of equipment that is used to cure the screen that has been coated with emulsion. It ensures that light is directed to the stencil instead of enabling the whole spectrum of sunlight to shine through. If this instrument is unavailable, you may cure the stencil by exposing it to the sunlight.
This piece of equipment is designed like an oven where the screens are positioned to absorb the light. Prevent them from touching each other when they are in the exposure unit.
Washout Station and Water Source
Washing off the remaining emulsion that wasn't cured after the curing process is finished will be required. If you do not do this, the screen will be over-cured and the result will be hazy. When you need to clean up after yourself, you utilize the washout sink. It may be a spontaneous performance or a professionally produced piece. The most important thing is that there is a continuous flow of water in the system.
Conveyor Dryers
The conveyor dryers are used to dry the screen after washing. They also ensure that the ink on the shirt's surface is firm by heating it. This guarantees that the print will not be easily erased from the surface of the object. It's the last stage in the tee-shirt manufacturing process.
Supplementary Materials
Following the acquisition of the required equipment for t-shirt printing, you may require additional supplies. These aren't absolutely necessary, but they may make your job a little simpler in certain situations. Some of them are as follows:
| | |
| --- | --- |
| Supplementary materials | Uses |
| Flash cure | In order to overlap the colors in a shirt, a flash cure unit is utilized to partially cure the ink before it is applied to the shirt. |
| Spotting gun | Helps in removing finger prints and other stains on the surface of the shirt. |
| Emulsion remover | Chemical that is used to clean the emulsion off of a screen. This enables the screen to be reused many times. |
| Curable reducers | Thin out inks that are too thick to be printed. |
| Tape gun | Covers the area of the shirt where ink is not required. This results in a more professional-looking finished product. |
| Degreaser | Used to remove grease and oil from the screen surface before emulsion application |
| Soft bristle brushes | Important for removing stains when cleaning. During t-shirt printing, they are particularly useful for degreasing the garment and applying curable reducers and emulsion removers. |
Many more items are available, such as a flash drier, film output device, spray adhesive, temperature tapes, and many more.
In conclusion for All T-shirt Printing Material Buyers
After reading this article, you may have realized that printing on shorts is not a very difficult job, especially if you use the proper materials. Although the supplies may seem to be excessive, you must get at least the bare minimum. In this way, when you start printing, you may be sure that everything is correct.
In contrast, after you have acquired these instruments, you must learn how to properly utilize them in order for them to serve you for an extended period of time. With that, we'd like to wish you a prosperous printing career.