If you run a home-based business or work in other business offices, you will hardly escape dealing with printers. They are handy devices that have gained a wide range of uses – from printing family photos through printing kid's report forms to printing expense reports and packing slips, etc.
Regardless of where you use them, a time will come when the ink will run out, thus requiring you to supplant the cartridges or toners. The process will most likely leave you with printer ink stains on your skin/hands.
Getting rid of such ink can be nagging; however, no longer with our guide on removing printer ink from the skin. Read How to Remove Printer Ink from Skin!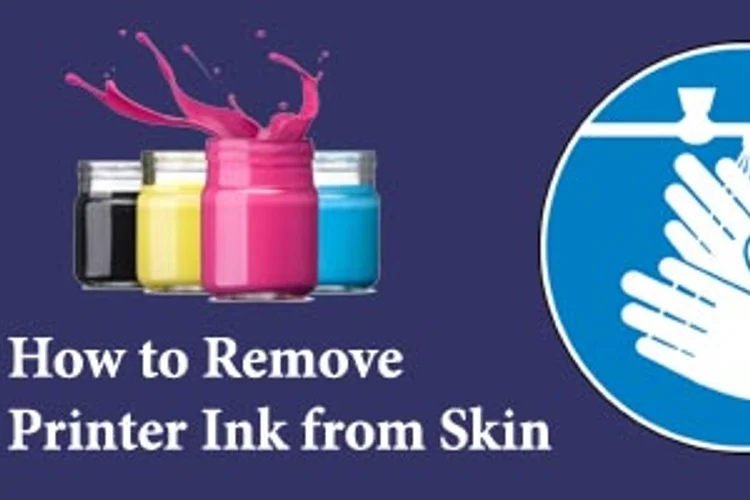 8 Best Ways to Remove Printer Ink from Skin

1. Use Toothpaste
We all use toothpaste daily to brush and protect our teeth, but did you know you can use the same to remove printer inks from your skin? This may sound interesting to many individuals considering that we all have toothpaste readily available by our side.
However, for you to remove ink stains from your skin, you ought to first ensure that you have the right type of toothpaste –I.e., non-gel toothpaste and then observe the following procedure:
Locate all the regions of your skin that have printer ink stains. In most cases, these will be your hands or other parts that may have come into contact with your printer's cartridges.
Once identified, apply enough quantities of toothpaste over the regions bearing ink stains.
With your fingers, rub the toothpaste applied onto the stain gently for a few minutes.
Allow it a few minutes for toothpaste to work on the printer ink stains.
With a piece of clothing, wipe off the toothpaste plus the removed stain from your skin surface.
Clean your skin for a few seconds or even a minute using clean water and soap, and then,
Apply a moisturizing hand lotion to end the process.
2. Shampoo
If toothpaste failed to eliminate the printer ink stains on your skin, you still have more options. This time, using heavy-duty shampoo, they have effectively removed water-based printer ink stains from any surface. E.g., skins, clothes, carpet, etc.
Here is how to remove printer ink from skin using shampoo
Apply enough shampoo onto the stained areas
Allow it to remain for some time – maybe a few minutes
Using a paper towel or a piece of clothing, wipe the ink stains away from your skin
Continue wiping the stains until they come off completely
3. Magic Eraser
While trying to remove printer ink stains from your skin, you will realize that some types of inks tend to be stubborn to the extent that getting rid of them requires superior ink removers, such as the Magic Eraser.
Unlike some other methods of removing printer inks from skin, the Magic Eraser doesn't require you to rub the stained areas vigorously. Instead, you apply it and watch the magic:
Dip one end of Magic Eraser in cold water and
Use it to remove the printer ink stains by rubbing gently
Do it until all the ink stains come off your skin
4. Lemon Juice
We all use lemon juices in our households to serve various purposes, but not many know that they can use them to remove printer ink stains from skin. This is achievable thanks to the citric acid content of lemon juice that works as a bleaching agent to clear printer ink stains from the skin.
Here is how to remove printer ink from skin using lemon juice
Take a lemon and cut it into two
Take one half of the lemon and rub over the stained regions
As you rub, try to squeeze the lemon gently so that its juice keeps flowing
Wipe the areas you are working in with a paper towel.
This should remove the entire print ink stains.
5. Makeup Remover
If anyone in your home uses makeup remover, you have a ready remedy for printer ink stains. So if you are trying to get rid of such stains, grab a makeup kit (yours or for anyone in your home) and follow the procedure below:
Apply some makeup remover over the stained areas
Grab a cotton ball and use it to rub gently against the ink stains on your skin
Wash your hands with soap and warm water
Note: You can use both cream and liquid-based makeup. Follow the same process watch the result in a few minutes.
6. Windex
For many years, people have been using Windex as a glass cleaner, but it has seen a wide range of applications in the recent past. Nowadays, it is used to clean stains from inks, food, coffee, oil, grease, etc.
You should, therefore, not struggle with printer ink stains on your skin when you have Windex at your disposal.
Follow the procedure below.
Take a cotton ball and spray it with Windex solution
Using the sprayed cotton ball, rub gently against the stained regions of your skin
Rub until all the printer ink stains come off
Note: You should be cautious when using Windex solution on your skin –It can cause some burning sensations or irritations to some people. If this happens to you, wash quickly with cold water and avoid it completely.
Also, note that the solution works best if you are using it to get rid of fresh printer ink stains.
7. Rubbing Alcohol
If you have no access to any of the above remedies, worry less as here we present you with another convenient and effective remedy.
Rubbing alcohol is used by many individuals as a solvent in various cleaning agents and has proved to be effective when it comes to eliminating oil-based ink stains.
What rubbing alcohol does is that it dissolves the ink, thus making it easier to wipe it off.
Here is how to remove printer ink from skin using rubbing alcohol
Grab a cotton ball and moisten it using your rubbing alcohol
Rub the stained regions of your skin using the cotton ball
Do this until you get rid of the stains
8. Tea Bags
If you have tea bags in your home, you should never worry about printer ink stains. Tea contains useful oil that can work on stains. The process becomes even effortless due to the semi-abrasive materials of your teabags.
How to Do It
Rub the areas stained using tea bags
Repeat the process until the entire stains come off
Note: For quicker results, you should use freshly used tea bags.
The Bottom Line

The above 8 handy options to remove printer ink stains from your skin represent just a portion of the many remedies that exist. Just a word precaution, be keen when rubbing chemicals against your skin. Some can cause burning sensations or irritations! If you encounter such, wash your hand with clean cold water and refrain from the remedy. You can always choose other friendly options from our list if one fails.