When you are purchasing a printer, there are many factors you need to consider to get what suits you; either an inkjet printer or laser printer. You will get confused about whether to buy a laser or inkjet printer. The main difference between inkjet and laser printers is that inkjet uses ink, ideal for home users for low printing volume, while a laser uses toner, perfect for commercial use since it prints high volumes. Whether to choose an inkjet or laser printer depends on selecting an inkjet or laser printer depending on what you print and how frequent and cost.
We will examine the difference between the two printers to help you navigate the decision-making process.
What is the Main Difference between Inkjet and Laser Printers?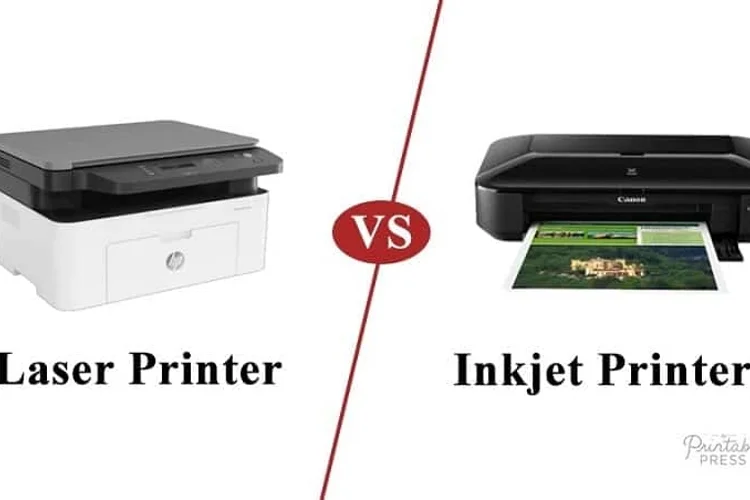 You will come across a few differences between laser printer and inkjet printer to consider before purchasing one.
Inkjet printer
An inkjet printer uses liquid ink to print. It is ideal for people who want high-quality graphics. Plus, the printer is commonly used at home, school, and small businesses that print bulky documents. It is relatively smaller in size, making it portable and convenient for storage.
Laser printer
Unlike inkjet, which uses ink, a laser printer uses toner to produce images and text. They are known for printing at high speed. If you have high printing volumes, you can opt for this printer. It is larger but more budget-friendly. It comes with additional features like scanner, fax, extra capacity, advanced security features making it great for more extensive business.
How do Laser and Inkjet Printer Work?
Inkjet Printer
The printer prints an image or document from a computer

The print head contains thousands of tiny nozzles to spray ink droplets onto a paper sheet as it passes by.

The nozzles are heated by electricity to release ink droplets. The heat causes the bubble to become bigger and pass through the nozzle until it drops on the paper surface.

When the bubble is released, a vacuum is created to draw more ink into the nozzle from the ink cartridge, ready to release the next droplet.

To form a single character, it takes more droplets.
The print head can be moved back and forth across the paper to make new characters.
Laser Printer
The printer uses high-voltage circuits to deliver electrical charges to its parts.

The photoreceptor drum is a rotating drum that is given a positive electric charge.

It has a mirror that reflects the laser onto the rotating drum.

When the mirror is beaming, image it on the photoreceptor drum.

Whenever the laser hits the rotating drum, the positive charge is replaced by a negative charge. The mirror sketches a negatively-charged shape onto a positive charge canvas.

Toner is then released onto the drum. Since the toner is positively charged, it sticks to the drum's negatively charged components outlined by the laser—the toner colors within the lines.

A paper is rolled through the printer, and it is given a powerful negative charge.

As the paper passes through the drum, it pulls the toner grains, which are negatively charged. The toner grains remain on the paper surface.

The paper's charge is removed. It passes through rollers that use heat and pressure to stick the grains onto the paper.
How to decide which Printer to Choose
Here are several factors to consider when you want to buy the best printer to suit your printing needs.
Printing Speed
You need to keep printing speed in mind when buying a printer. If you want to print up to 20 PPM, consider a laser printer while choosing an inkjet printer for 6 PPM. In case you want to print huge volumes of documents regularly, you will realize that a laser printer is faster and affordable to run. Plus, if you're going to print more or less small fonts, laser printing will best suit you.
Color Printing
For quality color prints, choose inkjet printers. Although a laser printer is good for everyday color printing, it is not suitable if you want to produce high-quality images. Laser printers print text very well, making it ideal for office use, but inkjet printers do the magic when it comes to color printing.
Additional Features
Inkjet printers use about 9 color cartridges to print photographic images. They are used on various papers such as vinyl, photo paper, high gloss photo paper, and self-adhesive papers.
Laser printers tend to come with other office features built-in, like scanning and faxing. Interestingly, their paper trays can hold up to 3800 sheets, unlike inkjet printers which accommodate 150 sheets. They are also equipped with wireless connectivity.
Printer Size
Before purchasing a printer, you need to look at your room to ensure you pick what can fit properly. If the space is small, choose an inkjet printer. The great thing is that the inkjet printer has a smaller build so that you can accommodate it everywhere. The laser printer has a large print drum and a thermal element to increase its size and weight.
Printing Cost
Most people feel an inkjet printer is much cheaper compared to a laser printer. But in the real sense, that is not true. An inkjet printer uses one of the most expensive inks. Investing more in ink will exceed your printing budget. So, for home use, it tends to be much more costly.
On the other hand, the laser printer's initial cost might be more than an inkjet, but the toner ink reduces the overall cost. Though a toner cartridge is costly, it prints more papers compared to an inkjet printer. Besides, the liquid ink tends to dry faster, so be ready to pull out the dry cartridge if left for long without use. You need to consider a laser printer if you are not going to print frequently, so the ink will not dry up fast.
Printing Quality
Both laser and inkjet printers are ideal for standard print sizes, black and white print. However, lasers tend to be better at printing smaller fonts. Unlike laser printers, inkjet printers provide excellent color printing.
Technology Used
Inkjet printers use liquid ink to spray on the paper using multiple microscopic nozzles. The ink changes the color of the document and efficiently handles color mixing. The ink is excellent for offering different shades but dries faster than toner.
However, a laser printer uses toner powder. The electrostatic charge helps to transfer the powder to the paper surface. With the help of heat, the powder melts on the paper hence printing quality documents.
Maintenance
Though most printers need to be cleaned, inkjet ink cartridges need more frequent maintenance than laser printers.
Uses
Inkjet printers are suitable for home use because they are smaller, affordable, and print both colors and black and white. Also great for people who want digital camera prints. A laser printer, on the other hand, is mostly used in offices that require high-quality documents.
Pros and Cons for both Inkjet and Laser Printers
Both inkjet and laser printers have their pros and cons, but you will understand which one is suitable for you if you need it.
Inkjet Printers
Pros:
The printer can handle letters, photos, documents, and many others.

It is smaller in size, making it portable and convenient for storage.

It does not require warm-up time before printing.

Can accommodate larger paper sizes

Suitable for home and small businesses

Produces quality prints on heavy surfaces

Print, copy and scan via Wi-Fi connectivity.

Most ink cartridges are compatible.

Ideal for small business and home use
Cons:
The ink can be expensive, especially for people who print frequent and huge volumes.

Slower compared to a laser printer.

It can only hold 50 to 100 sheets.

Require frequent maintenance to produce high-quality prints

Sometimes the printed text smudge due to ink bleeding.

Printouts are sensitive to water as the ink is water-based.
Laser Printers:
Pros:
Laser printers print faster than inkjet printers. People who deal with high volumes will notice the difference.

Laser printer gives crisp and sharp text and graphics.

If you print frequently, then a laser printer tends to be affordable due to the expensive inkjet ink.

Perfect choice for producing vast volumes of printouts per month
Cons:
It can't handle complex images and photos.

It is large and heavy, taking a lot of space.

The initial cost tends to be high.

Can struggle to produce images and color documents

It isn't quiet when operating.
Inkjet Vs. Laser Printer FAQS
What is the best printer for printing both black and colored papers and does not dry up in between the uses?
A laser printer is ideal for printing both black and colored documents and uses toner, which won't dry up in between use, unlike an inkjet printer. Consider a small business model which will not cost you much.
What is the best printer for home use?
Inkjet is the best option because of its compact size and comprehensive capabilities. If you are printing huge volumes of black and white text documents, a laser printer will suit you.
Can you use laser paper in an inkjet printer?
It is not recommended. You better not use laser paper in an inkjet printer and vice versa as it will cause more damage.
What printer should you use if you print regularly and cost-efficient to print black and color?
You can purchase a laser printer because it has cartridges that print thousands of pages before running out of toner. You can also consider ink tank printers since they have large ink reservoirs to print huge volumes, unlike inkjet printers.
How long can a laser printer last?
The lifespan of a laser printer is about 5 years.
Final Word
When choosing between inkjet and laser printers, it all depends on your needs and preferences. Here is the main guideline to help you choose the best:
If you want a printer ideal for printing huge volumes for your business or home use, consider purchasing a laser printer.

However, if you need a personal printer, buy an inkjet printer to offer high-quality photo printing.
Now that you know which type of printer you need, go for the best option.
Happy Shopping!