Technology is a great thing that has happened to the human race. Men desire to create unique items and make their cloth look attractive to their colleagues, friends, and colleagues. Hence, they come up with different techniques for customizing their items. As of today, heat transfer is a major method through which you can customize your garment, tote bags, and other craft items without any hassle. When using the heat transfer method, you don't need the service of a professional or consult a printing company.
Heat transfers require the usage of between one to two colors. You can decorate your items with your favorite images. You can also create a design from your desktop or creative drawing programs and print it on your garment by heat transfer. To perform heat transfers, you need items like transfer images and transfer paper. Heat transfers have become a dependable and trusted method to customize your garment. Hence, most people desire to learn how to carry out heat transfers on garments, and other items. The methods through which you can make heat transfers are straightforward. With that said, today, I will tell you how you can make heat transfers on your garment without any hassle.

How You Can Make Heat Transfers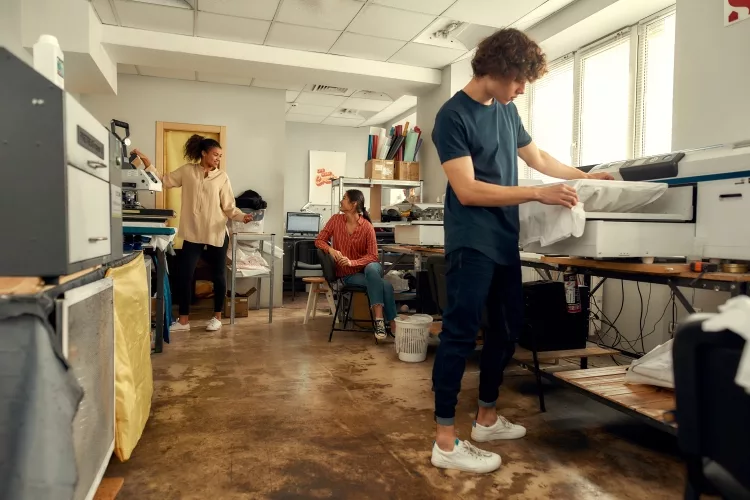 Heat transfers are an effective way of designing your items with fascinating images. You can make business logos, design personalized T-shirts, bags, messenger bags, and other items that has a clean surface. All you need to do is to place the paper on your fabric or item. Then run a hot iron over it. Once this is done, the image is transferred over the item by heat. With this method, you can transfer images to wooden items without any stress. To make heat transfers on your favorite items, you can follow the steps discussed below.
1. Buy Transfers at Local Stores
One of the straightforward methods through which you can make heat transfers on items is to purchase them at local stores that specialize in the sales of transfers materials. The transfer items are packaged in transfer kits and sold at art stores, craft stores, and many more. These materials are packaged in big boxes. When you purchase the transfer kits, all the materials you need to make a fascinating transfer will be in your possession. With the transfer kits, you will get transfer paper and image software. T-shirts are also included on some occasions. Despite the simplicity of this method, it has its own limitations. For instance, there are certain restrictions on what you can make in terms of designs. If you can make your own transfer, you will have full control of your transfers.
2. Create Your Heat Transfers
In this method, you must put your creative intellect to work. You can start looking for an excellent image or create a fascinating image that will be suitable for your transfer. To do this, you can choose any of the following ways:
Search for pictures on the internet.
Design an image through the use of your favorite software program.
Scan any picture you like into your computer.
If you decide to search for images on the internet, ensure you have the full rights to use the image. You can do this by taking permission from the copyright holder. When you are selecting a picture on the internet, ensure the image contains dark colors because they show better on fabrics when compared to images with light colors. If you have a white color in any part of your image, you will also get white color represented by the background of the fabric. The principle about these phenomena is not different from that of home printers. When you use home printer, images or document in white color does not show in the text. The area is always blank meaning because the paper you used in printing is white. In case the picture you have chosen or designed has larger light-colored parts, those parts may appear distorted and discolored after you have ironed the picture on your fabric. Hence, ensure you choose images that have dense and dark colors to get the best design when you complete heat transfer tasks.
3. Edit the Image
Nowadays, it is important to edit your image to get the best design you desire after completing the heat transfer on your fabric. You can manipulate some necessary aspects of the picture of interest. When this is done, it will become suitable for what you need. You can edit images through the use of efficient image editing software. Through this software, you will have unlimited access to resize the image, add effects, change colors, and make necessary edits until the image is suited to what you need on the fabric.
4. Mirror the Image
This is another step that is crucial when making a heat transfer. You must mirror the image so that you can get your desired end result. The image mirroring step is necessary if your image of interest contains numbers or words. When you mirror the image containing numbers or words, they will appear in the right direction after completing heat transfer on your fabric. However, if you decide not to flip the image, the numbers or words will appear in a backward pattern. That said, flipping images is straightforward to do. All you need to do is to use any suitable image software to do it. On the image software, hit the "Flip image horizontally, Reverse, or Mirror" icon to flip the image successfully.
5. Use the Right Transfer Paper
Transfer papers come in different variations and qualities. Some transfer sheets are suitable for light-colored clothes. Also, some are meant for dark-colored fabrics. Hence, it is important to select the right transfer paper for your transfer tasks. When you select the correct transfer paper for your design, you will get the desired results in your transfer tasks.
Let's take a look at the transfer papers for light and dark-colored clothes.
Transfer Papers Designed for Light Colored Fabrics
Transfer papers manufactured for light-colored fabrics are suitable for colors like yellow, light gray, white, and other colors that are light in nature. The light-colored transfer papers are transparent, meaning that the color applied to your designs will appear after completing the heat pressing task on your garment. Also, white color will appear when you use this type of transfer paper. However, it is advisable to use the medium to a dark color to ensure that the picture does not look discolored or distorted on your garment. To further make the transfer work easier, you can trim the edges of the design such that the transparent areas of the transfer paper do not appear on your shirt.
Transfer Papers Designed for Dark Colored Fabrics
This transfer paper is manufactured for shirts that are dark in color. It is suitable for colors like black, dark gray, dark blue, and colors that are dark in nature. The transfer paper for dark-colored materials is thicker when compared to that used on light-colored fabrics. They have a white backing that facilitates the reflection of light colors on your dark fabrics. If you are using this type of transfer paper, any of the background sections of the picture can show up instead of being translucent. Hence, you need to take caution when trimming the outer and inner parts of your design elements. With this, the color of your shirt will show instead of spots of white color.
6. Print the Transfer
Since you have created a fascinating design you desire to print on your garment, the last step you must follow is to print the image on the transfer paper of choice. Before you print the transfer, you need to test the image to know maybe you will get your desired result. You can do this by printing the image on plain paper. This test helps you to know whether the printer will capture the entire picture or not. It also helps you to know if the image will appear differently because some images appear different from the way you see them on the computer. After completing the test and you are satisfied with what you have, you can print the image on the transfer paper. While printing, ensure the image is printed on the right side of your transfer sheet. This site is clearly marked for proper identification. In case you are using laser printers, you will need to use a special transfer paper designed for laser printers.
Conclusion on Heat Transfer Process
Creating fascinating designs on shirts and other fashion items is an activity desired by all and sundry. When you print images or customize your shirt, you look unique and attractive to your friends. However, there are simple steps through which you can make heat transfers on your shirt without consulting the services of professionals. Today, I have given detailed guidelines on how you can make a beautiful heat transfer on your garment. I hope the guide will be helpful. You can drop your comment in the dedicated box after making heat transfer with these steps.