Heat press machines are not just one of the best ways to print on fabric and other related surfaces, they also offer the easiest way to do so. And coupled with the fact that they are highly efficient and would allow you to produce multiple prints within a short period, it is not so hard to see why they are increasingly popular.
However, the fact that these machines are good does not mean things can't go wrong. Sometimes it could be down to user error and sometimes it could be a fault in the machine itself. One thing we can all agree on is that things don't always work out the way we want them to.
Hence, it is okay to see the newly printed design you made on your T-shirt coming off. It is also not the end of the world if the design does not completely transfer to the shirt from the transfer paper. When such incidents occur, there are several reasons as to why. There are also a couple of ways to fix them.
The major and most common reason for any printing or transfer setback in a heat press machine is the heat level when the machine was used. In general, all fabrics have varying temperature scales which can range from high to low. When you try to use a heat press machine calibrated at a temperature way above what the t-shirt or fabric can handle, you are surely going to get bad results.
To prevent these issues from occurring, we have made this All you need to know about the Heat press machine temperature guide and temperature chart. With this, you can easily transfer images and graphics using your heat press machine without worrying that they would come out wrong.
How to set Timer and temperature on a Heat Press Machine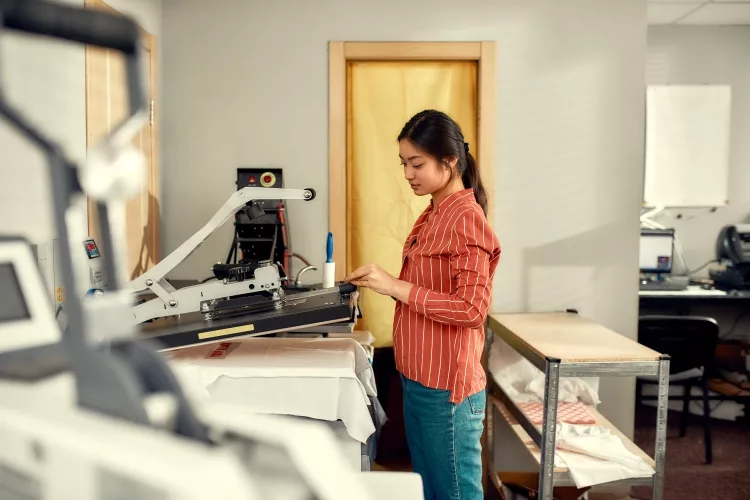 Of course, all Heat press machines come with a unique user's manual that contains detailed instructions on how to operate the machine including how to set the temperature, time, etc.
However, the user manual can sometimes be cryptic so much so that following the instructs can be hard. Even worse, the manual might be missing shortly after purchasing the heat press machine. Regardless of the situation, we know the importance of setting the right temperature for your machine, hence we will give you all the information you need!
Timer settings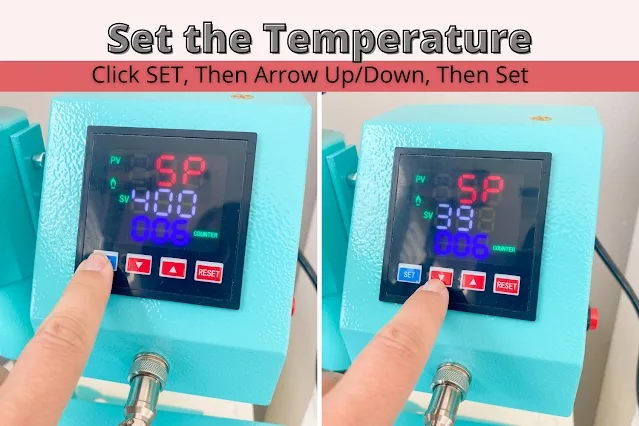 Setting the time is probably the easiest thing on the machine. This is because most of the latest heat press machines come with an LCD screen with buttons or keys to adjust the time displayed. However, if your heat press is a more older model rocking a traditional dial, all you have to do is tune it to the time you want by turning it.
Setting a timer when heating a heat press helps ensure you don't overheat the machine or accidentally expose your fabric to too much heat.
The latest Heat presses even come with an auto-off feature. This feature does exactly what it implies, allow the machine to turn itself off once the timer you set is reached.

Setting your machine's Temperature
Just like setting the machine's timer, you also have to set the temperature the machine would work in. Besides, you don't want to damage your T-shirt or fabric while transferring an image on it.
Think of it as setting a timer and temperature for your oven or microwave. The timer alerts you when the time you set runs out. Your microwave oven's temperature setting lets you set how hot you want the microwave to be while warming the food. The only difference is that a heat press machine is used for customizing fabric. The same principle applies really!
Different types of Fabric and the right heat press temperature for them
In this section, we will briefly discuss the most common types of fabric and talk about the right temperature for them. We will also include a summary table for future reference when you need them. That said, let's get down to it.
1. Polyester material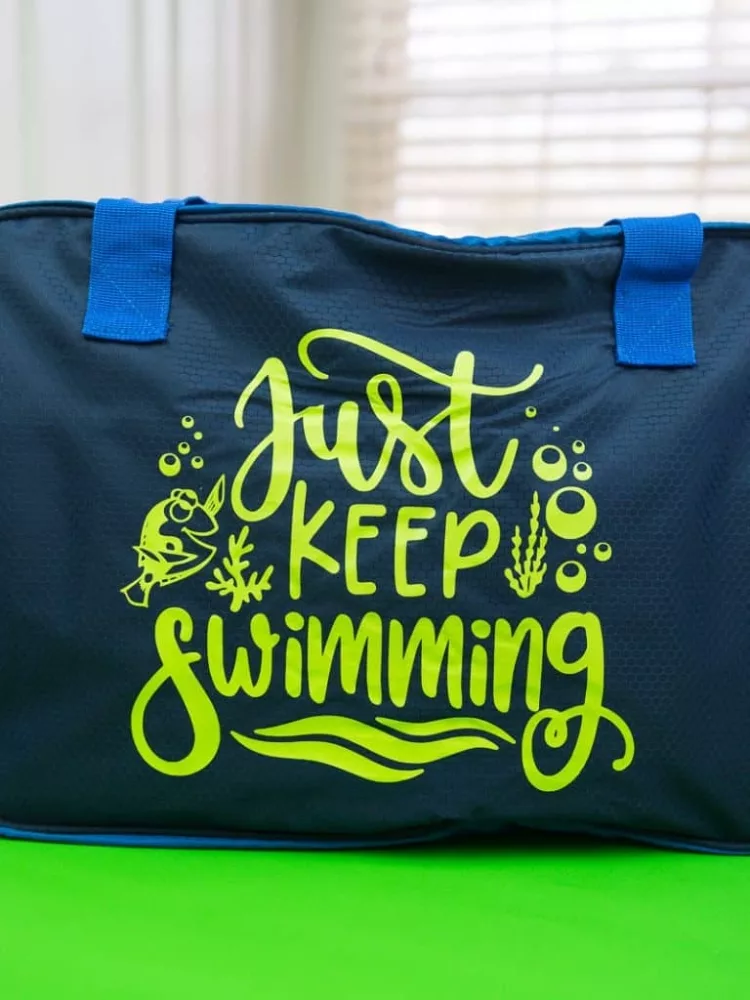 Polyester fabrics are synthetic and generally do not require a lot of heat. Too much heat can quickly damage them. Even prolonged heating is bad for this type of fabric.
Hence, the best heat press machine temperature for this type of fabric is 270 degrees Fahrenheit.
The perfect time to complete the transfer is just under 12 seconds.
TIP: After the transfer is complete, you want to quickly peel off the transfer paper as the material can quickly become cold.
2. Vinyl fabric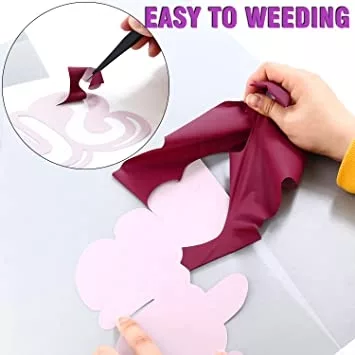 Vinyl is cheap and one of the best materials to practice while learning how to operate a heat press machine. Vinyl can take more heat than polyester hence you can set your heat press as high as 320°F.
Just like Polyester though, you shouldn't place it under the heat press for more than 10-15 seconds for best results.
NOTE: There are different types of vinyl fabric and this might get you confused. However, it is worth noting that any type of vinyl material you choose will work just fine.
3. Cotton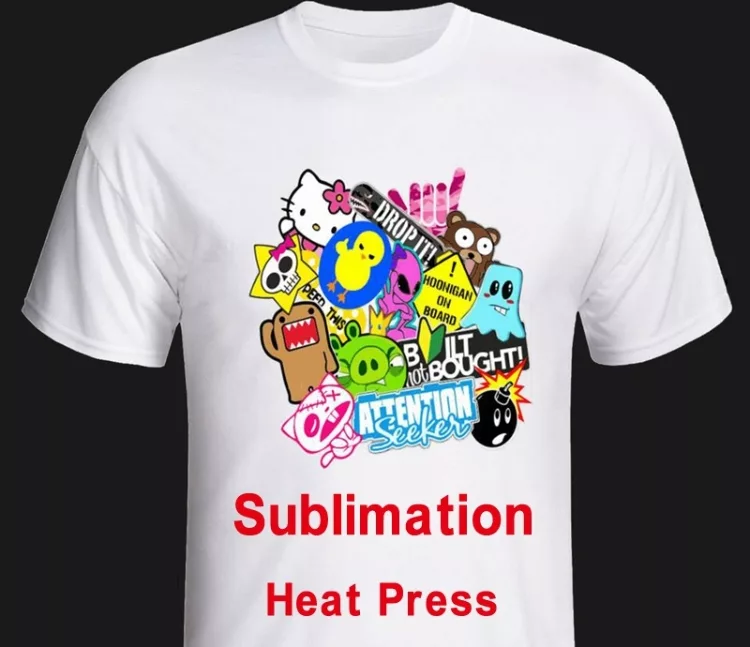 Cotton is without doubt the most used fabric material for making T-shirts. This is mostly because they are durable, easy to wash, and can withstand excessive heat.
When it comes to printing on cotton material with heat presses, you can go as high as you want. However, the ideal temperature you should set your heat press machine to is 380°F.
Cotton can withstand 380°F heat from the heat press machine for as long as 15 minutes. After which, you want to remove it to avoid damage to the fabric.
NOTE: This setting also depends on the design of your cotton shirt. More on this would be addressed later.
4. Stretchy materials e.g. Silk
This includes any material that stretches when you draw it apart. Working with this type of fabric is a bit technical. This is because although they are more heat resistant than materials like polyesters, they still require proper monitoring.
How much heat they can withstand depends on the type of stretchy material it is. For instance, silk would handle about 335°F of heat.
TIP: Because of the nature of the material, it is recommended to allow the fabric to cool off completely before peeling the transfer paper.
5. Vintage
These are shirts that have natural old looks. They are a fashion trend and come in various designs. If you are looking to print on your vintage shirt, the perfect temperature to set your heat press is 350°F.
Vintage clothes are mostly made of cotton, wool, silk among others. As a result, the ideal temperature is not quite set. However, you can't go wrong by setting the temperature to 350°F.
NOTE: The timer should be set to 10 seconds. That is enough time to print on the shirt via the transfer paper and heat press without causing any damage to the vintage shirt itself. This is very useful, especially if you have no idea what type of material the vintage shirt or jacket is made of.
6. Glitter fabric
If you have a T-shirt or jacket that has a glitter textured design i.e. sparkles when light falls on it, you can also print on it with a heat press.
The ideal temperature though is around 340-350°F.
TIP: Ensure to peel off the transfer paper while the shirt is fresh out of the heat press machine.
Heat press machine temperature Chart
The aforementioned are just some of the popular fabric materials. There are several others each with their unique heat resistance. To help you out without boring you to death with unnecessary details, we have compiled all of the common materials you might want to print on with the corresponding temperature to set in your heat press machine.
| | |
| --- | --- |
| Material | Temperature (°F) |
| 1. Polyester | 270 |
| 2. Cotton | 380 |
| 3. Stretchy fabric e.g. Silk | 335 |
| 4. Vintage fabric | 350 |
| 5. Full Colored material | 350 |
| 6. Glitters | 350 |
| 7. HD Digital Printing | 305 |
| 8. Reflective Fabrics | 305 |
| 9. Glow in the Dark Fabrics | 350 |
| 10. Stubborn fabric e.g. Wool | 330 |
| 11. Metallic Finish | 320 |
| 12. Photo Transfer on light-colored Fabrics | 385 |
| 13. Photo transfers on Dark-colored Fabrics | 356 |
TIP: Asides from cotton fabric, no other fabric material on the list above can handle more than 30 seconds of heating (worst case scenario).
Conclusion on Heat Press Temperature Table Guide
As you might have noticed, most of these fabrics are similar. For instance, you can have a cotton t-shirt that is also dark-colored. In this case, although cotton can handle heat as high as 380°F. However, the recommended temperature when printing on a dark-colored cotton t-shirt is just below 380°F.
Yes, this can be a bit dicey since you have to consider different factors before selecting the best temperature for the fabric. One tip we would give you is to jot down each fabric listed above as well as the corresponding heat press machine temperature it can handle. Or better still, you can bookmark this webpage so that you can easily get the necessary information whenever you need it.
If you also have any questions, do well to use the comments section.