One of the reasons many people buy a Cricut Machine is to make T-shirts as it cuts out iron-in vinyl design easily. Getting the best Cricut machine for t-shirts is a great investment to start a t-shirt making business or mini fashion business. Read this post to know which is the Best Vinyl Cutting Machine for T-shirts.
Thanks to the advances in technology, now you can get yourself a small but mighty printer-looking contraption that allows you to do just that.
Stick a piece of paper, cardboard, or some other slim malleable material in it, do some button pushin' and designing via the specialized app, et voila! - your brand new pattern has already been printed!
The machine, or rather, the machines we're talking about, come from a certain company called Cricut, and it's pretty safe to say they are every designer's dream come true. All you need to do wonders with this technology is a desire to design and create exciting patterns and some willingness to get to know its many amazing possibilities.
Right then, folks, without further ado, here's the deal.
Editor's Picks: 5 Best Vinyl Cutting Machine for T-Shirts in 2022
Top 8 Best Cricut Machines for T-shirts Reviews 2022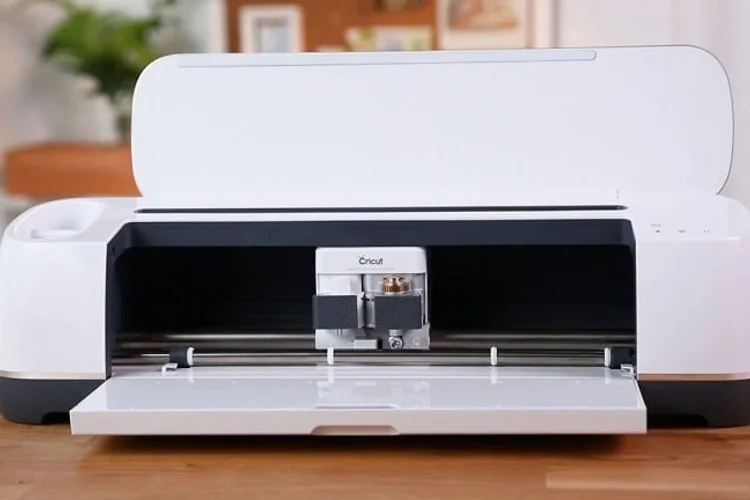 1. Cricut Explore Air 2 Mint
Allows you to make stickers, greeting cards, customized apparel, etc.
It comes with a double tool holder
Unique designing software called Design Space
Can cut through over 100 different materials
Bluetooth connectivity
With an appearance and roughly the same size as your regular laser printer, this model from Cricut offers its user a wide array of options you can use to make brilliant designs and patterns. Using this curious contraption here, both savvy and not so savvy designers can create greeting cards, customized apparel (like shoes and T-shirts), as well as a wide variety of stickers, personalized home décor pieces for any occasion, and so forth.
The functioning principal for this thing is simple enough - all you need to do is develop a design, upload it to the app that comes with this machine, and then perform the edits until you feel ready to print out your masterpiece!
The specific design software you'll be using for making unique designs with this Cricut tool is called Design Space. It allows you to use your computer, iPhone, or tablet to create whatever design you fancy of seeing your choice of material. (Paper, leather, cloth, etc.)
2. Cricut Cuttlebug Die Cutting & Embossing Machine
It comes with an A2 embossing folder
Can cut and emboss various materials (tissue paper, regular paper, leather, foils, etc.)
It comes with different metal cutting plates
Collapsible handle
Compact design
Fancy owning a compact paper and other material cutting contraption the size of a handbag also looks like a handbag? Well, this here model from Cricut carries all the characteristics described in the sentence above.
In contrast to the Cricut machine from above, this model represents one of its simpler family members, so to speak. Namely, this machine is purely mechanical, so you won't need to plug it in anywhere to make it work. Also, there's no software to pay for monthly and get acquainted with.
The deal is pretty much straightforward with this thing - all you need to do is stick a piece of paper in it ( or thin leather, acetate ribbons, foils, or tissue paper ), set the cutting plate of your choice, and start cutting up the stuff you've previously placed inside it!
3. Cricut Explore Air Wireless Cutting Machine
Embedded Bluetooth for wireless connectivity
Can cut and write or cut and score at the same time
Can work with a variety of materials
Smart set dial
It comes with inbuilt storage compartments
If you're after a Cricut machine but aren't too fond of cables, this wireless cutting tool can be just what you've been looking for. Its data receiving system is based on Bluetooth connectivity, so you won't need any cables to connect the source you're using to send your designs to the cutter itself.
When it comes to the materials this machine can cut through, you can rest assured that you'll be able to power through as many as 60 different materials. These would include vinyl, cardstock, paper, various forms of fabric, and so on.
Now, to start working on the project you were thinking of, you'll need to upload your designs in the form of an image to the software that will allow you to then cut the thing up according to the measurements you've set up beforehand. As for the formats supported for this purpose, you can work with.svg,.jpg,.gif,.dxf, and some other ones. ( For the record, uploading your images, no matter their format, is completely free. )
4. Cricut Explore Air 2 Machine
Bluetooth connectivity for wireless cutting
Smart set the dial for easy material positioning
It comes with a bundle of accessories ( a spatula, pair of scissors, tweezers, colored vinyl… )
An electronic instruction e-booklet for beginners
Pen set
Sittin' pretty at our spot number 4 is a special edition of the Cricut's Explore model. The main thing that sets this offer apart from the others above is that this one represents a special sort of bundle with some interesting accessories you can get to know as you're using this machine.
That said, it's probably safe to say that this bundle is primarily aimed at folks who already have some experience with the Cricut tools. However, rookies can use it as well because it's not difficult to figure out. But then again, if you plan to make an odd postcard now and again, there's no point in investing in a large bundle, then, is there?
Anyway, this heap of high-tech cutting equipment comes with a pen set, some adhesive-backed vinyl, some iron-on vinyl, as well as a specialized tool kit for a variety of cutting tasks. When utilized to its full potential, this arsenal of cutting tools can help you produce some of the following results:
Wall signs,
drinkware,
indoor decals,
baseball caps,
customized shoes, and
customized pillows …
… and a bunch of other stuff!
Quite an interesting package, especially if you're an experienced Cricut user!
5. Cricut Easy Press 2 + Heat Press Machine
Works on T-shirts, totes, pillows, aprons, etc.
Can get the job done in under 60 seconds
The ceramic-coated heat plate surface
Temperature control that goes up to 400° Fahrenheit
Lightweight design
Other than cutting up various materials to enrich them with different patterns, the folks at Cricut have also devised another way to print logos, cheeky messages, and artistic patterns onto T-shirts, shoes, cloth, and other pieces of equipment - the good ole heat press.
With Cricut's Easy Press 2, you can produce a wide variety of visually appealing patterns and pictures on your shirts and other fabric items simply by heating the press in question and then applying the heated press directly onto the area of interest, so to speak. Of course, you'd first need to place the film with the picture or pattern or slogan you'd like to see on your T-shirt, for example, onto the T-shirt itself. ( Also, you have to make sure there aren't any wrinkles underneath it, either. If there are, the visual pattern you're going for may come out warped. )
With this contraption on your side, you can rest assured you'll be able to reach temperatures of up to 400° Fahrenheit, which is more than enough to help you print out whatever pattern you so desire!
6. Silhouette America: Portrait 2 Vinyl Cutting Machine
Can cut through over 100 materials ( cardstock, fabric, vellum, magnet paper, adhesive vinyl )
Free software available for PC and Mac
Bluetooth connectivity
Powerful cutting blade
Simple design, a wide array of materials you can work with, and wireless connectivity make this Silhouette America contraption a desirable contraption you can work within case you need a material-cutting thing for an upcoming event.
Thanks to its powerful cutting blade, this Silhouette America tool can work with over 100 materials, including paper, vellum, adhesive vinyl, cardstock, fabric, as well as a host of other ones. So, whether it's a T-shirt or a piece of cardboard you want to turn into a cheeky postcard, all you need to do is stick it in this machine and watch it transform into a beautiful new creation you can be proud of.
You don't need a cable to use this device, as the info you need to send into this machine can be sent via Bluetooth. So, all you need to do is come up with a design, download a design you fancy, and then send it to this device! The rest is easy.
7. Cricut Easy Press
Big handle for easy maneuvering
Home friendly design
Safety base that's heat-resistant
Auto shut-off feature
Lightweight design
Representing the Cricut Easy Press 2's older brother, this Easy Press model comes with some pretty interesting characteristics you might want to look into. As is the case with its successor, so to speak, this model also comes with sort of the same features you've seen a couple of entries above. This is mostly because the working principle of a heat press is quite a simple one - take a film of paper with your logo on it and then press it with a heated ceramic thing until the surface underneath assumes the shape or the pattern you're trying to imprint it with.
To make this happen, the folks at Cricut have left you to decide on two separate parameters - heat intensity and time. This may seem simplistic, but these two are all you need to create the design you're looking to make.
8. Cricut Maker Champagne
A powerful rotary blade
It comes with a range of tools you can use
Allows you to create an infinite number of innovative designs
Works with an array of materials ( cloths, cardboard, paper, thin leather )
Another great tool for accomplishing your designing goals comes in the shape of this Cricut contraption called Cricut Maker Champagne. Possibly the most important aspect of this Cricut maker would be that it allows you to work with various materials. Also, when it comes to the type of results you'll be getting from using this tool, you can count on paper crafts, iron-on, as well as vinyl decals for good measure.
In its mighty array of tools, this Cricut thing employs various things, including blades, a scoring tool, various pens, to give you absolute control over your designs and the results. Perhaps the biggest difference between this model and some of the other Cricut products lies in the fact that this one has a rotary blade - an improvement over the original design that enables this contraption to cut through a wide array of different materials with notable ease.
Buying Guide for the Best Vinyl Cutting Machine for T-shirts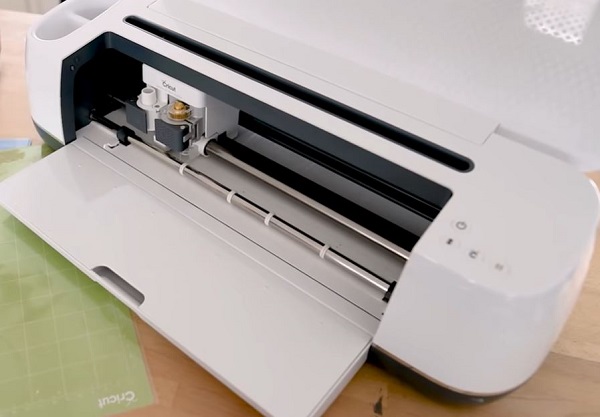 Supported Dimensions
While Cricut machines will be able to work effortlessly with several different designs, they'll still be limited by their dimensions regarding the size of the material you're working with.
For example, an average Cricut machine is roughly the size of a chunkier laser printer, so this represents the largest possible area these machines can work with at a time. This makes these contraptions a perfect choice for T-shirts, thin fabric shoes, and other smaller paper projects.
That said, there is a special line of mini Cricut machines, which further reduce the dimensions of the materials you can work with.
Multi-purposeless
Other than simply cutting the materials in question, there is a special breed of Cricut printer capable of performing several different processes at the same time they're cutting the material you've put inside them.
For example, the Cricut models Explore Air and Explore Air 2 enable you to cut the designs you want while the machine also writes and scores simultaneously. This can cut down the time you spend preparing the new project and help you produce the designs of your choice quicker and more efficiently.
Bluetooth Connectivity
In case you don't really like cables or find it more convenient to use Bluetooth instead, here's a prospect you may want to think about when buying a Cricut machine. Of course, the thing in question would be the fact that you can use Bluetooth to send the data you fancy back and forth.
To accomplish this, all you need to do is obtain a Cricut cutter with Bluetooth connectivity. Several models coming from this manufacturer enable you to connect your device of choice ( laptop, tablet, iPhone, etc. ) with the Cricut machine you have.
Docking Station
And what we mean by 'docking station' is an iPhone holder, possibly with a charger.
The thing is, many folks choose to create and edit their designs via their iPhone, so a docking station serves to hold your phone while you're making your design. Also, some docking stations will charge your phone while it's placed in its station, so that's another benefit of having one of them. ( meaning the docking station )
However, a docking station isn't exactly the most important part of a Cricut tool's arsenal, so you shouldn't obsess too much about getting a model with one of these.
Blade
Arguably the most important piece of hardware in a Cricut machine represents its blade. This part will be responsible for cutting out different designs and patterns in the material you put inside this machine, so it's important to make sure this thing is high-quality stuff, so to speak.
So far, the folks at Cricut have devised two types of blade for their Circuit contraptions - a fine point blade and a rotary blade. Each of these is perfectly capable of getting the job done, so no matter what sort of blade you get on your Cricut machine, you won't make a mistake.
The Different Types of Vinyl Cutting Machines
There are three different types of vinyl cutting machines: the manual vinyl cutter, the hobby vinyl cutter, and the commercial vinyl cutter.

The manual vinyl cutter
The manual vinyl cutter is the simplest type of vinyl cutter. It consists of a cutting blade that is attached to a handle. The user manually moves the blade across the surface of the vinyl to cut it.

The hobby vinyl cutter
The hobby vinyl cutter is a little more sophisticated than the manual vinyl cutter. It typically has a built-in electronic controller that allows the user to make more precise cuts. Hobby vinyl cutters are popular among crafters and home users.

The commercial vinyl cutter
The commercial vinyl cutter is the most sophisticated type of vinyl cutter. It typically has a large cutting bed that can accommodate larger pieces of vinyl. Commercial vinyl cutters are used by signmakers and other professionals who need to produce a lot of vinyl signage.

Which type of vinyl cutter is right for you? It depends on your needs and budget. If you only need to make a few simple cuts, the manual vinyl cutter will do the job. If you need more precision and flexibility, the hobby vinyl cutter is a better option. If you need to produce a lot of vinyl signage, the commercial vinyl cutter is the best choice.

The Pros and Cons of Owning a Vinyl Cutter
Vinyl cutters are a great tool for businesses and individuals who need to produce signs, stickers, or other graphics. They can be used to create custom designs or to reproduce existing designs. There are a number of pros and cons of owning a vinyl cutter.

The Pros
Vinyl cutters are very versatile tools that can be used for a variety of applications.
They are easy to use, even for beginners.
They produce high-quality results.
They are affordable compared to other types of sign-making equipment.
The software that comes with most vinyl cutters is easy to use and allows you to create custom designs.
The Cons
Vinyl cutters require a certain level of skill and experience to use effectively.
They can be expensive to purchase and maintain.
The software that comes with them can be difficult to use for some people.
They are not as versatile as other types of sign-making equipment.
Overall, vinyl cutters are a great option for businesses and individuals who need to produce high-quality signs and graphics quickly and easily. While they do have a few cons, the pros definitely outweigh them. If you're thinking about purchasing a vinyl cutter, be sure to research your options thoroughly before making a decision.

Where to Find Designs for Your T-Shirts
There are a number of places you can find designs for your t-shirts. One option is to create your own design, either using software or by hand. If you don't have any design skills, there are a number of online services that can help you create a custom design.
Another option is to use one of the many free and paid designs available online. There are websites that offer free designs, and others that charge a fee for access to their library of designs. Be sure to check the licensing agreement before using a paid design, as some licenses restrict how the design can be used.

Finally, if you have an existing logo or graphics package, you can use those files to create a t-shirt design. Just be sure to check the dimensions of the file and make any necessary adjustments to fit on a t-shirt.

FAQs about Vinyl Cutting Cricut Machines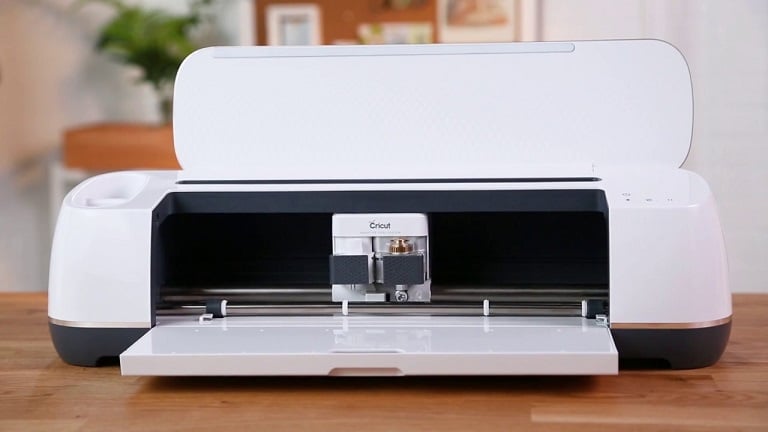 1. What Can I Do With a Cricut Maker?
Using a Cricut Maker, you can create various designs, patterns, logos, and slogans and imprint them on a piece of paper, cardboard, leather, vinyl, or some other material of your choice. (
As long as the material is thin and malleable enough, you can rest assured that the Cricut's blade will be able to pass through it.
)
To make a design come to life, you'll need a pattern ( either your own or some pattern you downloaded ), a material you'd like to use, and that's it! Simple as that.
2. What Software Does Cricut Maker Use?
Cricut machines usually use specialized Cricut software produced by the same manufacturer that made the cutter itself. So, to use it, you'll have to pay a subscription fee, which is usually required every month.
3. Do You Need a Computer to Use a Cricut?
Since most of Cricut's products use the specialized Cricut software we mentioned above, you can use it on any of the platforms supported by this software.
So, other than computers, you can use the Cricut designing software on your tablet, iPhone, and whatever device you have that supports the aforementioned software.
4. Can I Use My Design with Cricut?
Yes, you can. While using the specialized Cricut software, you can choose between using some of the offered pieces of design or upload a creation of your own to the cloud!
This way, you can make your digital creations come to life by transferring your image of choice to the surface you like!
5. What Do I Need for a Cricut Machine?
If you're in the market for a Cricut machine, you may be wondering what all you need to get started. Here's a quick rundown of the basics:
First, you'll need a Cricut machine and a corresponding subscription plan. You can choose from a variety of machines, including the Cricut Maker, the Explore Air 2, and the Cuttlebug.
Next, you'll need to gather some supplies. This includes basic crafting materials like cardstock, vinyl, and fabric, as well as specific materials depending on the type of project you want to do. For example, if you want to make stencils, you'll need an x-acto knife and some masking tape.

Finally, you'll need to learn how to use your machine. There are a variety of tutorials and resources available online, or you can take a class at your local craft store. Once you have all of these things in place, you're ready to start crafting!
Buy on eBay, Walmart, Etsy (quality guaranteed)
Silhouette Wireless Cutting Machine-AutoBlade-Dual Carriage-Studio Software, 12, Cameo - Walmart, Etsy, Ebay
Cricut Explore Air 2, Mint - Walmart, Etsy, Ebay
Vinyl Cutter USCutter MH 34in Bundle - Sign Making Kit w/Design & Cut Software, Supplies, - Walmart, Etsy, eBay
Silhouette Portrait 3 Electronic Cutting Tool - Walmart, Etsy, Ebay
Roland GS-24 Vinyl Cutter - Walmart, Etsy, Ebay
24inch 500g Cutter Plotter for PU Vinyl - Walmart, Etsy, eBay
Cricut Cuttlebug Die Cutting & Embossing Machine - Walmart, Etsy, Ebay
Cricut Explore Air Wireless Cutting Machine - Walmart, Etsy, eBay
Cricut Explore Air 2 Machine Bundle Iron On Vinyl Pack Tools Pen Design Beginner Guide - Walmart, Etsy, eBay
Cricut EasyPress 2 - Heat Press Machine For T Shirts and HTV Vinyl Projects, Raspberry, 9' x 9' - Walmart, Etsy, Ebay
Silhouette America Portrait 2 Vinyl Cutting Machine - Walmart, Etsy, eBay
Conclusion for T-Shirt Vinyl Cutting Cricut Machine Buyers
If you are looking for a vinyl cutting machine that is perfect for T-shirt making, the Cricut Maker is an excellent option. With its rotary blade and fabric blade, it can easily cut through multiple layers of fabric without difficulty. Additionally, this machine comes with a number of built-in features that make it easy to use, including a color LCD screen and on-screen help menus. So if you're in the market for a new vinyl cutter, be sure to consider the Cricut Maker.