To say laser printers are the most popularly used in offices and businesses for printing work would be an understatement. They are fast and economical in terms of purchasing and maintenance.
Laser Printers mostly produces high-quality text documents in black and white and usually in bulk. And while they do not produce jaw-dropping multi-colored photos like inkjet printers, there is still a level of beauty associated with laser printer works.
Although monochrome printing is mostly associated with Laser printers, some versions of the printer that can produce color prints do exist. The only controversy when it comes to such printers is how well the finished work looks compared to Inkjet colored printouts.
As a result, we will have a detailed buying guide on the best color laser printer for photos in 2022. This guide will cover the best features of each printer. You will also read about everything you need to know before buying a color laser printer.
Without further ado, let's get started!
Top Color Laser Photo Printers in 2022 by Editors
Can Laser Printers Print Photos?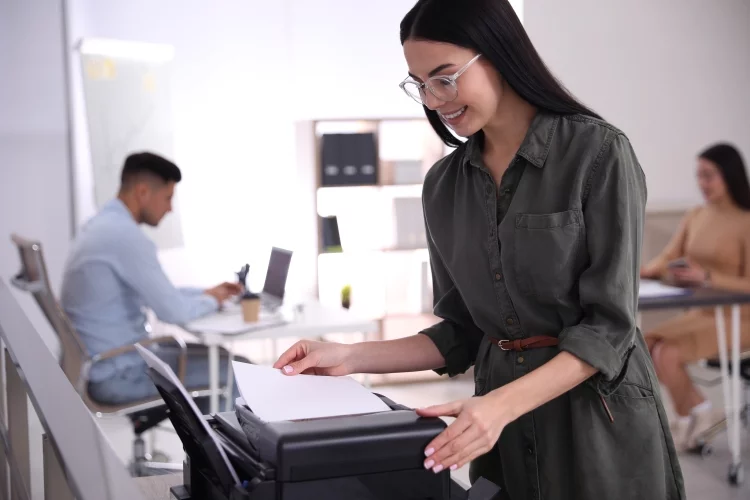 Before discussing the various types of laser printers on the market, it is important to settle the color laser printer vs inkjet printer argument.
Now, there are many sides to the argument. For instance, if you want high-quality, sharp, and clear photos printed in large quantities, an inkjet printer is your best bet. However, this does not take anything away from the finished work of a high-quality color laser printer.
The first thing to note to find a suitable spot in the laser printer vs inkjet printer controversy is preference differs. How you will rate a selfie is different from the way someone else might rate it.
The same goes for printers. How well a printer print in color depends mostly on certain factors. The biggest of them is the DPI capacity of the printer. Another important factor to keep an eye on is the printer's color reproduction. Both influences the level of satisfaction you get when examining the quality of the printed photo.
That said, it certainly makes more sense that people and businesses that often require color printing would go for an inkjet printer. However, considering the cost of maintenance and even the cost of buying one, a laser photo printer offers good value for money. I mean, why spend more money than you need to on a photo printer when you infrequently print pictures.
So are laser printers good for photos? Absolutely! They are. The latest versions of the printers are even better efficient thanks to each brand's technology.
Top 7 Best Color Laser Printer for Photos: Review 2022
Now that you know what to expect, we can now discuss our top 7 recommended color laser printers to buy. Each printer review includes important information that can help you decide which is better suited for your business or needs. That said, let's get right into it!
1. HP Color Laserjet Pro M255dw printer - Link
BEST FEATURES:
Best color laser printer on the market in terms of value for money.
Perfect for small to medium-sized businesses.
Comes with a bypass slot
Simple build design for easy handling.
Arguably the best color laser printer on the market, there is just no box the HP Color Laserjet Pro M255dw printer doesn't check.
It can print in color as well as monochrome. It is best for home office printing as well as small to medium business printing. it is powerful and delivers color-rich printing work.
The M255dw Printer has a modern ergonomic design that makes for easier handling. This also means you can turn it into a mobile plug and print color printer. It comes with a 2.7-inch color touchscreen that makes for better navigation.
It has a printing speed of 22 pages per minute which is not as fast as you will find for some other laser printers on this guide. It also doesn't support copying or scanning which pretty much means it does not support faxing. However, it makes up for this thanks to its support for both Windows and Mac PC. It also comes with a "bypass slot". This slot makes it possible to print on other types of materials that are not paper.

2. Canon Color imageCLASS Laser Photo Printer (MF644Cdw) - Link
TOP FEATURES:
Best value for money for small businesses
Comes with wireless network support
Touchscreen display for better and smoother navigation
Canon is one of the biggest brands in photo printing. Some even say the brand revolutionized how other brands manufacture photo printing machines.
If for any reason you do not know the brand, you can rest assured you won't be disappointed. Especially if you purchase a color printer from the brand's ImageCLASS line.
The Canon MF644Cdw is a premium printer from its imageCLASS line. Basically, imageCLASS printers are all-in-one machines that can handle high-quality printing in black and white or color. They also provide fast and efficient faxing, scanning, and copying services with a simple touch. Yes, it comes with touchscreen support thanks to its 5-inch color display for easy navigation and control.
The MF644Cdw comes with wireless network capabilities so you can directly print or fax or scan documents between your smart devices and the printer. It comes with an efficient cartridge that prevents unnecessary paper and toner waste.
One of the many reasons we place this printer high up the list is its affordability. Compared to other printers that do exactly what the Canon MF644Cdw does, it is reasonably priced. This makes it the best value for money color laser printer for home offices and small businesses.

3. Brother HL-L327OCDW Wireless Digital laser photo Printer - Link
BEST FEATURES:
Can print vivid and sharp images and text documents
An adjustable paper tray as well as a manual feed slot for other odd-printable materials
Supports NFC, Ethernet, USB, and Wi-FI Direct
Supports direct printing from cloud services including Dropbox, MEGA, etc.
So, let's just say this - the Brother HL-L327OCDW is the best budget color laser printer on this guide. It is best for printing promotional documents and brochures for commercial businesses.
Produced by one of the most respected brands in the Printer market this photo printer from the Brother Brand comes with some useful premium features.
It comes with a 250-sheet paper tray that you can adjust depending on the size of paper you are printing on. It also comes with a manual feed slot where you can manually feed odd materials (such as card stock, envelopes, etc.) to print on.
The Brother HL-L327OCDW comes with just about any type of connectivity option you might need in an office. Ethernet? Check. USB connectivity? Check. Wi-FI Direct connectivity? Check. It even comes with NFC. All these ensure fast and reliable hands-on and remote printing.
Because of the many connectivity options the printer has, it also supports cloud printing from services such as MEGA, Google Drive, and Dropbox. To do this, you will have to access the machine's color touchscreen.
One big issue users have with this printer is its lack of multi-functionality. However, this does not prevent it from producing vivid and sharp images. Considering it is reasonably priced, you are in for a treat!

4. HP Color LaserJet Pro Wireless Multifunction M479fdw Laser Printer - Link
TOP FEATURES:
Two-sided colored printing at impressive speed.
Comes with Wi-Fi Direct support that lets you connect your smartphone to the printer.
Supports Alexa
Solid security and notifications feature.
This is one of the best laserjet Pro printers out there that delivers high-quality printing at astonishing printing speed. It is best for personal use and small businesses.
Guaranteeing consistent high-quality printing, the HP M479fdw printer can also scan and fax documents to other HP printers. Although it comes with pretty limited software, it can still handle automated printing work better than other laser printers.
Although it is a wireless laser printer, it can print with or without a network connection. It supports smart printing. All you have to do is connect the printer to your smartphone and you can directly print out documents.
It comes with a 250 sheet tray and has impressive printing speed. It has a solid notifications system that provides necessary information about the printing process. There is also a solid security feature that lets you lock the printer.

5. Kyocera Ecosys M5526cdw laser printer - Link
BEST FEATURES:
Supports USB and Wi-Fi connectivity.
Comes with Amazon Dash Button support.
Encrypted data transfer while faxing documents.
Best Eco-friendly laser printer
Know how there are always devices that seem to do everything in a little manner without necessarily being good or bad? That's the Kyocera Ecosys M5526cdw laser printer right there.
So what bits of everything does it do?
The Kyocera Ecosys M5526cdw laser printer can print very fast and in top quality, as you would expect a top 10 best color laser photo printer to. It can also scan, or fax documents and then send them to other smart devices it has access to.
It is best for small businesses and home offices that need to do colored printing every once in a while. It is quite affordable and functionally versatile in terms of the resources it uses. For instance, it can print in color as well as in black and white at just about the same printing speed. Its printing speed is at a respectable 26 pages every minute. One big dealbreaker is that it only supports A3 and A4 paper. Custom printing on other types of paper, while not impossible, is relatively difficult to accomplish.
The printer also has a function that lets is copy or photocopy documents even if you do not have the softcopy of the documents.
It has a long-lasting and efficient toner cartridge that lets you do colored printing. If you purchase the Kyocera Ecosys M5526cdw laser printer from Amazon, you are automatically eligible for the Amazon Dash button feature. This feature lets you quickly order more toner once you run low.
The printer has encrypted software that helps protect faxed or copied documents. So you can be rest assured there is no danger of a faxed message being intercepted. Many even consider the Kyocera Ecosys M5526cdw better than some popular inkjet printers because of its software.
To cap it all, the printer uses only ecosystem standard resources. By purchasing one, you are indirectly contributing to a better environmental balance.

6. HP Laserjet Pro M254dw Wireless color laser printer - Link
BEST FEATURES:
Ethernet and Wi-Fi connectivity options.
Integrated with HP's smart app for remote control.
Has cloud printing capabilities.
Honestly, even without talking about the features of this fast printing machine, the fact that it is an HP LaserJet printer makes it a good buy.
Like other printers from the HP laserjet printer brand, the M254dw comes with several features to make printing a nice experience.
For one, the M254dw wireless color laser printers can print the fastest when compared to other regular printers in its model class. In other words, if you want a machine that prints faster than other models in the same price bracket, then the M254dw is your best bet.
However, compared to other printers from the laserjet line, the HP M254dw isn't that fast. But it does have other impressive strengths than just its printing speed.
One other drawback that quickly comes to mind is the printer's lack of an automatic document feeder. Although, it does have a 250-sheet A4 paper tray.
The HP M254dw laser printer is not an all-in-one printer. You cannot use it for faxing or duplicating documents. It comes with impressive wireless capabilities including traditional Wi-Fi connectivity as well as Wi-FI Direct.
Like many other HP printers, the M254dw laser printer comes integrated with the HP Smart App. The app gives you access to download documents from could services. The app also allows you to order any printing supply your M254dw needs.
It uses the HP JetIntelligence toner cartridge which ensures beautiful and vivid color printouts.

7. HP Laserjet Pro m281fdw photo printer - Link
Top Features
Comes in a compact size that enhances mobile printing.
Comes with USB, ethernet, and Wi-Fi connectivity options.
Can print on different types of paper including plain paper, card stocks, glossy photo paper, HD paper, etc.
Perfect for any type of organization since it can handle low and high-volume printing.
Comes with toner cartridges.
The HP Laserjet Pro m281fdw is referred to as the best black and whites printing machine by previous users and for good reason.
The M281fdw guarantees high-quality two-sided printing in black and white. It is a performance printer that can not only print out documents. It can also scan and fax documents from one office to the other.
It comes with a 50-sheet feeder tray and a 2.7-inch color screen that supports hand touch control. With this, you can access all the printer's features such as scanning, faxing, and of course USB printing.
This printer can print about 22 pages of single-page documents in a minute. Two-sided printing will see the printer only produce 13 pages each minute; small but certainly impressive. It mostly only prints in black and white colors. This makes it the best laser printer for printing black and white photos.
Thanks to its changeable toner cartridges, the HP Laserjet Pro m281fdw can also print color documents. To do this, you have to purchase the original HP 202A Toner cartridge. While other brands of printing toner would work, the finished work would not be as impressive as it ought to be. Even worse, the machine might end up breaking down.
The printer supports the use of the HP Smart App. The app lets you easily scan and print out documents on your printer via your smartphone. It also gives you the ability to print documents from cloud storage including Google Drive, Dropbox, iCloud, etc.
Buying guide for the Best Color Laser Printer for Photos and Colored Printing
With this information, you can then go into any tech store and purchase a laser printer that is just perfect for you. Or you can simply read our top recommendations and pick the one that suits your needs.
That said, we have outlined some important facts to keep in mind while finding the best-colored printer for your business.
Paper tray and feeder
This refers to how much paper the printer can hold at a time. it also significantly influences how well the laser printer handles paper and also the size of paper it can handle. Some paper trays are capable of double-sided printing while some are not.

Printing capacity
This simply refers to the maximum capacity (number of prints) the printer can handle per day or month.
Connectivity options
It means how modern the laser printer is asides from the usual USB port connectivity. Most modern printers come with Wi-Fi Direct capabilities, Bluetooth and Ethernet chips, Apple Air Print capabilities, etc.

Printing Speed (PPM)
Printing Speed refers to how fast a printer can print a page out. The speed is measured in pages per minute.
Multi-Functionality
Multifunctionality means the other features of the printer asides from printing. This includes scanning, faxing, and photocopying documents.
Ease of use
how easy a printer is to set up or use can determine how useful it is. It is always best to choose a printer that has a control panel or buttons to help navigate it.
How to Print Photos Using a Color Laser Printer ?
Printing photos using a color laser printer can be a bit tricky, but with these simple steps you can get great results every time.
Make sure that your photo is in the correct format. Most color laser printers print best when photos are in JPEG format.
Choose the right paper. Not all types of paper are suitable for printing photos, so make sure to use photo paper if you want the best results.
Adjust your printer settings. Each printer is different, so you may need to do some experimentation to find the best settings for your particular model. Generally speaking, you'll want to use the highest quality settings and select the "photo" or "graphics" print mode.
Print your photo. Once you've adjusted the printer settings, press the print button and wait for your beautiful photo to come out of the printer!
The Benefits of Using a Color Laser Printer for Photos
A color laser printer is a great option for printing photos. Here are some of the benefits:

1. High quality prints
A color laser printer can produce high quality prints with accurate colors and sharp images.

2. Vibrant colors
A color laser printer can create vibrant, eye-catching prints that will stand out from the crowd.

3. Easy to use
A color laser printer is easy to use, with simple menus and controls.

4. Variety of paper options
A color laser printer can use a variety of different types of paper, including photo paper, for optimal results.

5. Fast print speeds
A color laser printer can print photos quickly, so you won't have to wait long for your prints.

6. Affordable
A color laser printer is affordable, making it a great option for printing photos on a budget.

7. Portable
A color laser printer is portable, so you can take it with you wherever you go.

8. Durable
A color laser printer is durable and built to last, so you can rely on it for years of printing excellence.

So if you're looking for a high quality printer that can produce beautiful prints, a color laser printer is the perfect choice!

Expert Tips for a Color Laser Printer to Get the Best Results
If you're looking for the best results when printing photos with a color laser printer, follow these tips:

1. Use photo paper
Photo paper will give you the best results for printing photos. Regular paper is fine for text or other documents, but it won't produce as good of a result when printing photos.

2. Use the correct settings
Make sure to use the correct settings on your printer when printing photos. This will ensure that they come out looking their best.

3. Edit your photos if necessary
If you need to edit your photos before printing them, there are a number of different software programs that you can use. Try different programs until you find one that gives you the results you're looking for.

4. Print in high quality
Make sure to print your photos in high quality so that they come out looking their best. This will ensure that you're able to see all of the details in your photos.

5. Store your photos properly
Once you've printed your photos, be sure to store them properly so that they don't get damaged. You can store them in an album or in a photo box, for example.

By following these tips, you'll be able to produce beautiful prints of your favorite photos using a color laser printer!

Color Laser Printers vs Inkjet Printers
In this section of the guide, we will compare the two types of photo printers. we won't necessarily do a traditional comparison, you can be sure to find every benefit of a color laser printer over the immediate inkjet counterpart.
1. Cost per printed page
This just explains how much it costs to print a single page in color using an inkjet or lasers printer. All laser printers are cost-effective and are one of the biggest reasons they are popular. Typically, because laser printers use toner cartridges, not much toner is required to print a photo. Inkjet printers on the other hand require more ink to print colored documents or photos.
2. Smearing
Because inkjet printers use dye ink, the printer has to apply heat to dry the document before printing it out. There is always a chance of the information or photo contained on the document printed using an inkjet printer smearing if not properly dried.
Laser printers on the other hand produce sharp and vivid text and image documents using dry powder (toner). No streaking is possible because of this.
3. Maintenance
Toner cartridges are readily available in local and online stores. They are very easy to load into the printer. Inkjet printers though come with several issues while refilling the dye ink.
FAQS about Color Laser Printers for Photos
Can I print photos with a color laser printer?
Of course, you can. The most popular method is using inkjet printers but they are expensive to maintain. Especially if you do not plan on frequently printing photos. In this case, color laser printers offer the best value for money.
Can a color laser printer print on inkjet printing paper?
No, and for good reason. Inkjet printers print using specially coated paper. This paper allows for quick ink and heat absorptions. However, the type of heat an inkjet printer generates is miles different from the heat a laser printer produces. Thus, the implication of using inkjet printing paper with a color laser printer is feathering images.
Doing this can also damage your color laser printer.
How many pages can a laser printer toner cartridge print?
This depends a lot on the type of printer and the size of cartridge it uses. However, from the printers reviewed on this guide, you can expect to print anything from 2000 to 10,000 pages with each cartridge.
Buy on Etsy, eBay, Walmart (limited quantity)
HP Color LaserJet Pro Multifunction M479fdw Wireless Laser Printer with One-Year, - Walmart, Etsy, Ebay
Lexmark MC3224adwe Color Multifunction Laser Printer with Print, Copy, Fax, Scan and - Walmart, Etsy, eBay
HP Color LaserJet Pro M255dw Wireless Laser Printer, Remote Mobile Print, Duplex - Walmart, Etsy, eBay
Brother HL-L3290CDW Compact Digital Color Printer Providing Laser Printer Quality Results - Walmart, Etsy, eBay
Brother MFC-L3770CDW Compact Wireless Digital Color All-in-One Printer with NFC, 3.7" - Walmart, Etsy, Ebay
Canon® imageCLASS® MF644Cdw Wireless Laser All-in-One Color Printer - Walmart, Etsy, Ebay
Conclusion for Photo Color Laser Printer Buyers
The best color laser printer for photos may not be the most expensive one on the market. In fact, you don't have to spend a fortune to get a quality photo printer. There are many affordable models that will give you beautiful prints every time. We've highlighted some of our favorites in this article, so be sure to check them out before making your next purchase. Have you tried any of these printers? What was your experience? Let us know in the comments below.