Screen printing is a technological technique that is very simple to master. T-shirts, hats, sweatshirts, sweatpants, caps, and other items may all be decorated using this method. It can be used to adorn anything. Additionally, if you consider embarking on screen printing as a form of business, you can make a decent living out of it.

If you want to get the most out of screen printing, you must, yet, be familiar with each element of the process. Maintaining excellent functioning order with various parts of equipment ensures effective screen-printing activity.
Screen Printing as a Business
For business owners who wish to promote their firm, screen printing offers many benefits over other methods. Screen printing is a cost-effective and professional method of promoting a business. Wearing a professional tee-shirt or may be a cost-effective method to promote your company's products or services. Employees and company owners can advertise their company by wearing t-shirts. So, pose the question to yourself.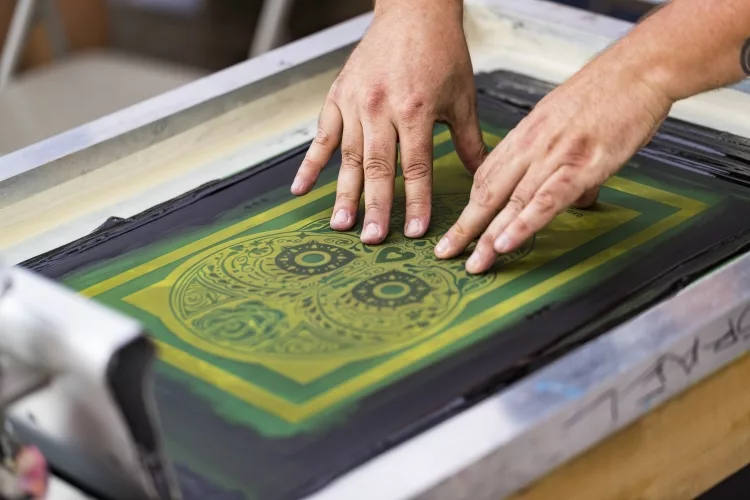 For people seeking jerseys for their child's sports team can also use screen printing. A family occasion, birthday party, or any other occasion for which a t-shirt is required would find screen printing to be helpful. Tee-shirts bring people to your event while also giving it a professional appearance. Screen printing has been seen to be the most effective method of printing on a t-shirt or any other clothing. Screen printing provides a durable, cost-effective, and effective method of printing on any clothing item.
Advantages of Screen Printing
Finding a firm to buy t-shirts for an event or for a business may be a time-consuming and difficult endeavor. When buying bespoke shirts, it is anticipated that they will be of excellent quality and will look fantastic on the recipient. Screen printing is a technique of t-shirt printing that everyone is familiar with. However, they may not be aware of all the advantages that come along with using it. Here are five advantages of screen printing to take into consideration:
Individualized designs
Custom t-shirts with custom designs are a great way to promote a business or event. Screen printing eliminates the concern of images fading away after many washes of the shirts.
Reliability is important
We understand how important it is to know that your items are in good hands. Working with a professional company ensures that goods are handled with great care and that the proper amount of time is invested in each job.
The cost of goods and services
A significant advantage of screen printing is the ability to get more for less money. The possibility of buying in bulk from a competent business offers significant discounts with them. Ordering in quantity allows you to outfit a whole business or event with shirts. No need to worry about breaking the bank in the process of doing so. Because of the cheap cost of screen printing, a wide range of t-shirts may be produced. Choose the appropriate business and don't spend any more money than you have to.
High level of excellence
Although anybody may purchase a shirt press and make their own custom-designed shirts. Custom-designed shirts should be professional in appearance and offer a company a strong sense of identity. You can be certain that you will get the best quality custom-created shirts that will not fade, crack, or flake over time. It is possible to print on almost any material without having to worry about the quality of the print being compromised.
Originality
Being different from the competition is very essential in today's business world. The ability to screen print any design on a shirt is the most significant benefit of this method of printing clothes. Having personalized shirts produced is a fantastic way to get a company's name out there in the community. Screen printing offers a plethora of advantages that many people are unaware of and thus lose out on.

How Does the Process of Screen Printing Work ?
At least not in the same way as DTG, that is certain. Instead, a thin mesh is stretched firmly over a framework to provide the illusion of depth. A copy of the artwork is printed onto the screen, which will be put against the clothing to create the final product. Once the settings are right, ink is rolled over the screen, with just the portions of the design that have been printed allowing ink to pass through to the other side. The ink is then allowed to dry on the t-shirt before it is worn again.
Expert Tips for Effective Screen-printing
The following are some useful hints to guarantee that you get the most out of screen printing, whether you are doing it for pleasure or for a career...
1. Put a high level of seriousness to your artwork
As it is very common, creating eye-catching artwork is the most essential step in producing a high-quality print with fantastic looks. If your artwork is not correctly set up and prepped for screen printing, not only will it appear shoddy, but the printing process will also cause you difficulties because of the amount of time it will take to complete it. Make certain that you have a sufficient understanding of how screen printing produces images and how to effectively set up your work for printing whatever you want. Take the necessary time to perfect your artwork and be confident in it before you even consider putting it on a computer screen. If you are unsure of how to create the artwork, it is essential that you get the assistance of a graphic designer who has some expertise in screen printing. This will prevent you from wasting time and money.
2. Remove all variables
This one should go without saying. If you want to be enthusiastic about the screen printing project you are embarking on, it will be most suitable to eliminate any old or wooden screens available. Focus on ensuring that you have square, solid, and firmly stretched screens. By investing in the appropriate tools for the project from the beginning, you can avoid making expensive errors or having to resort to time-consuming workarounds. Not all of the equipment you'll need for the task is required to be of professional quality; anything that's dependable and performs consistently will be suitable in most cases. When you have the proper equipment and have gone through the necessary training, screen printing can be a great deal of fun and very simple.
3. Control your printing ink
Plastisol ink does not dry fully until it is baked in an oven for many hours. A thing that falls someplace it isn't intended to fall will very certainly go to that location. When working with this ink, use extreme caution. One of the telltale indications of a seasoned screen printer is a neat and orderly working environment. In addition, be certain that your printer is completely clear of any ink of any sort. Avoid wiping extra ink off your clothes and onto your clothes. Always inspect your hands before handling the shirts in between the printing to ensure that they are free of bacteria. It is impossible to overstate the importance of maintaining a decent working environment.
4. Comply with all applicable local environmental rules and regulations
In this section, you will learn how to properly handle and remove all of the chemicals and materials you will be utilizing during the process of your screen printing. Typically, screen printing product suppliers offer their clients MSDS (material safety data sheets) - which include details on dangerous chemicals, chemical composition, and even cautious info for human usage. While you're at it, double-check your local zoning regulations to see if there are any restrictions on using certain materials or doing semi-industrial activities in residential neighborhoods. Please keep in mind that this is not applicable to a home screen printing company that you may be doing for pleasure or as a pastime.
5. Who is the artwork designer
You should be aware that not all screen printers are capable of creating the designs that they need for screen printing. However, they may have knowledge of what is required. The same may be said about graphic designers in this regard. Even though they are proficient in the use of design tools, not all of them are capable of creating artwork for screen printing. As a result, ensure that you are as selective as possible when choosing the graphic designer with whom you will be collaborating. In an ideal world, your designer would have some understanding of and expertise with screen printing. If you look hard enough, you can discover excellent designers on platforms such as 99designs and Fiverr. To my mind, employing an in-house designer is the most helpful choice.
Conclusion for Screen Printing Tips and Advices
Screen printing is an age-old technique that is still used today for a variety of purposes. If you're new to screen printing, or just looking to improve your skills, here are some tips and advice to help you out.

Make sure your screen is properly prepared before you begin printing. This means cleaning it and coating it with the appropriate emulsion.
Use good quality ink, and make sure it's at the correct consistency. Too thick or too thin ink can cause problems when printing.
Experiment with different screens and inks to find what works best for you. Different combinations will produce different results, so it's important to experiment until you find what works best for your individual style.
Take your time when printing. rushing through the process can lead to poor quality prints. Slow and steady wins the race in this case!
5. Always inspect your prints before finishing the job. This will help you catch any mistakes early on, and avoid costly reprints later on.
And that's it! These are just a few tips to get you started with screen printing. With a little practice, you'll be able to produce beautiful prints that everyone will admire. Thanks for reading!