Few things are more personal than a handcrafted t-shirt. However, with so many custom t-shirt options available online, it's difficult to say whether taking the time to make your own is better than ordering from a manufacturer.

This guide will teach you about the four primary considerations and some of the options available for each type.
The Four Points to Consider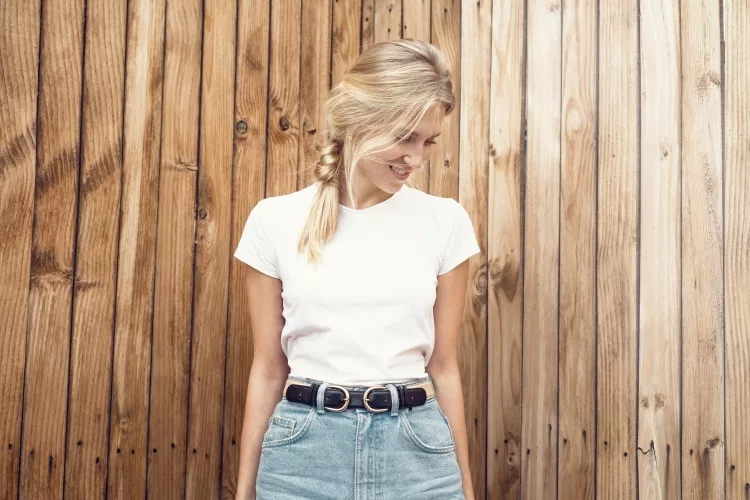 There are a number of factors need to be considered when deciding whether to make a homemade t-shirt or order one online.
Purpose of T-Shirts
It may appear to be a silly question, but it is critical to ask yourself. They think about who will be wearing them, why, where, and what they will be doing will help you with the other elements. As an example, when purchasing t-shirts for people to wear while handing out flyers, consider visibility. Bright colors, a large design, and calls to action on the back. Because they are unlikely to be worn more than a few times, they can be less expensive.
Do you need t-shirts for your new coffee shop's employees? - Nice logo design, dark shirt color (it hides coffee stains better!), and something soft and comfortable for them to wear all day.
Are you purchasing t-shirts to give to loyal customers or, better yet, potential customers? Then choose something they'll want to wear regularly. They'll be your unpaid brand ambassadors!
Coloring
Even if you just want to put a design on a plain white shirt, it'll be reasonably simple whether you order it online or not. If you want more complicated coloring - special tie-dye, different colors for different parts, and so on - you may need to make your t-shirt. Most online orders only give you a limited number of design options (or print one image). If you want a truly unique color scheme, you'll have to do it yourself or hire someone, which is more expensive than any other option.
Design
The question of design, arguably the most critical aspect of your decision, refers to factors such as the overall size and shape of the t-shirt. In the case of something special, such as a shirt with no sleeves on one side for someone missing an arm, you'll probably have to make it yourself. When it comes to starting a successful online T-shirt business, your design ideas are crucial. You're already ahead of the game if your T-shirts have great designs. Your products will serve as a solid foundation for the success of your store.
It is much easier to market great products, so focus on this aspect. Be inventive. It would help if you were not afraid to think outside the box. Experiment with various T-shirt design ideas related to your brand to see which ones work best with your target audience. There are numerous design websites available if you want to try your hand at creating your T-shirt designs. Some of these are discussed in our article T-shirt templates for your online store.
Seek help from others if you aren't confident in your ability to design excellent products for your online T-shirt business. You can seek the services of local designers. There are numerous methods for obtaining high-quality design work at a reasonable price.
Accessories
Any "extras" you want to add to the shirt, such as names, beads, or sparkles, go here. Instead, functional features (such as pockets) are classified as design. The most significant factor you should consider when purchasing t-shirt accessories is their durability. It's fun to wear a shirt that shimmers in the light, but if it all slips off the first time you wash it, it's not ideal for long-term wear. However, if you only want to wear it once, this isn't an issue. Many people choose heat-transfer vinyl when it comes to permanent accessories. This allows for creating sophisticated and intricate decals that would otherwise be impossible to draw or color.
Price
Finally, how much do you want to spend on a t-shirt that you made yourself? If you're going to manufacture one shirt, you shouldn't buy a custom printing machine; instead, you might be able to rent or borrow one. In the end, it's up to you to decide: Unless you're manufacturing them in volume, homemade t-shirts are more expensive, but they also provide the most customizing options. You can begin at any point, all the way up to spinning wool (or another material) to make the garment itself. Online orders are divided into low-cost (low customization) and high-cost (high customization). They also require less time input, which could be the decisive factor if you don't have much.
T-Shirts created at home are available in a variety of styles.
Let's look at some of the things you can do with a shirt now that you've learned about the four main aspects. Most of these are easier to do yourself, but you might be able to find someone to do them for you online.
1. Side Crochet
The distinct sides of a shirt are replaced with a durable crochet pattern in this adaptation. As a result, the shirt breathes well, making it great for hot summer days. Of course, the negative is that others can look in from the sides, so be careful what you wear underneath it. This type of customization is more common on women's shirts than on men's. If you're going to customize a t-shirt this way, make sure you use a crochet pattern that will keep together when the shirt is washed.
2. Tank Top with Straps
The strap-back tank top is another breezy customization, with a single line of material running down your side and multiple thin, circular straps (typically three on each side) connecting to the front. This exposes the majority of the back, similar to a bikini with a wide front. The most challenging aspect of this customization is attaching the straps to the cloth's central line. You'll probably want something more durable than glue or knots, so little hooks that won't dig into your flesh as you lean back are a good option (or come undone if jostled).
3. Top with Laced Shoulders
This style, also known as a "grommet" shoulder, involves removing the top of the sleeves up to the neck and lacing the front and back together through a series of holes. Grommets (tiny metal eyes used to keep holes and thread from fraying) are used in each hole, and you can use as few or as many as you want. The traditional design leaves a lot of the shoulder bear exposed with six holes on each side, but you can also build a dense mesh and stitch in some colorful graphics for a fresh, unique look.
4. Ruffled Top
The ruffled top is a simple design in which the top of the shirt folds down to provide an extra layer. Ruffles are typically four inches long, but you can adjust the length to fit your figure. (Don't go too far in either direction - that usually looks weird.)
Because these shirts rarely have a strap that runs over the shoulders, you'll need to add an elastic band (or another method of tying) under the armpits. Finding the appropriate fit for this style of top is difficult because the shirt must be somewhat long (but not too wide) to achieve the desired effect. You may buy two matching shirts and make the ruffle out of a portion of the second.
5. Tank with a Tie in the Front
Any shirt may be made to look a little more elaborate with this simple alteration. Begin by chopping the shirt's back at the hips. Cut the front to make an arrow pointing down, then cut right through the middle of the arrow to split it in two. Tie them together, and you've got a cute little bottom-of-the-shirt ornament.
6. Neck Cut-Out
The neck cut-out is a customization that focuses on removing sections of the top of the shirt about two inches long, leaving the very top and enough straps to provide structural support. There's probably a vampire joke here, but the neck cut-out is a customization that focuses on removing sections of the top of the shirt about two inches long, leaving the very top and enough straps to provide structural support. It's a strong appearance that exposes a little skin without being overly blatant or sensuous.
7. Screen printing
Screen printing is the most cost-effective approach for large online orders if you want a colored design rather than a modification in the shirt's shape. The main benefit of this procedure is that the graphic will stay bright and velvety for a long time, with little risk of rubbing off due to repeated use. The problem is that it is not particularly cost-effective for single orders. Therefore it is only worthwhile if you require a large number of t-shirts.
8. Direct to Garment (D2G)
This technology, abbreviated DTG, prints a graphic directly onto the shirt. It works best on white fabrics, which absorb any color of ink and exhibit it brightly. More significantly, because it's printed, you can have graphics of virtually any complexity, making it great for shirts that you wouldn't be able to make any other way.
Unfortunately, Direct to Garment is too expensive to set up at home unless you're running a business. The good news is that it has a modest cost per item once set up, making it an excellent option for online orders.
9. CAD Cut Vinyl
CAD cut vinyl differs from the traditional method of applying vinyl to a garment using heat. Instead, a professional cutter and software are used to cut the vinyl to a precise design. Even better, you may overlay vinyl and make graphics with many colors using this process. CAD cut vinyl, like DTG, is expensive to set up but inexpensive and straightforward per unit. If done correctly, there will be no fading or cracking, making this another excellent option if you wish to get an outfit online.
Conclusion
As you can see, a t-shirt may be styled and decorated in a variety of ways. In the end, only you can decide what you want - no solution will work for every design. However, now that you're aware of the distinctions, you'll be better prepared to select the option that best suits your needs for your homemade t-shirt!