Nowadays, many businesses specialize in printing plastic bags. These businesses may be established on a small or medium scale. As of today, many businesses print their logo on plastic bags as a way of advertisement or creating awareness about their existence and services. When logos are printed on bags, it is cost-effective than purchasing them in bulk as ready-made items. Printing on your bag gives you total control in case you desire to change the design for any promotion.
That said, the most established company focuses on the user screen printing method to print on bags because it is economical to fund. However, it will be expensive for small-scale businesses to adopt this method. To print on plastic bags, you need to have a heat press. You can use a heat press to embed logos or images on bags provided you can print with caution. Though printing on a plastic bag can be tricky, it is faster and cheaper to do. However, you need to make a thorough research on the kind of material you will use. The quality of material determines the attractiveness of the logo on your bag. Despite the increasing demand for knowledge in printing on bags, the technique has become challenging to most people and small-scale business owners. With that said, today, I will be telling you how you can print on bags used in supermarkets, shopping malls, boutiques, outdoors, and many more.

What Does Flexography Mean?
Flexography is a process whereby the image area of a rubber printing plate is raised and used to apply ink on the substrate. Many a time, people confuse flexography with offset lithography. Lithography uses planographic or flat plates while flexography uses a heat press machine. The flexo plates are attached to the rollers of a heat press machine. You can attach the flexo plates with an adhesive. As the roller of the machine turns, the plate hits the roll of the plastic paper that is passing through the web press. The platens print your graphic designs or other images on plastic paper. This technique does not allow you to print in different colors. However, it has closely related colors in its register and lowers in number when compared to offset lithography. Immediately the sheet plastic ribbon passes through the web press and is rounded at the delivery end of the machine, you need to create the actual plastic bag. To complete this step, cut the bags from the long plastic roll. You can cut up and down. Next, fuse the bags together through the use of a heat press at the top, side, and bottom. After completing this step, you would have created your final product that comprises your design and a printed plastic bag.
Tips on Heat Pressing on Plastic Bags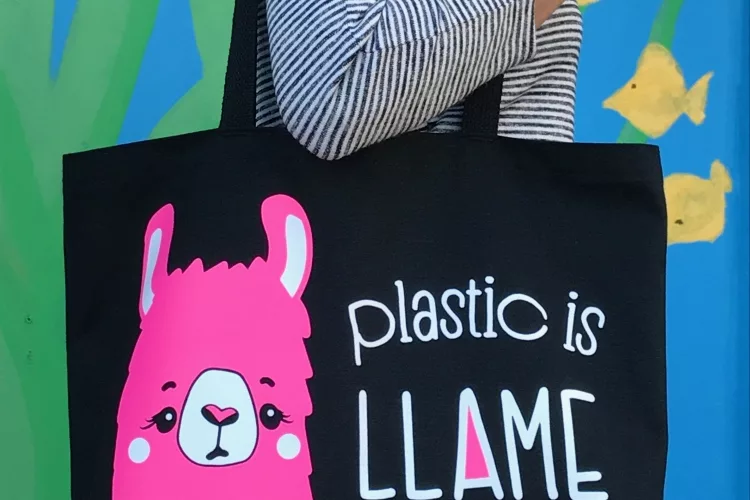 1. Safety
Safety is a paramount factor that must be put into consideration when printing on a plastic bag. This is because plastic materials are known to melt when they are subjected to a high temperature. Hence, you should not attempt printing directly on a regular polythene bag because it will melt and can also cause a fire - if not carefully handled. Also, melted plastic is difficult to clean after completing a heat press process even when you use a Teflon pad. Hence, the best plastic bag material you can use is polypropylene. Polypropylene materials or bags are known to withstand high temperatures. They are stronger, easy to handle, and durable when compared to polythene. If you are willing to keep your heat press safe, you will need to exercise patience. You can attempt printing on your personal bag at a low temperature to see the result. If you are not pleased with the outcome, then increase the heat gradually till you discover the right temperature that is suitable to bond the bag surface and the transfer. Also, you can vary the time because allowing the heat for a long period can destroy the bag. Hence, heat plays a major role in the beauty of your printing output. When you test in this way, you will use fewer bags and transfers. Additionally, you can replace your heat press when you discover that it is not usable or malfunctioning.
2. Choose the Correct Heat Press
If you desire to create an attractive design on plastic bags, you can spend some dollars on purchasing an efficient and effective heat press that will last over a long period. The kind of heat press you should purchase must be efficient in handling all your heat press tasks. The best you should choose is a flat plate because you can avoid creasing by laying out the bag. Your heat press of choice should give you the opportunity to control the pressure because applying too much pressure on the bag can result in it sealing itself together at the extreme end or in the middle. The heat press should also allow you to control the time and temperature used in printing plastic bags. This is because you will have to test different combinations of temperature and pressure until you get the best effect. Hence, you must have total control of these parameters.
Nowadays, some heat presses are advertised to have the ability to print on bags. However, you need to check it out before spending your dollar on them. To print on a plastic bag, you should check the effectiveness of the heat press on polypropylene or plastic bags. Check out the guide given for each press to know what they can print onto and that which they cannot do. You can also check different forums whereby people with expertise are answering questions on a heat press. Their experience will assist you to choose the best heat press that can be used to print on bags.
How You Can Screen Print on Your Plastic Bags
The process of screen printing on plastic bags is not difficult. All you need to do is to go through the instruction carefully. Screen printing requires you to print images or logos on each bag. This method is not the same as when you uncut roll of plastics that are used in a flexo press. To screen print on a plastic bag, you need to place the bags on a broad flat surface (platen). When you do this, the bags will be stable so that you can work on them without any hindrance. What you are doing is to lower a metal screen on the bags and dragging a squeegee to introduce the ink across the prepared screen. You can use the screen printing method for a small quantity of bags because it is labor-intensive to do.
Steps to Screen Print on Plastic Bag
Build a frame with high-quality materials that can last for a longer period.
Affix the frame to the screen.
Prepare the graphic design you want to print on a heat transfer vinyl.
Cut the graphic design or image on a stencil.
Soak it in an emulsion that is mixed with a sensitizer.
Pour ink on the squeegee using a Popsicle stick or rubber knife.
Use the squeegee to spread the ink on the stencil.
Once the ink spread over the graphic design, ensure it does not spill over the edge.
Then wait for it to dry and check maybe you got what you want to produce.
Use of Inkjet Printers
Inkjet printer is another device that is used for printing plastic bags. Though it is effective, it has its limitations. For instance, you can use the printer to imprint tracking numbers or IDs on a plastic bag. You cannot use it to print graphic images on bags.
Advantages of Using Plastic Bags
Many people depend on plastic bags all day. They take it to work and also for outdoor activities. The diverse usage of plastic bags is due to their durability and the quality of the materials used in their manufacturing process. Plastic bags are known to possess the following features
Plastic bags are tough and durable
It is easy to produce.
Its production comes at a cheaper cost.
The cost of purchase is cheap.
Owners of plastic bags can use them for different purposes.
It can be reused by recycling.
Why the Choice of Plastic Bags
Plastic bags are popular among different categories of people because of different factors. Though paper bags are identified as alternatives to plastic bags, the production cost of the latter is expensive when compared to the former. In reality, paper bags cannot be reused. Many a time, people that purchase paper bags use them for one-time purposes because they are not as strong as plastic bags. Furthermore, paper bags can get wet when water spills on them. This cannot happen when you carry a plastic bag.
Conclusion
A plastic bag has become popular among different categories of people. Today, I have elucidated the best methods through which you can print on plastic bags. Please drop your comment after practicing the steps discussed to print on your plastic bag.