Nowadays, many businesses specialize in printing plastic bags. These businesses may be established on a small or medium scale. As of today, many businesses print their logo on plastic bags as a way of advertisement or creating awareness about their existence and services. When logos are printed on bags, it is cost-effective than purchasing them in bulk as ready-made items. Printing on your bag gives you total control in case you desire to change the design for any promotion.
That said, the most established company focuses on the user screen printing method to print on bags because it is economical to fund. However, it will be expensive for small-scale businesses to adopt this method. To print on plastic bags, you need to have a heat press. You can use a heat press to embed logos or images on bags provided you can print with caution. Though printing on a plastic bag can be tricky, it is faster and cheaper to do. However, you need to make a thorough research on the kind of material you will use. The quality of material determines the attractiveness of the logo on your bag. Despite the increasing demand for knowledge in printing on bags, the technique has become challenging to most people and small-scale business owners. With that said, today, I will be telling you how you can print on bags used in supermarkets, shopping malls, boutiques, outdoors, and many more.

What Does Flexography Mean?
Flexography is a process whereby the image area of a rubber printing plate is raised and used to apply ink on the substrate. Many a time, people confuse flexography with offset lithography. Lithography uses planographic or flat plates while flexography uses a heat press machine.

The flexo plates are attached to the rollers of a heat press machine. You can attach the flexo plates with an adhesive. As the roller of the machine turns, the plate hits the roll of the plastic paper that is passing through the web press. The platens print your graphic designs or other images on plastic paper.
This technique does not allow you to print in different colors. However, it has closely related colors in its register and lowers in number when compared to offset lithography. Immediately the sheet plastic ribbon passes through the web press and is rounded at the delivery end of the machine, you need to create the actual plastic bag.

To complete this step, cut the bags from the long plastic roll. You can cut up and down. Next, fuse the bags together through the use of a heat press at the top, side, and bottom. After completing this step, you would have created your final product that comprises your design and a printed plastic bag.

How to Heat Press on Plastic Bags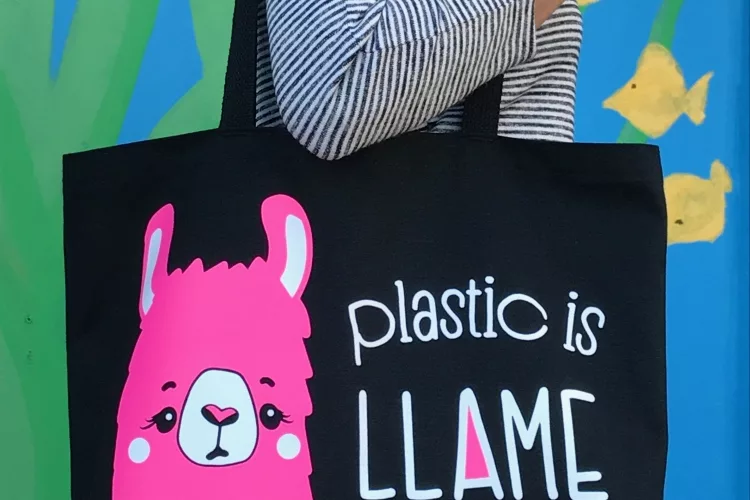 If you want to create a custom bag with a heat-pressed design, you can do so using a regular household iron. However, if you're working with plastic bags, there are a few extra steps you'll need to take to ensure your design doesn't melt or warp the bag.
Here's how to heat press on plastic bags:

Start by cutting your design out of a piece of paper that is slightly larger than the area you want to press.
Center the paper design on the plastic bag and secure it in place with masking tape.
Preheat your iron to medium-high heat and test it on a scrap piece of fabric to make sure it's at the right temperature.
Place the plastic bag with the design on top of a thin towel and press the iron firmly down for about 15 seconds.
Remove the iron and let the bag cool completely before removing the paper.
If you follow these steps, you'll be able to create beautiful heat-pressed designs on plastic bags in no time!

How to Screen Print on Your Plastic Bags
Screen printing is a great way to add some extra flair to your plastic bags. By screen printing on your bags, you can add logos, text, or other designs to make them stand out. Here are a few tips for how you can get started with screen printing your own plastic bags:

1. Choose the right type of ink.
Not all inks are suitable for screen printing on plastic bags. You'll need an ink that is designed for durable surfaces and can withstand heat and weathering.

2. Prep the surface of the bag.
The surface of the bag should be clean and free of dust and debris before you start printing. Use a cleaner or degreaser to prep the surface if necessary.

3. Create your design.
Once you have the right ink and the surface of the bag is ready, create your design. You can use a software program or create it by hand.

4. Print the design.
Use a screen printing press to print your design onto the bags. Be sure to apply even pressure and make sure the ink is properly transferred to the bag.

5. Let the ink dry.
Allow the ink to dry completely before using or storing your bags.

Screen printing can be a fun and easy way to add some extra personality to your plastic bags. By following these simple tips, you can create your own custom designs that will stand out from the crowd.
How to Print on Your Plastic Bags with An Inkjet Printer
If you want to print on your plastic bags, you can do so with an inkjet printer. Here are the steps to do this:

Load your plastic bag into the printer
Choose the appropriate paper type in the printer settings
Print your design or text
Cut off any excess bag material
Enjoy your customized plastic bag!
Inkjet printer is another device that is used for printing plastic bags. Though it is effective, it has its limitations. For instance, you can use the printer to imprint tracking numbers or IDs on a plastic bag. You cannot use it to print graphic images on bags.
The Benefits of Printing on Your Plastic Bags
Printing on your plastic bags is a great way to promote your business. It also provides a number of other benefits, including:

1. Increased brand awareness
When customers see your logo or branding on your bags, it will help to increase brand awareness. This means that more people will become familiar with your company and what you offer.

2. Increased customer loyalty
If customers appreciate the convenience and functionality of your printed plastic bags, they're likely to be more loyal to your brand.

3. Improved product visibility
By printing information about your products on your bags, you can improve their visibility and make them more attractive to potential buyers.

4. Increased marketing opportunities
There are many ways you can use printed plastic bags to market your business. You can include vouchers, discounts, or other special offers on them.

5. Enhanced branding
Printed bags provide a great opportunity to enhance your brand's image and make it more recognisable. When used effectively, they can be a very powerful marketing tool.

As you can see, there are many benefits to printing on your plastic bags. If you're not doing so already, consider implementing this strategy and see how it can help improve your business.

Expert Tips for Printing on Your Plastic Bags
Now that you know how to print on your plastic bags, it's time to start thinking about what you want to print. Here are a few expert tips to help you get started:

1. Keep it simple.
When printing on plastic bags, less is more. Try to stick to a simple design or logo.

2. Use bright colors.
Plastic bags are a great way to showcase bright colors. So go ahead and use your favorite colors!

3. Think about your target audience.
Who will be seeing your printed plastic bags? Make sure your design appeals to them.

4. Keep it consistent.
If you're using a logo or slogan, make sure it appears on all of your printed plastic bags.

5. Use a professional printer.
When it comes to printing on plastic bags, you want to make sure you use a professional printer. They'll be able to get the best results for your design.

6. Test, test, test!
Always test your design on a few different types of plastic bags before you start printing them in bulk. This will help ensure that the final product looks great.

Advantages of Using Plastic Bags
Many people depend on plastic bags all day. They take it to work and also for outdoor activities. The diverse usage of plastic bags is due to their durability and the quality of the materials used in their manufacturing process. Plastic bags are known to possess the following features
Plastic bags are tough and durable
It is easy to produce.
Its production comes at a cheaper cost.
The cost of purchase is cheap.
Owners of plastic bags can use them for different purposes.
It can be reused by recycling.
Why the Choice of Plastic Bags
Plastic bags are popular among different categories of people because of different factors. Though paper bags are identified as alternatives to plastic bags, the production cost of the latter is expensive when compared to the former. In reality, paper bags cannot be reused. Many a time, people that purchase paper bags use them for one-time purposes because they are not as strong as plastic bags. Furthermore, paper bags can get wet when water spills on them. This cannot happen when you carry a plastic bag.
Conclusion for Printing on Plastic Bags
A plastic bag has become popular among different categories of people. Today, I have elucidated the best methods through which you can print on plastic bags. Please drop your comment after practicing the steps discussed to print on your plastic bag.