A printer is an everyday essential in this growing tech world. Printers have made life easier over centuries. Even as a basic-looking machine, it has the potential to give you a tough time. Over time, it has become a household item. During the covid pandemic, printers have made life easier. Essential for students, teachers, or your at-home DIY projects.
Have you ever struggled with printing? Or has it become time-consuming? one miss print can consume a lot of time which requires reprinting!

A Test Page Can Solve Your Multiple Issues.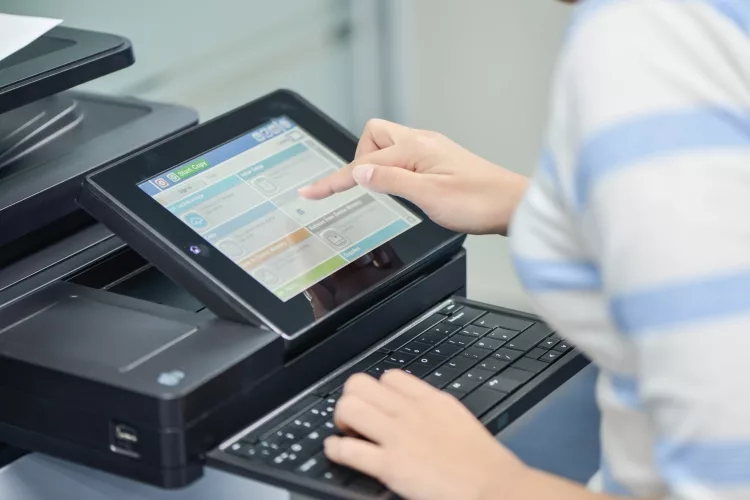 There can be various reasons for miss printing. Your printer may run Out of toner, editing issues, paper adjustment issues. To be on the safe side, make sure you print a test page before printing a bulk of pages.
A test page for the printer can save your time, paper, check if the printer and computer are connected, and struggle to redo it all.
What is a test page?
Before we begin, let us dive into what is a test page:
A test page is a way to confirm that the colors on your print are correct and the printer is working smoothly. To test it, first, print a test page. The test page will show if the colors, any streaks, missing print, or if no print at all,
Types of printers:
Your printer may already have software built in to check the ink of the printer. Every brand has a different way to print, a test page. A single solution is not present. Here we might be able to help you.
Brands such as Canon, Samsung HP, and Epson all have different steps of printing a test page. A single button is not available as of yet, making it slightly hard to print.
Do you have a black and white or a color printer? Do you require a test on a specific type of page?
Follow these simple steps to start printing.
Printing on windows:
If you are a Windows user, it is easy to print a test page for all kinds of printers. Follow these simple steps:
Check if your printer tray is full of paper.
Click on the Start icon and Find control panel on your device
View your control panel options category wise
Find hardware and Sound icon and select Devices and printers
Select the printers section in the devices and printers window
Select the printer you want to test and right-click to select Printer Properties.
A printer properties window will open. Press the General tab. At the bottom, you will find a print test page click on it and print your sample page.
Similar commands are for both Windows 7 and 8
Tip: You can even adjust the color of the prints according to your liking. Before running the test print, you can choose it to be grayscale or color.
Printing on a MAC:
MAC users can use the following steps and print a test page on both versions 1 and 2
First, check if both devices are connected
Select the System preferences on the apple menu
Search for printers and Scanners and click
From the list of available printers, select the printer you want to test
In the new window, select the Utility tab in the Options and supplies
Here you'll find the option to print a test page. The printer will receive a command to print.
Tip: The thickness or lining of the test print can be adjusted too.
HP PRINTER COLOR CHECK:
Windows 10,8,7 has an HP Printer checker to check your color prints
First, make your power button is on and both the computer and printer are connected.
Fill the paper tray with paper.
In the search section, Search for HP Smart is an HP printer Assistant.
Select maintain your printer option and click on device reports.
Run print diagnostic information and get a piece of detailed information on the ink status and printer.
IDENTIFYING ISSUES:
You can observe the test page and be able to identify any problems. That is the first step to it. However, solving the issue is also necessary. Following are a few bonus solutions if any errors are present on your test page.
Errors in color or the text of your print because your printer head may be clogged. You will need a head cleaning cycle. It will print multiple pages to remove the dried ink.
Alignment may also be an issue hence creating misaligned grids or bars due to misalignment in ink cartridges. Make sure there is nothing in the path of the ink cartridge, remove the ink cartridges and reinstall them in
There may be way various reasons that the test page may not print. Mechanical issues may be the cause of it, such as the connection of wires. Wrong, installation of ink cartridges. Paper jams or your printer may require an update.
FYI every test printer utilizes the toner or ink
FAQs about Test Page Printing

There may be few frequently asked questions related to this topic. Here are the top 10 questions asked and their answers :
Why do I need to print a test page?
Answer: Printing a test page ensures the quality of the printer. The test page identifies any issues of printing, ink, color, and blurred image.
Printer is not printing anything other than the test page?
Answer: There may be several issues between your printer and the device you're printing from. Check if your printer drivers are installed correctly, you're connected to the same network as the printer and the printer is selected as the main printer. You can use HP Print and Scan Doctor to detect any device status test, driver check, and device manager.
What to do before running a troubleshoot for the printer?
Answer: Several reasons may associate with the printer being offline. Before running a troubleshoot one must make sure the following:
A wireless printer should be connected to the Wifi of the same network as of device
A traditional printer should have its cord connected.
The printer needs to be the default printer.
Remove any prints in the queue
Remove the default printer and try to add it again to the device
Try restarting your device
Common issues in a printer?
Answer: Printers may have the following issues:
A printer may not get easily connected to the smartphone
Printers take too long
Paper jams within the printer
The printer quality may be too low
The printer may not scan
Unable to print
Takes too long to response
Printer is not printing even with high ink levels?
Answer: This is a common issue, you need to clean the print head because most of the time they get clogged and need deep cleaning. Make sure your ink cartridges are placed properly. The cartridges should be of the same company as the printer you are using.
Page color is low, what to do?
Answer: This is a sign that your ink cartridges are low on ink. Printers, low on toner will print a darker page. Try changing the toner levels.
Where are HP printer ink levels shown?
Answer: Hp printers have an ink drop icon or cartridges icon on their control panel which displays the ink level. HP provides some ways to check the Ink levels. The Hp Smart app can be used to open your HP app and check ink levels on its home screen. You can also use the HP print and scan Doctor app and click on supply levels.
how to print a Color test page?
Answer: Printing a color test page has the same procedure as a black and white test paper. For the color test page, the color printer needs to be connected to your PC.
Why Cannot I send a print from my personal computer?
Answer: This is a very common issue, make sure your printer is on. Check if both printer and pc are connected on the same network. Check if the printer you want to print with is your default print. Lastly, the drivers need to be installed correctly.
Can the test page be colored too?
Answer: Depending on your printer, you can print both black and white and a colored printer test page as well.
Conclusion on Printing a Test Page on a Printer
Note it is necessary to print a test page after you fix a problem on your print. That makes sure that your printer is working efficiently. Test prints can help you indicate if your printer is running low on toner or ink levels. Low levels of toner can be refilled or used as it is. Do not forget to keep the desired paper size in the printer tray.
Choose the method that fits your printer, although there may not be much difference between the different printers available. If it is wireless, it should be connected to both computer and a wireless connection to run the test page. Repeat the procedure if necessary from time to time.
We hope this was helpful. Happy printing!